Editorial 2018 "We are not Boys….." 
Africa Archive 2018
Limpopo: 2 BURNT TO DEATH IN TAXI CRASH!
TWO taxi drivers were burnt beyond recognition when a VW Crafter and a Toyota Quantum collided on Monday morning.
According to police investigations, the VW Crafter was travelling from Polokwane towards Lephalale with one passenger, when it collided head on with a white Toyota Quantum from the opposite direction.
"Both vehicles caught fire on impact and the two drivers were burnt beyond recognition. A 29-year-old female passenger was transported to hospital with severe burn wounds," Police spokesperson Brigadier Mojapelo said.
Mojapelo said the deceased's names will be released as soon as their positive identification has been made and their next of kin notified.
Ghana: 2 feared dead in gory accident near Nsawam
Two persons are feared dead with several others injured in a gory Tuesday morning accident at Okanta Number 1 in the Nsawam Adoagyir Municipality of the Eastern Region.
The two were among four persons who were in a Toyota Hiace vehicle with registration number GN 5664-17 driving from Accra to Kumasi, when the car collided with a VVIP bus from Kumasi to Accra with registration number GT 6417-10.
Last week, 9 others lost their lives in a similar accident at Teacher Mante on the same Accra Kumasi stretch.
3 dead in Yutong Bus crash on Accra-Kumasi Highway
Three persons also died on the spot when a Yutong bus on which they were travelling from Kumasi to Accra, crashed into a Man diesel trailer truck at Asuboi near Suhum on the Accra Kumasi Highway on January 16, 2018.
Over the weekend, four persons also died in the Ahanta West District of the Western Region, when an ambulance run into an articulated truck.
The Eastern Regional Police Public Relations Officer, ASP Ebenezer Tetteh, told Citi News that the other injured passengers have been sent to the Suhum Government Hospital for treatment.
By: Neil Nii Amatey Kanarku/citifmonline.com/Ghana
2 JMPD officers killed after drunk driver crashes into roadblock
31st January 2018 Nation Nyoka 
Two JMPD officers died after a drunk driver crashed into them. (Supplied)
 Johannesburg – Two female Johannesburg Metro Police Department (JMPD) officers were killed when a drunk driver drove into them, causing a multiple vehicle crash at a roadside checkpoint on Witkoppen Road, in Fourways, Johannesburg, on Monday evening.
The driver was arrested and taken to Sandton police station, after blood samples were taken. The two officers were declared dead at the scene by Netcare 911 paramedics.Two passengers and a driver in a separate car were seriously injured when the driver of the Toyota Hilux double cab bakkie drove into a group of officers, as well as a Hyundai.
Two other female officers, as well as the drivers of a BMW and Porsche – which had been stopped by the officers – were slightly injured.
At a loss for words "Three passengers from a stationary vehicle were rescued by the fire department and assessed on scene, one passenger sustained severe injuries and the rest minor to moderate injuries.
Nigeria: Road crash claims 20 lives
30th January 2018 by APA News 
Nigeria's Federal Road Safety Commission (FRSC) on Monday confirmed that 20 people were killed in a road accident along the Kaduna-Abuja expressway on Sunday night.The Sector Commander of FRSC in Kaduna, Mr. Umar Ibrahim, said that the accident occurred at about 7 pm at Dutse u-turn, 22km from Kaduna metropolis.
Ibrahim explained that the accident involved a white DAF articulated vehicle with registration number AJG118XA and a white Toyota HAICE bus with registration number XA866MLF.
He said that the 16 seater-bus, was overloaded with 30 passengers, 29 males and a female going to the southern part of the country. According to him, the accident occurred when the truck, coming from Abuja axis tried to make a U-turn at Dutse when the bus coming from Kaduna axis ram into it, killing 17 people on the  spot. "Ten others sustained injuries and were rushed to the hospital by the FRSC official where three of them also died," he said.
Ibrahim said that the truck was going to convey cows from a broken down truck close to the accident scene. He said that the number of the deaths was high because the bus was "extremely overloaded".
According to him, the accident caused a gridlock that lasted for about four hours and "we had to divert traffic to single lane before we were able to clear the wreckage and allow free flow of traffic".
Fatal crash next to the Tzaneen Showgrounds in Mopani district, Limpopo
30th January 2018
Next to Tzaneen Showgrounds in Mopani district, a Toyota recovery motor vehicle collided head-on with an oncoming VW
Crash between bus and taxi kills 14 injures 22 in Algeria 
Late in….30th January 2018
Algiers – A collision between a passenger bus and a taxi in Algeria killed 14 people and injured 22 others on Thursday, authorities said.The accident occurred at Sfid on a national highway linking the northwestern areas of Saida and El Bayadh, according to the emergency services. The 22 people injured were evacuated to hospital.Three thousand six hundred and thirty nine (3639) people were killed and 36,287 others were injured in 25,038 road accidents recorded in the year 2017 indicated, Tuesday, the toll of the National Centre for Prevention and Road Safety (CNPSR).
Trailer Crushes Five, As Two Others Die In Ondo Auto Crash
29th January 2018
Scene of the accident  
The university community of Adekunle Ajasin University, Akungba Akoko, Ondo State, was thrown into mourning yesterday as a trailer lost control and rammed into a roadside market.
An eyewitness, Mr. Muritala Rauf, recounted that the truck, which was coming from Ikare axis of the road, lost control while its driver was attempting to dodge a car near the market.
Rauf disclosed that the incident killed five people instantly while several traders and passersby who were severely injured had been taken to a nearby hospital for treatment.
Another witness, Mrs. Iyabo Adewale, noted that the casualties would have been more than the number recorded if students of Adekunle Ajasin University were not on holiday. She added that men of the Federal Road Safety Corps (FRSC) and the police promptly intervened to rescue the victims and forestall any outbreak of law and order in the community.
Another auto crash occurred at Ajebamidele axis of Benin-Ore-Lagos Expressway in Odigbo LGA of the state, resulting in the death of two persons. It was gathered that the Ore road accident involved a black SUV and blue Sienna bus, and was caused by reckless overtaking, which led to a head-on collision.
Five perish in road mishap
Peter Matika, Senior Reporter
FIVE people died yesterday morning in a road accident along the Bulawayo-Plumtree Road when a Toyota Granvia they were travelling in burst a rear tyre and overturned near Mbokodo.
Four others were injured with one said to be in a serious condition and admitted to the Intensive Care Unit (ICU) at the United Bulawayo Hospitals. Only one escaped with minor bruises and was not taken to hospital.
A source privy to the accident told Sunday News that all the passengers were travelling to Bulawayo from Botswana in a Toyota Granvia when the accident occurred. The source said the vehicle burst its rear left tyre, resulting in the driver losing control.
Bulawayo police could not be drawn into commenting on the issue referring all enquiries to national police spokesperson Chief Superintendent Paul Nyathi, who was however, not reachable.
"The driver lost control of the vehicle, which then swerved to the left side of the road. He tried to control the vehicle and maintain it on the road but in the process the vehicle overturned and rolled three times, throwing some passengers out while crushing those that were inside," said the source who witnessed the accident.
The next of kin of the deceased are yet to be advised, with four of them having been positively identified through their passports.
Earlier this month four people died on the spot, after a vehicle they were travelling in sideswiped a haulage truck and then collided head on with another truck along the Harare-Bulawayo Road near Mbembesi.
The driver and three passengers who were travelling to Bulawayo in a Toyota Spacio died on the spot. The Toyota Spacio allegedly encroached onto the lane of the first freightliner truck resulting in a sideswipe and thereafter collided head-on with the second freightliner truck.
30 cheat death in Gweru bus accident
 ABOUT 30 people cheated death yesterday after their Kwekwe-bound bus veered off the road and overturned about 7km from the city centre.
The Govasburg bus crew said the accident occurred when the driver lost control of his vehicle while trying to avoid a head-on collision with an oncoming
car.
"I saw a car overtaking our bus, but there was oncoming traffic. The (bus) driver applied sudden brakes and the bus swerved to the right lane, veered off the road, hitting two small trees before landing on its right side," a bus loader who identified himself as Stanley Chimoyo told Southern Eye. "No one was seriously injured except for one woman whose leg was injured when she attempted to save her child. I, however, managed to take out the child who had no injuries before the woman was taken to Gweru General Hospital."
A police officer who attended the accident scene confirmed that there were no fatalities. Provincial police spokesperson Assistant Inspector Ethel Mukwende was said to be out of office and unreachable.
One dead, four injured in Cape Town car crash
 A man was killed and four other people were injured, some seriously, when the car they were travelling in crashed into a wall on the corner of Mill and Buitenkant streets in Gardens in Cape Town on Saturday morning.
An ER24 paramedic came across the incident at 6am just before her shift started, ER24 spokeswoman Ineke van Huyssteen said.
Upon further assessment, paramedics found a woman, believed to be 19 years old, in a serious condition trapped inside the car. Cape Town Metro Rescue had to use the jaws-of-life to free the woman.
Four men, believed to be in their 20s, were found outside the car. It was believed that members of the public removed them from the vehicle. "Unfortunately, the one man had succumbed to his injuries and he was declared dead on the scene. The other three men sustained injuries ranging from moderate to serious."
Ghana: Four die in accident at Biahu
28th January 2018
One of the cars involved in the accident
Four persons were killed and two others sustained injuries when an ambulance belonging to the Ghana Ambulance Service was involved in an accident at Biahu, near Apowa in the Western Region.
The four were said to have died instantly when the ambulance on which they were travelling collided with a heavy-duty haulage truck at around 1.00 p.m yesterday.
The injured, who have been identified as Alex Asare, the driver of the ambulance, and one Edith are on admission at the Effia Nkwanta Hospital. Meanwhile, the bodies of the deceased have been deposited at the hospital morgue, pending autopsy.
Incident: The ambulance got involved in the accident while conveying a patient to the Effia Nkwanta Hospital. The patient, Ben Asafoah, also perished in the crash.
Eyewitnesses at the scene of the accident told the Daily Graphic that the ambulance was travelling from Dixcove to the Effia Nkwanta Hospital in Takoradi. According to them, even though the ambulance had its siren on to warn other road users to make way for it, the heavy-duty haulage truck from Tarkwa ignored the warning, leading to the collision.
"Due to the huge frame of the haulage truck, it had difficulty in responding quickly to the ambulance's siren to move aside. "As it were, it collided head-on with the ambulance in spite of attempts by the driver of the ambulance to avoid hitting the truck," the witnesses said.
Accident claims 5 near Bulawayo
 Five people have died and five others injured in a road traffic accident that happened last night along the Bulawayo-Plumtree Highway.
In a statement, the Zimbabwe Republic Police said the accident happened when a Toyota Granvia vehicle with Botswana registration number plates burst its rear tyre before it veered off the road where it overturned several times.
The police said 5 people died on the spot after sustaining head injuries, and their bodies were conveyed to United Bulawayo Hospitals (UBH) mortuary for post-mortem, while the injured are receiving treatment at the same hospital.
The names of the deceased will be released in due course once their next of kin are advised.
The police warned motorists to travel and at safe speeds, use roadworthy vehicles, avoid overloading vehicles and desist from driving without drivers licence.
Four killed in car accident in Ghana
 27th January 2018
 ACCRA,   — Four people were feared dead in an accident on Friday at Beahu, a community in the southwest of Ghana, some 230 km away from the capital Accra.
The accident occurred when a truck said to be conveying a consignment of manganese to the mining town of Tarkwa rammed into an ambulance which had six persons on board, police confirmed to local media.
Two of the passengers who survived the accident are receiving treatment at a nearby health facility, reports said.
The accident comes just a day after 10 people were killed in a horrific crash at Teacher-Mantey near Nsawam, 37km northeast of Accra.
Kirinyaga leaders hold cleansing prayer
27th January 2018
An increase in the number of road accidents along the Sagana Kutus road has prompted the area leaders to seek divine intervention in what they hope will cleanse it of "evil spirits". The interdenominational prayers were held barely 24 hours after a Boda Boda rider was killed in a road crash on the same road. The prayers were characterized by calls for motorists to exercise caution as the area is considered a black spot.
Mnangagwa declares Tsholotsho accident 'state of disaster' 55 days later
President Emmerson Mnangagwa yesterday officially declared a state of disaster within Tsholotsho district, Matabeleland North province, following an accident that killed 21 Government workers on December 2 last year. It's not clear why he waited 55 days to do so.
The declaration was announced by Local Government, Public Works and National Housing Minister July Moyo in a Government gazette yesterday. "It is hereby notified that His Excellency the President, in terms of Section 27 (1) of the Civil Protection Act (Chapter 10:06), declared that as a result of the Lorry Accident (a road accident that occurred on the 2nd of December, 2017, in Tsholotsho District) a state of disaster exists within the Tsholotsho District of Matabeleland North Province with effect from 3rd December, 2017," said Minister Moyo.  
The accident, which killed 21 health workers and injured 48 others, occurred at around 4pm at the 35km peg along the Tsholotsho-Sipepa Road near Jimila Centre. The victims were members of a Ministry of Health and Child Care malaria control programme team that was on duty in Matabeleland North province.
That the health workers were crammed into a UD truck that overturned, killing them, has been contrasted with Mnangagwa's government splashing millions on buying Isuzu twin-cab vehicles for nearly 300 chiefs across the country in a blatant vote-buying gimmick ahead of elections in 5 months.
Ghana: 61 die through road crashes in Upper West Region in 2017
Various road traffic accidents that occurred in the Upper West Region in 2017 claimed a total of 61 lives resulting in an increase from the 54 persons that were killed in 2016.
Total number of fatal cases also increased from 48 in 2016 to 54 in 2017 while total number of persons injured again increased from 240 to 276 respectively.
Mr. Mohammed Abdul-Samad, Upper West Regional Manager of the National Road Safety Commission (NRSC) disclosed this at a press briefing in Wa on Wednesday. Total number of serious cases decreased from 72 cases in 2016 to 53 cases in 2017, he said adding that total number of minor cases however increased from 39 to 43 in respectively.
He said total number of cases reported however decreased from 159 cases in 2016 to 147 cases in 2017 with total number of vehicles involved also decreasing from 246 to 221 respectively. He disclosed that the total number of pedestrian knockdowns also decreased from 30 cases in 2016 to 16 cases in 2017.
Mr. Abdul-Samad explained that the closure of the Yapei and Buipe bridges on Wednesday, November 22, 2017 to vehicular traffic to make way for rehabilitation could account for the increase in some of the statistics recorded in the region for 2017. He explained further that the closure of the bridges forced a diversion of vehicular traffic through the Upper West Region, thereby, increasing pressure on the roads leading to some accidents.
The NRSC Upper West Regional Manager said before then, the region had recorded a decrease in all categories of the statistics, adding that but for the diversion they would not have been any significant changes in the statistics.
Mr. Abdul-Samad was happy that there was a significant decrease in pedestrian knockdown and attributed it to the intensified public and institutional education and sensitisation campaign activities carried out by the Commission especially in schools during the year.
He cited interference in the enforcement of road traffic regulations as one of the major challenges in the region and pleaded with political leadership and other influential persons in society to desist from the act to allow adequate enforcement for public compliance.
Mr. Abdul-Samad said the Commission would continue to carry out its education and sensitisation campaigns in the region to ensure public awareness and compliance with road traffic regulations so that lives and property would be protected for a better society.
Western Cape road traffic fatalities down by 4.3% in 2017
26th January 2018 Holly Charlton
Cape Town – New data from Forensic Pathology Services in the Western Cape indicates that 59 fewer deaths occurred on the province's roads in 2017 compared to the previous year.
Farrel Payne, director of provincial traffic services, said the number of recorded road traffic fatalities in the Western Cape dropped from 1 374 to 1 315, which amounted to a 4.3% decrease.
Payne added that the past weekend's number of road fatalities was one of the lowest ever recorded.
"Five people were killed on Western Cape roads over the weekend, compared to an average of 15 fatalities every weekend in 2017," he said.
Payne attributed these improvements to enhancements in integrated planning and praised the commitment shown by law enforcement agencies and municipalities.
He added that strengthened partnerships with South Africa's national roads agency, Sanral, the Safely Home campaign and "engineering colleagues across the province are clearly bearing fruit", he added.
Payne warned all road users to exercise caution on the roads and for motorists to avoid drinking and driving.
17 people were injured this morning when a bakkie and light motor vehicle collided, Gallo Manor

25 Jan 2018, Johannesburg: Seventeen people were left injured this morning when a bakkie and light motor vehicle collided at the Kelvin and Bowling Road intersection in Gallo Manor, Johannesburg.
ER24 Paramedics, along with other services, arrived on the scene to find the light motor vehicle in the middle of the intersection while the bakkie was found further down the road, lying on its side.
Upon closer inspection, paramedics discovered a number of patients walking around on the scene. It is believed that a number of people had been seated on the back of the bakkie when the collision occurred.
Paramedics assessed the patients and found that seventeen had sustained injuries ranging from minor to moderate.
The patients were treated for their injuries and were thereafter transported by various services to nearby hospitals.
The local authorities were on the scene and will be conducting an investigation into this incident.
Eight family members killed in crash
Durban – "The people who died here all lived in one house, that house will be closed now."
The shattered wreck of the VW Golf in which the eight family members were travelling. Picture: Arrive Alive
That was the heartbreaking reaction of Roland Harry, a close relative of members of the Mahabeer family who perished in a horror accident on Sunday night. The family is from Northdale in Pietermaritzburg. Eight family members, aged between 4 and 52  were wiped out when a car they were travelling in, a Golf 1, collided head on with a Ford Ranger on the N2 near Umzumbe.
The driver of the Ford Ranger has been arrested, accused of driving under the influence of alcohol.
Eight family members, aged between 4 and 52 were wiped out when a car they were travelling in collided head on with a Ford Ranger on the N2 near Umzumbe. The victims included Veroshnie Ramparsad and her husband Mitchell Roland Mahabeer. Picture: Supplied
Among those who died are three adults, Veroshnie Ramparsad, her husband Mitchell Roland Mahabeer, her mother Loraine, and Mitchell's brother Jesse. Veroshnie's four children Isabella, Titus, Hannah and Liya, aged between 4 and 12, also died.
Pictures of the accident scene showed the impact of the collision. The front of the white single cab Ford Ranger was destroyed and the VW was completely mangled, signalling the force of the impact.
The family was coming back from a weekend break on the South Coast where they had been visiting other family members. The news of the death shocked many of the couple's friend who expressed their condolences on Veroshnie's facebook page. Harry said the broader family was devastated and hoped that the law would take its course. "Our family is taking this very badly," he said.
"There was nothing left of the car my cousins were travelling in. There is no way anyone could have survived that collision," he said. "Where the accident happened, the section of the freeway has no centre median," he said.
He described the deceased as good people. "They were very good, hard-working people. Today was supposed to be a normal day for them, they were supposed to be going back to work and the children would have been going to school," said Harry.
MEC for Transport, Community Safety and Liaison, Mxolisi Kaunda said in a statement he has instructed a team of forensic experts to fast-track investigations. "The driver of the bakkie escaped the crash unharmed, but was found to have consumed alcohol exceeding the legal limit. He was apprehended on scene and taken to Hibberdene SAPS where appropriate charges will be drawn against him," said Kaunda in a statement.
"It is always worrying to experience a loss of so many lives in one crash. It is mostly disturbing to note that four of the deceased are children," he continued.
Kaunda decried continued disregard for life shown by drivers who drink and drive or speed. "On behalf of the provincial government of KwaZulu-Natal, we wish to send our heartfelt condolences to the families and friends of the deceased," he said. SAPS spokesperson Captain Nqobile Gwala said charges of culpable homicide and drunken driving are being investigated by Southport SAPS.
"A 63-year-old driver was placed under arrest for driving under the influence of liquor and culpable homicide," she said.
Around 100 schoolchildren injured in Westonaria bus crash
25th January 2018 Jenni Evans 
Johannesburg – At least 100 schoolchildren were injured, some seriously, in a crash between a school bus and a truck in Westonaria on Tuesday, Gauteng paramedics said.
ER24 spokesperson Ineke van Huyssteen said when paramedics arrived at the scene, to the far south-west of Johannesburg, just before 16:00, children between the ages of eight and 14 were lying injured over a wide area.
One boy, estimated to be around 13-years-old, was so seriously injured that he had to be airlifted by an ER24 emergency helicopter for further treatment.
The cause of the collision between the two vehicles on the N12 was not immediately clear.
5 SA cops nabbed for smuggling stolen cars to Zimbabwe
 SOUTH Africa's organised crime unit, the Hawks have arrested nine people including five policemen and one immigration officer from the neighbouring country on corruption charges, fraud and smuggling of stolen vehicles into Zimbabwe.
Hawks spokesperson for Limpopo province, Captain Matimba Maluleke said the suspects were arrested on Monday and Tuesday during an operation code named "Mirror." He said the group had been under surveillance for two years. "The nine suspects aged between 32 to 51, including five police officers and a Home Affairs official were arrested on January 22 and 23 in Limpopo for alleged corruption, fraud and smuggling of suspected stolen vehicles out of South Africa, "said Captain Maluleke.
"The arrests are a culmination of a Hawks' investigative project dubbed "Mirror" aimed at addressing corrupt and illegal activities which includes, smuggling of suspected stolen vehicles through Beitbridge Border Post. "The five police officers who were stationed at Tom Burke SAPS and the border post as well as  the home affairs official and three runners, were under Hawks' radar since 2016 following complaints from members of the public," said Captain Maluleke.
He said preliminary investigations revealed that the suspects allegedly forged documents to facilitate the smuggling of stolen vehicles through the Beitbridge Border Post. Captain Maluleke said one of the police officers, Sergeant Israel Mandiwana who is stationed at Beitbridge has since appeared before a Makhado magistrate's court.
Mandiwana was remanded in custody to February 1 for bail application. Captain Maluleke said Mandiwana's accomplices will appear in different courts today. "We are not leaving any stone unturned as we seek to reduce cases of cross border crimes relating to smuggling and theft of motor vehicles," he said.
More than 40 people have been arrested in the last 12 months for smuggling stolen vehicles into Zimbabwe from the neighbouring country through the Limpopo River. The smuggling of vehicles between Zimbabwe and South Africa's border is rife amid reports that most of the cars are destined for Tanzania and Malawi while others find their way into the local market.
Five people die after oil tanker crashes into Tuk Tuk in Kisumu
Author: Linda Shiundu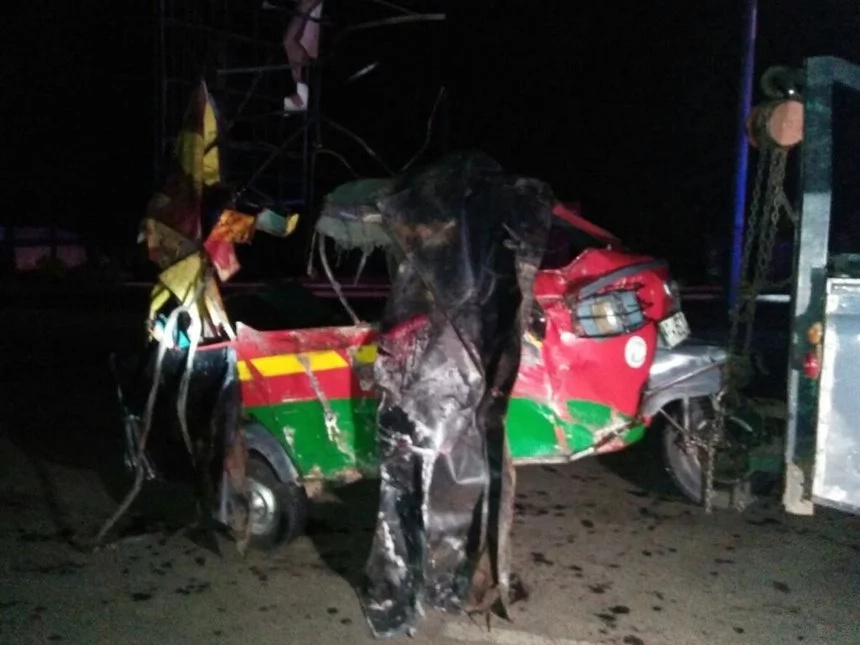 Five people have died and others nursing injuries in Kisumu County following a freak road accident – An oil tanker fell on a Tuk Tuk full of passengers at Kachok after the driver lost control ofthe vehicle Five people died and several others injured on Tuesday, January 23 following a grisly road accident at Kachok in Kisumu County.
Eye witness reported that an oil tanker fell on a Tuk Tuk which was full of passengers after it hit a pavement.
According to a report by Standard, the driver of the tanker that was driving towards Kisumu lost control of the vehicle before falling on its side. Police had to fire shots in the air to scare off a huge crowd that gathered at the scene to siphon oil.
The injured including a few months old baby were rushed to Kisumu County Hospital. TUKO.co.ke is following up on the developing story for more details.
Report Warns Traffic Deaths Hurt Developing Economies
Traffic accidents that result in deaths are individual tragedies that also hurt a country's economy. A new report from the World Bank says these deaths are a barrier to economic growth in developing countries.
The report is one of several reports showing that investing in road safety in low- and middle-income countries could raise national incomes.
Worldwide, about 1.25 million people die in traffic accidents each year. The report says about 90 percent of those deaths happen in developing countries. The World Health Organization says that traffic accidents are the leading cause of death worldwide for people between the ages of 15 and 29. That includes crashes that kill people who are walking, riding bicycles or other small vehicles.
But World Bank transportation expert Dipan Bose says the issue does not get enough attention. He told VOA, "There is not a lot of political will in many low- and middle-income countries to take definitive action to reduce road deaths and injuries."
Read complete article at https://learningenglish.voanews.com/a/traffic-deaths-hurt-developing-economies/4205669.html 
Man injured in fatal bus crash wants $35 000
A Zambian man who lost three fingers after a Bulawayo-bound Bravo bus he was travelling in was involved in an accident that killed three people on the spot, is suing the bus company and its driver for $35 000.
The incident occurred on November 28 in 2016 shortly after 1AM at the 218km peg along the Bulawayo-Victoria Falls road. The driver, Mr Brian Mavhima lost control of the bus and it veered off the road and overturned resulting in the death of three passengers. Several other people were injured in the accident. 
Mr George Kakoma through his lawyers, Legal Resources Foundation, last week filed summons at the Bulawayo High Court citing Bravo Tours (Pvt) Ltd and Mr Mavhima as defendants.In papers before the court, Mr Kakoma said he suffered permanent disability after three fingers on his left hand were amputated. He is demanding $35 000 from the bus company being damages for pain and suffering, permanent disfigurement, trauma and future medical expenses.
He accused the driver of negligence."The defendants were negligent in that even when they were aware that the vehicle was defective and unroadworthy, they went on to load and transport passengers from Victoria Falls to Bulawayo. The second defendant (Mr Mavhima) despite being aware of the defect went on to drive such a bus," he said. Mr Kakoma said he sustained injuries on his left hand which resulted in his three fingers being amputated.
"On examination, the plaintiff's injury was rated at 55 percent functional disability. By reason of the defendants' vehicle, plaintiff suffered damages in the sum of $35 000 for permanent disability, future medical expenses, pain and suffering," he said. "Wherefore plaintiff prays for $35 000 being total amount of damages suffered."
The bus company is yet to respond.
Last year, a Bulawayo man whose seven year-old daughter was also injured during the same accident filed a $170 000 lawsuit against the bus company for damages in medical and hospital expenses incurred. The Chronicle
Bulawayo-Plumtree highway fencing starts
GOVERNMENT has started work on the erection of a fence along the Bulawayo –Plumtree highway with workers already on the ground.
Last week, the Ministry of Transport and Infrastructure Development recruited 39 people, mostly Plumtree residents for the job.
Traffic Safety Council of Zimbabwe (TSCZ) managing director Mr Obio Chinyere confirmed that they have started working on the Bulawayo-Plumtree highway fencing project.
"The work has started and personnel are on the ground as I speak, clearing the bush and also digging holes where we will put poles. It was supposed to be normal work but we have since put it under the 100 days projects. We are busy making sure that in the next 100 days the work will be finished," said Mr Chinyere. "So we have earnestly started the programme to fence the highway which we are going to complete with speed. I can confirm that indeed we are now in full swing."
The $320 000 fencing project was supposed to have been completed at the end of last month but was delayed due to price hikes. The price hikes madness prompted Government to give the parastatal the green light to import the required materials directly from South Africa.
The TSCZ embarked on the highway fencing project last year as part of measures to reduce accidents on the country's highways caused by stray animals. The highway fencing programme started with the erection of the Bulawayo-Gweru Highway fence.
A number of people have died on the country's highways in accidents caused by animals that stray onto roads. For example, in 2013, National Railways of Zimbabwe general manager and freedom fighter Air Commodore Mike Tichafa Karakadzai (Retired) died after the car he was driving hit a stray cow at the 79km peg along the Gweru-Bulawayo road just after the Shangani Mine turn-off flyover.
Concerns have also been raised over the neglect of the Bulawayo –Plumtree Highway due to the absence of road markings and road signs in some parts.
One person killed in a Joburg bus crash involving 4 cars
23rd January 2018
INJURED PASSENGERS TRAPPED IN JOGOO ROAD ACCIDENT WRECKAGE
 Jan 23, 2018
Three passengers are trapped in the wreckage of a matatu that was involved in a nasty accident on Jogoo Road on Monday.
The accident involved multiple vehicles that were heading to the city centre on the busy road. The passengers had boarded the matatu that belongs to Risen Sacco in Komarock. Its driver lost control and hit a matatu that was in front of it, which in turn hit a truck.
The accident has caused a major traffic snarl up on the road.
Police, motorists and Good Samaritans are helping to rescue the trapped passengers.
Uganda: Seven perish in weekend road accidents 
At least seven People have been confirmed dead in four separate accidents along different highways in the central region. Three of the accidents happened in Wamala Sub-region on Saturday claiming six people, four of whom are believed to be of the same family.
The first accident occurred along Kiboga – Kampala highway when the driver of a starlet Reg No. UAH 145C travelling from Kasanga to Kampala lost control and knocked a motorcyclist who was riding in the opposite direction.
"The rider identified as Kabugu Joseph, 34, resident of Kiryokya Mityana died on arrival at Bukomero health centre IV and his passenger (not yet identified) was referred to Mulago national referral hospital," Mr Nobert Ochom, the Wamala Sub Region police spokesperson, noted adding that after the accident, the driver took off.
The second accident took place at about 2 pm on the same day in Kyankwanzi District at Misago trading centre when the driver of a Fuso truck registration no. UBB 826T lost control and knocked a bicycle before running over Musasizi Tracey, 08, who was on the bike. The deceased's body was taken to Kiboga referral hospital mortuary pending postmortem and the driver, Kalema Joshua, was arrested.
Road accidents are caused by recklessness and speeding
MONDAY JANUARY 22 2018 
A total of 78 people — among them the widow of former Foreign Affairs Minister Robert Ouko — died in accidents on roads in Kericho alone in 2017. A further 49 sustained serious injuries, while 12 were slightly injured, said a police report.
Kericho County Commander James Mugera told the Nation that most accidents are caused by indisciplined drivers who overtake carelessly, use wrong lanes and dangerously join roads at junctions. "Speed is not one of the main causes of accidents in Kericho. It's purely driver carelessness. Drivers break traffic rules knowingly," said the officer.
Mrs Ouko died after her vehicle, being driven by her son, veered off the road at the Muhoroni junction and rolled several times. A few kilometres from the scene, nine passengers, including a four-year-old girl, perished on August 6, following a head-on collision between a 14-seater matatu and a lorry at Nyaberia corner, near Kipsitet trading centre.
Former Roads minister Franklin Bett, who arrived at the scene, said the accident could have been prevented.  "The lorry driver learnt of the brake failure several kilometres away, but continued driving. The behaviour in our roads is very wanting," said Mr Bett.
OVERLOADED PROBOX In Kisii County, residents have complained of overloaded Probox cars plying various routes  contributing to accidents.
At the Kisii bus terminus, investigations by the Nation revealed that a number of 14-seater matatus, especially those heading to Migori and Sirare, carry up to 18 passengers. This is done by placing wooden planks, known as sambaza, between seats to create more sitting space.
Anyone who refuses to sit on them is thrown out by the rowdy touts. Inside the matatus, most of the seats are torn and have faulty or no safety belts. And even when a matatu is full, the touts still call for more customers who will stand at the door. "If you try to oppose that, you will always end up being thrown out of the matatu, so you remain silent," said Mr John Migiro.
According to a driver who requested for anonymity for fear of victimisation, the crew part with a protection fee of between Sh50 and Sh200 to avoid arrest.
Zimbabwe: MPs to get cars for free
Finance minister Patrick Chinamasa says government will in future give legislators free vehicles during their five-year tenures, departing from the current regime where members of Parliament pay for vehicles through their sitting allowance. This would apparently apply for the ninth Parliament to be ushered in after the impending general elections to be held within the next four or five months.
Speaking in the National Assembly during the national budget debate last week, Chinamasa said he will change the Parliamentary Car Scheme to allow MPs to get vehicles for free. In addition, government will give a duty free certificate for legislators to acquire a second vehicle. "With respect to Parliament budget, I have had to personally look into those issues and I want to give these guarantees.
"Firstly, there are two aspects which are the welfare of MPs and the need for resources to discharge their mandate. "With respect to the welfare of MPs, I have committed myself and I want to repeat that when we started the Parliamentary Car Scheme, it was on a loan basis. "I have since converted it to be a free car scheme — you will not be required to pay for that car and I would like to carry that scheme to the next Parliament. "We want to assure each MP a free car," said the Finance minister.
He said there were also considerations about those MPs with vehicles that normally do not last beyond two years, especially those in rural constituencies.
Regarding these, Chinamasa said government would give them duty free certificates to buy a second vehicle for themselves but that will be done in the third year of an MP's life in Parliament.  "We agreed that those who suffer damage (to their vehicles) through accidents will be allowed free duty to replace the car that they had bought," he said.
"With respect to the needs of Parliament to carry out its mandate, I want to assure this House that the resources will be provided so that they carry fully their mandate. So far, I am told that we have done our best to meet that responsibility."
Currently, Parliament gives MPs a choice of one off-road vehicle between a Ford Everest and a Ranger. The MPs currently earn a gross salary of $1 124 per month and $1 046 in representation allowance. Chinamasa's sentiments come as Parliament filed summons against a number of former legislators who left without servicing their vehicle loans. Former Zanu PF MP Kudakwashe Bhasikiti (Mwenezi East) and ex-Energy minister Dzikamai Mavhaire (Masvingo Central) are among those targeted for the action.
In summons filed at the High Court last year, Parliament seeks to recover a total of $258 809 in unpaid vehicle loans advanced to the legislators during their terms of office.
Last year, Zanu PF Buhera West MP Oliver Mandipaka asked Parliament to give rural legislators at least two cars, arguing that most of the lawmakers become destitute following the expiry of their terms.
The former police spokesperson said the welfare of parliamentarians "must be taken seriously". "… members who represent constituencies deep down in the rural areas and, I am one of them . . . have bad roads to the extent that at the expiry of the five-year term, I will be having no Ford Ranger at all," said Mandipaka then. "We cannot be destitute after leaving this Parliament. "So, we pray that the budget for this august House is going to be raised so that we are catered for. "So, all it means is that if perhaps we get two or more vehicles, we will be able to access rugged terrains".
Road accidents: 13 dead, 29 injured in 48 hours
21st January 2018  
ALGIERS- Thirteen people died and 29 others were injured in 13 road accidents that occurred in the last 48 hours in several provinces of the country, according to the Civil Protection's toll on Saturday. 
6 people burnt beyond recognition in kombi crash
Several people were burnt beyond recognition near the 25kilometer peg along Mvurwi – Guruve highway this morning when a Harare bound commuter omnibus they were travelling in crashed and caught fire.
Sources who spoke to Bulawayo24.com allege the driver slept there by veering off the road crashing a tree before burning people beyond recognition. When Bulawayo24.com arrived on the scene Mbire legislator Douglas Karoro was busy extinguishing the wreckage.
Confirming the accident Karoro said the whole province is devastated by the incident. "This is devastating for Mbire and Mashonaland Central province as a whole.
"We lost over ten people in this road carnage," confirmed Karoro.
He further implored drivers to exercise caution on the road before thanking Guruve hospital team who rescued those who survived. The Queen of the road kombi was coming from Chitsungo and was reported to be the first coach apart from the most reliable.
The police were still running around to get information of the accident.
Kenya: Jailing traffic police chiefs will not reduce number of accidents
SATURDAY JANUARY 20 2018
Were the matter not so grim, one would be amused at the way the authorities are flailing around and coming up with all manner of wild solutions to a problem that has destroyed too many lives for too long — road carnage.
A great deal has been written on the issue of road crashes, especially since December when it is estimated that over 250 lives were lost in this grisly manner. Since then, the toll has gone up and so has the intensity of the blame game.
There would be no point in regurgitating all that has been said by experts, and all the steps the authorities say they have already taken or intend to take to reduce the frequency of road crashes. We have heard them before anyway, and instead of the numbers going down, they have been going up with deadly regularity. All the causes of this gory toll have been enumerated ever since second-hand jalopies started flooding our roads and the matatu culture of total impunity took root.
HUNA ERROR  They include human error mainly brought about by ignorance, dangerous and reckless driving, ignoring speed limits or "over-speeding", driving under the influence of alcohol or drugs, ignoring traffic signs and fatigue, especially on the part of PSV drivers. Also included in this list are improper or non-existent training, and of course, Kenya's curse, corruption, which allows murderous contraptions to continue rolling without brakes on our roads.
To give the National Transport and Safety Authority a break, they have been at the receiving end of our collective bile due to the harvest of corpses littering our roads every year (an average of 3,000).
But the real culprits are motorists themselves. We have a penchant for shifting all our individual failures to government agencies as though we cannot think for ourselves and have to be policed all the time. That is why, even when we recklessly bribe our way to untimely death, we always seek the most convenient scapegoat.
Now we have shifted gear and are looking for someone to jail for this recurrent tragedy.
TRAFFIC ACT That would be a very attractive idea if only it could work. It was amusing to hear the chairman of the parliamentary committee on transport warn that Parliament would amend the Traffic Act to ensure traffic police commandants paid dearly for allowing deadly vehicles to ply their routes at top speed. Mr David Pkosing, a man with a serious sense of humour, should think through this idea. There is no point in pushing this kind of ineffectual legislation.
While on the subject of trivial pursuits, it would be interesting to know what informed the decision by the NTSA to discriminate against motorists who are 60 years and above by insisting that they produce a medical certificate every year before they can renew their driving licences.
It would be illuminating to know how NTSA arrived at the conclusion that pensioners deserve being subjected to that kind of treatment. What statistics did they rely on? There are facts about advancing age that cannot be denied. To start with, when you get to a certain age, a few infirmities associated with the years must creep in.
Truck runs over policeman, drags him 40 meters to his death 
20th January 2018
A police officer was at dawn of Friday killed after being dragged beneath a cargo truck for about 40 meters at a snap checkpoint at Gomoa Abotsia in the Central Region.
Emmanuel Asamoah, the 43-year old driver of the truck with registration No. GT 6675 – C, who went into hiding initially, has been arrested by the police while the remains of the victim, G/LCpl Danso Animon of the Cape Coast Operations Unit, has been deposited at the Trauma Hospital at Winneba for onward transfer to the Police Hospital in Accra.
According to the police, the fatal accident occurred at about a quarter past midnight while G/LCpl Danso and three others were manning the checkpoint. A police situational report sighted by Graphic Online said the Mercedes Benz cargo truck which was loaded with copra from the Nzema area dangerously and recklessly ran over the metal barricade. The deceased Officer who was then checking vehicles from the Accra direction was run over.
The driver of an oncoming Man Diesel cargo truck with registration No.GR 3284 – Y driven by one Osman Yussif carrying 400 bags of rice from Tema towards Mankessim who saw the Benz truck approach his direction, fell on its right side with the goods while trying to avoid a head-on collision.
It took a heavy duty towing vehicle from Kasoa to restore traffic flow.
Chief crashes 'Mnangagwa' car
A Kadoma chief is reported to have crashed his new 4×4 vehicle.
Apparently, the chief is one of the beneficiaries of the 52 cars that were issued by President Mnangagwa last week in Gweru .
Uganda: Three dead, 20 hospitalised in two road accidents
The wreckage of the bus that collided with the bus on the Mbale-Kampala Road. Photo by Yahudu Kitunzi  By Felix Ainebyoona,Rajab Mukombozi, Yahudu Kitunzi & Mudangha Kolyanga
Three people have died after a bus they were travelling in rolled at Sanga, Kiruhura District on the Mbarara-Masaka Road. The Rukungiri bound Kasaba Bus overturned at about 12 am on Wednesday.
Preliminary police investigations indicate that the speeding bus developed a mechanical fault before the driver lost control. Rwizi Region Police Spokesperson, Mr Samson Kasasira said a male adult and two juveniles died on the spot.At least 23 people were injured and rushed to health facilities in Lyantonde and Mbarara.
The driver of the bus, Mr Ali Kiguma is on the run.
In a related development, 20 people are receiving treatment at Mbale Referral Hospital after sustaining injuries in an accident that involved a bus and truck on the Mbale- Kampala highway. The accident occurred at about 5am on Wednesday morning after a bus belonging to Good Shepherd Company registration number UAJ 416D collided with a trailer registration number UBA 769F at Nabuyonge Junction on Pallisa Road.
The bus was travelling from Kampala to Soroti. It was carrying 55 passengers, according to police.
Elgon Police spokesperson, Mr Suwed Manshur, said the trailer was heading to Budaka District. "The bus collided with the trailer, leaving over 20 people, who were travelling in the bus, critically injured," he said. The Mbale district traffic officer, Mr Hadi Seiko attributed the accident to reckless driving. Some of the injured people include among others;  Sgt Samuel Opia, attached Mubende Rehabilitation Centre and Cpl Richard Ogwar, attached to Bumbo Barracks.
Others include Wilson Kalende, Hamuza Busika, Jowali Muzila, Fazir Bonny, Rachel Mulombi and Twahilu Muyombya, the conductor of the bus.
Deadliest bus accidents in the past five years
The bus fire in Kazakhstan in which 52 people were killed Thursday is among of the deadliest bus accidents in the world over the past five years.
Here are some of the others.
2018  Peru: Fifty-two people die in January when a bus plunges 100 metres (330 feet) over a seaside cliff after colliding with a truck on a precarious stretch of road known as the "devil's curve".
The accident is about 45 kilometres (28 miles) from Lima on the Pasamayo coastal highway.
2016 Ghana: A government-operated passenger bus collides head-on with a truck carrying tomatoes in February, leaving 61 people dead and 25 critically hurt.
Investigators say the bus, heading to the northern town of Tamale, appeared to have been speeding. It is reduced to a twisted mess of metal.
Afghanistan: In May at least 73 people are killed when two passenger buses and an oil tanker burst into flames in a head-on collision in the eastern province of Ghazni, near the capital Kabul.
Many of the dead, including women and children, are burned beyond recognition and the vehicles are completely gutted.
2015 Brazil: A tourist bus leaves a twisting mountain road and plunges 400 metres to the bottom of a densely wooded ravine in southern Brazil, leaving 54 people dead.
The accident is near the town of Campo Alegre in the Dona Francisca mountains that attract thousands of tourists a year.
2014 South Sudan: At least 56 people are killed when a bus and a truck collide while crossing a bridge on the main highway south, about 25 kilometres from the capital Juba.
The bus is travelling to Uganda and most of the dead are from that country.
2013 Zambia: Fifty-three people die in a high-speed collision between a bus and a truck in February, 100 kilometres north of the capital Lusaka.
The Zambia Postal Service bus — which also runs passenger transport services — had been taking passengers from the Copperbelt mining province to Lusaka.
'Everybody is getting it wrong' on curbing road carnage Matatu owners chair says
19th January 2018
Schoolchildren hurt in Durban taxi crash
Children between ages of six and 15 were involved in a taxi crash on Wednesday in Durban. Photo: Arrive Alive
JOHANNESBURG – Multiple people, including schoolchildren between the ages of six and 15, have been injured in a taxi crash in Umlazi, south of Durban.
The incident took place on Sibusiso Mdakane Drive in Umlazi E Section on Wednesday morning, according to Arrive Alive."Rescue Care Paramedics arrived on the scene to find the taxi lying on its side," the report read.
Road accidents kill 200, injure 996 others in Ogun 
By: 
A total number of 718 road traffic accidents occurred on roads in Ogun State last year and resulted in injuries to 996 people and death to 200 others.
Among those killed in the accidents were 155males and 45 females while 4,805 persons were rescued unhurt due to quick intervention by Operatives of traffic agencies.
The crashes recorded involved 238 private cars, 48 private buses, 357 commercial buses, 262 commercial cars, 214 motorcycles and 72 tricycles.
Also involved were 95 pickup vans, 167 medium trucks, 96 heavy trucks and 192 other vehicles, according to the Commander, Ogun State Traffic Compliance and Enforcement Corps(TRACE), 'Seni Ogunyemi.
The TRACE Public Relations Officer, Babatunde Akinbiyi, who made the accident statistics for 2017 known in a release, attributed the causes to over speeding, dangerous driving, bad tyres, driving against traffic and other causes.
Akinbiyi added that 4,297 motor vehicles and 1,275 Motorcycles were apprehended for 6,230 offences during the period and reiterated the resolve of TRACE
"to reduce deaths and injuries on all roads in Ogun State in 2018."
According to him, this would be pursued vigorously and relentlessly this year such that no traffic offender would go unpunished. He appealed to the motoring public to obey all traffic rules and remember that the Road is patient but does not forgive.
11 killed in NW Tanzania road accident
 18th January 2018
 ARUSHA, Tanzania, Jan. 15 (Xinhua) — At least 11 people have been killed and 6 others injured in a head-on collision between a minibus and two trailer trucks in north-western Tanzania's region of Kagera, police said on Monday.
Augustine Ollomi, Kagera regional police commander, said in an interview that the accident occurred on Sunday afternoon at around 6 p.m. in Nyangozi, Biharamulo District, about 1,200 km from the country's commercial capital Dar es Salaam.
Ollomi said overspeed driving of the minibus was the main cause of the deadly accident, which was heading from Tanzania's western region of Kigoma to Kahama town in Shinyanga Region, with 16 passengers on board.
Police said that 9 people, including the driver, died on the spot while other 2 passengers died soon after reaching the Biharamulo Designated Hospital.
Ollomi said that the 6 injured people were rushed to the district hospital and were responding well to treatment.
Tears as nine Nyandarua road crash victims are burried
By James Munyeki | Published Wed, January 17th 2018
2 year old Baby Josephine Wambui who died in the fatal crash.She was the only child who perished during the accident.Her mother is admitted at Nakuru PGH hospital
Nine victims of a road crash were buried in Nyandarua County yesterday. The nine, all members of Kiboya Self Help Group, were killed in a freak accident along the Nyeri-Nyahururu road as they returned home from a burial in Mukurwe-ini, Nyeri County.
Hundreds of mourners including leaders from the region attended a joint mass at Ngai Ndeithia Secondary School. Public Service Cabinet Secretary Sicily Kariuki read President Uhuru Kenyatta's condolence message. In his speech, the President condoled with the families and promised that the Government would help them in whatever way it could. He gave a personal contribution of Sh500,000.
10 deaths, 23 crashes recorded in Anambra in 2017- FRSC
The Anambra Sector Command of the Federal Road Safety Corps (FRSC) said on Tuesday that no fewer than 10 persons lost their lives in 23 road accidents in Anambra in 2017. 
The Sector Commander of the FRSC in Anambra, Sunday Ajayi, disclosed the figure in an interview with the News Agency of Nigeria (NAN) in Awka, the state capital.
Mr. Ajayi said that there was a slight drop in the figures last year, compared to 2016, which recorded 11 deaths and 34 crashes. He said that there were seven fatal accidents in the state in 2016 while 2017 recorded five fatal road mishaps. According to him, 191 persons were involved in the 2017 road accidents, as against 275 recorded in 2016, adding that 43 were injured last year while 99 got injured in 2016.
The figures showed that 40 vehicles were involved in the recorded crashes last year, while 63 vehicles were affected in 2016. "The reduction in the number of accidents recorded in 2017, as opposed to that recorded in 2016 in the state, is attributable to the robust public enlightenment and rule enforcement," he said.
He commended all stakeholders including motorists, who assisted in ensuring safe motoring environment in the state in 2017. Mr. Ajayi, who described the Christmas and the New Year patrols in Anambra as successful, lauded the national and zonal offices of the NYSC for providing logistics which made their task easy.
He said that the officers and men in the sector command were well equipped for effective traffic management while the petrol scarcity experienced in December also aided their job.
"While not advocating fuel scarcity, I must say that it significantly reduced our burden because the number of vehicles on the road was not as it used to be during that time of the year.
60 escape death as FRSC van, truck, buses crash
At least 60 passengers and motorists yesterday escaped death in an accident which occurred on the Lagos-Ibadan Expressway. The accident involved a trailer belonging to Dangote Group, a pick up van belonging to the Federal Road Safety Commission (FRSC), four cars and three buses. Four persons sustained injuries. The accident occurred on the Kara Bridge end of the Lagos-Ibadan Expressway, causing gridlock, which extended to Ojota in Lagos.
The cars and buses were seriously damaged, while blood of those who were injured littered the road. Policemen, officials of the Nigeria Security and Civil Defence Corps and those of the Ogun State Traffic Compliance and Enforcement Corps (TRACE) were on ground to rescue trapped victims and to clear the road of obstruction. Witnesses blamed the FRSC officials for the crash. One of them alleged that the FRSC officials were chasing a commercial bus which caused the accident.
The FRSC officials hurriedly left the scene to avoid mob action. A witness, who identified himself simply as George, said four people who were wounded had been taken to the hospital.
He said: "The accident was caused by the FRSC officials, who were pursuing a bus before a moving truck belonging to Dangote Group ran into them, causing multiple accident." One of the survivors, who was in a Corolla car, Ihioma Eze, said she was sleeping when she suddenly heard a noise of other passengers, yelling for help. She said: "Before I asked what was happening, our driver, who was trying to manoeuvre, was hit from the rear by a bus. I just thank God that I escaped death this Monday morning."
Mixed reaction as CS Macharia retains jobs amid road carnage
16th January 2018
To some it was a disappointment as the news of his reappointment was received with disbelief with many expecting that the timing of the announcement would work against Macharia – at a time the country was experiencing baffling cases of road carnage.
It was not to be the case though, when Kenyatta stepped out from the walls of State House to address the nation – Macharia was number three on the list of the Cabinet Secretaries who had been retained.   While making the announcement, Kenyatta was very categorical and clear that he expected nothing less than pure delivery from the men and women that would make it into his Cabinet.
Matatu Association Chairman Simon Kimutai while expressing confidence towards Macharia's reappointment believes that Macharia will be able to restore sanity in the transport sector adding that Kenyans should be patient with him and allow him to work. "I am very confident that the minister will be able to execute his role with the seriousness it demands and in my own assessment the President was right in retaining him in his Cabinet. Given time, I strongly believe that Macharia will be able to do what he knows best," said Kimutai.
Kimutai who seemed to absolve the CS from any blame of failing to do enough to curb the rising cases of road accidents in the country said the CS was not entirely to blame for the carnage. "Macharia is very consistent in what he does and with time his efforts will be seen by the public. He always tries to gather different stakeholders in the sector and have discussions with them on how the sector can be improved," said Kimutai.
A series of road accidents that claimed hundreds of lives were witnessed during last year's festivities with many questioning what the CS was doing to avert the situation.
Kitui Senator Enoch Wambua and a member of the Senate Roads and Transport Committee believes that Macharia should have been dropped as a minister saying that he lacks the professional touch in the manner in which he handles affairs at the ministry. "His casual approach to issues is so worrying and begins to raise question about his capacity to deal with matters transport," said Wambua.
Two die in yet another motorcycle accident
Two people died on Sunday in a road accident involving a private vehicle and a boda boda taxi along Kutus-Sagana road in Kirinyaga. The boda boda was carrying four people.
 Two survivors were rushed to Kenyatta National Hospital in critical condition following the morning accident.A witness who spoke to the Star said the driver of the private vehicle sped off towards Sagana after the accident. Police have launched a manhunt for the driver. "We have leads, we are going to arrest him so that he can assist us with investigations" said Peter Macharia, a police officer in the area.
 The witness identified as Mugo said the rider of the motorbike hit a pot hole and lost control before colliding with the car. Among the dead is Titus Kangara, a son to Jubilee Party vice chairman in Kirinyaga Mureithi Kangara. The other is believed to be an administration police officer. The bodies of the deceased were moved to Kibugi funeral home in Kutus.
The accident happens just a few days after five family members died in an accident that involved a car and a motorbike in Kakamega. On Saturday, three people died at Emali along Mombasa road in an accident involving a Toyota bro box and a Chania bus.Cases of road accidents have been rampant in the recent months with the month of December alone registering over 300 deaths.
4 People killed after bus rammed into a stalled lorry in Wajir
15th January 2018 KTN Newsdesk  
Onitsha: Five feared dead in multiple accident
No fewer than five persons were feared dead in a multiple accident in Anambra State. The accident involved an articulated vehicle, a tipper, a commercial bus owned by Onitsha South Mass Transport Company and a car.
An eyewitness told the News Agency of Nigeria that the accident occurred at about 6.00 a.m. on Sunday near Ziks Roundabout, along the Onitsha – Enugu Expressway, Onitsha. The source said the unmarked articulated vehicle allegedly drove into the expressway carelessly and ran into the oncoming tipper and other vehicles.
According to the source, the tipper lost control and hit the commercial bus and other vehicles on the road while trying to dodge the articulated vehicle. The source said five persons died on the spot while many others sustained serious injuries.
"Personnel of the Federal Road Safety Corps (FRSC) and that of Willie Work Force (WWF) were those who later took the dead and wounded to hospital," the source added. NAN reports that the affected vehicles, which caused obstruction on the expressway were towed away by the FRSC.  When contacted, the state FRSC Sector Commander, Sunday Ajayi, said efforts to get the detail from his officials proved abortive.
"I just want to advise road users to exercise extreme caution as they ply the roads and to ensure that their vehicles are in good shape before setting out on any journey," Mr. Ajayi said. NAN further gathered that a similar accident involving three vehicles also occurred by New Tyre Market along the Onitsha – Awka expressway on Saturday afternoon. Sources also said the accident allegedly left two persons in a commercial bus dead on the spot while many sustained injuries.
Two dead, six seriously injured in Mombasa Road accident
By Steve Nzioka |   January 14th 2018
The mangled wreckage at the scene of accident
Two people have died on the spot, six others seriously injured following an accident that happened shortly after 4:30pm Saturday, January 13 involving a probox and a Chania Executive bus.
The accident occurred at Oloitoktok junction along Mombasa-Nairobi highway some meters to Emali Bridge.  According to a witness account, Mr. Alfred Mutuku, an employee of Standard Gauge Railway, Emali station, the bus was headed to Nairobi from Mombasa and the probox was from Sultan to Masimba. "The accident happened at the Oloitoktok junction some meters to the Emali Bridge where out of the four occupants in the probox, two people were pulled out dead with the other two had critical injuries", said Mr. Mutuku.
The fatalities were the probox driver identified as Isaak kiio, and unidentified woman about 30 years. A Police report from Emali AP post, reported that the bus had thirty six occupants at the time of the accident. The report further explained that the probox tried to overtake before meeting the speeding bus head-on. Those injured are receiving treatment at Kilome Nursing Home.
Three persons die in multiple Accident along Benin-Ore road
JANUARY 14, 2018   PMIN NEWSCOMMENTS
Three persons have died in a multiple accident along the Benin-Ore road, newsmen report. The accident which occurred very close to the Ovia river involved four trucks. According to a witness , one of the trucks with diesel was said to have run into another truck conveying iron rods. Two other  trucks ran into them  to cause a traffic gridlock on the road.
An official of the Federal Road Safety Corps (FRSC) who spoke to newsmen confirmed the  deaths and said that two of the corpses had already been evacuated to a morgue. He also said that the accident occurred in the early hours of Saturday (today), adding that the fourth driver was seriously injured and has been taken to the hospital.
Poor road designs to blame for fatalities
SATURDAY JANUARY 13 2018
Wreckage of a bus that was involved in a crash at Sachangwan, Nakuru County, on December 12, 2017. A new report says poor road design rather than reckless driving in developing countries is to blame for the high number of deaths and injuries. PHOTO | JOHN NJOROGE | NATION MEDIA GROUP
The Safe and Sustainable: A Vision and Guidance for Zero Road Deaths, study released last week by the World Resources Institute and the World Bank, says that about 1.25 million people are killed and millions others injured in road accidents every year, but the numbers of could be significantly lower if the roads were properly designed to prevent or reduce fatalities after human error. According to the report, the most effective way to prevent traffic deaths is adopting a "safe systems" approach.
Data from 53 countries shows that approach which is built on the premise that human error is inevitable but traffic fatalities and serious injuries are not, achieved both the lowest rates of traffic deaths and the largest reductions in fatalities over 20 years, and could save a million lives per year if all countries adopted it.
Safe system approach  "We can dramatically reduce and eventually eliminate road crash fatalities if we follow a Safe System approach," said the head of the World Bank's Global Road Safety Facility, Soames Job.
The report recommends city and road planners to, among other things, design roads to move traffic at appropriate speeds, apply design techniques to control speeds and improve visibility at intersections, physically separate highways in urban areas from pedestrians.
Mugwadi fined $250 for culpable homicide
 Musician Tererai Mugwadi, who was convicted of culpable homicide after she was involved in an accident that killed one person was yesterday fined $250 by a Chitungwiza court. Mugwadi (32) of Stapleford, Mount Hampden in Harare, denied the charges when she appeared before Chitungwiza magistrate Mr Oliver Mudzongachiso.
Mr Mudzongachiso, however, found her guilty after a full trial and fined her $250. She will spend two months in prison if she fails to pay.
In passing sentence, Mr Mudzongachiso said Mugwadi's driving was not so dangerous as to warrant the cancellation of her driver's licence. Prosecuting, Mr Edmond Ndambakuwa told the court that a deterrent sentence was appropriate, especially in cases that involved loss of human life.
"She was involved in a head-on collision, causing the death of one person and injuring three other passengers from another vehicle. "Precious life is being lost due to such negligence and it is my plea that a deterrent sentence be passed and her licence be cancelled or barred from driving for a period not exceeding a year," he said.
However, Mugwadi's lawyer successfully argued in mitigation that a custodial sentence wasn't appropriate since she was not only asthmatic, but had two young children who look up to her.
One Critically Injured in Mpigi Fuel Tanker Explosion
Uganda police force has confirmed that one person was critically injured when a fuel tanker exploded last night along the Kampala-Masaka highway.  According to Police spokesperson Emilian Kayima, the fuel tanker registration number UAX 761V exploded minutes after it overturned at Kavule in Mpigi District.
 Preliminary investigations indicate that the fuel tanker which was destined for Mbarara overturned when the driver attempted to avoid a head-on collision with a Kampala bound Fuso truck registration number UAY 373W.
Fuso truck was also burnt. Kayima says only truck driver identified as Muhammad Muga was injured critically and rushed to Mengo hospital where he is admitted.
"The driver of the fuel tanker and turn man are safe. Their identities will be soon given," Kayima said. He says a team from the Police Fire and Rescue services has maintained its presence at the scene.
6 killed in Potchefstroom crash
12 Jan 2018 Holly Charlton
 Potchefstroom – Six people were killed and three others injured during a head-on collision on the N12 highway, roughly 15km outside of Potchefstroom, paramedics said on Thursday.
Paramedics and other emergency service officials arrived at the accident scene just before midnight on Wednesday and found a bakkie and a second vehicle, both of which were significantly damaged, obstructing the road, ER24 spokesperson Russel Meiring said in a statement.
Three people were found inside the bakkie and six inside the second vehicle.
"Paramedics assessed the patients in the [second vehicle] …and found that two men, a woman and two children, aged between three and four, had all sustained numerous injuries and showed no signs of life," said Meiring. "They were declared dead at the scene as nothing could be done for them."
Of the three men paramedics found inside the bakkie, two sustained moderate injuries while the third was later declared dead at the scene. Paramedics provided advanced life support intervention to a woman, the sixth patient in the second vehicle, who was found in a critical condition.
She was airlifted by a private medical helicopter to Lenmed Randfontein for urgent treatment. The remaining two injured patients were transported by ambulance to the nearest hospital, Meiring said.
Nmibia:Two die in car crash near Arandis
by Adam Hartman
A report issued by Erongo crime investigations coordinator, Erastus Iikuyu on Tuesday stated the accident happened around 14h40 on Tuesday, and involved a white Toyota Passo with a Windhoek registration number on its way to Swakopmund with five occupants.
About 36km after Usakos the car's left rear tyre allegedly burst, causing the driver to lose control and the vehicle to overturn.  Two passengers, Josefina Booisen (28) and Roberta Doeses (11), were killed instantly.  The others sustained slight injuries, according to the report.
According to Iikuyu a case of culpable homicide is being investigated.
Statistics provided by the Motor Vehicle Accident (MVA) Fund to The Namibian yesterday show that 53 crashes have been recorded since 1 January, with eight people having lost their lives. Of the 53 crashes, 11 have been in Erongo, claiming three lives.
Five people injured in Lenasia crash, south of Soweto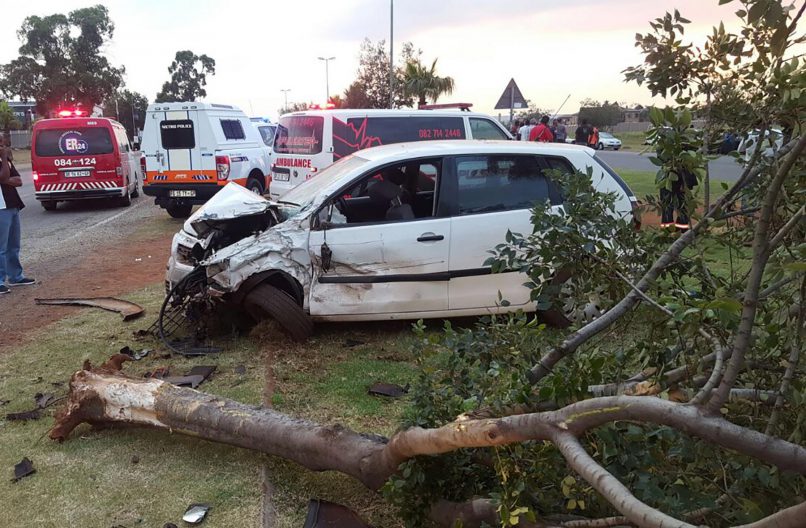 Paramedics arrived on the scene at around 6pm, and found the two vehicles on the side of the road.
Five people were injured on Thursday, when two cars collided on the K43 in Lenasia, south of Soweto, paramedics said.
ER24 spokesperson Werner Vermaak said paramedics arrived on the scene at around 6pm, and found the two vehicles on the side of the road.
"One of the vehicles collided with a tree during the collision. Some of the patients were found walking around on the scene when paramedics arrived. Paramedics treated five people on scene and later transported them to a nearby hospital for further care," Vermaak said. "The exact circumstances surrounding the collision is not yet known.  Johannesburg Metro Police attended the scene."
Eight family members killed in road accident
 11th January2018
Central CID boss Gideon Kibunja said the deceased were coming from a burial event in Murang'a when the driver of the bus they were in lost its control before it rolled along the Nyeri-Nyahururu road  
Eight family members died in a grisly road accident on Tuesday night after a commuter minibus they were traveling in rolled over at Kianugu area on Nyeri-Nyahururu road.
Regional criminal investigation commander Gideon Kibunja confirmed on Wednesday that the deceased were coming from a burial event in Murang'a when the driver of the bus they were in lost its control before it rolled along the road. "Five people — four female adult passengers and a two-year children – died on the spot while three others died on arrival at the hospital," Kibunja said.
He said five other passengers were injured in the accident. The bodies of the deceased were preserved at the Nyahururu hospital mortuary awaiting postmortem while the motor vehicle towed to station and detained awaiting inspection.
Road accidents have been on the increase across Kenya during the festive season with the National Transport and Safety Authority (NTSA) putting death toll at over 300 since December 1 last year. According to NTSA's preliminary investigations, the causes of these crashes include overspeeding, lane indiscipline, reckless driving and driving under the influence of alcohol and other substances.
 He called on all Kenyans to also play a part in reducing road accidents by ensuring that they observe traffic rules, their vehicles are in good condition and rogue drivers are reported to the authorities.
"Even as the government takes measures to stop the senseless deaths on our roads, all Kenyans have a role to play in supporting that effort," he said.The President ordered NTSA officials to leave the work of enforcing the law on the roads to the Traffic Police Department.An estimated 3,000 Kenyans die on road accidents annually despite concerted efforts by the state and the private sector to promote safety on the highways, according to the NTSA.
Nigerian club footballers involved in auto crash
PREMIUM TIMES gathered that the players were returning to their base in Ilorin after participating in the just concluded Bet9ja NNL Super 4 tournament held in Lagos.
According to updates by some of the players involved in the auto crash, no life was lost in the accident but a few of the traveling contingent suffered varying degrees of injuries and have since been taken to the hospital
Kwara United are returning to the elite division after two seasons in the second tier.
They were meant to start the new NPFL season with a home game against Niger Tornadoes on Sunday. It is not clear if the game will go ahead as planned.
Revealed: Why Ghana remains under-developed for decades
'Circle interchange will fail'
The urban transport consultant turned lawyer cautioned that the €75 million Kwame Nkrumah Circle interchange project commissioned by former President John Mahama will fail, because it is not being managed according to the expectations of the road design.
"It's not going to fail because of the road design capacity…but where you have indiscipline people who sell by the road and are allowed to do that especially when it is getting to an election, the road fails not because it is not well designed, but because you are forgetting the context within which the people around work."
'Gov't policies will continue to fail' He added that the focus of most political parties on the development of policies and programs will continue to birth no development since a major work on the development of the mindset of the citizenry has not been prioritized.  He warned that policies will continue to fail if that is not corrected.
"It is a central thing to our nation and we have to deal with it. All that we get from time to time is about policies and they do not work because the attitude of the people is designed to make things fail. That is the fact."
"For instance, for the transport sector, instead of implementing bus lanes, you encourage people to buy cars. Three cars parked together will occupy the same space as a bus, whereas the bus will take 80 people, the cars will take 15 people and the average occupancy of a car in Accra as far back as 2003 was 2.1, in other words, were are wasting the space."
"If you go through the entire transport sector, you will see that both the private formalized and public sectors, are seriously encouraging the purchase of cars as an incentive for people. So the system is designed to fail. There is no correlation between the objective of our people as a nation and the actions we take," he told host Bernard Avle.
'Ghana's growth by accident' He indicated that despite the positive indications from economic ratings and improvement in investor confidence among other key characteristics of the country's economy, the growth continues at a slower speed than expected.
"We may end up realizing that the growth occurs largely by accident and not be by conscious effort," he noted.
'Victim of other people's strategy' He held the view that the country could remain a "victim" of the strategies and policies of other countries if it does not courageously develop and implement its policies. (see Editorial 2018 – Ed)
'What has Ghana achieved?' "You'll be amazed that some of the road networks we have today have still not met the 1961 standards. The famous Spintex road in the 1961 Master plan for Accra was designed to be a 6 lane dual carriage road. The reservation is still there, but a part has been encroached upon so what we have now is an industrial road," he said.
According to David Ofosu-Dortey, from Ghana's journey from the Ghana's Vision 2020 (1996-2020), Ghana Vision 2020: The First Step (1996-2000), the Ghana Poverty Reduction Strategy (GPRS I) (2003 – 2005), the Growth and Poverty Reduction Strategy (GPRS II) (2006 – 2009), and currently the Ghana Shared Growth and Development Agenda (GSGDA) (2010 – 2013), developments plans make it difficult for it to accurately measure its achievements.
He called for national introspection on why most of the development plans including Vision 2020 failed, and why the many others failed to meet their targets.
'Democratic development vs Economic development' "There is so much freedom in this country so if you celebrate 25 years of democracy, yes, we have achieved a lot democratically, but what about when it comes to economic development. There is a difference between attaining freedom and attaining the freedom which is supposed to drive development. The development part has not been driven by our freedom," he said.
Four die on the spot. . . Spacio sideswipes haulage truck, hits another head-on
Four people died on the spot after a vehicle they were travelling in sideswiped a haulage truck and then collided head on with another truck along the Harare- Bulawayo road near Mbembesi on Tuesday night.
National police spokesperson Chief Superintendent Paul Nyathi
The driver and three passengers who were travelling to Bulawayo in a Toyota Spacio died on the spot.National police spokesperson Chief Superintendent Paul Nyathi confirmed the fatal accident yesterday.
 "I can confirm that four people died last night, January 9, 2018, at 9PM at the 396km peg along the Harare-Bulawayo road near Mbembesi.
The accident occurred when a Toyota Spacio which was travelling towards Bulawayo and freightliner truck travelling towards Gweru and another freightliner truck which was also travelling towards Gweru were involved in an accident," said Chief Supt Nyathi. He said the Toyota Spacio allegedly encroached onto the lane of the first freightliner truck resulting in a sideswipe and thereafter collided head-on with the second freightliner truck.
Chief Supt Nyathi urged drivers to be responsible while driving on the country's roads as some of the fatal accidents could be avoided. "Drivers have to be responsible on the roads. They have to be observant and above all they should not travel in the centre lane of the roads. Some of the fatal accidents that are occurring could be avoided," he said.
The accident occurred a day after Zanu-PF Bulawayo district chairperson  Magura Charumbira died in another road accident at the 56 km peg along the Harare- Bulawayo Road near Norton. Charumbira who was a passenger in the Mercedes C- Class car died on the spot while the driver and another passenger were injured.
Five die in car accident in Zambezi
The deceased were identified as Mukusi Masule (71), Linda Maata (21), Kasanga Isaack (19) and Mubita Ndozu (age unknown). The fifth victim is yet to be identified. The incident happened at around 10h20.
Police yesterday said the rear right tyre of the vehicle, carrying eight passengers, burst, causing the driver to lose control and the car overturning.  The driver, who is in a stable condition, was identified as Chillinda Allen (33), and will be charged with culpable homicide, reckless and negligent driving, and driving without a legal driving licence. The other two victims, who are in a critical condition, were identified as Ronica Kachana (22), who is pregnant, and Mukusi Masule (13). They are admitted at the Katima Mulilo State Hospital.
Zambezi regional crime investigations coordinator, deputy commissioner Evans Simasiku confirmed the accident, stating that the eight passengers along with the driver were coming from the Linyanti area and heading to Katima Mulilo when the accident happened. "The driver, according to our estimations, drove 790 metres without realising that he was having a flat tyre. This led to him losing control of the vehicle and overturning four times. Looking at further causes of the accident, we realised that the vehicle was overloaded with people and goods.
Legally, this vehicle is only allowed to carry seven passengers. But in this case, it was carrying eight," Simasiku observed. He thus advised passengers to be responsible for their lives, and to ensure that they look at the condition of a car before getting on the road, as well as to ensure that drivers limit their speed.
"As a passenger travelling in a public transport vehicle, it is your right to tell the driver to slow down if he is speeding in order not to compromise your life. The drivers should also drive with caution as they are carrying other people. They should not just look at the amount of money they will make in a day, and also ensure that their cars are in a good condition," he stressed.
Simasiku further appealed to the public or family members to come forward and help them identify the fifth victim if they know of a male person who was travelling from that area.
Hero status for Grace Mugabe boo-boy?
 ZANU-PF Bulawayo province has recommended that the party's Bulawayo central district chairperson Magura Charumbira who died in a car accident on Monday be declared a liberation hero.
Charumbira (34) died on the spot at the 56km peg along the Harare-Bulawayo Road near the Norton tollgate after a Mercedes Benz in which he was a passenger rammed into a stationary haulage truck.The driver of the light vehicle and the other passengers survived the crash.
Charumbira shot to fame last year in November when he led a group of Zanu-PF youths who heckled former First Lady Mrs Grace Mugabe at a rally in Bulawayo. Zanu-PF provincial spokesperson Christopher Sibanda confirmed the development saying the province has written to the party's Politburo.
"The provincial leadership has unanimously recommended that Charumbira be declared a liberation hero and be buried at the Provincial Heroes' Acre in Nkulumane. We haven't met his family to discuss the issue but it is our hope that they will consent to our plans as a party," said Sibanda.
"He was a very vibrant young party member who could have done more in Zanu-PF. There are only a few people of his calibre. He was dedicated to the ethos of the party hence his death is a serious loss for us as Zanu-PF," he said.
Charumbira was thrown out of the interface rally at White City Stadium when he famously booed Mrs Mugabe as she was addressing the crowd.  He went into hiding for a few days before handing himself over to police. He was later acquitted in court.
In May last year Charumbira was stabbed in the head following violent clashes at the Zanu-PF offices in Bulawayo. Following the clashes, he was expelled from the party only to bounce back after the November Extraordinary Central Committee meeting which resolved that all party members who were fired unprocedurally by the G40 cabal should be re-admitted.
Seven family members killed in NWest crash
8 January 2018,  
Seven people were killed in a road accident on the R503 between Mahikeng and Lichtenburg, North West Community Safety and Transport Management MEC Mpho Motlhabane said on Monday. Motlhabane said the accident on Sunday, was an unfortunate incident which came at the time the traffic flow has decreased.
"Our heartfelt condolences to the families of the bereaved and we also wish a speedy recovery to those injured and admitted here in the hospital. We hope that you will gain strength and overcome this unfortunate tragedy," Motlhabane said. "Its unbelievable that when we thought we have survived the rough season of terrible accident we now get to experience this tragedy, this is painful and unbelievable."
A minibus taxi transporting family members from Mahikeng to Klerksdorp allegedly hit a honey badger about 10km to Lichtenburg and lost control. The family was returning from a gathering in Mahikeng.
"Seven females including an 11-year-old girl were certified dead at the scene by paramedics. The ages of the deceased ranges from 11 to 50 years. Meanwhile, the remaining seven including a 6-year-old boy were rushed to General Delarey Hospital where four were treated for shock and minor injuries."
Motlhabane visited the injured in hospital and said the law enforcement officers have worked hard during the festive season to protect the lives of people particularly on these main roads, however, incidents such like this took place at an unexpected time.
"The road is a space to share, therefore we need to exercise patience and cooperate with each other for all of us to reach our destinations safely. Let us all take responsibility of road safety to safe our lives and reduce the high rate of accidents and fatalities."
10 Injured in Durban City taxi crash
Ten people have sustained various injuries after a taxi and a car collided on the corner of Anton Lembede Road and Shepstone Road in Durban on Sunday afternoon.
Just after 12:30 Rescue Care Paramedics arrived on the scene to find the two badly damaged vehicles in the junction. A total of ten people had sustained injuries ranging from minor to moderate. One patient needed to be stabilised by Advanced Life Support Paramedics before all of the injured were transported to nearby hospitals for the further care that they required.
At this stage the events leading up to the collision is unknown however SAPS were on the scene and will be investigating further.
Three family members die in Narok accident
By Robert Kiplagat | Published Mon, January 8th 2018
Three people from the same family died on Sunday when their vehicle was involved in an accident along the Bomet-Narok road. The three died on the spot as two others in the same car escaped with injuries.
Area police boss Joseph Kisombe said the front tyre burst before the car rolled several times. "Two women and a man were killed in the accident. Another man and a woman, who was the driver, had minor injuries," said Mr Kisombe.  "The injured sustained minor head and chest injuries and are in stable condition at Narok County Hospital," he added. Doctors at the hospital said the survivors were responding well to treatment and would soon be discharged.
ZA: Ekurhuleni roads claim 44 lives during festive season – EMPD
2018-01-08 Mxolisi Mngadi
Ekurhuleni – Forty-four people died on Ekurhuleni's roads from December 1 last year to Tuesday, January 2, the Ekurhuleni Metropolitan Police Department (EMPD) said on Saturday."Based on the physical evidence on the accident scenes, the fatal accidents can be attributed to drunk driving, excessive speeding, reckless and negligent driving, bad demeanour and the attitude of drivers and failure on part of pedestrians to take proper care and crossing freeways," said EMPD spokesperson Chief Superintendent Wilfred Kgasago.The fatalities include 21 pedestrians, 13 passengers, seven drivers, two motor-bikers and a single cyclist."The pedestrians killed included two seven-year-old boys and an eight-year-old girl. Nine of the 21 pedestrians killed lost their lives on the freeways. Three on the N3, three on the N12 and three on R21," said Kgasago. He said all the deceased pedestrians were male, except for the eight-year-old girl.Kgasago said of the 13 passengers who died, six perished in one serious accident involving a minibus taxi which occurred on the M2 East at Geldenhuys Interchange."One cyclist sustained fatal injuries in Tsakane. One driver died in Daveyton, one in Tsakane, one in KwaThema and one in Putfontein on the N12 eastbound. Two motor-bikers lost their lives on the R24 East by the N3 split and R59 northbound by the Reading Interchange," he said.In terms of categorization of accidents according to types of roads, 24 people were killed on national roads (including 10 pedestrians), seven died on provincial roads and 13 of them perished suburban roads.Kgasago said 4 653 summonses were issued for improper documentation, equipment on vehicles, defects and moving violations. A total of 207 drivers were arrested for drinking and driving, he said.He said 100 of them were arrested in the EMPD Eastern Operational region which covers Nigel, Springs, Brakpan, Duduza, KwaThema, Etwatwa and Daveyton.The Northern Operational region which includes Bromberg, Benoni, Edleen, Kempton Park, Edenvale, Tembisa (Winnie Mandela) saw 91 drivers arrested while the Southern Operational Region had 16 behind bars, he said. Eighteen drivers were arrested for excessive speeding.Kgasago said 36 people died on Ekurhuleni roads in the same period in 2016 when compared to the recent 44 fatalities.
6 family members die in road crash
 Six family members died in a road traffic accident in Masvingo yesterday, while four others died in another accident along the Harare-Mutare Highway.
In the Masvingo accident, two other people were seriously injured when a vehicle they were travelling in collided head-on with a bus that was avoiding another bus parked at the six-kilometre peg along the Masvingo-Beitbridge Road.
National police spokesperson Senior Assistant Commissioner Charity Charamba confirmed the accident, which occurred yesterday around 4.30pm. "What I can confirm is that six family members perished this evening in Masvingo when a private car they were travelling in had a head-on collision with a bus which wanted to avoid another bus that was parked near Wimpy Service Station," she said. "Two others were injured and are in a critical condition at Masvingo General Hospital. We will give more details as investigations are in progress."
According to witnesses, the family car, a Land Rover Discovery, collided with a Cartliner Bus which wanted to avoid another bus, suspected to have broken down, that was parked on the road near a curve.
In the Harare-Mutare Highway accident yesterday evening, police national spokesperson Chief Superintendent Paul Nyathi said the four passengers died on the spot, while several others were injured near Melfort when a Toyota Granvia they were travelling in burst a tyre, lost control and veered off the road. "The vehicle overturned twice and killed four passengers on the spot," said Chief Supt Nyathi
"We continue losing precious lives in road traffic accidents and it is disheartening. We urge drivers to exercise due diligence when travelling on our national roads. They should not overtake when it is not safe to do so."
NTSA in the limelight over alarming road carnage
7th January 2018
by Ngaevarue Katjangua
THREE people identified, as Reinhard Cloete, Elise Nanyoyange Haimbangu and Gino Kelly Uxamb, lost their lives in a fatal accident yesterday.
The accident, involving two vehicles and a truck, occurred about 20km out of Otavi.
A Mercedes Benz truck travelling from the northern towards south collided with a white Citi Golf and silver Toyota VITZ. Both sedans were travelling from south to north.
Circumstances around the actual cause of the accident were not clear.
Other people who were injured in the accident were rushed to Tsumeb. The next of kin of the deceased are informed.
Drunk firefighter crashes fire engine
A fire engine was on Thursday evening involved in a crash after the driver lost control and veered off Ngong road ramming into a nearby wall.
A bystander who rescued the driver said that the he was dangerously speeding and must have lost control when he ran into a culvert, rammed into a wall before overturning.
"Around 8pm when I was headed home I saw a vehicle coming so fast, past AIC church on Ngong road when it ran into a culvert then went and hit KWS wall that is when I rushed to rescue the driver," said the witness.
The witness added that he could not help but notice that the fire fighter reeked of alcohol and alcohol bottles were lying around in the vehicle. "The truck did not have a siren and on finding him he was smelling of alcohol, that is an indicator that he was just having fun," said the onlooker.
The drunk driver was supposedly headed to Nkoroi  for a fire rescue call  however colleagues refute claims of  any cases of fire from that area on Thursday. The driver was rushed to Ngong Sub-district hospital having sustained minor injuries, especially on the face where he was bruised by broken glass.
Ngong residents are concerned that the wrecked truck was the only fire engine in the region and they will need other fire truck to assist them  in fire case emergencies.
Two killed in multi-vehicle collision in Mpumalanga
Delmas – Two people were killed and four others injured on Friday afternoon, when two trucks and a SUV collided on the R50 in Delmas, Mpumalanga, paramedics said.
"Two trucks and an SUV were found to have collided. All three had caught alight and had already been extinguished by the fire services," ER24 spokesperson Russell Meiring said in a statement.  "Upon closer inspection, paramedics discovered two bodies lying trapped inside the larger truck. Unfortunately, both patients had already succumbed to their multiple injuries. Nothing could be done for them and they were declared dead."
Four more patients were found on the scene, one was found in a critical condition while the other three were found with moderate injuries. Paramedics treated the patients and provided the critically injured patient with advanced life support interventions.
"Once treated, the critically injured patient was airlifted by the ER24 Oneplan Helicopter to a nearby private hospital for further treatment. The remaining patients were transported by ambulance to various hospitals," Meiring said.
The exact details surrounding the incident are not yet known but local authorities were on the scene for further investigations.
Kenya: NTSA launches new curriculum in bid to curb road accidents
By WILLIAM MWANGI @williamwangijr
NTSA director general, MR Francis Meja addressing the press during the deployment of police officers on 4th October 2016./FILE 
The National Transport and Safety Authority has launched a new curriculum for the training and testing of drivers to ensure sanity on the roads. In a statement yesterday, Director General Francis Meja said the new system will ensure drivers are provided with sufficient education and skills.
"More than 90 per cent of accidents result from human error. The curriculum has been designed to address the different needs of drivers depending on the vehicles they use," he said. The new curriculum has been split into several modules that provide guidance for the training and testing of drivers of motorcycles, light vehicles, public service vehicles and heavy commercial vehicles.
There are modules that provide requirements for those who drive for a living and for the drivers of plant and agricultural machinery. "The curriculum includes theoretical sections and examinations and practical sections and examinations."
Meja added that drivers have a high level of responsibility and their actions can influence the lives of many people, especially the drivers of PSV and HGV vehicles. "It is, therefore, important that these drivers are highly skilled and experienced."
In addition to setting the standards for the training and testing of drivers, the curriculum sets the standards for driving schools, instructors and examiners. "It is recognised that there is a need to raise the professionalism and profile of the driving industry," he said.
Meja said the supporting legislation for the curriculum makes provision for the establishment of professional bodies for drivers, instructors and examiners.
Ghana: Massive Opposition Greets DVLA First Aid Kits
 MyJoyOnline 5th January 2018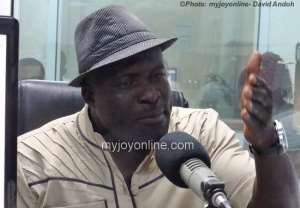 The Deputy Minister, Titus Glover has said the Driver and Vehicle Licencing Authority's compulsory charges for first aid kits is a plot to make the Akufo-Addo-led administration unpopular.
A situation, he said the government will not allow to happen.
Incensed by the decision, he noted that it was completely wrong for the Authority to introduce such charges, especially when it did not consult the appropriate institutions before going ahead with the execution of the policy.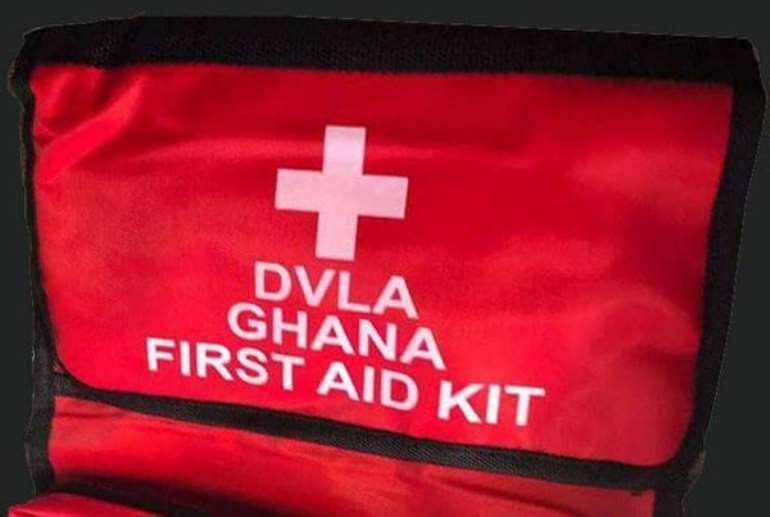 "The minister has said that if you want to take any major decision, consult so that we will all put our heads together. Now you have gone to do this, you want to make government unpopular…we will not allow that to happen," he added.
The DVLA this week introduced the compulsory first aid kit with a charge of GHS 108.00 (23 USD) for new vehicle owners seeking to register their vehicles. The Authority said it has been compelled to take the decision because most drivers are failing to comply with the directive to acquire one by themselves.
But vehicle owners are not happy with the development. They argue that they reserve the right to purchase the item by themselves.
The Deputy Minister agrees with them. He told Myjoyonline.com that the drivers should have a choice of what they want to buy, where and at a price that is favourable for them. "They should have the room to negotiate or bargain for parts or whatever they are buying. It's a New year, the fourth day of January, he goes to renew his licence and roadworthiness and then you ask him compulsorily to buy first aid kits."
Mr. Glover, however, said drivers who refuse to have such items in their vehicles should be dealt with by the police.  He has ordered the (DVLA) to immediately halt the compulsory charges for the first aid kits. "Your board of directors is not aware of a major decision like this to sell first aid kits. The Ministry is not aware and looks at the backlash that is coming from the public and the drivers.
"It is not in the interest of all of us," he added.
Biometric driving licence by end January, point-based system by July
 05 January 2018 13:45
ALGIERS – The biometric driving licences will be delivered by end of January, ahead of the enforcement of the point-based system, scheduled for July, said Wednesday the director of the National Centre of Road Prevention and Safety (CNPSR), Ahmed Nait El-Hocine.
The real reasons for fuel scarcity in Nigeria – Kachikwu
Mr. Kachikwu said this while speaking before a meeting of the joint committee of the Senate and House of Representatives. The meeting was convened to find a lasting solution to the fuel crisis.
"The causes were; first, diversion was very key, second, there were logistics issues," he said. "Once those diversions began Apapa Wharf was a problem to be able to move things due to bad roads, lack of sufficient reserve in our system making us unable to respond to the supply gap arising largely from the fact that private sector pulled out from supply.
"There has been a loose enforcement on diversion in the country. We have not been able to police our depots adequately." He explained that disparity in the landing cost has prevented the private marketers from importing petroleum into the country.
"Going forward we need to address the issue of pricing, there is a disparity between landing cost and cost we are selling. If we are going to sell at N145 (US 40 cents), we need to put some mechanisms in place so that the private sector will go back importation. We have a committee looking at this and we are still going to submit a report for review. Will this shortage reduce accidents – Ed.
South Africa train crash: 'Bodies burnt beyond recognition'
4th January 2018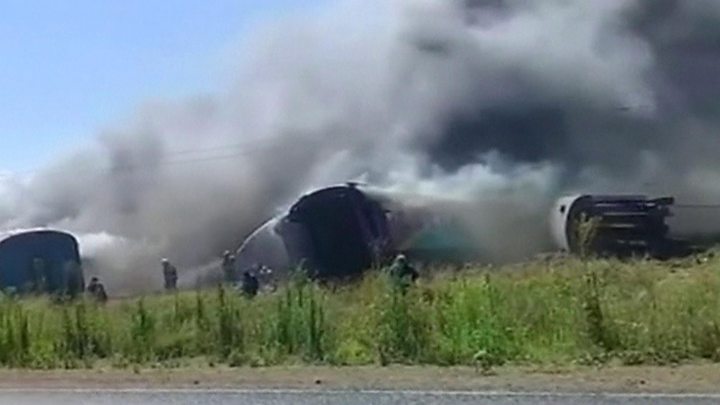 A passenger train has caught fire in South Africa after colliding with a truck, killing at least 18 people and injuring 268, rescue workers say.Some of the bodies are "burnt beyond recognition", Free State Health Department spokesman Mondli Mvambi told South African news site Times Live.Video footage showed a fire blazing through at least one carriage, near a crushed car and an overturned truck.Evacuated passengers were seen standing on the roadside with luggage.
The collision occurred near Kroonstad city in Free State province, after the truck failed to stop at a crossing, a passenger told local media.Around 700 people were on the train when it was hit by a truck, a BBC correspondent has reported.
The driver of the truck tried to flee, but was arrested by police, passenger Seipati Moletsane told the privately owned eCNA news site.Passengers in the first two coaches were wounded, she added."I was so traumatised. I didn't know what to do. I was looking for a door just to jump out. Every door was locked… All of a sudden, we just saw smoke, smoke, smoke," Ms Moletsane said.
4 dead, 9 injured in Western Cape crash
4th January 2018 Nation Nyoka
The accident scene (Supplied)
 Cape Town – A head-on collision between a bakkie and a car on the N1 towards Paarl from Worcester has resulted in the death of four people on Wednesday afternoon.
Western Cape paramedics who were dispatched to the scene found the occupants of the cars scattered around the accident scene, with both the damaged cars on the side of the road, according to ER24's Russell Meiring.The bakkie was found lying on its side.Meiring said in a statement that a man and two women were declared dead on the scene after succumbing to fatal injuries. Nine others, including two children, were injured in the crash, with four being critically injured and five others with less serious injuries.After being treated by paramedics, those who were injured were sent to Worcester Provincial Hospital for medical care, while a woman was declared dead upon arrival at the hospital.The circumstances around the accident are not immediately clear, however, police were on scene to investigate, read a statement.
Zambia: Central Province did not record any road traffic deaths-Njase
 Central Province Police Commissioner, Joel Njase has expressed happiness that the region did not record any deaths resulting from road traffic accidents during the festive season.
Mr. Njase said the province only recorded two accidents where victims sustained serious injuries.
"As a province we only recorded two serious accidents during the festive period which resulted in two people sustaining serious injuries without any fatalities, although we would have loved to record zero accidents as per our target," he said
Mr. Njase told ZANIS in an interview that the first accident occurred on Monday, January 1, 2018 around 22:00hrs involving an unknown male who hit into a pedestrian and a traffic light pole along Great North Road due to excessive speeding. He said the pedestrian sustained a deep cut and bruises on the arm and is admitted to Kabwe General Hospital.
Mr. Njase further said the other accident occurred along Itezhi-Tezhi -Mumbwa road when a cyclist identified as Cholwe Mulongo tried to change lanes and was hit by a vehicle. He said the vehicle a Toyota Corolla Registration Number BAC 3946 was being driven by Hardley Nalugwe aged 45 of Lilanda compound in Lusaka. Mr. Njase said the victim sustained a fractured leg and bruises on his hands.
He said it was impressive that most motorists conducted themselves well during the festive season.  He further said there is need to sensitize cyclists on the high way codes to prevent them from being hit by motorists.
And Police in Kalabo District have commended members of the Public for maintaining law and order during the festive season. Kalabo District Police Officer-in-Charge Daniel Mutondo says New Year was incident free with only three assault cases were recorded on Christmas Day. Assistant Superintendent Mutondo however told ZANIS today that the Police station recorded four burglaries and eight assault cases between Christmas and New Year and that no road accidents or traffic offenses were recorded during the same period under review.
He attributed the low incident levels to Community engagement and mounting of intense as well as spontaneous patrols by alert Police Officers. The Officer-in-Charge further revealed that members of the public in the District were corporative as they did not misunderstand the presence of Police Officers in Public places.
He said Police will continue to enforce maintenance of law and order adding that citizens have a moral obligation to abide by the laws of the land.
Assistant Superintendent Mutondo has since urged members of the Public not to relent in reporting suspicious acts likely to compromise law and order in a bid to reduce crime in society.
Road crashes claim 136 during festive season
A total of 136 people died in about 1 400 separate road traffic accidents recorded countrywide during the festive season. The figures were recorded between December 15, 2017 and January 1, 2018.
Police said the number of deaths had increased by 47 people from 89 deaths recorded in the same period in 2016.
Chief police spokesperson Senior Assistant Commissioner Charity Charamba said most accidents were attributed to drivers' disregard of road regulations, speeding and driving unroadworthy vehicles.
 "A total of 1 398 accidents were recorded this year compared to 1 396 last year. 136 people died this year compared to 89 last year and 755 people were injured compared to 565 last year. There were 99 fatal road accidents compared to 82 last year," she said.
Snr Asst Comm Charamba urged members of the public to partner the police to curb carnage on the country's roads.
Meanwhile, police have expressed concern over an increase in the number of pedestrians who were killed during the period between December 21 and 27.
A total of 27 pedestrians died compared to 12 deaths recorded during the same period in 2016.  
Snr Asst Comm Charamba also said 14 murder cases were recorded in one week, with 10 of them involving couples. Police have urged people to respect the sanctity of human life and avoid solving disputes through violent means.
In April last year, police said there was an increase in the number of murder cases arising from family disputes, beer drinking quarrels and other criminal activities. As such, police warned members of the public to desist from carrying weapons such as iron bars, knives, machetes and axes that might be used to commit crime.
In November last year, former President Cde Robert Mugabe called for the restoration of the full effects of the death penalty, with all the conditions that existed prior to the adoption of the new Constitution in 2013. This followed a steep increase in murder cases, where people were being killed with actual intent. The new Constitution allows the death penalty with certain variations.
Under Section 48, the law permits the death penalty only on a person convicted of murder committed in aggravating circumstances and gives the court the discretion on whether or not to impose the penalty. The same section states that a death penalty cannot be imposed on a person who was less than 21 years old when the offence was committed or who was more than 70 years old. "Further, the death penalty must not be imposed or carried out on a woman and the person sentenced must have a right to seek pardon or commutation of the penalty. The Herald
At least six injured in road accident along Kenyatta Avenue
3rd January 2018
NAIROBI, Kenya, Jan 3 – At least six passengers were injured Wednesday morning in an accident involving a bus and a private car at the junction of Kenyatta Avenue and Muindi Mbingu Street.
, 
The accident happened outside I&M Building causing the bus to overturn. It took the arrival of a fire engine and several Good Samaritans to free several passengers who had been trapped inside the bus. Witnesses said the bus was speeding when it hit the saloon car at about 6 am.
The injured were rushed to hospital and the accident comes at a time when such incidents are on the increase with more than 300 killed and hundreds of others injured in a month.
This followed various incidences on Tuesday where one person was killed and 68 others injured in three separate road accidents in Machakos and Mwingi in a worrying trend of road carnage in the country.
The fatal accident where 12 people were injured occurred at Kaviti plains on Mombasa road when a matatu from Voi rammed a stationary truck.
The two other accidents occurred in Mwingi and Maanzoni where 56 people were injured when two mini buses overturned.
Concerns are mounting over road safety in the country-with focus shifting to the National Transport and Safety Authority and the traffic department, which is accused of laxity in enforcement and corruption leading to massive fatalities on public roads.
A driver survived a car accident in Tongaat on Tuesday but was electrocuted by a hidden network of illegal electrical connections when he tried to climb from the wreckage.
 3rd January 2018
A driver met an unfortunate end in Tongaat on Tuesday when he survived a crash, only to be electrocuted when he tried to exit the vehicle. Picture: IPSSIPSS Medical Rescue's Paul Herbst said the driver lost control of his car while travelling on the R102 near Tongaat. The car veered off the road and rolled multiple times. Herbst said the car came to rest in thick brush in a roadside ditch. It appears the man had tried to climb out of the car, when he came into contact with a live illegal electricity connection.
"The man's seriously injured partner was entrapped in the crumpled wreckage, and medics had to wait for Eskom technicians to isolate a nearby transformers," said Herbst.
"Once the connections were shut off, IPSS paramedics made their way to the woman. She was treated and stabilised in the car before she was carefully extricated by Tongaat Fire Department using the jaws of life to free her."  Mercury
Kins of family wiped by road accident seek help to bury
By Kevine Omollo | Published Wed, January 3rd 2018
Joyce Mandera (in red) who lost her son and four grandchildren in the Migaa crush is consoled by church members at her home in Chiga, Kisumu county.
The relatives of five members of the same family killed in a road accident in Migaa, Nakuru County, have appealed for financial assistance to cover burial costs. Martin Odol and his four children died in a road accident that claimed 36 lives on Sunday.
His wife, Pheobe Achieng, survived the crash and is still recuperating at Nakuru County Hospital. She sustained head, chest and limb injuries. Close relatives on Monday transferred the five bodies to the Kisumu County Hospital mortuary as burial plans began.
"We thought it wise to bring the bodies closer to make it easier and cheaper to make burial arrangements," said Nelson Kabaka, Mr Odol's first cousin. Odol was the only surviving child of his ailing 80-year-old mother, Joyce Mandera. Yesterday, Mr Kabaka chaired a family meeting at their rural home in Kawese during which proposals for a burial date were discussed.
The meeting resolved to wait at least three weeks so that funds could be raised. "When we tried to work out the burial expenses, which will include mortuary bills, transport and coffins, we discovered that it would cost more than Sh800,000," said Kabaka. "As we speak, there is nothing we can hold on to given that the deceased was the only child in his home, meaning the extended family must be fully involved." He said friends and relatives had contributed money to hire the pickup that transported the bodies from Nakuru to Kisumu, and were already overwhelmed given the high funeral expenses.
Kenya: Man dies after car plunges into river in Embu
A man died on Monday in Embu after his car plunged into river Rupingazi. The driver of the white salon car lost control and veered off the Rupingazi bridge and plunged about 20 meters into the river and drowned.  
One side of the bridge does not have guard rails because they were knocked off in previous accidents.   Eye witnesses said the driver, whose identity could not be immediately established, was speeding towards Embu Town at the time of the accident.  Witnesses said passersby tried to rescue the driver but failed to reach him on time due to the steep banks of the river. The body was later retrieved by the police and moved to the mortuary.
This becomes the second documented accident to claim lives in 2018 after two people were killed by a trailer near the notorious Salgaa black spot Monday morning.
Two perish in another accident near Salgaa
A third one was seriously injured and is being treated at the Nakuru level five hospital.
The trailer that was heading to Mombasa from Kampala crashed the three male pedestrians who were walking on the roadside after the driver lost control. The accident occurred 200 metres from Molo GSU camp along Nakuru-Eldoret highway.
" I am bound to Mombasa from Kampala and I had to hit them to save more lives when the steering system failed in my lorry," the driver of the ill-fated trailer said.
Molo Base commander Moses Nderitu arrived at the scene soon after it occurred.
61% Of Roads In Ghana Are poor
 MyJoyOnline 2nd January 2018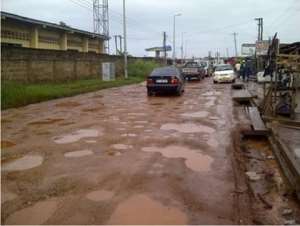 About 61 per cent of roads in the country have been classified as poor, the Minister of Roads and Highways, Kwesi Amoako-Atta has revealed.
According to Mr. Amoako-Atta, there are approximately 72,000 kilometres of roads in the country out of which 23 per cent had been asphalted with 39 per cent in good condition and 61 per cent could be classified as fair or poor.
"Ghana is 60 years old and if you travel abroad, you realised that we're lagging behind in terms of road infrastructure so we need to do something about it," Mr Amoako-Atta noted at the swearing-in of a nine-member Ministerial Advisory Board of the Ministry of Roads and Highways in Accra, on Thursday.
The Minister, therefore, urged the Board to bring their expertise and experiences on board to move the government's agenda of ensuring quality roads across the country was realised.
"So as members of the Board we must collectively ensure that our roads are in good shape and safe as well as ensuring value for money," he said.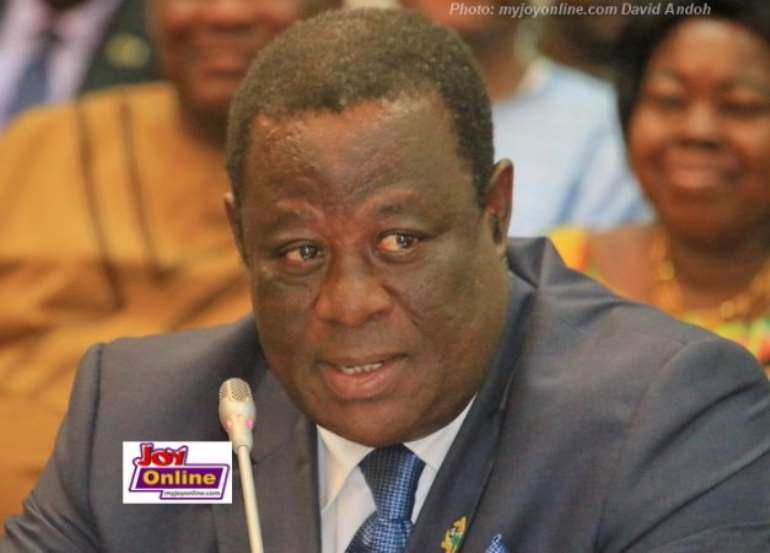 Kwesi Amoako-Atta
According to him, the government had made arrangement to disburse another GHC120 million to road contractors whose arrears had been outstanding between two to five years.
He said the Nana Addo Dankwa Akufo-Addo led government was poised to ensure regular payment of road contractors despite the financial challenges it was currently grappling with so as to ensure quality work delivery.
He said the Road Fund, which was supposed to receive an average between GHC70 to GHC80million every month, had not gotten the required amount due to a loan the previous government contracted from the United Bank of Africa (UBA).
Why Migaa tragic accident will forever remain etched in mind of Phoebe Achieng
By Julius Chepkwony Published Mon, January 1st 2018
[Photo: Julius Chepkwony/Standard] IN SUMMARY Woman's pain of losing husband and her three children in accident.
Repeated protests by passengers against speeding were ignored by the driver Over 30 people died on the spot in the tragic accident at Migaa area near Salgaa along the Nakuru- Eldoret Highway
The morning of December 31 will forever remain etched in the mind of Phoebe Achieng. Achieng is among the survivors of the horrific road accident that claimed 38 lives at Migaa on the Eldoret-Nakuru highway.  She lost her husband and three children aged two months, two and 14 years barely three hours after boarding the ill-fated bus.
And as she lay on a hospital bed in Nakuru yesterday, the fourth child still missing, her pain highlighted the cruelty of the dawn accident that shattered families and cast gloom on New Year's eve.  Achieng is bitter that repeated protests by passengers against speeding were ignored by the driver, and the last she recalled were screams as the Matunda Sacco bus hurtled along the killer 14km stretch of Sachangwan.
She recounted the bus was zigzagging before she heard a loud bang as it rammed into an oncoming trailer – ripping off the truck's cabin on impact and the roof of the bus collapsing as metal twisted and glass shattered. Other witnesses said the bus had earlier been flagged down by traffic police officers due to the unusual driving but the driver explained away the out-of-control motion, claiming he had hit a bump. He was waved on and the bus crashed 30 minutes later. Some people died on the spot, among them 26 adults and four children.
Another 18 who sustained serious injuries were rushed to the Rift Valley Provincial General hospital and Molo sub-county hospital. Three people died at Molo hospital and another four at Nakuru County Referral hospital. Fresh blood covered the tarmac, with some bodies slumped inside the death cage that was the bus that had started its journey in Busia but never delivered its passengers to Nairobi, most of whom were returning to the city for new year festivities from upcountry where they had enjoyed Christmas holidays.
Other bodies of those thrown out of the bus on impact lay on the tarmac. Achieng was trapped in the wreckage and she could see her husband, Martin Odol Kendo, 44, and two children also seemingly trapped. Second born "All that time I was screaming for help, I called on my colleagues to help me but none could help. I could see my husband and legs of my two children, they were trapped in the luggage. If only I had the strength I could have saved my two children," she said, tears flowing down her cheeks.
The whereabouts of her 13-year-old second-born son, Morphat Okoth, is yet to be established. Inconsolable following the death of Stephen Omondi, 14, two-year-old John Otieno and two-month-old Peter Shadrack, Achieng, who prayed to God asking why He had forsaken them, hopes Morphat survived the carnage. Tears rolled down her cheeks as nurses at Nakuru Provincial General Hospital tried to console her. She was unable to rise from the bed.
Achieng said they were returning from upcountry where they had gone for Christmas festivities. "We were on our way back to Nairobi from Kisumu where we had gone for the holiday. Together with our four children and my husband, we boarded the bus as it left Kisumu at around 11pm," said Achieng. Her two children sat on a bag containing their belongings placed beside them as they held the younger ones. The bus, according to her, was speeding and attempts by the passengers to stop the driver didn't bear any fruit. "The vehicle was moving at a high speed and we asked the driver to drive slowly but he turned a deaf ear," she said.The Standard team established that the bus had worn-out tyres.
Two die in head-on collision on New Year's eve
Two people reportedly died this afternoon near Harare turn off along Beitbridge road when a Toyota Granvia collided with a bus.
Details about the accident a still sketchy. 
w:
15 Killed in Jigawa Road Accident, Buried
At least 15 people were on Saturday evening killed when a truck loaded with sand collided with a car. The accident happened at Garin Ciroma, a village in Gagarawa Local Government Area of Jigawa State.
The Volkswagen Gulf 3 vehicle with a passenger capacity of seven and registration number AA 664 DRA was overloaded with 15 persons. They were said to be returning from Gwaram Local Government Area and were heading to a village in Gwiwa Local Government Area, when the vehicle collided with the truck.
Audu Daurawa, the council Chairman of Gwiwa Local Government Area, confirmed that all the victims are from the council.
The sector commander of the Federal Road Safety Corps in Jigawa, Angus Ibezim, also confirmed the accident to PREMIUM TIMES. He said the truck's headlights were faulty, thus the car coming from the opposite direction was not aware of it. The accident happened at about 9p.m. on Saturday. The fifteen persons in the car included eight men, four women and three children, all of whom died in the accident.
A resident of the area who rushed to the scene of the crash, described the scenario as touching, saying the women were seen hugging their babies even in death. Saturday's accident occurs less than a month after an over-speeding vehicle crushed nine pedestrians to death in Jahun Local Government Area of the state.
The driver of Saturday's truck with registration number XA 779 NSR, identified as Isyaku Umar, has been arrested. The Jigawa police spokesperson, Audu Jinjiri, confirmed the arrest.
The victims were buried on Sunday morning. Mr. Ibezim said the FRSC is considering sanctions on some construction companies in Gumel area of the state. He said the firms use substandard trucks at their construction site including faulty ones like that involved in the accident. He also cautioned passengers to avoid night journeys and called on drivers to avoid overloading and over speeding.
Ghana: 3 Dead In Sogakope-Adidome Accident
 MyJoyOnline 1st January 2018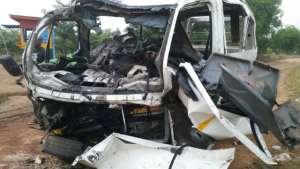 At least three people have died when the car they were travelling in crashed at Bakpa Adzani on the Sogakope-Adidome road after one of its tyres burst Saturday.
Several others who sustained various degrees of injury are on admission at the Adidome Government Hospital, Comboni, St. Anthony's Hospital at Dzodze and the Volta Regional Hospital in Ho.
Joy News' Volta Regional Correspondent, Ivy Sertordzi reported the Mercedes Benz Sprinter with registration number AS 6874-10 was heading to Sogakope from Accra when one of its tyres burst. It had 22 passengers.
The driver reportedly lost control of the vehicle immediately. The car hit the median and veered off the road into the nearby bush.