ditorial 2017 "Who is responsible for Road Safety?"
     Crash News WORLD '17  UK: Drivers who kill while speeding, racing or using a mobile phone will face life sentences after families' protests
 Crash News AFRICA from July 2017
Nigerian Girl Who Survived Car Crash That Killed Entire Family Set To Bag PhD At Age 27
20th October 2017
27-year-old Chigoziem Emereuwa lost her entire family to a car crash that claimed all her siblings and both parents on the 17th of August 2001, but she is now prepped to graduate with a PhD in pure mathematics from the University of Pretoria, S. Africa.
In an interview with Flourish Africa, she recounted how the tragic incident occurred. According to her, : "I
only remember being in the back seat, playing a travel game with my sister and then waking up in
hospital. .
I don't recall any form of Post Traumatic Stress Disorder (PTSD) as my paternal family made sure I wasn't alone, I didn't even get a chance to mourn properly. It seemed like the loss hit my aunts more than it did me so I had to be strong. However, my grades did go down and my mom was no longer there to push me. I felt no urge to work
hard since I had learnt that you could lose everything in a second so, why bother?"
As she gets older, Chigo has found support in good friends, cousins that have become siblings and a constant reassurance that no matter what happens, everything works out in the end. "Every time I wake up, I remind myself that I am my parent's legacy so I try to stay focused on my end game which is to be better than I was yesterday," she added.
4 killed in head-on collision
 20th October 2017
FOUR people died on the spot while three others were seriously injured when a lorry and a haulage truck were involved in a head on collision along the Masvingo-Mutare Road. The deceased – a two-year-old boy and three women – died in the accident which occurred on Wednesday morning.
Acting Masvingo police spokesperson Assistant Inspector Kudakwashe Dehwa referred all questions to national police spokesperson, Chief Superintendent Paul Nyathi, who was not reachable yesterday.
However, sources said the accident occurred near Zishumbe Business Centre in Masvingo rural and bodies of the deceased were taken to Masvingo General Hospital. "Three passengers including two drivers and an assistant were injured and were rushed to the same hospital where their condition is said to be stable but critical," the source said.
Lest we forget that brilliant Matabele son
Today marks 24 years since the death of Mthandazo Ndema Ngwenya, that brilliant Matabele son, scholar and activist who died tragically in a car accident at the Heany Junction with Dr Themba Nkabinde on their way to Harare on the 19th of October, 1993.
Mthandazo Ndema Ngwenya's brief political activism had a profound effect in the shaping of political views of many young Matabeles at the time and indeed many more others who became active under iMbovane yaMahlabezulu and Vukani Mahlabezulu. He is arguably the father of Mthwakazi nationalist politics. Unlike the Zimbabwe nationalist brand of politics inherited from ZANU which suppressed precolonial Matabele heroism, Ndema ignited the imagination of many Matabeles when he together with Hudson Halimana Ndlovu, illustrated how Ndebeles became the only defenders of this country against colonialism during its invasion by white settlers when others elected to collaborate. He demonstrated how Matabele people exhibited rare bravery and squared up against a well equipped British Army that used the World's hitherto deadliest weapon of mass destruction (the Maxim gun) against King Lobhengula's spear-wielding warriors for the first time after its manufacture.
Ndema was extremely articulate and I sometimes wonder what would have happened had he lived longer.
"We must die as Mthwakazians so that we can live freely with clear consciences in the hereafter, anything other than that is a betrayal to our brave forefathers," said Ngwenya addressing a public meeting at the Large City Hall. The following day the Bulawayo Chronicle Headlines screamed:
NDEMA MUST BE STOPPED! Two days later Mthandazo Ndema Ngwenya died tragically in a car accident.
1 dies, 2 injured as vehicle falls into gully in Cross River
Cape Town – An meter taxi driver was involved in a crash on Wednesday after being mugged of his belongings by clients when he collected them in Goodwood.Police spokesperson Sergeant Noloyiso Rwexana said the driver had been called out to Voortrekker Road."According to information… he was robbed by two unidentified suspects [who took his] cellphone and an undisclosed amount of money," she said. "The suspects then got out of the vehicle, the complainant gave chase, and an accident occurred."Resq Medix operations manager Warren Cupido said paramedics had found everyone in stable conditions at the scene. They had refused treatment.
Cupido said the mugging took place minutes after the trip had begun. One person was in the other vehicle when the collision occurred at the corner of Van Riebeeck and Dingle roads.
7 die, 7 injured in post-wedding accident
 18 OCTOBER 2017
The dead were identified as Selina Hando (35) from Babati; Amina Saha (50), a Duru villager, Hiit Gwande (50) from Riroda, Elizabeth Hilonga (25) from Heloton, John Timothy (17) and the driver, Wilson Daudi aka Simba (46), whose 15-year-old son's name was not immediately established.Initial reports indicated that the newlyweds, Mr Philip Samuel and Ms Flora Baso, were among the survivors, when the vehicle in which they were passengers – a Noah with registration number T 740 DJQ was knocked down by a lorry.The driver of the Noah and his son died on the spot, and the bride was seriously hurt. The driver of the truck (registration number T 449 CDR) owned by Lake Hill Paradise Ltd of Singida, fled after the accident.The Manyara Regional Traffic Officer (RTO), Ms Mary Kipesha, remarked that the driver of the smaller vehicle was at fault, remarking: "He turned right without signalling his intention by flashing the indi cator, prompting the speeding lorry driver to ram into the car, after failing to stop abruptly."
Hanang District Hospital medical officer on-duty, Mr Chawokiwa Msangi, said they had preserved the seven bodies of the casualties, and were attending the survivors, except the bride, who was referred to Hydom Hospital.
Those admitted at Tumaini District hospital are Philip Samuel, Faustine Sebastian, Samuel Nade and Lina Isack. Two others whose names were yet to be established, were treated and released.
Getasam villag ers blamed the Tanzania National Roads Agency (Tanroads) for not placing important signposts on the roads, to which they attributed many accidents. This is the fourth accident to occur at an area with feeder roads adjoining the Singida – Arusha Highway in less than 18 months. The accidents have claimed 17 lives, leaving 14 injured.
Speeding cars kill two kids in separate same day accidents
Nqobile Tshili/Andile Tshuma, Chronicle Correspondents 17th October 2017
Police take away the body of a child who was knocked down by a taxi along the Bulawayo-Gwanda Road in Riverside yesterday.
TWO children aged three and seven years died after being hit by speeding taxis in Bulawayo yesterday while a third person was injured after a police officer allegedly grabbed the steering wheel of a moving vehicle in the city centre.
The Chronicle news crew attended all the three accidents and human error was blamed in all of them. A grey Honda Fit that ran against traffic on the one-way-street near the intersection of Basch Street and 6th Avenue extension, bumped into the three year old who was strapped to his mother's back at around 5PM.
The baby flew headlong onto the road and the driver of the car, whose registration number
onlookers said was AEE 5226, did not stop. The tot died on the spot. Speeding cars kill two kids in separate same day accidents . A witness, who identied the mother as Ms Netsai Marufu, said: "The child was on his mother's back when a grey Honda Fit which opposed other vehicles, hit the mother and child who were not expecting a vehicle from that direction. The child died on the spot."
When the news crew arrived at the scene, the mother was sobbing uncontrollably while her relatives and residents tried to console her. An angry mob had gathered and was baying for the hit and run driver's blood.
In the second incident, the seven year old was fatally knocked down by an Expricos Taxi along Bulawayo-Gwanda Road near Bobs Garage in Riverside suburb around 5PM. She was allegedly trying to cross the busy road to follow her mother who had already crossed to the other side. When a Chronicle news crew arrived at the scene, the child's mother sat next to her daughter's body, weeping inconsolably.
"The sad thing is that they had just picked a $10 note and decided to cross the road to buy some groceries with it. The mother crossed the road and her daughter was hit by a speeding taxi as she ran after her. This is really a dicult thing to occur to any woman let alone mother. How is she going to explain to her husband how the child died? She is going to be left with a lot of ifs," said one of the witnesses.
Expricos Taxis chairperson Mr Mpumelelo Khumalo mourned the child's death. He blamed the driver for failing to exercise due care. "We heard how the accident occurred but we are blaming our driver. He could have been speeding. As we are talking the driver has been red. He did not follow our policy that our drivers should always drive on the outer lane. And it's clear in this accident he was not in the outer lane. We want to express our condolences to the affected family," said Mr Khumalo.
The third accident occurred around 8AM after a police officer allegedly grabbed the steering wheel of a moving kombi to stop a driver who was fleeing arrest. The driver lost control of the vehicle and knocked down a man who was walking by the
roadside. A crowd gathered near Hyper Pick N Pay and tried to mete out instant justice on the overzealous cop.  The man was whisked off and by the end of the day the extent of his injuries could not be
FOUR DIE ALONG THIKA ROAD AS NAIROBI TOPS LIST OF ROAD ACCIDENT DEATHS
  Oct 16, 2017
By HILARY KIMUYU and OUMA WANZALA
Four people died on Sunday morning when the car they were travelling in hit a stationary lorry along Thika Superhighway. The four were in a private car headed to Nairobi which hit a stationary lorry carrying bricks. The lorry was also headed in the same direction.
According Juja OCPD, Patricia Narsio, the victims died at the scene. "It's not clear why they didn't see the lorry. A sign had been placed several metres from the truck," he said.
Meanwhile, more people are dying in Nairobi County in road accidents compared to any other devolved unit in the country, statistics from the National Transport and Safety Authority (NTSA) show.
NUMBER OF DEATHS. Since January, more than 316 people have died in Nairobi, compared to one in Wajir County during the same period. Kiambu County is second in terms of deaths, at 175, followed by Nakuru (166) and Machakos (127). Tharaka-Nithi recorded two deaths, Mandera (four), West Pokot (six) and Isiolo (eight). The statistics further indicate that since January, road accidents have claimed 2,184 lives, compared to 2,344 last year during the same period.
Those who died this year were 824 pedestrians, 238 drivers, 537 passengers, 176 pillion passengers, 39 pedal cyclists and 370 motorcyclists. NTSA Director-general Francis Meja said regular enforcement of regulations, education and awareness campaigns are some of the measures the authority has put in place to curb wrongdoing by riders. Statistics show that 119,716 motorcycles have been registered.
14 Injured in taxi crash on the M4 North Bound near Dahlbridge in Durban
 Fourteen people have sustained various injuries after a taxi lost control and rolled numerous times on the M4 North Bound near Dahlbridge in Durban on Saturday morning.
Zimbabwe: AFM overseer in fatal road accident
An eye witness told Bulawayo24.com that a 20- year- old male adult died on the way to hospital after Chizinga failed to negotiate a curve at Impinge mine Mvurwi area.
"The Honda Fit driver failed to negotiate a curve and encroached into an oncoming lane thereby resulting into a crash with a bus.
"There were five passengers in that Fit, one person died upon admission at Mvurwi Hospital," revealed the source.
Although Mashonaland Central police spokesperson Inspector Milton Mundembe could not be reached for comment, when Bulawayo24.com visited the scene vehicle  body parts from the Honda Fit could be seen scattered on the road.
Meanwhile, it is alleged that the Nyaradzo bus was heading for Chitsungo in Mbire district where a 40-year-old apparently woman died mysteriously in an inferno on Wednesday.
A relative to Ethel Washaya (40) expressed shock over the accident which claimed a life yet there were on a funeral mission in Mbire.
"This is shocking we are failing to come to terms with the accident, our relative (Washaya) died mysteriously in an inferno on Wednesday and was missing for two days only to be found in ashes.
"Today we are going to her funeral; we are involved in a fatal accident," said the source.
According to Traffic Safety Council (TSCZ) managing director Obio Chinyerere Zimbabwe loses an average of 2000 people in road accidents annually.
 Traffic accidents: 10 dead and 19 injured in 2 days
Saturday, 14 October 2017 12:39
ALGIERS- Ten people were killed and 19 others were injured in 9 traffic accidents that occurred from 12 to 14 October in several provinces of the country, said Saturday a report of the Civil Defence.
Police to Kick-start Road Operations to Fight Road Accidents
Oct 14 2017,
Traffic police will soon restart operations against vehicles in poor mechanical condition, as a way of fighting accidents on the Ugandan roads. According to Charles Ssebambulidde, who speaks for the traffic police, the grace period offered to motorists is running out.
Why are roadworks very costly in Uganda? 
12th October 2017
Audit. The unit cost per kilometre on average in Uganda costs between $750,000 and $1m (Shs2.5b to Shs3.5b) while the same in Kenya goes for $300,000 (approximately Shs1b) and $330,000 (Shs1.1b) in Rwanda, a country with a mountainous terrain. There has been a lot of discussion on the cost of our roadworks and President Museveni's explanation has been that previously the high costs were fuelled by massive corruption in the sector but recent reforms notwithstanding, the costs remain high, writes Frederic Musisi in the first of a five-part series.
Read mre @ http://www.monitor.co.ug/SpecialReports/Why-roadworks-very-costly-Uganda/688342-4132104-w6pmxr/index.html
Baba Chungwa among victims who survived horrific car crash during NASA demos
12th October 2017
Three dead, 10 injured in grisly accident along Njoro-Nakuru Road
By Kennedy Gachuhi  October 11th 2017
Three people died and ten others injured in a grisly road accident that involved three vehicles, a school van, matatu and lorry, along the Njoro-Nakuru road on Tuesday morning. Confirming the incident Njoro OCPD Kegode Kidiavai said that the 14 seater matatu was heading to Nakuru from Molo Town when it collided head on with the lorry whose driver was overtaking a school van.
"The lorry driver was overtaking the van and could have miscalculated the speed and distance between his vehicle and the matatu. The two vehicles crashed head on before he could get back to his lane," said Kegode. The school van had a dozen pupils on board. The van driver and the pupils luckily escaped the accident unhurt.
The Matatu driver died on the spot while two other passengers occupying the front seats sustained serious injuries. "One person died on the spot while two others passed on at the hospital. None of the school going children were injured though their van was seriously dented," said Kegode.
Good samaritans traveling along the route rushed the victims to Nakuru Level Five hospital where two of the critically injured passengers were pronounced dead on arrival. Ten passengers who sustained soft tissue injuries were treated at the facility and discharged.
The OCPD added that the police arrived immediately at the scene after the accident was reported but the lorry driver escaped on seeing the officers. "The lorry driver managed to escape from the scene but we are gathering information to help us arrest him," said the OCPD.
Nigeria: Car Accident Claims Lives Along Aliade Otupko Road, Benue State – Graphic Photos
Ghana: 3 dead, 10 in critical condition after Suhum accident
Two killed in vehicle ambush on Kenya coast
The car was travelling between Diani and the Technical University of Mombasa's nearby Kwale campus on Tuesday morning when gunmen opened fire. "The officers were escorting university staff members when they were ambushed by the gunmen who killed two and wounded three including two officers," said regional police chief Larry Kieng.
Kieng said the two university workers died at the scene while the wounded have been taken to hospital. He said an investigation was under way and that Islamic militants were among the suspects.
A month ago suspected Islamic militants attacked a church in the area killing two police officers and stealing their rifles.
The midfielder was reportedly travelling through Cato Ridge in KwaZulu-Natal when tragedy struck, with police informing the Premiership team of his passing.The Team of Choice are set to release an official statement on Monday, according to club chairperson Farook Kadodia."It is very sad and devastating news. We received the call from the police at 07:30 today. We will release the statement with all the details tomorrow morning (Monday)," Kadodia told Independent Media.Dlamini is the second Maritzburg player to pass away on South Africa's roads in recent times, after Mondli Cele died in January 2016.
Ghana gas explosion
Biker dies on the spot in road accident
Cases of bikers being knocked to death are sprouting in Harare, a Dynamos supporter – Thulani Ncube – also died the same way in Waterfalls on Saturday afternoon.
In another road accident six people died in Seke road on Friday night when two kombis collided in a head on collision.  Five people reportedly died on the spot while the other died upon admission.
ER24 spokesperson, Werner Vermaak, said the accident occurred shortly after 20.30 on Friday night when a Toyota Corolla, with nine occupants, and a Land Cruiser, with a single occupant, collided. "Paramedics from ER24 and local services arrived on the scene where they found seven children, aged between five and 18, from the Corolla with fatal injuries," he said.Vermaak said an adult woman inside the Corolla had also sustained fatal injuries, while the driver had survived with serious injuries. The occupant from a Land Cruiser was treated on the scene for moderate to serious injuries."The exact circumstances surrounding the collision is not yet known. However, it is understood from bystanders that one of the vehicles allegedly made a U-turn when the collision occurred," he said. Vermaak said local authorities attended the scene and would conduct an investigation.
SABINA CHEGE'S MUM DIES IN ROAD ACCIDENT, DAD IN CRITICAL CONDITION
7th Oct 2017
By NDUN'GU GACHANE
The mother of Murang'a Woman Representative Sabina Chege has succumbed to injuries on Thursday following a fatal road accident at Githumu on the Githumu – Kangari road.
The body of , Susan Wairimu, 68, is at Githumu Mortuary. According to Murang'a County Commander Naomi Ichami, Ms Wairimu was with her husband Chege Mutema 75, in vehicle that collided head on with another that was carrying Unaitus Sacco staff.
She said Mr Mutema, who sustained serious injuries from the accident, was taken to Aga Khan Hospital, Nairobi, alongside four other Unaitus Sacco staff.
"Mr Mutema and his wife were heading to Githumu while the vehicle carrying Unaitus Sacco staff was going in the opposite direction when they collided head on at a sharp bend," said Ms Ichami adding that two Unaitus Sacco staff were treated and discharged.
Bishop Mutendi visits accident scene
He arrived at the scene as police were attending to yet another accident that killed one person at the same spot. Masvingo provincial police spokesperson Inspector Charity Mazula confirmed the latest accident.
"A haulage truck was involved in a fatal accident at the 87km peg along the Roy-Chiredzi highway killing the driver Tapiwa Dude (29) on the spot," she said of the accident that killed one person. Speaking through his secretary of evangelism Mr Renious Masango after the tour, Bishop Mutendi said his visit was to have prayers at the area which continued to claim lives. (There comes a time when you stop praying and start doing something. How about preaching and teaching people about road safety? Free sermon outlines are available here http://tinyurl.com/SermonsonSafety   – Ed)
He suggested the dualisation of the part of the road, while calling for clear road signs to be erected to curb the accidents. "The lane for cars which go down the slope should have speed humps at the top so as to control the drivers approaching this area," said Bishop Mutendi. "The second thing is that the area has no road signs and it's rather difficult for new road users to anticipate approaching such a dangerous place."
Bishop Mutendi said the road required to be widened to give drivers room to reverse in case of disaster. "Some of these accidents would have been avoided," he said. "If a truck fails to pull through, the driver has limited options in trying to reverse and this usually results in fatal accidents." Bishop Mutendi conveyed his condolences to the bereaved families.
See what's driving the future: Continental Cockpit Vision
Why Nigeria wants to remove police roadblocks
Ghana: KATH detains corpse for non-payment of medical bills 
4th October 2017
Management of the Komfo Anokye Teaching Hospital in Kumasi has detained the corpse of a man who passed away at the hospital while receiving treatment from injuries sustained through a road accident.
The hospital is asking the family of the deceased to first pay off the GH¢15,600 [fifteen thousand, six hundred Cedis = USD 3,500)] debt incurred from about two months of admission and treatment until he died last Friday.
The widow, Madam Amama Mutaikelo who made this known to the GBC in Kumasi, said her late husband, Yahaya Mutaikelo, a mason, was knocked down by a hit-and run motor cycle rider at Abirem in the Kwabre District about two months ago and was rushed to the Komfo Anokye Teaching Hospital by a passer-by.
Madam Mutaikelo, who is a petty trader at Salaga in the Northern region, said she moved to Kumasi to take care of the husband and was occasionally given medical prescriptions to buy for him.
According to Madam Mutaikelo, she was given the two month bill of the husband's treatment a few days to his demise but the family indicated that they could not afford the money.
She said she managed to pay GH¢5,000.00 [five thousand Cedis] of the total bill from the proceeds of alms. However, the hospital's management is insisting that the bill be settled before the corpse will be released to the family.
When contacted, the Public Relations Officer of the Komfo Anokye Teaching Hospital, Kwame Frimpong, confirmed the matter but indicated that the family has to top up the amount due before the body will be released.
Ghana: 10 confirmed dead as Yutong bus crashes at Nkawkaw
The Police have confirmed that 10 people lost their lives in the process, while also disclosing that 33 are currently on admission, with a further 14 treated and already discharged after sustaining minor injuries.
Explaining the circumstances further, the Eastern Regional Police Public Relations Officer, ASP Ebenezer Tetteh, said the driver of the Yutong bus is currently in the grips of the Police for his role in the accident.
According to him, the accident took place at Abepotia, a village near Nkawkaw, in the early hours of Sunday, after the driver of the Yutong bus rammed into an incoming vehicle, leading to it veering out of the main road and eventually resulting in an accident.
ASP Tetteh explained further that "the Yutong bus allegedly after entering a single lane, instead of driving on its lane, drove on the other lane of the oncoming cars, so it grazed a side of a trailer that was coming from Kumasi towards Accra."
He added that "but for the negligence of the driver of the Yutong bus, this accident is a very very avoidable accident", before calling on members of the general public who have not heard of their relatives to come and identify the bodies.
Five die on the spot as bus crashes into U-turning vehicle
Eyewitnesses allege that the Elgrant vehicle was trying to avoid a roadblock and made a U-turn, thereby encroaching into another lane where the bus was coming from.
"The light vehicle was avoiding a roadblock and encroached into the right lane resulting in a road accident, five people died on the spot," revealed the source.
Road accidents are on the increase in Zimbabwe, yesterday 4 people died in Zaka when a bus they were travelling in overturned.
According to Traffic Safety Council of Zimbabwe, an average of five people are dying daily on road accidents.
This brought to seven the number of people killed on provincial roads at the weekend.A woman, 30, was killed in a collision involving three vehicles on Baden Powell Drive at around 02:50 on Monday, said Africa.On Sunday morning, two people were killed when the vehicles they were driving collided head-on in Blouberg. Their vehicles caught alight after colliding at around 04:00 on the R27 West Coast Road. Africa said both drivers were burnt beyond recognition.
Car rear-ends taxi in Westmead leaving five injured
ZCC bus accident kills 4
A bus carrying members of Zion Christian Church (ZCC) was yesterday involved in an accident at Pelilendava Hill here, killing four people on the spot and injuring several other passengers.
Masvingo Provincial police spokesperson Inspector Charity Mazula yesterday said she was yet to get details of the accident. "I do not have details yet of the accident. Can you please call tomorrow morning for more details," said Insp Mazula.
When The Herald visited the accident scene, several injured passengers were being ferried by ambulances to hospitals in Chiredzi and Zaka. An eyewitness Mr Dakarai Makuyana, who was driving behind the bus, said the bus avoided a head on collision with a truck driving in the opposite lane.
"One Blue Star Trucks had a breakdown while navigating through Pelilendava. The other one which was behind tried to overtake on the blind spot," he said. "The bus was coming from Jerera towards Chiredzi and was set for a head on collision. The bus driver turned into the valley as he avoided a head-on collision," said Mr Makuyana.
Another eyewitness Mr Mike Maruvire said he only heard a loud bang. "I just saw the bus rolling several times into the ditch. Passengers were thrown out through the windows while others screened for help," said Mr Maruvire. The injured were taken to Chiredzi General Hospital, Collins Saunders Hospital in Triangle and Musiso Mission Hospital in Jerera.
Fatal road accident in Chitungwiza
Accident,fatal,Chitungwiza
A fatal accident in Chitungwiza, Ziko area – it is alleged the cars collided this morning.
Kenya: Four family members perish in grisly road accident along Kisumu-Kakamega road
By Eric Lungai 1st October 2017
 Four family members died on the spot when the motorbike they were traveling on was hit by a runaway car. The tragedy occurred in the early hours of Friday along Kisumu-Kakamega road. The four were from another funeral in Shinyalu.
 They were on their way to their home in Hamuyundi in Sabatia Constituency. "I heard a loud bang and when I rushed to the scene, I found the four lying dead and there was no vehicle in sight," Wycliffe Omega, a witness said.
The father to one of the deceased, Robert Asava, said it was a big blow to the family since they had another funeral at Shinyalu where an uncle to the victims had died. "We don't know what to do because we already have another funeral where these teenagers were coming from," he said. The deceased included two brothers, their cousin and a neighbour.
Nigeria:  Five killed, eight injured in Kogi accident
Five persons yesterday lost their lives when the driver of a cement-laden articulated truck belonging to Dangote Cement, lost control, ramming into a taxi cab and a commercial tricycle (Keke NAPEP), at the Nataco junction, on the Abuja-Lokoja highway. Among those who lost their lives were two school-aged children, while eight others sustained varying degree of injuries in the accident, which occurred around 9:00a.m. in Lokoja, Kogi State capital.
The Sector Commander of Federal Road Safety Corp (FRSC), Olusegun Martins, attributed the incident to brake failure. He explained that the trailer was coming from Obajana when the driver lost control due to brake failure and rammed into the commercial tricycle and one Nissan taxi, at the Nataco junction.
He however confirmed that a female student of the Kogi State Polytechnic and two others were killed on the spot, while eight others who sustained injuries were evacuated to the state Specialist Hospital Lokoja for treatment.
While appealing to the Federal Government to construct a flyover bridge at the Nataco junction, to reduce the incidence of accidents around the area, he charged drivers to maintain and ensure the good condition of their vehicles, to prevent brake failure and other unforeseeable vehicular faults.
An eyewitness account said the driver of the truck lost control around the polytechnic gate. Students of the school subsequently went on rampage on confirmation of the death of their colleague, barricading the highway and making bonfires, leading to a gridlock along the corridor.
An eyewitness, Mr. Emmanuel Adams, called on the state government to intensify effort in sending away people who sell by the roadside, saying the casualties could have been more if it was a market day.
Also speaking, head of the emergency unit of Specialist Hospital, Lokoja, Mr. Okpanachi Stephen, confirmed that eight persons were brought to the hospital from NATACO junction where the accident occurred. He noted that some of the victims have head injuries while others were bleeding from the cut they sustained on their bodies.
Secretary to Kogi State Government, Mrs. Arike Ayoade Folashade, said the state would be compelled to make it compulsory for every truck driver, particularly Dangote Cement, to undergo psychiatric test.
"They have to go through psychiatric and drug test to ensure they are not under the influence of any hard drug as some of them may not even possess valid driver's license. We have to collaborate with the FRSC to get the machine for drug testing and alcohol. If it exceeds the normal level we have to prosecute them and possibly jail them," she said.
Meanwhile, one person was confirmed dead in an accident that occurred yesterday in Agbede, along Ogbere-Benin Expressway in Ogun State. Spokesman of the State Traffic Compliance and Enforcement Agency (TRACE), Mr. Babatunde Akinbiyi, who confirmed the accident to journalists in Abeokuta, disclosed that it involved a Volvo truck marked, FKJ 27 XT and a Toyota Sienna bus with registration number AGL 141 EL.
According to him, the accident was caused by the driver of the Toyota Sienna car who drove against traffic and had a head on collision with the truck. Akinbiyi said: "The Sienna bus that drove against traffic was a commercial bus and was loaded with turkey. The driver of the bus died on the spot."
Four dead in birthday tragedy
 A BIRTHDAY celebration turned into a tragedy as a Tsholotsho man, his brother and son as well as another relative died on their way home from South Africa after attending what proved to be their last birthday party. Yenzani Sibiya (47) took his son, Thierry Sibiya to Thohoyandou in South Africa's Limpopo Province, for his 15th birthday celebration. The two died with Sibiya's brother, Zwelithini Sibiya (35) and another relative, Joe Phiri in a road accident in Musina.
Thierry turned 15 on September 9 and the accident occurred in the early hours of September 10 in Musina, and all four died on the spot. All the Sibiya family members were buried on Sunday in Bubude, Tsholotsho while Phiri was buried in South Africa.
The Chronicle news crew caught up with the Sibiya family during the burial of the three family members in Tsholotsho. Yenzani's wife, Hlalisani Nkomo (37) told The Chronicle that her husband died after the party he had organised for his son in Musina. "I am at a loss for words on the incident that took away my family. I don't know where to start and end because am still in shock. It's day 14 today since they died and we have just laid them to rest but it still feels so unreal to me," she said between sobs.
"My husband had taken our son out to celebrate his 15th birthday and they never returned. A [Toyota] Quantum that was coming from the opposite direction rammed into their car as it tried to overtake. We suspect the Quantum driver misjudged the gap between the oncoming vehicles and tried to suddenly stop after he saw that a truck was close by. It crashed into their vehicle onto the other lane. A truck side swiped them, and the Quantum went over their vehicle. They all died on the spot."
Tsholotsho South MP Zenzo Sibanda who attended the burial said it was heart-breaking to lose four family members in one accident. "We have lost more than 10 people in road traffic accidents in South Africa this year alone and it is really painful," he said.
A fisherman on a boat alerted police to the scene when he saw a Toyota Tazz drive into the water at a high speed, Limpopo police spokesperson Colonel Moatshe' Ngoepe said in a statement.Ngoepe said the bodies of Thabang Tladi and Kate Ramoshaba, both aged 19, from Lebowakgomo Township has been retrieved from the vehicle.The motive behind this incident is unknown but domestic violence is not ruled out, he said. Ngoepe said when police tried to pull the vehicle out of the dam, a cable snapped which resulted in the vehicle drifting deeper below the water. "We are now calling in specialised resources to help us," Ngoepe told News24.A search for the vehicle will continue on Tuesday.
County Stories – Four killed in road accident along Machakos-Kitui road
26th September 2017
Four people were early today killed in a road accident involving Nissan matatu and a bicycle at Tiva area along Machakos – Kitui road. Three people died on the spot while one was pronounced dead on the arrival at Kitui Level 5 hospital. Dteails in our county news roundup.
Mpumalanga minibus taxi horror crash leaves 4 dead, 15 injured
Local authorities attended the scene and are investigating the cause of the fatal crash.
'Corrupt traffic cops behind road carnage'
COMMUTER omnibus operators have accused "corrupt" traffic police officers of fuelling road carnage by letting drivers of defective kombis pass through roadblocks after bribing their way, adding that over 60% of the public service vehicles on major roads are unregistered.
Addressing members of the Parliamentary Portfolio Committee on Transport and Infrastructural Development, Edmore Matseketu, chairperson of Bindura Commuter Operators, which is a member of Zimbabwe National Commuter Omnibus Association, said traffic officers on major highways had become more of revenue collectors than law enforcers.
"Police have become more of a revenue collection than policing agent. They cannot impound vehicles that are not roadworthy because they want to meet their targets. If it has no good tyres, passenger insurance, all relevant documents, they just write a ticket and let them pass (sic). That is when you hear 30km from the roadblock, there has been an accident," he said.
The public transporters said at least 60% of kombis on the roads were not registered with local authorities and some did not have passenger insurance, exposing public transport users. Aaron Tapfuma, chairperson of Zimbabwe National Commuter Omnibus Association, said because police officers seem to be more concerned with ticket issuance than protecting the passengers, some kombi drivers no longer had respect for road regulations.
"Once they get these tickets, they become unruly. He can drive in your lane and you have to give them way (sic). It's like they would have been given a passport to cross the border. If you don't protect registered operators from those unregistered ones, then you are creating chaos.  Where we had 5 000 registered operators two years ago, it's no longer the same," he said.
"A lot of operators are saying: Why should I bother getting the vehicle registered, inspected for fitness or get passenger insurance if I'm not protected?" Tapfuma said some kombi operators — especially the unregistered ones — were employing drivers who do not qualify to drive public service vehicles and some have vehicles that are not roadworthy.
He said although the transport sector was fragmented, operators in Bulawayo were united through associations and this had helped them as an umbrella body to lobby local authorities, the police and government as one for better service.
Tapfuma said the government should integrate the transport management system to ensure all operators are served in a one-stop facility to ensure compliance with the law and protection of the public.
Three die in head on collision
Picture: Supplied
Three people died in a horror head on collision 17 kilometres from the Nanaga intersection on the R72 on Sunday morning. A black Mercedes Benz and a white Audi collided killing three people and seriously injuring two others.
The female driver of the Audi, as well as another male and female in the Mercedes were fatally injured and passed away before help arrived. Two other people, a male and female were trapped with serious injuries in the Mercedes and needed to be extracted by emergency staff before being rushed to hospital.
All persons involved in the accident are adults.
Fungisai apologises to the public over accident
The musician was last week given a suspended jail term by the courts over the accident for negligent driving.
"My sincere apologies for having failed to avoid a road accident. I was returning from a Church Conference to school run and an accident was the list thing I expected. I sincerely apologise to all who got involved and were disadvantaged as a result of my human error," she said.
"I am indebted to God that he kept us all safe from the worst. My trial and sentence however has revealed to me that in as much as accidents are inevitable unfortunate incidents in our day today operations, it is our full responsibility as drivers to be alert on the roads. We have an imminent responsibility to preserve each other ' safety and life as we drive. Lets minimize accidents and stop road Carnage on our roads." (Start preaching safety http://tinyurl.com/SermonsonSafety  – Ed)  
In a separate incident in KwaZulu-Natal on Saturday afternoon, two people were killed and 16 injured when a minibus and a bakkie collided on the N2 near Gingindlovu.In the Eastern Cape, four people were killed when the minibus taxi they were travelling in collided with a truck roughly 30km outside Graaff-Reinet.At Emaqhinebeni, outside Mthatha, three people were killed in an accident in the early hours of Saturday morning.In Gauteng, a man was killed and three others injured when a light motor vehicle rolled down an embankment off the Kloof Road in Bedfordview.And on the R24 near the Krugersdorp Nature Reserve, a man died and two others were critically injured following a head-on collision.
Related Links
Namibia: Minibus accident claims four lives
by Luqman Cloete
//Kharas regional police deputy commissioner Chrispin Mubebo said the accident happened when the driver of the minibus lost control of the vehicle after a rear tyre burst.He identified the deceased as Katrina Jossop (75), Soriya Hangue (38), Ewaldine Kahimunu (47) and the driver of the vehicle, Fernandes Feris (48). Their next of kin have been informed.The senior cop said the other passengers who sustained injuries were admitted to the Keetmanshoop State Hospital, describing their condition as critical. Mubebo advised motorists to inspect their vehicle for any defects before take off on their journeys, while urging them to avoid overloading and speeding.
Two dead, twelve injured in Jinja accident
23rd September 2017
Two people are dead and 12 others injured after the taxi they were traveling in, collided with a truck ferrying stones in Kakira,Jinja.
Nigeria: 423 die, 2,339 wounded in auto crashes in July – FRSC
Ghana: Three persons including pregnant woman killed in fatal accident
According to eye witnesses, the accident occurred after the driver of the benz cargo truck which was carrying goods and traders, lost control of the steering wheel which had reportedly locked and plunged into a gutter.
Three persons died on the sport, while four others who had been trapped beneath the truck were rescued with the help of Fire Service personnel who arrived at the scene to lift the truck which had fallen on its side.
The bodies of the deceased have since been deposited at the morgue while the injured are receiving treatment at the hospital.
Uganda: Traffic jam eating into people's working hours
22nd Sept 2017 By AMOS NGWOMOYA
Kampala. Majority Ugandans' aspiration immediately they begin earning an income is to buy a car to gain some status in society. Many, however, forget that Kampala is a single-centred city flocked by Ugandans that use both private and public means in the hope of attaining better services, hence contributing to the heavy traffic jam.
The city was designed to cope with about 45,000 vehicles, yet those that enter the city daily are more than two million, including taxis and private vehicles, according to Kampala Capital City Authority (KCCA). Lately, one's life is planned around the traffic jams which continue throughout the day until evening and into the night.
People now sit on the roads for hours every day, encroaching on the time they are to report for work.  With the unpredictable heavy jam, some spend several hours moving to a destination less than a kilometre away. Traffic police officers are always on alert, controlling traffic flow whether or not signal lights are working.
Ms Joan Nansubuga, 32, a mother of two, for instance, is a bank teller who resides in Matugga in Wakiso District, but has to juggle through the heavy jam in order to make it to office in time. Matugga to the city centre is a distance of 18kms, which should ideally be less than 40 minutes' drive. However, she spends several hours on the road, something she says, leaves her exhausted, leading to less concentration at work. "I bought land and built a house in Matugga because we wanted a cheap but accessible land. I wake up by 5pm, I find myself leaving home at 7am because I have to prepare my children for school. Although I am supposed to be at office by exactly 7:30am, I at time get late by either 30 minutes or one hour depending on the traffic of the day," she says.
Read more @ http://www.monitor.co.ug/News/National/Traffic-jam-eating-into–people-s-working-hours/688334-4106796-81v4da/index.html
https://www.youtube.com/watch?time_continue=35&v=ZbueNwPexhc
Kenya: Road fatalities have gone down in past 8 months
THURSDAY SEPTEMBER 21 2017 By COLLINS OMULO
This is 180 less than what was reported at the same time last year, translating to 8.3 per cent reduction in the number of fatality cases compared to a similar period in the previous year where, between January 1 and September 13, 2016, 2,159 road users lost their lives.
The report showed that the main casualties were pedestrians, motor vehicle passengers and motorcycle riders. Of concern is that between September 4th and 13th,  60 people lost their lives on Kenyan roads with passengers and pedestrians making up over two-thirds of the reported deaths, at 21 cases and 22 cases, respectively.
Within the eight days, six motor cyclists, five drivers, five pillion passengers (motor cycle passengers) and one cyclist died on the roads.
Man sues bus company over wife's death in accident
Isaac Madungwe's wife, Tendai Pedzisi, a nurse at Masvingo General Hospital, was one of the 43 people who died in the accident after the speeding Lusaka-bound bus allegedly burst a tyre on approaching a curve and overturned.
In his lawsuit filed at Masvingo High Court on September 5, Madungwe gave the bus company 10 days to respond to the application. Through his lawyer, Charles Ndlovu, Madungwe claimed the death of his wife had deprived him and his five children of a source of income. He said his family failed to recover $2 000 and other valuables worth $50 that the deceased had in her possession when the accident happened.
Madungwe said he had so far received $3 000 compensation from the bus company's insurers, and described the money as "too little", arguing that his late wife earned $563 a month, which could have translated to $195 000 had she continued working for 29 more years until retirement at the age of 60. He said his wife earned an extra $1 000 through her cross-border trading business and this would have translated to $348 000 at the retirement age of 60 years.
The family accused the bus driver of speeding, carrying excess passengers, failing to keep the bus under control and failing to act reasonably when the accident was imminent.
Ghana: Five mourners dead, 7 others injured in Odumase car crash
20th September 2017
Five mourners have been confirmed dead while seven others are in critical condition in a fatal car accident at Ayermesu, a community along the Odumase-Asesewa highway in the Eastern region.
The injured have been rushed to the Atua Government Hospital for emergency care while the bodies have been deposited at the morgue, Starr News' Eastern regional correspondent Kojo Ansah has reported.
The accident occurred when a Hyundai Vehicle with registration number GE 7742-11 was conveying the mourners to a Mortuary to carry a corpse for burial but ran into a stationery Rhino truck with registration AS 2253-12 at a sharp curve at Ayermasu, which is an accident prone area.
According to a witness, "the driver and other 4 people died on the spot. The passengers on board the Hyundai Vehicle were from the same family from Odumase going to Asesewa for the dead body of a family member when they met their untimely death ".
He added that the spoilt vehicle was parked without warning signs at Ayermesu Curve on the Odumase to Asesewa highway killing 5 people and other 7 people are in critical condition receiving treatment at Atua Government Hospital ".
Grade 3 English workbooks scattered in truck rollover
Metro cops threaten strike
KWAZULU-NATAL / 19 SEPTEMBER 2017, 7:04PM / BHEKI MBANJWA 
Durban metro police officers have threatened to strike. Picture: Supplied
University student, 4 others die in Kirinyaga night crash
19th September 2017   By GEORGE MUNENE
Residents of Waigiri Village want bumps erected at the stretch where the crash happened on Kutus-Kagumo road. They argue it is a black spot. PHOTO | FILE | NATION MEDIA GROUP
Five people, including a university student, died when a vehicle collided with a motor cycle along the Kutus-Kagumo road in Kirinyaga County. Three of the victims succumbed to their injuries on the spot while the rest died while undergoing treatment at Mount Kenya Anglican Church Hospital.
DAMAGE The crash happened on Sunday night when the boda boda rider lost control of his motorcycle at Waigiri Village and ploughed into the Karatina bound Nissan X-Trail. The rider, who was heading towards Kerugoya from Kagumo, was ferrying four passengers, including the female student. According to the witnesses, the rider and two of his passengers were crushed to death as his motorcycle was extensively damaged.
This is one of the worst crashed that have been witnessed in the area in recent times.
PROTESTS Following the 10pm crash, villagers and boda boda ride staged protests and attempted to burn the ill-fated car but were dispersed by the police. The officers, who had arrived at the scene shortly after the collision, fired in the air several times to scare away the rowdy crowd that was baying for the driver's blood.
The driver survived the crash and the police officers took him in for questioning. Witnesses said they saw the rider, who was overloading, swerve before he rammed the Nissan X-Trail.
THROWN Due to impact, victims on a motorbike were thrown several metres away from the scene. "I was at home when a loud sound hit my ears and rushed to the scene. On arrival, I found three people dead and two others writhing in pain," said Ms Jane Wakuthii.
Another witness, Mr Jackson Kibanya, said he arrived at the scene soon after the accident  and was shocked to see bodies strewn on the roadside. "It was terrible," said Mr Kibanya. Kerugoya Ward Representative Murango Kamau said he learnt of what had happened with great shock.
BUMPS "Those who lost their lives were young people aged between 18 and 25 years. It is really sad and police should get to the bottom of the matter," he said. Mr Kamau noted that the area was a black spot and asked the government to initiate safety measures.
"Bumps should be erected to ensure that accidents do not continue happening in the area," said Mr Kamau as he sent a message of condolences to the bereaved families. Area County commander David Kiru said it was unfortunate the lives of young people had been lost and confirmed that investigations had been launched into the incident.
Namibia: MVA Fund appeals for help to identify accident survivor
19th September 2017
Uganda: 13 dead, 8 injured in another Masaka road accident
The accident happened last night at Lubanda trading center near River Katonga Bridge in Mpigi District.Eye witnesses told our reporter that the accident happened when one of the tyres of the Fuso truck registration number UAH 970P burst and it rammed into the Tanzania bound Coaster, registration number T540 DLC.
The Katonga Region Police publicist Philip Mukasa said all the deceased were travelling in a coaster.
New road signs for Bulawayo
BULAWAYO will today start installing new road signs that are in line with Sadc traffic standards following a Government directive. The Sadc-Road Traffic Signs Manual (Sadc RTSM) became part of the country's laws last year, and implementation is underway.
Statutory Instrument 41 of 2016, which was gazetted last year by the Minister of Transport and Infrastructural Development Joram Gumbo, directed that the country should comply with the Sadc road traffic safety manual standards. The move is meant to reduce road accidents not only in Zimbabwe but the entire Sadc region.
Bulawayo's Town Clerk Mr Christopher Dube yesterday said the installation of new road signs in the city will start today and the first area to be covered is the city's Central Business District.
"Council will be installing signs in the whole city in line with the Sadc road traffic safety manual standards. The public is therefore advised to exercise due caution when driving as workers install these new road signs starting on September 18, 2017, in the CBD. The public is requested to acquaint themselves with the new signs and their implication to ensure safety of all road users," said Mr Dube.
The principal director in the Ministry of Transport and Infrastructural Development Engineer Eric Mufaro Gumbie said the installation of road signs was an ongoing project.
"The installation of Sadc road signs started with the upgrading of the Plumtree-Mutare highway and the process is ongoing. The Traffic Safety Council of Zimbabwe (TSCZ) is working with the Department of Roads and is planning to finance installation of Sadc signs on the country's main roads.
"The level of funding is being discussed and will be advised," said Eng Gumbie.
The TSCZ recently came up with a new Highway Code to replace the 1979 document, in a move meant to harmonise traffic signs with those in other Sadc countries. The Sadc secretariat introduced the road signs after realising that there was a need for modern day approaches to road safety management.
According to Statutory Instrument 41 of 2016, the lettering of the road traffic signs should substantially conform to one standard letter styles detailed in the Sadc road traffic signs manual and shall be of maximum size permitted by the space available and the message to be displayed.
30 killed, 10 injured in Lagos-Ibadan expressway auto crash
Durban – "He cried on my shoulder. I told him I forgive him… But he lied to me." This was the anguished reaction of Rosa Da Silva after she heard that the motorist accused of knocking down and killing her son Richard, 46, and his cycling partner Jared Dwyer, 36, was no longer pleading guilty to the crimes.The incident occurred on the M4 highway leading out of the city in February last year and sparked a public outcry.At his last court appearance in the Durban Regional Court earlier this month, Omesh Ramnarain, 33, indicated that he had concluded a plea bargain agreement with the State and would spend time in jail.  He said he ran his own business and needed time to sort out his affairs and the case was adjourned until Friday morning.
Cop rams house, fails to pay for repairs
A NKULUMANE family is living in the open as a police officer, who lost control of his car and rammed into their house two months ago, has failed to repair the property. The cop, a constable stationed at Nkulumane Police Station, allegedly did not have of a valid driver's licence at the time of the crash.
Two siblings aged 6 and 11 years were rushed to Mpilo Central Hospital with serious injuries when the policeman, suspected to have been drunk, rammed his vehicle into a room they were sleeping in. Constable Munyaradzi Mupfawa – force number 085147 – was with an unnamed colleague when the accident occurred just after midnight sometime in July. He is suspected to have lost control of the car after an empty beer bottle rolled under the brake pedal while he attempted to negotiate a corner.
Mrs Prudence Tshili, the guardian of the two children who were injured, said the owners of the house where "very young orphans" and could not fix the damage. "The parents of these children died and left them very young. This house has been their source of living as they rent rooms out to tenants to buy food and pay school fees. Now this officer completely destroyed one of the rooms and property, he has taken away their bread and butter," said Mrs Tshili.
She said she felt let down by the law as Mupfawa had not repaired the home, replaced damaged furniture or paid the kids' hospital bills. "I have struggled with hospital bills for the children and all he did was send someone to drop three bags of cement and not a single brick. He did not pay for the ambulance and he is very arrogant," she said.
Mrs Tshili said Mupfawa had since engaged a lawyer. "Now he told us not to talk to him but to talk to his lawyer. He just told us that he would do whatever it takes to protect his job. We cannot afford a lawyer so we have nobody to stand for our rights. They are taking advantage of our poverty," said Mrs Tshili.
She said the family was considering seeking the services of an inyanga (traditional healer – Ed) to bring the matter to a close. "As a family we decided that we have to do things the African way. Since these police officers think that the law is in their hands, now we will do something that will make them regret for life. They will come back to us asking for our forgiveness but we will also profess ignorance. We are tired," she said.
The Chronicle went to Mupfawa's home yesterday but only found his wife, who said he had gone out. Neighbours said the police officers, who are also from Nkulumane, were driving a red Honda Fit and were drunk when the accident occurred. A neighbour said on the day of the accident Mupfawa was so drunk he could not run. "The two were extremely drunk. They behaved strangely and shouted obscenities. They even fought in front of us. One of them only came back in the morning to apologise," said Mrs Ntuli, a neighbour.
Bulawayo police spokesperson Inspector Precious Simango could not be reached for comment. Recently, the Deputy Minister of Home Affairs Obedingwa Mnguni urged members of the public to record videos of police officers violating the law. He said evidence gathered will come handy in prosecuting rogue law enforcement agents.
15 injured in Clairwood taxi crash
15 September 2017 | Road Safety in the Media
---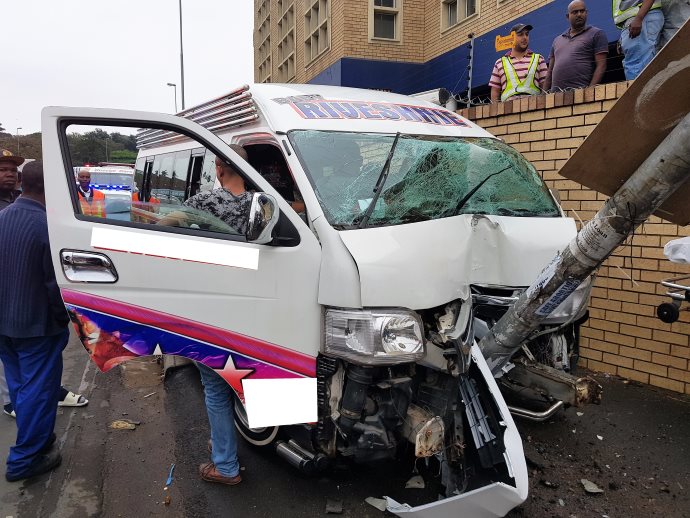 Fifteen people have been injured after the taxi they were in somehow lost control and collided with a light pole on Grimsby Road near Leister Road in Clairwood this morning.Just after 7 am Rescue Care Paramedics were called to the scene to find that the single taxi had left the roadway and collided with a light pole. Immediately more ambulances were dispatched to assist with the multiple casualties. A total of fifteen people had sustained various injuries and were stabilized on the scene by Advanced Life Support Paramedics before being transported to various Durban Hospitals for the further care that they required.
4 Ways to improve traffic
40 injured in accident along Thika-Garissa highway after bus lost control and rolled
14th September 2017
40 people have been injured in a road accident along Thika Garissa road.* The 40 are hospitalized at Mwingi level IV hospital.The accident happened at ngutani area in Mwingi West of Kitui county. The bus carrying the 40 passengers was said to have been speeding when it lost control. It was headed to Nairobi from Garissa.
Bulawayo-bound kombi kills 8 in Musina
Limpopo police spokesperson, Lieutenant Colonel Moatshe Ngoepe said the accident occurred between Makhado and Musina towns near the Akunamathatha area on Sunday.
He said six people died on the spot while two others died upon admission at Musina Government Hospital. Said Lieut Col Ngoepe; "These people were killed in a culpable homicide case which occurred along the N1 road next to Akunamathatha.
"A private car collided head on with a Toyota Quantum kombi and three occupants of this private car died on the spot and three others died from the Quantum at about 6:55AM on 10 September. "The cause of this collision is still unknown but police investigations are underway to establish what happened."
He identified the deceased as  Nkosiyapha Sibanda (36), Mlapho Lukas (32), Jonas Phiri (30), Zwelibanzi Maxwell Sibili (44), Terry Sibili (37) and Yemeni Petrus Sibili (44).
He said they were yet to establish the names of the other two people who later died at the hospital. Lieut Col Ngoepe said several other passengers from the quantum were injured and are admitted at Musina hospital.
He urged motorists to always adhere to road traffic regulations to avoid the unnecessary loss of lives. The N1 highway is one of the busiest roads which links South Africa with the rest of Sadc especially those from Malawi, DRC, Zambia and Zimbabwe. The road has become a death trap with more than 30 people including Zimbabweans and Malawians dying in accidents in the last eight months.
A few weeks ago, four Malawians among them a toddler were killed and 16 others were injured when a bus they were travelling in was involved in accident, 8km outside Makhado town in Limpopo province. The bus was travelling from Johannesburg to Malawi via Zimbabwe.
Zimbabwe: Vehicle road accidents fund on the cards
 PRESIDENT Mugabe has bemoaned the continued loss of lives in road traffic accidents and said a Motor Vehicle Accident Fund is on the cards as a measure of relief to survivors and families of victims. Speaking at the official opening of the Fifth Session of the Eighth Parliament in Harare yesterday, the President appealed to motorists and other road users to play their part in curbing accidents.
The appeal comes at a time when the Government is expediting consultations that could lead to the creation of a road accident fund. The fund is meant to assist road accident victims and their families to pay for medical and burial expenses. It was mooted last year after it emerged that an accident occurs every 15 minutes and five people are killed daily on the country's roads. A majority of the victims struggle to pay for treatment while their relatives face challenges in meeting funeral costs.
Traffic Safety Council of Zimbabwe's Managing Director Mr Obio Chinyere said consultations on the road accident fund were underway and the issue was urgent.
"The proposal was submitted to Cabinet for consideration and consultations are being made. The establishment of the fund is in line with the United Nations Decade of Road Safety action plan. A levy on fuel or motorists will be introduced among other possible ways to raise money for the fund," he said.
The initiative will be known as the Motor Vehicle Accident Fund. At least 1 700 people die in road traffic accidents in Zimbabwe annually, while 30 000 are injured every year.
The issue came under the spotlight once again two weeks ago.  Ten First Apostolic Faith Mission church members died on the spot in Kamativi in an accident involving a truck carrying 130 church members. The 11th person died on admission to hospital and the 12th died last weekend after he had been admitted into the ICU at Mpilo Central Hospital. The accident also injured 118 church members when the lorry burst a tyre and veered off the road before plunging into a gorge. The injured victims who are admitted to various hospitals are failing to pay bills. Their church has struggled to bury their fellow congregants and to purchase medication for the injured. Government assisted with a burial fund of $200 towards each deceased person.
Local Government, Public Works and National Housing permanent secretary Engineer George Mlilo said talks on the fund were being expedited. "Once the death toll of a road traffic accident gets to 10, Government assists with funding of $200 towards their burial but in some cases it is not enough. The injured would also need medical fund assistance. With this special fund, such needs would be easily catered for.
"If the Kamativi accident victims had been injured in a public transport vehicle, they would have been insured by the transporter but in this case this was private transport, where probably the owner of the vehicle cannot afford to take care of all these needs."
"As Government we were able to assist only the bereaved families leaving the injured to other players. It is at such times where the importance of the road accident fund is recognised," he said.
An official from a local insurance company said when a public passenger vehicle with passenger insurance is involved in an accident, the owner of the vehicle fully compensates the passengers through his or her insurance company. "We compensate the family of the deceased passengers with $2 000 each and $350 or more for injured passengers. As long as the claim comes to us, we definitely release the compensation funds within 14 days," said the official.
"However, we always advise members of the public to use public passenger transport like buses which usually have a full passenger insurance to avoid difficulties such as those which are now being faced by the Kamativi- Binga accident victims," she said.
DR Congo bus accident leaves 25 dead, dozens injured
Ghana: Boy,5, killed in gory accident
12th September 2017
Eye-witnesses say the mother had sent  the deceased on an errand to buy porridge when the vehicle knocked him down. The accident occurred around 7 a.m at the  Complex Junction during a time Kumasi was experiencing a heavy down pour. Curious onlookers defied the heavy downpour  to troop to the scene only to find the lifeless but headless body of the boy.
An eyewitness, Kwame Peter told Nhyira FM the severed head could not be found, amid speculation that it may have been carried downstream along a nearby drain by rain water.
The mother and grandmother who were at the scene were inconsolable as the incident attracted a huge crowd.
Narok-Mai Mahiu road accident claims three lives, scores injured
By Cyrus Ombati | Published Sun, 11th September 2017
Wreckage of a bus which was involved in a road accident killing eight people at Timboroa along Nakuru-Eldoret Highway on July 27, 2017. (Photo: File/Standard).
At least three people were Sunday morning killed in an accident involving a bus and lorry in Satellite area along Narok-Mai Mahiu highway.
The bus was ferrying passengers from Kisii to Nairobi when the incident happened. Police said ten other passengers were injured in the incident were rushed to Kijabe Hospital. The bus is said to have been speeding at the time of the accident. Police fear the toll may increase because those injured were in serious condition.
Over 1,900 die in road accidents since January
11th September 2017
Johannesburg – In one of three horror crashes, five people have been killed and two seriously injured in a horror crash in Alberton on Sunday morning, the Road Traffic Management Corporation (RTMC) said."Five vehicles got involved in a multiple vehicle, head [to] rear type of crash," RTMC spokesman Simon Zwane said in a statement. "Preliminary investigations indicate that one of the vehicles was driving slowly on the left lane when an unidentified vehicle collided with it from the rear causing all the vehicles in front to collide."  The vehicle which caused the collision then fled the scene. "Police are looking for it". Zwane said that the RTMC was conducting further investigations into the matter. "The vehicles have already been mechanically examined to determine if they had mechanical faults that could have contributed to the crash."Meanwhile, one person was killed and another four injured in a collision which took place in central Durban, also on Sunday night, said Rescue Care paramedics. "One vehicle then overturned coming to rest on its side," said spokesperson Garrith Jamieson. One woman was found dead on the scene and four others were extricated from the wreckage before being taken to hospital.Earlier, on Saturday night, one man was killed and two others left in badly injured following an accident, involving a police car, in Thaba Nchu in the Free State, said ER24 paramedics. The driver of an Audi was ejected from his vehicle, said ER24 spokesperson Annine Siddall. "Unfortunately there was nothing paramedics could do to save the man's life and he was declared dead on the scene." The passenger in the Audi, as well as the driver of a police car were both taken to hospital having sustained various injuries.
Related Links
Two women and a 14-year-old had already succumbed to their injuries and were declared dead on the scene. "Among the five others injured was a baby believed to be 14-month-old. The baby sustained minor injuries and was transported to Mediclinic Emfuleni for further medical care," said Siddall in a statement. "Two people who were in a critical condition were airlifted to nearby hospitals by the ER24 and One Plan Medical helicopters." The other injured were also transported to nearby hospitals.In a separate incident on Saturday, a woman, believed to be in her 50s, was left in a critical condition after she was knocked down by a car in Silversands suburb of Cape Town. "ER24 paramedics arrived at the scene and found the woman lying in the intersection," said Siddall. "She sustained a serious injury to her head and was transported to Tygerberg Hospital to receive further medical care."In Brackenfell, also in Cape Town, one person was killed and seven others sustained minor to severe injuries after a driver of a taxi lost control of the vehicle during the early hours of this morning. ER24 paramedics arrived at the scene and found all passengers trapped inside the taxi. "Fire and rescue personnel had to use the Jaws of Life to remove all the patients from the taxi before they were transported to various nearby hospitals," said Siddall.In Durban, Care Paramedics were called to the corner of Rick Turner Road and Manning Road in Glenwood on Saturday morning after two vehicles had collided in a rear end collision. "One person had sustained minor injuries and was stabilised on the scene before being transported to a nearby hospital for the further care that they required," said Operations Director Garrith Jamieson.
related Links
Former Kibwezi MP Kalembe Ndile involved in road accident along Nairobi-Mombasa Highway
By Waweru Titus | Published Sat, September 9th 2017  
Former Kibwezi MP Kalembe Ndile (Photo: Courtesy)  The accident occurred at around 0300hrs and reported to police at 0320hrs Mr Ndile sustained fractures and was rushed to Shalom Community Hospital
Former Kibwezi Member of Parliament (MP), Kalembe Ndile, was injured in a road accident along the Nairobi-Mombasa Highway on Saturday morning. According to Athi River traffic base, the accident happened at Devki area involving a Subaru Forester driven by Mr Ndile and a Mercedes Benz by one Nicodemus.
Ndile, who was headed to Mombasa collided head on with the Mercedes Benz which was heading in the oppposite direction. The former legislator sustained a fracture on the right leg and left hand. He was rushed to Shalom Community Hospital where he was admitted.
 Published On : Saturday, 09 September 2017  
A 39-year-old unlicensed driver was fined $700 for killing a minor in a road accident along Kadzimwemje-Guruve highway.
Appearing before Guruve resident magistrate Mr Shingirai Mutiro on Friday, Knowledge Mushoshoma pleaded guilty to driving without a valid driving licence and killing a nine months old child in an accident. Mushoshoma was fined $100 for driving without a valid driver's licence and also $600 for culpable homicide.
Representing the state Mr Albert Mazhindu told the court that on 2 June 2017, Mushoshoma was driving a Toyota Noah registration number ADT-9010 and failed to control the vehicle leading to an accident that claimed a passenger's life.  On mitigation Mushoshoma begged for a fine citing that he was a government employee hence a custodial sentence would be too harsh as it leads to him losing his job.
"Your worship I am a government worker may you have mercy on me and allow me to pay fine since a custodial sentence automatically leads to my sacking and my family will suffer. "I was ordered to pay two beasts by the bereaved family for compensation, one of which I have paid," said Mushoshoma.
The magistrate said, "the court has put into account that you are a government worker hence a custodial sentence would be too harsh. "You drove your car negligently hence the courts should be seen passing deterrent sentences to give a strong warning to potential offenders."
French-Moroccan Family Suffers Fatal Car Accident in Spain
MENAFN – Morocco World News 8th September 2017
(MENAFN – #Morocco World News) Rabat – A French-Moroccan family of six lost five of its members in a horrific traffic accident in #Spain on [Tuesday].
According to the Moroccan press agency, the accident took place in the Pancorbo municipality in the region of Burgos, where the family's car collided with a truck on the road. Pictures published online by Spanish authorities show the damaged car after the horrific accident.
The Moroccan family included a mother, aged 32, and her three children, aged nine, seven, a three, and their Moroccan grand-mother, aged 60. All five were killed during the tragic incident. The father, a French national, was the only member of the family to stay alive. He was taken to the hospital of Miranda de Ebro.
Maghreb Arab Press (MAP) reported that the Moroccan consulate in Bilbao informed the family's relatives in #France to provide them with the "necessary assistance in coordination with Spanish authorities."
Villagers ignore trapped driver's cries for help, Looting at accident scene
VILLAGERS from Mufusire area in Headlands did the unthinkable last Saturday morning when they ignored a truck driver crying for help while trapped in an accident wreckage and went on to loot foodstuffs that were strewn all over following the mishap.
The Mutare-bound Kenworth Transport truck, which was being driven by Isaac Ngorima, was coming from Harare when it was involved in an accident with a 30-tonne petrol tanker travelling in the opposite direction.
Instead of helping the seriously injured Ngorima who was crying for help, villagers from nearby settlements rushed to the scene and looted the consignment. Pictures of the looting spree have since gone viral on social media platforms.
Rusape District police spokesperson Assistant Inspector Muzondiwa Clean confirmed the accident. He said Ngorima, whose truck hit the fuel tanker that had blocked the highway, is still admitted at Marondera Provincial Hospital.
"On September 2, around 5am at the 120km peg along the Harare-Mutare Highway Eric Marongwe (40) was driving an ERF truck laden with 30 tonnes of petrol. Ngorima was also driving a 30-tonne truck carrying various foodstuffs.
"On approaching the spot Marongwe's ERF truck developed a mechanical fault and it failed to ascend a steep slope. It started reversing and blocked the road. Ngorima, who was driving alone towards Mutare, hit the tanker.
"Both vehicles veered off the road and the Kenworth truck overturned once and landed on its roof injuring Ngorima in the process. He was rushed to hospital," said Assistant Inspector Clean.
Moments after the accident, villagers in the vicinity began the looting spree.
Corporate Park Pedestrian left critically injured in collision
Namibia: Man survives burning car outside Otjiwarongo
News – National 6th September 2017 
A 30-YEAR-old man survived a burning vehicle that caught fire while driving between Otavi and Otjiwarongo on Monday afternoon.
The driver, Paulus Kakunde, told Nampa at the scene that he saw through his rear-view mirror that his right rear tyre was on fire and immediately pulled off the road, which was when the Volkswagen Golf 4 was consumed by flames and burnt to smoldering wreck.
"I was alone, travelling from Grootfontein to Windhoek and luckily I am not hurt," he said.
Kakunde suspects the wheel-bearing might have experienced mechanical problems and the tyre caught fire while the vehicle was in motion.
Police spokesperson in the Otjozondjupa region, warrant officer Maureen Mbeha, confirmed the incident this morning.
Ghana: Kasoa tanker fire avoidable – Anaglate 
The Ghana National Fire Service (GNFS) has said an accident that caused a fuel tanker to catch fire and burn completely on Saturday, September 2 could have been prevented if the driver followed basic fire safety precaution.
"If you are driving and you observe that the long shaft is removed, you don't have to keep moving. "The metal being scratched on the street could create friction, heat and that will be enough to ignite fire," Deputy Public Relations Officer Prince Billy Anaglate indicated.
According to him, firemen received calls around 9:30 pm that a fuel tanker was on fire along the Weija-Kasoa road. He said the reason for the fire was because the shaft of the vehicle detached yet the driver continued moving and the friction between the shaft and the street produced sparks. Unfortunately, there were leakages and this caused the fire.
He is, therefore, calling for intensive fire prevention education for motorists. "All those people driving should be available for fire safety education. It is important for the owners of the tankers to at least appreciate the importance of fire safety education," he told Joy FM.
8 injured in taxi (Mushikashika) crash
Eight people were injured in Mazowe along Jumbo road when a Nissan March taxi (Mushikashika) they were travelling in veered off the road before hitting a tree this morning. Eye witnesses allege the speeding driver lost control before hitting a tree.
"The car was speeding hence the driver lost control, eight people were injured in the accident. "Among the eight the driver is serious since he broke both legs ," the source told Bulawayo24.com.  Meanwhile, all the victims have been rushed to Concession hospital for treatment.
Carletonville truck and car collide killing one, injuring another
Opinion: With Zanu-PF Almighty in power: does God still remember Zimbabwe exists?
Survivors claimed the driver was speeding, and they had implored him to slow down, but to no avail. Others claimed the driver had not slept for two days and mental fatigue, rather than anything else, had been the cause of the fatal accident. I could not understand it all. She looked so pure and peaceable in her casket when we viewed her body in church. And I did not cry much. I just wished she would come back soon. Our home had been filled with relatives and strangers and women and men from our local Anglican Church for about three days. It was such a disheartening occasion and the nastiest experience you can wish upon a young child.
Mourners sang touching songs and cried all night long: it was so painful. So I prayed harder for her quick return. Then, I think my brother explained that she would never return. Yet I held on for her dear homecoming. I prayed to God and made Him promises and cried and explained how distressed I had become. Then I changed tact and pleaded with my mother. I was certain she could hear my frantic prayers. I was confident she could see me. I simply had to wait until she walked into the house and the dreadful dream would end.
So I felt extraordinarily empty when I went back to school without my mother alive: a mother is not supposed to die in her prime and leave behind three small children. Later on I realised that Zimbabwe has an extremely foul life force that shakes the bare fabric of the land. It is a malevolent spirit that espouses unbelievable hardships and unscrupulous luck. So, I do not know whether God heard the daily invocations of a seriously wounded Grade 5 boy, over a long and difficult period in my life, but my heartfelt apprehensions of losing close family in traffic accidents never subsided in my childhood, while life elsewhere, never changed, as people kept dying in bus and car accidents, and devastating corruption at the VID offices in Harare, flourished abundantly, year in, year out.
Read more @ http://bulawayo24.com/index-id-opinion-sc-columnist-byo-117189.html
Zimbabwe Passengers Association remembers accidents victims
In a statement he said it is another episode of the matters relating to our safety as passengers. "Remember all living souls are passengers ,so there is no one who classify him or her as a passenger.To those who have seen or have our fliers, on our first point we said."We cater for passengers ,before, during and after." So this week is the matter on the table,taking it on before we are looking what is to be on place to the operator,he must register his vehicle under the"Vehicle Registration Act," stating the type of duties carried by that vehicle thus it can be a taxis, "Commuter omnibuses, school buses" he said.
"After it should have a route authority, depending on the routes it will be operating. It should have a valid fitness,on this fitness it will state the number of passengers it is certified to carry,this is why we say overload is the violation of the acts while endangering the lives of the public,it should have passenger insurance which is equal to the number of passengers on the fitness certificate on this as operators are not complying they will be defrauding the state and the members of the public."
He said other operators have time tables whereas others do not have time tables depending on types of operators licence ,they should have fare tables and these fares will only change when the Minister of Transport and the Minister of Physical Planning have made some fare hikes nation or passengers take a note that there no fare hike during the public holidays it is high time to fight for our rights as passenger we were robbed for a long time.
"These particulars are valid only if the vehicle is not sold to someone before the valid date but if it is sold the new owner should change all the particulars in his name.On this note all operators should reach to their respective destinations," he said .
"If the operator is terminating his service he should inform the ministry of Transport.To those operating stage carriage should service all passengers on their routes.In short this is what we have today but as our moto you are free to contribute on views.remember to circulate this information to other groups. individuals, social media, radios and eve televisions sometimes other people are looking for this information either for the past , present or on future it is powerful to be informed. To those who would like to have more information than what you are reading be free to contact your saving servant."
10 people killed, 30 injured after bus rams into a lorry
MOTORING: So many answers to the wrong question
27th August 2017 Editorial 
A bodaboda operator and customer during a downpour in Eldoret town on October 16, 2014. The most numerous motor vehicles in Kenya today are now officially motorcycles.  FILE PHOTO | JARED NYATAYA | NATION MEDIA GROUP
In Summary
The original initiative from the National Transport Safety Authority (NTSA) is described in draft Motor Vehicle Inspection Regulations 2016, anchored under the Traffic Act.
These caused sufficient surprise and alarm (regarding both the overall concept and the specific detail) among stakeholders that the process was sent back to the drawing board.
And there it has remained, among many other pending policy issues and commercial decisions, until "after the elections".
The most numerous motor vehicles in Kenya today are now officially motorcycles. Apparently there are nearly a million of them in registered use on our roads.   Next come cars with a count of  about 900,000, followed in round numbers by utilities, vans and pick-ups, about 300,000, then trucks at 150,000, buses and minibuses at 100,000, trailers at 50,000, and tractors and construction equipment at 25,000. Grand total: About 2.5 million.
Those figures are stratospherically higher than anything previously touted, and the Statistical Abstract is shy on precise type definitions, classes, ages, conditions etc. But the numbers are official enough to be the formal basis – in commerce, research and policy – for planning, among other things, "universal vehicle inspection".
The original initiative from the National Transport Safety Authority (NTSA) is described in draft Motor Vehicle Inspection Regulations 2016, anchored under the Traffic Act. These caused sufficient surprise and alarm (regarding both the overall concept and the specific detail) among stakeholders that the process was sent back to the drawing board. And there it has remained, among many other pending policy issues and commercial decisions, until "after the elections". Meanwhile, commentators and researchers have been busy and there are now many papers offering counter-proposals. Sadly few have even addressed, never mind resolved, the most important issue.
Instead, keynotes of concern include the sheer scale of the task; the suggestion that it might be carried out by State institutions only; by the possible hobbling of free market forces in the massive business potential involved; by a proposed ban on inspection being carried out by vehicle repairers; by a lack of standards on inspection equipment and systems; and the spin-off dangers of all sorts of policy, economic, legal and commercial conflicts and anomalies.
But the concept itself has not been robustly challenged. The initiative, and all its implications, are posited on the statistic that "5pc" of "road crashes" are "caused" by "vehicle defects". Perhaps the greatest wonder (and disappointment) is that research has got past all three of those profoundly non-specific assertions.
Certainly, 5pc of road crashes is not an insignificant issue, and everyone accepts the value of roadworthiness – not just for safety, but also for operational efficiency and  environmental responsibility.
But even if we do not challenge (or at least substantiate) that figure; even if we don't question the criteria of accident cause, or distinguish what particular types of road crash result from what type of defect, or what the primary causes of those defects are in the first place… …surely we must ask what "causes" the other 95pc of road crashes (is the answer to that question not 19 times more important?), and question what is being done about those. First! By all means let us address the cause and remedy of every type of road accident, but perforce in some order of priority.
In a world where all resources are limited we must first determine which cause(s) are most crucial, and what action on which of those causes will have the most assured, beneficial and cost-effective outcome. On those criteria, Vehicle Inspection might not even get on the agenda!
There are so many more pressing problems, and more practical remedies, and higher priorities.
gavin.bennett@africaonline.co.ke
Zimbabwe: 4 people die in kombi crash
Four people are feared dead after a kombi they were travelling in crashed along Simon Mazorodze road on Saturday morning.
An eyewitness claims that three people died on the spot while the driver died at Parirenyatwa.
Ghana: Benz bus fails break, kills pedestrian at Kejetia
According to an eyewitness, Nana Osei, the driver, Emmanuel Ofori failed breaks and in an attempt to land the speeding bus in a gutter, he smashed the pedestrian trapping her to a tree.
He added that the driver together with some of the bus passengers retained severe injuries but were forced out of the vehicle to save the woman who was trapped to a tree. "We saw the bus coming towards us with full speed. The driver had lost brakes. We tried to warn the deceased lady but it was late. The car hit her and pinned her to a tree. The Bus was covered with blood…" he said.
The deceased has been conveyed to the Okomfo Anokye Teaching Hospital. However, the injured passengers are receiving treatment at the KATH hospital; the driver has been detained at the Kumasi Central Police station pending investigations.
Six villagers who died in a grisly road accident in Meru buried in a sorrowful send off
By Darlington Manyara 26th August 2017  
The caskets containing the remains of six neighbours who died in a road accident on August 12. Six neighbours who died in an accident along the Meru-Embu highway on August 12, were buried in Igembe Central on Wednesday.
 Tanzania: Road accidents claim at least 10 lives, 38 injured.
DAILY NEWS REPORTERS IN MOROGORO 25 AUGUST 2017
AT least ten people died in two separate road accidents in Morogoro region yesterday. In the first incident, seven people died instantly and 38 others were injured after a bus with registration number T915 BGF, Mfundo Express, plying between Ilonga and Morogoro Urban veered off the road and plunged into a basin at Ndororo hill, Chikuti village in Ulanga district's Vigoi division.
Ulanga District Commissioner Jacob Kassema told the 'Daily News' yesterday that the deadly accident occurred at around 8.00am along Mahenge-Morogoro road. He explained that seven people died on the spot, with 38 injured, out of whom 18 were women and 20 men, including four children.
The DC explained that of the 38 casualties, three in critical condition were rushed to St. Francis hospital in Ifakara while the rest were admitted to Ulanga district hospital. Mr Kassema said six of the deceased were female and one male, with six bodies identified by their relatives.
Ulanga District Medical Officer Dr Rajab Risasi said that one of the deceased was a child and the driver of the bus. In another accident, three students of the Morogoro-based Kayenzi Secondary School died and 27 others injured after a minibus they were travelling in hit a train yesterday morning, Regional Police Commander Ulrich Matei confirmed.
The RPC said one of the deceased was identified as Monica Julius while the other two were not recognised. The bodies of the deceased are preserved at Morogoro Regional Referral Hospital, pending identification and burial arrangements.
"We are holding one Charles Petro, 39, driver of the ill-fated minibus for interrogation and further investigation before arraigning him in court … because the accident was caused by reckless driving at a railway crossing spot," he said.
He urged drivers and other road users to comply with road safety regulations to avoid accidents. Rehema Awadhi, living near the railway line said she woke up early yesterday and, as she prepared herself for her domestic chores at around 7:30am, she heard a terrible 'bang' followed with the pupils' cries.
She allegedly witnessed the train dragging the commuter vehicle for almost ten metres from her house. "It was terrible… I have never seen such suffering of little angels," she narrated.
Ms Awadhi said yesterday's was the sixth accident since she started living at the area, blaming drivers who often ignore train alerts. She said, "I think there should be a gate, which the drivers will definitely observe… otherwise, many more will perish."
11 die, 119 injured in horror crash
The accident occurred when the passengers heard a loud burst resulting in the driver losing control of the vehicle. The 10-tonne truck was carrying 130 passengers from Siabuwa, Binga to Hwange where they were scheduled to attend a church conference.
According to one of the passengers who survived the accident, Mr Clever Ncube, the driver acknowledged that the truck lost brakes before they arrived in Binga.
However, due to the nagging from the passengers that they need to arrive at the conference on time, they proceeded and got to Kamativi where the situation worsened.  "We heard a loud burst so we were not sure whether it was the brakes or the tyres. So the truck just veered off the road and overturned and that's where some of the church members died," Ncube said.
The True Apostolic Mission pastor, Reverend Paul Mukucha confirmed that the all the victims were attending a church conference organised by his parish in Hwange. "We were waiting for them in Hwange because we knew there church members coming all the way from Siabuwa. So this is just shocking to us," Reverend Mukucha said.
ZRP Officer Commanding Hwange District Chief Superintendent Newton Mutumba confirmed the deaths saying the all the injured passengers have been taken to Kamativi clinic, St Patricks and Colliery hospital in Hwange where they are now receiving treatment.
"In fact what is going to be happening is that most of the injured passengers will be brought to Hwange for further treatment, especially those whose condition is very bad. We also want to appeal to motorists that they should desist from driving during odd hours as a way of avoiding police road blocks," he said.
Among the deceased are five females, four males and two children. Meanwhile, the names of the deceased are being withheld until their next of kin have been informed.
(These church groups have little or no concern for the safety of their congregations. If they did they would protest against the standard of Transport but the leaders are not at all concerned. Now it has happened we shall be subject to another outpouring of hypocritical grief about why God let it happen. The reasons are obvious. – Ed)
Ghana Aveyime Riots: Police live in fear as residents go on rampage
Families of police officers stationed at Aveyime in the North Tongu District of the Volta Region are demanding transfer for their spouses following several threats on their lives by indigenes.
According to the wives of these police officers, they continue to endure verbal abuse and threats by indigenes who believe a police officer was responsible for the death of a commercial motor rider in the area.
Speaking to Joy News' Fred Quame Asare, the families expressed anxiety following a violent demonstration at the station which nearly resulted in deaths. Police officers in the area are unable to carry out their duties effectively because they feel unsafe. The situation is even worse for officers living outside the barracks. They are compelled to stay at home all day out of fear of being attacked by the residents.
Background On the 11th of August, Okada riders and angry indigenes embarked on a violent demonstration at the premises of the Aveyime Police station, threatening to deal with police officers in the area.
They shattered windscreens of police vehicles parked at the station and made away with 18 unregistered motorbikes seized by the police officers. The action by the indigenes follows the death of a commercial motor rider who was reported to have met his untimely death in an accident after he was chased by a police Navara Pick Up.
The incident was reported on a local radio station, Klenam FM, which got the indigenes even more incensed.  Indigenes of Battor, Aveyime and other neighbouring communities who already had hatred for the police for ceasing their unregistered motorbikes joined in the demonstration.
With reports that the deceased will be buried on Friday, Police have picked up intelligence suggesting there will be another round of attack by the angry residents.
Killer kombi driver arrested
A TWENTY-EIGHT-YEAR-OLD kombi driver who knocked down a pedestrian in a hit-and-run accident in Mazowe last Friday was arrested by police officers manning a checkpoint.
The driver, whose name was still being withheld, was nabbed on Sunday at the 30km peg along Harare-Mukumbura Road by traffic police officers who were on traffic enforcement duties.
Chief police spokesperson Senior Assistant Commissioner Charity Charamba confirmed the arrest and warned drivers who do not report to police after being involved in accidents.
"The Zimbabwe Republic Police would like to confirm the arrest of a 28-year-old Guruve man who was involved in a hit-and-run fatal road traffic accident which occurred at the 17km peg along Harare-Mukumbura Road near Mazowe on 18 August 2017 where one person was killed.
"We have noted with concern the increase in the number of hit and run accidents occurring on our roads these days. Drivers have lost conscience and respect for human life as evidenced by failure to stop after road traffic accidents, let alone checking on the condition of victims to render assistance," she said.
Snr Asst Comm Charamba said on Sunday, police officers who were on traffic enforcement duties at the 30km peg along the Harare-Mukumbura road stopped the suspect who was driving a commuter omnibus and inspected the vehicle.
"The police officers then discovered that the missing left side of the bumper matched a piece of a bumper which was being held at the police station as an exhibit of a hit and run accident leading to the arrest of the suspect," she said.
She said the incident reveals the extent of gross disrespect for the sanctity of human life and total disregard of road rules and regulations by some drivers.
Police warned motorists to desist from speeding off after being involved in any accidents. "Drivers are also urged to exercise extreme caution especially during the night. The Zimbabwe Republic Police will not rest until we account for all drivers who commit such heinous acts and disappear.
Namibia: 24 drunk driving arrests in two weeks
News – National | 2017-08-23  
THE Standing Together Against Negligent Driving (Stand) campaign randomly screened 2 500 people daily, within two weeks this month.Stand is a joint campaign currently supported by Hollard, MVA, Primedia, Media Solutions, Print Shop Windhoek, City Police, Namibian police, Self-Regulating Alcohol Industry Forum (SAIF), and Snyman Transport.The campaign was held between 1 and 14 August in Windhoek, at Tsumeb, Outjo, Otavi, Grootfontein, Otjiwarongo, Okakarara, Okahandja as well as on the B1 and B2 highways from Karasburg to Swakopmund.According to Stand statistics, about 14 000 drivers were stopped in Windhoek. Henriette Crouse from Hollard Namibia said 88 arrests were made, 85 people were found with outstanding warrants for arrest, and 1 034 summons were issued. Of the 88, about 24 people were arrested for driving under the influence (DUI).Crouse noted that Stand also views corruption and bribery as grave matters, and will not tolerate any approach from drivers to pay their way out of their transgressions. This message has been made clear to all officers manning the random screening checkpoints, and will be enforced strictly.The time has come for all parties, being road users and those in charge of keeping the roads safe, to actively promote a mindset of positive change with regards to the way people drive.
Kenya: Regulation of boda bodas helps reduce road carnage
WEDNESDAY, AUGUST 23, 2017
Boda boda riders and residents of Kitutu central ward demonstrate in Kisii town. PHOTO | BENSON MOMANYI | NMG
Uganda: 1 killed, 24 injured in Kibuku car accident 
KIBUKU- One person was yesterday afternoon confirmed dead and 24 others sustained multiple injuries after the vehicle they were travelling in over-turned several times along Tirinyi-Pallisa road
The accident, according to police occurred at around 2.00pm. One person was reportedly killed and the scores which were seriously injured are admitted at Mbale regional hospital and others were rushed to Kibuku health centre IV and Tirinyi health centres, undergoing intensive care.
Police identified the dead person as Sarah Mbeiza [78] a resident of Tirinyi. She died few minutes after reaching Mbale Hospital. The driver identified as Patrick Mbuta, has been arrested and is being detained at Kibuku police station pending to be charged.
The Kibuku District Police commander, Mr Bonny Okoyi, confirmed the development, and partly blamed the driver of the vehicle Reg NO UAW-981R for cause of the accident due to reckless driving [over speeding] that left one person dead and scores seriously injured.
It's reported that the over- speeding vehicle was heading from Nanoko to Kapyani in Kasasira sub-county in Kibuku district before it over turned several times in the middle of the road. Majority of the injured were mourners.
"The accident has been attributed to over speeding. This remains common despite calls by the police to observe traffic regulations and guidelines. It's unfortunate that one person has lost her life and others sustained fractured legs because of careless driving. Police will have to deal with such errant drivers" Mr Okoyi said.
He warned that police will continue with operations to crack down reckless drivers and those without valid driving license especially on major roads.
"The only way to reduce on these accidents is by enforcing the traffic laws. Some errant drivers have been infiltrated by fake drivers into the sector and are mainly named in causing these rampant accidents that are being experienced" he said.
With the spell of the increasing number of road accidents along major roads, this has left the police deeply concerned and worried about the escalating road carnage, which has left many lives dead and scores injured. Police statistics indicates that the number of road accidents in eastern region mainly involving motorcycles and vehicles is overwhelming. "At least two accidents per day are registered. These are quite big. As police, we have stepped up vigilance to apprehend errant drivers who have failed to adhere to police regulations" he said
He urged drivers to observe traffic rules and guidelines to avert the escalating cases up surging from road accidents. The passengers should alert the police of drivers who have persisted refused to a bid by the police regulations by either over speeding or overloading beyond their capacity.
22nd August 2017
13 people feared dead in kombi collision
 A commuter omnibus evading a Vehicle Inspection Department (VID) checkpoint collided head-on with an oncoming vehicle in Murehwa yesterday morning, killing 10 people and injuring 13 others.
Senior Assistant Commissioner Charity Charamba confirmed the accident in an interview yesterday. "The accident occurred at the 59km peg along the Harare-Nyamapanda Road.
"A commuter omnibus was travelling from Murehwa towards Harare with about 23 passengers. "It was stopped at a VID checkpoint and the driver wanted to evade the checkpoint. He then went
into the right lane, which is the opposite lane, where there was also another commuter omnibus
coming," she said.
Of the deceased, four died on spot while two who had been transferred to Parirenyatwa Group of Hospitals in Harare, were pronounced dead on arrival. Four others were pronounced dead on arrival at Musami Mission Hospital, Murehwa.
Of the 13 injured, eight had serious injuries. This a very sad development in that there is a possibility that these (the deceased) are female breadwinners who were probably heading to Mbare to do their day-to-day business. We continue to urge drivers to be cautious always and for one to evade a check-point is quite sad," said Snr Asst Comm Charamba.
She said bodies of the deceased were in the two hospitals' mortuaries. She appealed to people to always carry identity particulars when travelling and urged people with
missing relatives to check with the police. The deceased will be named once their next of kin have been informed.
The accident occurred barely a month after 11 people were burnt beyond recognition, while 14 others were seriously injured when a Honda HRV collided head-on with a Nissan Caravan at the 60km peg along Centenary-Mvurwi Road.
26 people were in 16-seater taxi involved in horror crash – RTMC
Durban – A minibus taxi that crashed into a barrier and rolled down an embankment in Kwa-Zulu Natal on Sunday, leaving 19 people dead, had no brakes and was overloaded, the KwaZulu-Natal transport department has said.
The incident happened on the main road in the Msunduzi area. The initial death toll was 18, but this was confirmed to be 19 by late Sunday afternoon. 
"There were 26 people in the 16-seater minibus and the preliminary mechanical investigation revealed that the minibus had no brakes," the department said in a statement.  Minister of Transport Joe Maswanganyi has offered his condolences to the families of the deceased. ER24 spokesperson Russel Meiring said the minibus was found lying on its roof at the bottom of the embankment.
Fifteen bodies were found lying around the vehicle. He said paramedics found that all 15 passengers had already succumbed to their multiple injuries. Meiring said paramedics were informed that members of the community had rushed approximately 12 patients to a nearby clinic, roughly 100 metres away. Three people died while being treated. The remaining patients were transported to hospital for further treatment.
The taxi has been impounded for further investigation. The Road Traffic Management Corporation will investigate the crash.
Ghana:  3 Burnt To Death
Biker decapitated
18th August 2017
A PROMINENT Gwanda biker was decapitated in a head-on collision with a truck along the BulawayoBeitbridge Highway. The crash occurred at the 72 kilometre peg near Mbalabala on Tuesday around 4PM.
Grayson Banda, who was an accountant in the Ministry of Health and Child Care in Gwanda, was on his way from
Bulawayo.
A popular figure in the town with his state-of-the-art, colourful sports bike, Banda was dismembered with his limbs scattered on the road. His head, still in the helmet, was left hanging by a thread. One of his legs was severed from the body.
From time to time he would rev the engine of his bike, producing an ear-splitting roar
before speeding through the town. The bike had a maximum speed of 300 kilometres per hour. According to a police source, Banda failed to negotiate a curve and collided head-on with the white Isuzu KB truck. "The accident happened at the 72 kilometre peg near Mbalalabala.
The biker was riding his black and yellow high-speed motorbike when he crashed into a white Isuzu KB truck. The biker was travelling from Bulawayo to Gwanda," said the source. He said after failing to negotiate the bend Banda encroached into the right lane
where he was missed by the first car but collided head-on with the Isuzu. It appears,
the source added, that Banda was speeding because he failed to control his bike.
11 injured in roadblock evasion crash
The truck was travelling to Shangani in Matabeleland South and the BMW was travelling in the same direction, before making a sudden U-turn. The open truck had 13 people including the driver while the BMW driver was travelling alone. The 11 people who were injured were all in the truck.
Bulawayo Chief Fire Officer, Mr Richard Peterson said the injured were rushed to the Bulawayo United Hospitals some with spinal injuries. He said the unlicensed BMW driver was arrested.
"We attended to a road traffic accident on Monday involving a BWM and an open Toyota Truck where 11 people, ages ranging from five to 77 years, were injured. The suspected unlicensed driver of the BMW made a sudden U-turn in front of a truck resulting in the crash that injured the 11," said Mr Peterson.
He said the injured were ferried to hospital with serious injuries. "Among the injured were a 77-year-old woman and a 45-year-old man who were complaining of spinal injuries while a five year old boy complained of a headache. Others complained of pain in their lower limbs," Mr Peterson said.
"Drivers need to be conscious of the presence of the other motorists on the roads."
Earlier this month, Chief Justice Luke Malaba's wife Eunice was rushed to a private hospital in Bulawayo after a Honda Fit driver made a sudden turn in front of her vehicle, thereby crashing into her vehicle.
Two GSU officers critical 15  injured in Bungoma crash
16th August 2017 By Nathan Ochunge
General Service Unit officers drill (Photo: Courtesy)
SUMMARY Two GSU officers are fighting for their lives after they were involved in an accident at Marakaru along the Kanduyi–Chwele road They were taken to Bungoma West hospital for specialised treatment 15 others sustained minor injuries Two GSU officers are fighting for their lives after they were involved in an accident at Marakaru along the Kanduyi–Chwele road on Monday.
The officers, alongside 15 others who sustained minor injuries, were aboard a police vehicle heading to Chwele market. Bungoma South OCPD David Kirui said the officers were on patrol when the incident happened. "The officers were ensuring all was well after elections when their car hit a pothole and rolled," he said. Kirui said the two were seriously injured and were taken to Bungoma West hospital for specialised treatment.
Durban – A 14-year-old boy has been killed after a bus full of school-going children crashed in KwaZulu-Natal on Tuesday morning.The crash took place between Mandeni and Eshowe, IPSS spokesperson Paul Herbst said."The bus was fully packed with school kids. Six others have been critically injured. One of those six was airlifted to hospital. The other five remain critical."Herbst said the pupil had to be airlifted due to poor terrain.
Related Links
Road accidents claim ten lives in Central South Africa 
CHRISTAL-LIZE MULLER  16th August 2017 
Ghana: Three dead, many injured at Tinga
At least three people were killed and dozens injured on Monday when an Assemblies of God Church mini bus carrying passengers from Wa to Techiman spurt a tyre and crashed into a nearby bush at Maluwe near Tinga in Bole District of the Northern Region.
The bus had more than more than 20 people aboard when the accident occurred at the outskirt of the small community few kilometers from Tinga where ten people lost their lives last month when a commercial van fleeing an approaching car rammed into a stationed truck.
The Tinga community youth secretary Dramani Alhassan who visited the scene confirming to Kasapa News said the mini van with registration number AS 963 – 17 crisscrossed on the road before smashing through the bush and landed on the ground, killing the three instantly. According to him all other passengers suffered varied degrees of injuries with some having mangled faces, dislocated joints and broken legs. The victims were conveyed to the Tinga health center before being referred to Bole Government Hospital where they are currently being treated.
The hospital sources told StarrNews of them were in critical condition. Police in the area were yet to receive briefing from field officers dispatched to the scene but added the cause of the crash would be investigated. Road crashes and armed robbery is becoming a major public health crisis in the area.
Experts tell Kasapa News road crashes and activities of armed robbers kill more than 100 people a year and injure or disfigure as many as 150. Many of these crashes have been attributed to poor roads and disregard for road safety efforts.
13 dead in 146 accidents
The Zimbabwe Republic Police say a total of 146 accidents which claimed 13 lives have been recorded between 12 and 14 August, amid calls for motorists to be cautious on the roads.
The motoring public have been called upon to exercise extreme caution on the roads to avoid loss of life as the number of accidents continues to increase this Heroes Holiday.
The figure is a sharp rise compared to the 5 death recorded during the same period last year. Police spokesperson, Chief Superintendent Paul Nyathi said police is concerned over the road carnages and will continue to impound unroadworthy vehicles.
He implored passengers, commuter omnibus owners and operators and the general public to observe road rules and regulations.
Namibia: Three killed in minibus crash
15th August 2017 by Nomhle Kangootui  
 THREE passengers, including a five-month-old baby, were killed after the minibus they were travelling in collided with a pick-up along Kalkrand's main road to Rehoboth on Sunday.
Police inspector Pendukeni Haikali confirmed the accident in the crime report today, and said 34-year-old Surieta Bezuidenhout and five-month-old Richardiene Slinger died on the spot, while five-year-old Luca Slinger succumbed to injuries at a hospital in Windhoek.
Meanwhile, a 47-year-old woman died on the spot on Sunday when the vehicle she was travelling in overturned on the Epembe-Onalulago gravel road in the Ohangwena region.
"The deceased was identified as Inosencia Mwatokoka Hakuunda. It is alleged that the driver of the car she was travelling in lost control of the vehicle, and it overturned," Haikali said.
The Onayena police opened a case of culpable homicide after a man whose age is unknown died on the spot after he was run over by a car along the Eenhana-Ondangwa main road on Sunday. The man was identified as Mulanduleni Jona. "It is alleged that the deceased was lying on the road at the time of the accident. Police investigations continue," said Haikali.
Five killed, four injured in Eastern Cape crash
3 Injured in Pinetown crash
14th August 2017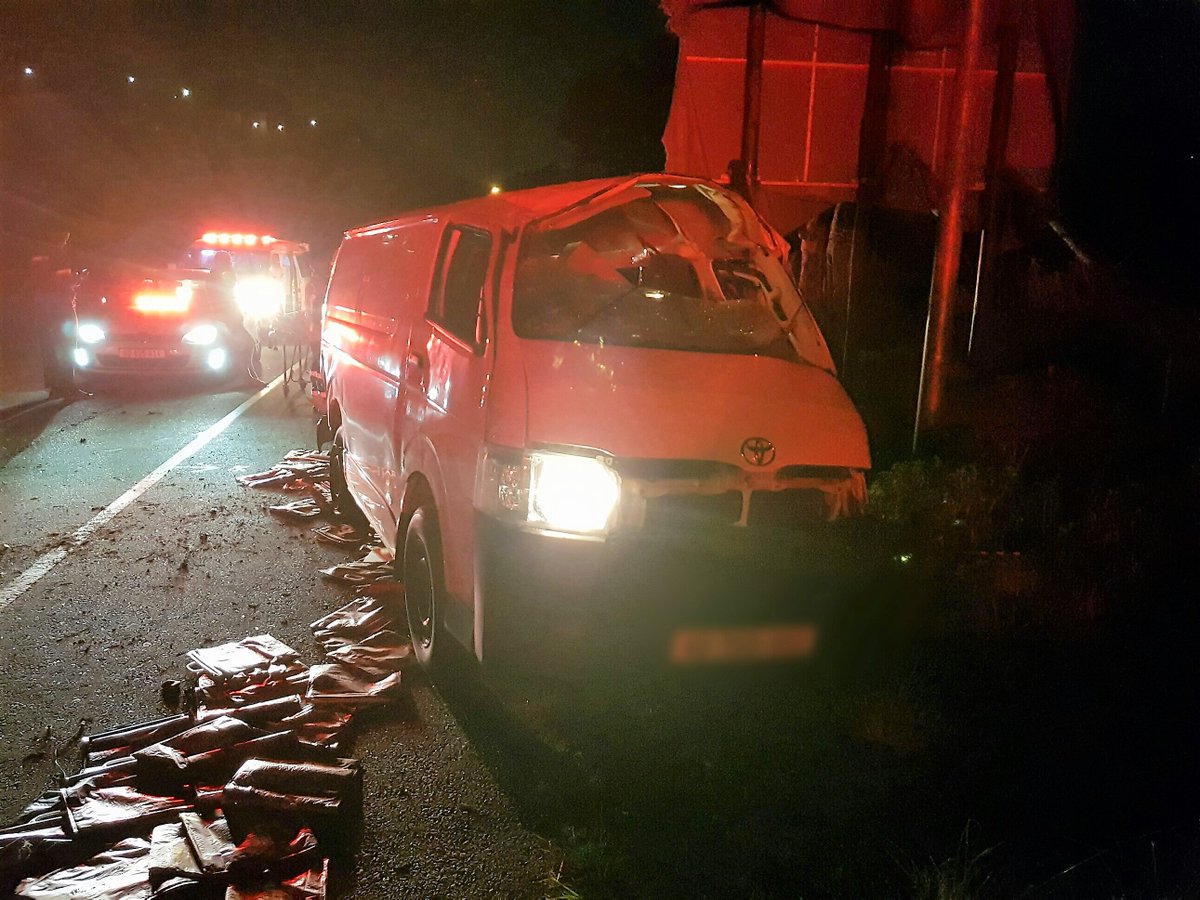 Seven dead in Eastern Cape crash
That's how Vincent Christians, speaking at his home in Belhar, Cape Town, recounted in heart-wrenching detail his daughter's death.Five-year-old Vinisher was one of six children injured during a birthday party in Delft on Wednesday when a bakkie ploughed into the jumping castle they were playing on.  The child whose birthday it was, Farah Ely, 3, was also admitted to the Red Cross Children's Hospital in Cape Town with head injuries, Netwerk24 reports.Delft residents said the bakkie overtook a red Volkswagen Jetta at high speed.  "The bakkie was on the wrong side of the road. The driver lost control and the bakkie smashed with its rear end into a car which had been parked in front of the house. Then it landed on its side on the jumping castle. Crates of beer fell out," Thea-Liam Ely, 16, said.The jumping castle was on a cement slab in front of Farah's parents' home. Thea-Liam and his 16-year-old cousin Diego (Farah's brother) were there to keep an eye on the little ones.Sombre mood: According to Robert Daniels, spokesperson for the Emergency Medical Service in the Western Cape, six children were admitted to the Red Cross- and Tygerberg hospitals."Three girls (3, 5 and 11) and three boys (4, 7 and 12) were taken to hospital. Two of the girls (3 and 5) as well as the 12-year-old boy were in a critical condition.    Darren Frances, a spokesperson for the Red Cross Children's Hospital, confirmed that Vinisher had died in the hospital's ICU.
Israeli tourist dies in accident in northern Namibia
Confirming the incident on Tuesday, Warrant Officer Linekela Shikongo of the Namibian Police Forces (NamPol's) Public Relations Unit in the Omusati Region could only identify the deceased as a 72-year-old Israeli from Tel Aviv.
Shikongo withheld the names of deceased, saying the next of kin are yet to be informed of his death.
The deceased was the driver and he was travelling towards Oshakati with his three passengers, who are his fellow Israelis of the age 73, 66 and 72. They travelled in a white double cab with registration plate number N169-762W. "The three passengers were transferred from Oshikuku to Oshakati (Intermediate) Hospital, with one of them [who] sustained serious injuries while two of them sustained moderate injuries," Shikongo said.
He said the deceased tried to avoid hitting a donkey, which was in the road, when he allegedly lost control over the vehicle and it overturned. The accident took place at 09h30 adjacent to the Etayi gravel road T-junction. Oshikuku NamPol have opened a culpable homicide case in connection with the accident.
Kombi conductor jailed for negligent driving
AN unlicensed Harare kombi conductor was yesterday sentenced to an effective 16-month jail term for negligent driving after he hit and injured four pedestrians crossing in front of his vehicle. William Majachani (21) was convicted on charges of driving without a licence and negligent driving, when he appeared before magistrate, Ruramai Chitumbura.
The accident occurred at Market Square bus terminus on August 6 this year. The court heard that on the day, Majachani unlawfully drove a Toyota Hiace public service vehicle and lost control, when he came across a group of pedestrians crossing the road.
The four pedestrians sustained injuries due to the accident and were taken to a private hospital for treatment.
Meanwhile, a commuter omnibus driver, Tendai Mubare, was fined $650 and banned from driving any type of motor vehicle for two years after being convicted on four counts of negligent driving.
The court heard that Mubare (28), who had no re-test certificate, medical certificate and defensive driving certificate, was involved in head-on collision with another car on July 15 after he attempted to overtake on a continuous white line.
Four passengers were injured in the accident.
Driver fatigue crashes are Preventable!
9th August 2017
Ghana: Accountant dies in fatal motor accident
The Accountant of Begoro Salvation Army Clinic, Mr. Atibila met his untimely death last Friday afternoon after crashing his motor bike with a commercial taxi vehicle with registration number GE 1958-11.
According to report, the deceased, in his 50's was on a motor bike with registration number M-12-GT (2255) riding from Begoro Township towards his office, thus Salvation Army Clinic when the accident occurred.
Sources say, he had a crash with the taxi which was also coming from the other lane (Koforidua Road) to the township as a result, fell from the bike and hit his head on the floor.
"Since he was not in helmet, it made his condition very critical and was rushed by the Ghana National Ambulance Service to the Regional hospital in Koforidua" the eyewitness said. The deceased was later referred to the Korle-Bu Teaching hospital in Accra as his condition continue to worsen but was pronounced dead.
In a related development, a young man in his late twenties is also currently receiving treatment at the  Begoro Government hospital after crashing his motor bike with another parked "207" commercial vehicle with registration number GE 4644 Z.
Unlicensed driver who fatally knocked down 9-yr-old ordered to pay $16 000 to victim's family
Ms Sithandazile Mpofu (31), who is a nurse at Gwanda Provincial Hospital and does not have a driver's licence, was travelling with her husband Mr Melusi Sibanda (31) along the Bulawayo-Gwanda road when she lost control of the car.  It then veered off the road before fatally hitting Thabo Ncube who was sitting on the edge of the highway.
The boy's mother, Mrs Precious Ncube and her daughter, Nombulelo were also injured in the accident which occurred on September 8 in 2012 at the 97km peg. Sibanda tried to cover up for his unlicensed wife by telling traffic cops that he was the driver of the car. The trio was rushed to Gwanda Provincial Hospital where Thabo later succumbed to the injuries.
In papers before the court, Mr Kenneth Ncube who is the deceased's father, Mrs Ncube and their daughter Nombulelo are the plaintiffs while Mpofu and her husband were cited as defendants. Bulawayo High Court Justice Nokuthula Moyo ordered Mpofu and Sibanda to pay the plaintiffs $16 525 being general damages for pain and suffering as a result of the loss of Thabo and bodily harm, medical and funeral expenses incurred. The judge also ordered the defendants to pay the legal costs incurred by the plaintiffs.
In her judgment, Justice Moyo concluded that Mpofu was speeding and grossly negligent in causing the accident. "The accident was solely caused by the negligence of Mpofu who did not only drive negligently but also had no driver's licence," said the judge. In their summons, the plaintiffs claimed damages in the sum of $25 000, but the judge reduced the amount to $16 525.
Justice Moyo said the family suffered traumatic stress disorder and was emotionally drained following the death of Thabo. "I hold the view that this family has indeed suffered and has been traumatised emotionally by Thabo's death. The plaintiffs took us through a saddening and emotional explanation of how the loss of Thabo has caused emptiness and a permanent void in their lives. They are indeed struggling to come to terms with his death which is still haunting them," she said. The defendants, through their lawyers TJ Mabhikwa and Partners, challenged the claims by the plaintiffs, saying they wanted documentary proof to sustain them.
The court heard that on September 8, 2012 at around 3.30PM, Sibanda unlawfully permitted Mpofu to drive their car. The couple was coming from Gwanda and heading towards Bulawayo. As she tried to get into a road leading to Mtshabezi Mission School, Mpofu lost control of the car and it went off the road and hit Thabo, his sister and mother. When police arrived at the scene, Sibanda lied that he was the one who was driving the car in a bid to cover up for his unlicensed wife.
Investigations by police revealed that it was Mpofu who was driving the car leading to her arrest. She was slapped with a six months imprisonment term for culpable homicide and fined $200 or 30 days for driving without a licence.
Kericho – Kisumu highway accident claims 9 lives
7th August 2017
9 people have died in an accident involving a matatu and a lorry at Kipsitet along the Kericho – Kisumu highway. 8 passengers in the matatu died on the spot while the 9th, who was the driver of the lorry was pronounced dead on arrival in hospital.
Uganda: Two Kindergarten children killed by fuel tanker
6th August 2017 By Jessica Sabano
Mr
, the father of one of the dead children. Photo by Jessica Sabano
Two children from the same family were crushed beyond recognition by a fuel tanker that knocked them as they waited to enter the premises of Waterloo International Kindergarten in Seeta on Wednesday morning.
The two children were identified as Joseph Ilakuti ,5, and Jean Kansimire, aged 3. Kansimire was a daughter of  Mr Basil Tinka and Ms Tinka.  Ilakuti was a nephew of Ms Tinka.
It is reported that the family maid who survived, had escorted the children to school. As they waited for the gatekeeper to open for the children, disaster struck. It is also alleged that when the maid saw the trailer coming towards them at the gate, she took off leaving the two children helpless.
According to Ms Rebecca Kwagala, an eyewitness, the truck, Reg. No. KAY 052S/ZC 6774 that was coming from Jinja to Kampala, got a mechanical problem near the school. The driver parked it to check the engine. As he checked, the truck moved and hit a fuel tanker Reg. No. UAZ 216Y that was parked near the school gate; which in the process, knocked the children dead.
Police officers at Seeta Police Station took the bodies to Mulago Hospital. The Officer in Charge of Traffic at the station, Mr Muhammed Magwa, declined to comment on the accident.
Three die, 50 injured in luxurious bus accident on Auchi-Okene road
6th August 2017
British woman killed in South Africa road smash that left three of her family seriously injured
5th August 2017
A British woman has died in a car crash in South Africa that left three members of her family severely injured. Paramedics said crews arrived at the scene to find a car lying on its side with three people outside the vehicle and one woman trapped inside  
7 feared dead after grisly Voi-Maungu highway crash
4th August 2017
5 killed, 19 injured in separate road accidents
Five people died while 19 were injured in two separate accidents along the Bulawayo-Plumtree Highway and in Bikita on Tuesday.
Three people died in Bikita and 11 were injured, two seriously when a commuter omnibus collided with a Toyota Spacio. Acting Masvingo police spokesperson, Assistant Inspector Kudakwashe Dehwa, said the accident occurred around 6:30 PM at the 235 km peg along Mutare-Masvingo Road near Chipinda Business Centre in Bikita.
He identified the deceased as Temba Simon Mandireki (43) whose address was not given, Rosemary Mangwengwe (52) of Panene Farm, Kadoma and a male adult who has not yet been identified. He said the bodies were taken to Silveira Mission Hospital mortuary for post-mortem where the injured were also rushed to for treatment.
Nine passengers are said to be stable but two remain critical. "We have received a report of road traffic accident that claimed three people and injured 11 others near Chipinda Business Centre in Bikita. The accident involved two vehicles, a Toyota Hiace commuter omnibus and Toyota Spacio. The deceased died upon admission to Silveira Mission Hospital," said Asst Insp Dehwa.
He said Mr Kudakwashe Ziki (25) of Nemakweni Village under Chief Ziki in Bikita was driving the Toyota Hiace towards Nyika Growth Point with 13 passengers on board when the tragedy struck. Ziki pulled out of the road and stopped at the 235 KM peg .
"At the same material time," he said, "Mr Newton Mabhiza (60) whose address was not given was driving a Toyota Spacio along the same road and towards the same direction. Mr Ziki turned his vehicle to the right attempting to get back into the road to proceed with the journey but allegedly collided with Mr Mabhiza's car. Mr Ziki lost control and the vehicle veered off the road and rolled once before landing on its wheels injuring 11 passengers, four seriously," he said.
He said a Good Samaritan rushed the four who were critical to Silveira Mission Hospital but Mandireki, Mangwengwe and an unidentified man died upon admission. Mr Ziki also sustained some injuries but Mr Mabhiza escaped unhurt.
In the other accident, a 33 year old woman and a three year old boy died while eight other people including the driver were injured when a vehicle they were travelling in veered off the road and rammed into a tree along the Bulawayo-Plumtree Road.
Witnesses said the driver of the vehicle Mr Saul Phuthi who was reportedly speeding lost control of the Nissan Serena at the 61 kilometre peg on Tuesday afternoon leading to the death of three-year-old boy Tadiwa Makaza on the spot while the woman whose name could not be obtained died upon admission at the United Bulawayo Hospitals (UBH). The injured were taken to Plumtree District Hospital and UBH.
A survivor who is admitted at the Plumtree District Hospital, Mrs Emelda Ncube said they were on their way to Bulawayo when the crash occurred around 1PM. She claimed that the vehicle was speeding and overloaded.
A comment could not be obtained from Matabeleland South provincial police spokesperson Inspector Philani Ndebele as he was out of office.
18 injured in road accident near Delamere Farm, Naivasha
By ANTONY GITONGA 4thAugust 2017
More than 70 passengers escaped death narrowly when a bus they were travelling in was involved in a road accident that left 18 people injured. The early morning accident near Delamere Farm in Naivasha involved three vehicles and blocked part of the road before police moved in to tow them away.
The accident occurred when a lorry heading to Nakuru from Nairobi veered off its lane and rammed the side of the Climax Coaches bus that was heading in the opposite direction. The bus driver lost control and the vehicle landed on the side of the road while a truck that was also heading towards Nairobi hit the lorry that had stalled in the middle of the road.
Joel Kariuki, a witness, said the lorry driver could have fallen asleep at the wheel before veering off his lane.
South Africa donkeys used to smuggle cars into Zimbabwe
At least 34 killed in Madagascar bus crash  
2nd August 2017
President Uhuru's motorcade involved in Kisii accident
By Erick Abuga 1st August 2017
Six people have been seriously injured in an accident involving a 14-seater matatu and a police vehicle that was clearing way for President Uhuru Kenyatta's convoy in Kisii County. A traffic van clearing the road for the President ran into a 14-seater matatu that was making a U-turn at a sharp corner near Mt Kenya University, Kisii branch.
(Photo: Courtesy) President Uhuru and other leaders were coming from addressing a rally at Gusii Stadium.The accident occured at Gesonso area along the Kisii-Migori road.
(Photo: Courtesy) The Head of State was forced to come out of his offical car as his security officers rescued the injured. Uhuru's official ambulance was forced to carry the injured to hospital. Kisii central Deputy Base Commander and another traffic officers are among those injured.
 Uganda: Masaka road accident
1st August 2017
Six people have been confirmed dead in accident at Maya along Masaka road. Eye witnesses told NBS the accident happened after a taxi number UAF 233N heading to Kampala collided with a Fuso truck number UBA 299T heading in the opposite direction. It is believed that the truck was avoiding hitting a motorcycle number UDY 191P when it rammed into the taxi.
2 killed in separate road accidents
TWO men died on the spot in separate road accidents last night in Bulawayo.
A cyclist was hit by a kombi near Mzilikazi fly-over along Luveve road while another man who was pushing a cart was hit by a Volkswagen vehicle near his home in Tshabalala suburb just before Tshabalala police station, along Nketa Drive. The Chronicle news crew visited the accident scenes last night.
In Tshabalala, a witness who spoke on condition of anonymity said Albert Bonde (60) was hit while trying to cross the road while pushing a cart near his home. "He was hit by a vehicle as he tried to turn and he died on the spot. His family which stays near the spot came to the scene and identified him," said the witness.
The driver of the Volkswagen, Mr Delight Dube said: "I was driving heading east and since it was dark I only saw him late as he was trying to turn in front of me. It was already late then and sadly I hit him. I am in pain and shock and cannot say much now."
Bonde's two children were crying uncontrollably when police came to take his body to the mortuary.
The cyclist who also died on the spot along Luveve Road, just after the flyover, had not been identified by time of going to press.
Five Buganda Masaza Cup soccer fans die 9 injured.
The wreckage of the commuter taxi at the accident scene. Photo by Sadat Mbogo
By SADAT MBOGO 31st July 2017
BUTAMBALA- Five people have been confirmed dead and nine critically injured in an accident at Seneene near Kibibi Town on Mpigi – Gomba Road.
According to police, the vehicle, a commuter taxi Reg. No: UAZ 212D carrying Bulemeezi County Football Team soccer fans who were travelling to Kabulasoke Core PTC playground to support their team in a return match (second quarter finals of Buganda Masaza Cup) with Gomba County Football Club, overturned after the driver lost control at a slippery section of the road. The road is under construction.
An eyewitness who preferred anonymity said: "Both the driver and many fans in the taxi were drunk. I have seen bottles of beer and sachets of waragi. I suspect this caused the nasty accident."
Mr Phillip Mukasa, the police spokesman in Katonga region blamed the Saturday accident on speeding and the bad situation of the road. "The driver didn't know that the road is under construction. Since he was speeding, he failed to control the car after reaching a slippery section," Mr Mukasa said.
Among the dead is the driver David Sserubbo,  Zamu Nalubega, a one Kenneth, a one Sarah and an unidentified student of Wobulenzi in Luwero District. Some of the injured include; Christine Nakidde, Hasifah Nattabi, Eric Ntuluma, Gayita Ssenjovu, Agnes Nakibuule, Bashir Mudde, Prossy Nambooze, among others. Dr Samuel Ssekamatte, the in-charge at Gombe Hospital where most of the injured people were taken said: "We have referred others to Mulago Hospital because we couldn't manage their condition."
Bodies were also taken to Gombe Hospital for a post-mortem.
Horror car crash claims two socialites
by Staff reporter 31st July 2017
TWO Gweru socialites died in a horrific road accident after a vehicle they were travelling in rammed a haulage truck's trailer. 
Tinashe Wena (30), an operations manager at Larochell Quarry and his friend John dos Santos (34) were in a Mazda 3 that rammed a haulage truck which was reversing from Zuva service station along Robert Mugabe way at around 5AM on Saturday.
The two friends were coming from a popular night spot in Gweru when the accident occurred. Wena and Dos Santos are said to have been friends to the late Alistair Shingirai Mukosera, another Gweru socialite who died in April in an accident as he was coming from a party.
Acting Midlands police spokesperson Assistant Inspector Ethel Mukwende confirmed the accident. "I can confirm that there was an accident that happened on Saturday morning involving a Mazda 3 and a haulage truck. The light vehicle crashed under the trailer of a haulage truck trapping the two occupants who died on the spot," said Asst Insp Mukwende.
Wena's brother Malvern expressed shock at the untimely death of his sibling. He said the Wena and Dos Santos families were still trying to come to terms with the sudden deaths of the two friends. Malvern said the deceased had been friends to the late Mukosera, who also died in an accident.
"We are still in a state of shock and can't believe what happened. We hear that they were coming from Bowling Club and getting into town to look for food when tragedy struck. We were told that there was mist and due to poor visibility their vehicle rammed underneath a haulage truck trailer. The haulage truck was reversing from Zuva garage into Robert Mugabe Road," he said. "Tinashe was full of life and determination. Funeral arrangements are underway."
An eye witness told The Chronicle that the Mazda 3 was speeding and failed to stop in time to avoid the accident. "I saw the Mazda 3 travelling at a very high speed and the severity of the crash testifies to the fact that it was speeding at the same time a haulage truck was reversing from Zuva garage into Robert Mugabe road. Visibility was also poor because of mist. Due to poor visibility and speeding, the driver of the light vehicle failed to stop and the car smashed into a haulage truck that was reversing from the garage," said Mr Amos Chinembiri, an airtime vendor.
28th July 2017
Truck overturns, spills 34,000 ltrs of sulphuric acid
Police officer commanding Hwange district, Chief Superintendent Newton Mutomba confirmed the accident and said efforts were underway to detoxify the area.
He said the accident occurred on Monday afternoon at Gulalembila, about 35km from Cross Dete. The truck was heading towards Zambia. "The accident happened on Monday when a Zambian truck driver lost control and veered off the road," Mutomba said. "The tank's lid burst and contents poured out, contaminating the area.
"The Environmental Management Agency and Civil Protection Unit are on the ground monitoring the situation and doing awareness campaigns to ensure that people are safe." There were no serious injuries, police said. The truck is still on the side of the road, where it is lying on its side.
Witnesses claimed the driver was speeding, as he was racing with other trucks. Lasts year, three haulage trucks piled up in Insuza along the same road, resulting in three people being burnt beyond recognition. One of the trucks was carrying gas, which spilled on the road, posing a danger to villagers.
St Augustine accident: 5 accused of murdering boy
27th July 2017
Ghana: Central Region records 524 accidents in first half of 2017
27th July 2017
 
According to him, the figure indicates an increase from that of last year during the same period where 369 cases were recorded with 531 persons sustaining injuries. DCOP Ampah Bennin disclosed this when he opened a capacity building workshop for branch secretaries of the Ghana Private Road Transport Union (GPRTU) in Cape Coast organised by the regional secretaries of the union.
He lamented that the development means drivers were not taking the education and precautionary measures being given them seriously. The regional commander pointed out that the single most significant cause of accident in the country was broken-down vehicles which were often abandoned on the roads.
This, he indicated, accounted for over one quarter of the total deaths recorded during the first half of the year in the region. He, therefore, charged drivers to make all the necessary efforts to tow their vehicles off the road when it breaks down. He mentioned some of the causes of accidents as drivers giving their cars out as spare to teenage drivers, Sprinter drivers who drive carelessly, blatant disregard for road traffic regulations, drunk-driving, speeding and running red light among others.
"Let us stop unnecessary racing on the road. We are not competing with anyone. The best driver is the one who has reached his or her destination safely," he advised. "With this trend, education on road safety campaign must be intensified by all stakeholders concerned," he further advised.
DCOP Ampah Bennin revealed that his outfit has embarked on night snap checks on the main Cape Coast-Accra highway to check the recent surge in armed robbery activities on that stretch. "I'm proud to say that since the night snap checks begun, there has not been a single robbery on that stretch of the road," he boasted.
The commander explained that the five-day training workshop is aimed at building the capacity of key transport administrators to improve upon their performance.
'Bulawayo-Harare highway deadliest'
by Staff reporter 26th July 2017
THE refurbished Harare-Bulawayo highway has accounted for most fatal road accidents in the past year although it is the best in terms of navigability. The stretch recorded 569 accidents representing 44 percent of the 1 291 road fatalities that occurred across the country in 2016.
About 304 (23 percent) were recorded along the Beitbridge-Chirundu highway. The Harare-Bindura and Harare-Murehwa roads contributed 128 and 97 cases, respectively.  The other 193 fatal accidents occurred in all the urban centres combined.
The statistics put to rest the notion that poor state of the roads are the major contributors to accidents. Speaking during the Driver of the Year National Awards ceremony held in Mutare over the weekend, Minister of Transport and Infrastructural Development Dr Jorum Gumbo said drivers should be responsible on the road to reduce carnage.
He said the Government was committed to the United Nations Decade of Action for Road Safety goal aimed at reducing road deaths by 50 percent by the year 2020. Dr Gumbo said an average of five people were killed while approximately 38 were injured in road accidents daily.
"Government is committed to the United Nations Decade of Action for Road Safety which seeks to reduce road deaths by 50 percent by the year 2020. "Drivers must therefore complement Government efforts if holistic road safety is to be achieved.
"Driving excellence is what every driver, at any level, would want to achieve so as to minimise the chances of being involved in road traffic accidents," said Dr Gumbo. Sixty-five provincial winners in different categories gathered in the Manicaland capital for the national competition. The competition seeks to improve "roadcraft" among drivers.
Dr Gumbo said the purpose of the competition was to promote good and responsible drivers. He said rewarding those who would have excelled would go a long way in achieving this goal. "There is no doubt that the purpose of this competition in promoting good and responsible driving goes a long way in reducing the carnage on the roads.
"Excellence in driving is gained through the acquisition of necessary road driving schools. These skills are further reinforced through competitions like the one we witnessed here in Mutare," he said.
Minister of State for Manicaland Province Honourable Mandi Chimene and Chikanga-Dangamvura Constituency Legislator Honourable Esau Mupfumi were some of the delegates who graced the ceremony.
Policeman was driving the doomed CRV
A POLICE officer was driving the Honda CRV which collided head-on with a Nissan Caravan at the 60-kilometre peg along Mvurwi-Centenary Road on Monday, killing 11 people and injuring 14 others.
Information gathered by The Herald yesterday, from the scene of the accident, showed that the CRV was being driven by a Centenary police officer, who was taking a murder and rape suspect from Bindura to Centenary for indications and was accompanied by two other officers.
It could not be immediately established, who, among the three deceased officers, only identified as Inspector Nehwangura (officer-in-charge Centenary), Constables Mashona and Zenda was driving the vehicle.
It is alleged that the suspect had beaten and raped an elderly woman in Centenary. The granny later died from injuries sustained from the attack, leading to the arrest of the suspect.
Speaking from the accident scene, the officer commanding national traffic Assistant Commissioner Isaac Tayengwa confirmed the death of the three officers from the Honda CRV. Asst Comm Tayengwa could neither deny nor confirm if a tussle occurred in the vehicle or that the driver could have been speeding.
"What we want to urge motorists is that they should always observe speed limits and take caution when approaching curves. In this case, we are not sure what could have happened inside the car. But yes, I can confirm that the officer-in-charge of Centenary, and two other officers were also in that vehicle and they were taking a murder and rape suspect to Centenary," said Asst Comm Tayengwa.
11 burn to death in kombi crash – full report
  ELEVEN people were burnt beyond recognition while 14 others were seriously injured when a Honda CRV vehicle collided with a Nissan Caravan at the 60km peg along the Centenary-Mvurwi Road yesterday afternoon.
The driver of the Honda CRV vehicle reportedly encroached into the lane of the Nissan Caravan at a curve causing the head-on collision. Both vehicles caught fire upon colliding.
Of the deceased, four were in the Honda CRV while seven were travelling in the Nissan Caravan. The Nissan Caravan had 21 passengers on board.
Police spokesperson Senior Assistant Commissioner Charity Charamba confirmed the accident last night. "Both cars caught fire upon colliding and the accident happened at a curve," she said. "Preliminary indications are that both cars were speeding and the driver of the Honda CRV encroached into the lane of the Nissan Caravan. Of the 14 injured, five were transferred to Parirenyatwa Hospital while others are admitted at Mvurwi hospital. It is sad bread winners, precious lives have been lost."
She said the survivors were rescued by a herdboy. "We want to thank him for being brave," she said. "In some instances, he had to pour water on the bodies of those passengers who were burning."
Snr Asst Comm Charamba said drivers should always abide by the road rules and regulations. "We have always stated as police that drivers should always stick to their side of the road especially when they cannot see what is approaching," she said.
"The fact that both vehicles caught fire suggests they were speeding. Moreover, 21 passengers in a Nissan Caravan is massive overloading." She added: "We appeal to drivers to exercise extreme caution especially when carrying passengers to avoid these kind of accidents. We urge members of the public who have relatives who might have been travelling along that route yesterday and are not locating them to approach Mvurwi Police Station. Police will also be updating the public as and when the information becomes available."
The accident comes after 43 people were killed last month in an accident that involved a King Lion bus along the Harare-Chirundu Highway. Preliminary investigations showed that it was caused by a tyre burst and speeding. The accident was declared a state of disaster. Human error has been blamed for most accidents.
Two perish in accident involving trailer and personal vehicle near Salgaa
By Mercy Kahenda 25th July 2017
Two people died in a road crash at Teachers near Salgaa Trading Centre on the Nakuru-Eldoret highway. Rongai OCPD Joseph Kioko said the weekend accident involved a trailer that was heading to Eldoret from Nairobi and a car.
The dead were among the three people in the car that was travelling to Nakuru from Eldoret. The third person sustained minor injuries while the trailer's driver escaped unhurt, according to the police boss.
The injured passenger was taken to Rift Valley Provincial General Hospital where he was treated and discharged. According to Kioko, the car was overtaking recklessly when it collided with the trailer head-on. He asked motorists to observe traffic rules and to avoid driving while drunk. He said there is increased traffic on the road as the August 8 election nears.
 Fourteen persons yesterday lost their lives in a fatal motor accident along Ife-Ibadan Expressway.
Research: These medicines can walk you into road accidents
By Gatonye Gathura  Mon, July 24th 2017
Medicines labelled as risky to take and drive or operate machinery have also been found to be dangerous for pedestrians to use and walk on motor ways. Some of the medicines known to affect user alertness, speed, balance, vision and hearing are now confirmed to be the cause of many pedestrian traffic accidents.
A study among 16,458 pedestrians involved in injurious traffic accidents has linked the crashes to the kind of medications the victims had been taking. The research linked 48 classes of medicine to the traffic accidents. Medicines for treating anxiety, allergies, arthritis, and pain were among the 10 most consumed by the studied pedestrians. Other drugs found to be a cause for concern are those for treating diabetes, high blood pressure, and migraine. Also featuring prominently on the list were pain medications – opioids.
The study covering a seven-year period involved a group of French universities and the national transport agencies and was led by the University of Bordeaux. The team concluded that several classes of medicine were associated with an increased risk of a pedestrian being involved in a road traffic crash. They also report that the medicines, which warn users against driving or operating machinery, were largely the same ones involved in pedestrian accidents. The study published last Tuesday in the journal, Plos Medicine, wants messages warning users not to take and drive to be extended to pedestrians. The study shows that most of the accidents (76 per cent) involved 12,474 pedestrians while they were crossing the road in good weather and working traffic lights.
Rein in schools that predispose their learners to road accidents
By The Standard 24th July 2017
A dangerous trend is cropping up — that of schools predisposing children to road accidents through sheer negligence and blatant disregard for basic safety rules.
On Friday, a kindergarten pupil died in a nasty accident involving a school bus in Tudor, Mombasa (see below) .
Six-year-old Jeremy Musila of St Augustine Primary School was run over when he slipped through a hole on the floor of the bus. The strange circumstances surrounding the death of the minor not only shocked the country but also raised the spectre of risks that await school children, especially in urban areas.
While safety is a shared responsibility, it is regrettable that our sense of concern regarding keeping every child safe in school only gets renewed with each tragedy that strikes. Still, we only scratch the surface in search for solutions. Last year, 180 children died in road accidents between January and August alone, according to statistics by the National Transport and Safety Authority (NTSA).
The figures are perturbing. On July 1, 2015, a three-year old boy was crushed to death after alighting from a school bus at Nyayo estate in Nairobi. On August 12 last year, four learners died in Kisii after their school bus, which was on a road test, rolled while on June 15 same year, three students died in Baringo in a crash that left many unanswered questions.
The safety of children must not be taken for granted any longer. Rather than be defensive, we urge school administrators to take safety to heart. NTSA should ride on the back of the road safety Bill signed by President Kenyatta on Friday to rein in disobliging schools. Strict enforcement of the Traffic Amendment Act 2017, which seeks to amend the Traffic (cap 403) should be a game changer. It provides that school vehicles meet all set standards. It should also be a policy that children are accompanied whenever being picked or dropped. Lax oversight in the transport sector must stop now.
24th July 2017 
Mystery shrouds Mugabe accident
On Saturday, one of the bikers leading the motorcade was involved in a crash with an Isuzu truck near the One Commando military base along Airport Road as Mugabe was making his way from the Harare International Airport upon his return from a medical visit in Singapore.
The biker suffered multiple injuries and was admitted to hospital.
Before that had happened, Mugabe's wife, Grace, had been injured at the airport in a freak accident that occurred when the presidential chauffeur moved the car before the First Lady had been fully onboard.
The Daily News can report that in the case of the biker's accident, nothing is known about the driver of the Isuzu truck, nor the owner despite the mysterious car having a registration, AAX 3166, whose search at the Central Vehicle Registry last week presented more questions than answers.
Despite having a number plate, the Isuzu did not exist in the registration books, further adding curiosity to ownership and authenticity of the registration number displayed by the car. Police refused to comment, insisting that the investigative officer who attended the scene would be the best person to handle our enquiries.
It was not clear who had attended the scene of the accident as it happened on the borders of Hatfield, Cranborne and Braeside police stations. Authorities have zero tolerance for motorists who obstruct or fail to pave way for the presidential motorcade. Protocol demands that motorists – including vehicles that may belong to other security arms not part of the presidential motorcade – pave way for Mugabe.
In fact, according to the law, it is an offence not to pull from the road when Mugabe's speeding motorcade approaches. Several people have either been fined or jailed for falling foul of the laws governing Mugabe's motorcade. One classical example is of a Victoria Falls man, Trinity Gonongono, who was jailed 30 years when he failed to make way for the presidential motorcade.
Last Saturday's crash was not the first time that Mugabe's motorcade has been involved in crashes with motorists. In May this year, one of Mugabe's motorcade outriders was left badly injured in Harare during the evening rush hour, after he crashed into a motorist while trying to clear traffic for the Zanu-PF leader who was on his way to State House where he was hosting Lesotho king, King Letsie III.
In May last year, Mugabe's motorcade was involved in a similar accident when another of the outriders crashed into a commuter omnibus whose driver was later charged with negligent driving. And in one of the most horrific crashes to involve the presidential motorcade in 2012, one of Mugabe's outriders met a horrific death when his bike caught fire near Sam Levy village in Borrowdale, Harare.
Traumatised eyewitnesses watched helplessly then as the outrider writhed on the side of the road in agony, battling for dear life as his motorbike – which was lying by his side – was consumed by a raging fire, which also killed him moments later. This was after some passing motorists had desperately tried to put out the fire using their fire extinguishers.
Also in 2012, a police lead vehicle sent to clear traffic ahead of the president's oncoming convoy, rammed into a commuter minibus carrying 22 passengers. A male passenger in the minibus died on impact with a police Mercedes, while 15 other people – including two police officers – were seriously injured.
On another trip to Zvimba in the same year, the presidential convoy was also involved in two accidents. In the first crash, a homeless man was knocked down by a police motorbike in Harare – with the police outrider and the victim both being hospitalised, and the homeless man dying later. And as the president's convoy left Kutama on the return journey, an open-top army Land Cruiser carrying members of the presidential guard burst a tyre and overturned – killing Jeoffrey Mukotekwa and wounding several others.
A 7-year-old pupil crushed to death by school bus
22nd July 2017
A six year old kindergarten pupil was Friday morning crushed to death by a school bus in Mombasa County.
According to eye witnesses the boy fell off through an opening on the floor of the bus in a bizarre incident that has left the school fraternity with questions.
A sombre mood engulfed St. Augustine preparatory school community immediately they received the tragic news. It is said that at around 6am as the vehicle made its way through town picking up pupils, one of them a boy fell into a hole in the rusted floor of the bus and was crushed to death by the rear wheels.
Parents and guardians decried the sorry state of the school bus which they described as too old. They blamed the school management for negligence and called on the Ministry of Education to take action. The heartbreaking accident points to what could be a case of negligence by the school management and human rights activists want it to held responsible for endangering the lives of pupils.
Ghana: Another stationary car causes near fatality
The driver of a Ford Focus car crashed into a disabled truck at Asemasa on the Beposo road in the Western Region in the early hours of the morning.
According to the Ghana Police MTTU, Ano Simon, a Togolese national was driving from Lome in the Republic of Togo to Abidjan when the incident happened.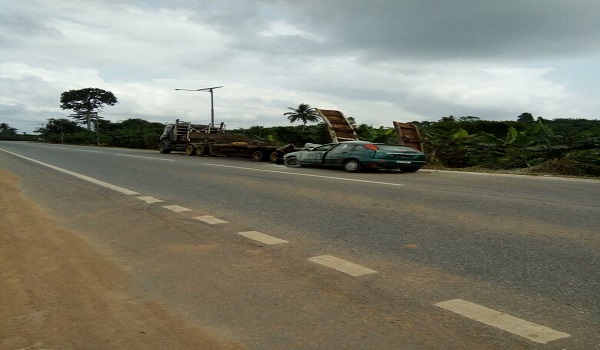 On reaching Asemasa near Beposo, he crashed into the back of a Scania articulated truck (WR 4195-12), which had broken down and was left in the middle of the road. The driver who was seriously injured was rushed to the Benedict hospital at Inchaban, where he was admitted, in a critical condition. The truck driver, Appah Reynolds, is currently in police custody, according to Supt. Richard Appiah of the MTTU in Sekondi.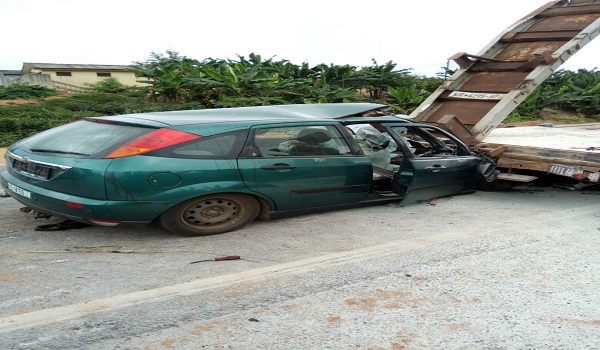 It will be recalled that the postponement of the National Towing Service has brought to the fort, the incidences of constant loss of lives and near-fatal accidents reported as a result of broken down, abandoned and disabled cars on major travelling routes across the country.
According statistics from the National Road Safety Commission, 21-25 percent of these crashes result in fatalities and the economic loss of livelihoods of innocent people annually.
 Traffic police introduces campaign to lessen road accidents
Jul 21st 2017, 5:02 PM , thecitizen.co.tz
 Irish medical students injured in road accident in Malawi
21st July 2017
One of the group suffered a dislocated collarbone but the extent of the injuries of the others is not yet known.
A spokesman for the Department of Foreign Affairs confirmed to Independent.ie that they are aware of the incident and the department is providing consular assistance.
That's how Itha Kieser, production editor at  Wild&Jag/Game&Hunt magazine, announced the tragic news in a post on Facebook, Netwerk24reported on Wednesday.Christian, 15, Aldin, 12, and Itha's estranged husband, Heinrich, died on impact when their sport utility vehicle (SUV) crashed head-on into a truck on the N4, between Malelane and Hectorspruit on Tuesday afternoon.Joseph Mabuza, a spokesperson for the Department of Community Safety in Mpumalanga, said the truck driver had tried to avoid a collision with a car in front of him. He swerved to the right and smashed into Kiesers' SUV."We are still in shock," said her brother, Herman Pienaar. Gillian Venter, 47, and her son Jordan, 15, a Grade 9 pupil at Paul Roos Gymnasium in Stellenbosch, were on their way back with Heinrich after a holiday in Mozambique. Both are in Intensive Care in a hospital in Mbombela.
The bakkie, believed to be that of Mpumalanga Taxi Association vice-chairperson Dumisani Gwala, collided with another vehicle and veered from the roadway, hitting the mother and child.According to police, Gwala and another executive member of the association were travelling to Pietermaritzburg when occupants of a VW Golf started shooting at them. In an attempt to flee the shooters, Gwala veered off the road and hit the mother and child. Gwala was shot and died at the scene.
A car crash left me paralysed but I'm learning to live again
20th July 2017
Brian Muchiri before and after the accident. He was involved in a road accident in 2014 that left him paralysed. PHOTOS| COURTESY 
In Summary
At Aga Khan, MRI scans showed that I had suffered a C5 and C7 fracture to the spine, meaning I lost control of anything below my armpits, including my hands.
Doctors explained that the condition was incurable. They gave me painkillers to manage the pain from the fractures.
By the time I was discharged a month later, I was too weak to even sit up in the wheelchair.
By MILLICENT MWOLOLO  
It was just before 6am on Saturday, February 8, 2014. I was travelling back home from a party in Nakuru with four friends, one of whom was driving. A truck in the climbing lane was approaching us dangerously fast from the opposite direction and before we knew it, there was a head-on collision. It happened within seconds. Two days later, when I regained consciousness, I found myself in a hospital bed.
My name is Brian Muchiri Waihenya. I am 23 and this is the story of how my life changed within
Read more @ http://www.nation.co.ke/lifestyle/family/learning-to-live-again-as-a-paraplegic/1954198-4020028-7vcpkiz/index.html
Ghana: Two injured in ghastly accident
The accident involved a petrol tanker truck and a Cape Coast bound Metro Mass Bus. The driver of the diesel tanker in an attempt to dodge a pothole at the middle of the road lost control hitting the Metro Mass Bus, sammersaulting and catching fire in the process. The driver and one other person in the diesel tanker truck were rescued before the car finally burst into flames.
The two, the driver and mate of the petrol tanker truck have been sent to the Francis Xavier Hospital at Assin Fosu for treatment. The Assin Praso District Police Superintendent Alhasan Sabaliko who confirmed the incident to Kasapa News' Central regional Correspondent Kwaku Baah-Acheamfour attributed the accident to the poor nature of the road .
The area, he explained has already witnessed four serious accidents in the last one month with some lives being lost. He therefore called on authorities to move in to fix the road to avoid a major catastrophe.
Four killed, ten injured in an accident along Masaka-Mbarara highway
19th July 2017
Reasons behind fatal road accidents in Kenya
Road accidents are now considered as the major cause of deaths in the country. The innocent lives are lost leaving relatives with losses and psychological torture. As the National Transport and safety Authority (NTSA) try to do their best to reduce the number of accident in the country, we still encounter such issues due to negligence. According to the NTSA statistics as at June 20th 2017, 521 pedestrians have died on roads compared to last years' 581 on the same date. A total of over one hundred and fifty drivers have lost their lives in such incidences.
Notable major causes of accidents are over speeding where drivers don't obey the speed limit that has been put for them. Overloading has become a common thing that many touts have embraced in search for more money. Many Kenyan drivers and travelers tend to ignore basic traffic rules used in driving of vehicles in favour of their preferred way of travel.
The introduction of Alco blow gadgets, confirms that many Kenyans opt to drive their vehicles when they are eventually drunk. However, this makes it easy for accidents and commotions to be caused on roads. Another major reason is that very few Kenyans will observe the regular policy of wearing safety belts that are crucial in helping them avoid minor injuries.
Efforts made by Former Transport and Communications Minister, John Njoroge Michuki to reform public transport since February 2004, especially the chaotic Matatu (Taxi) sector have been assumed. The rise in road traffic accidents are expected to rise if measures are not taken by both the people and the government.
6 killed in car crash on Lagos-Sagamu expressway
Author: Oluwatobi Bolashodun 18th July 2017
Not less than six persons have died in an accident on the Lagos-Sagamu expressway – Four people were injured in the accident which occurred at about 2.12 pm – Those injured are receiving treatment at the Sagamu General Hospital while the corpses had been deposited at the morgue.
The Federal Road Safety Commission (FRSC) in Ogun said six persons died while four were injured in an accident on the Lagos-Sagamu expressway on Monday. The Ogun Sector Commander of the FRSC, Mr Clement Oladele, told the News Agency of Nigeria (NAN) in Ota, Ogun, that the accident occurred at about 2.12 pm.
IPOB Oladele said that a Nissan Quest van with registration number FKJ 297 AJ coming from Ikorodu to Ibadan rammed into a moving Iveco truck due to excessive speed. The crash, he said, resulted in the death of the six persons while four sustained injuries. "The four injured persons are receiving treatment at the Sagamu General Hospital while the corpses had been deposited at the morgue," he said. He advised motorists to desist from excessive speed, especially during the rainy season.
Seven dead, 11 injured in Jinja road accident
Seven people have been confirmed dead and eleven others seriously injured following a road accident involving a taxi and two trailers. The accident happened Sunday evening at Bulyantete, a few kilometres from Lugazi town along Kampala Jinja High way.
According to eye witnesses, one of the trailers that was from a nearby washing bay entered the road abruptly hitting a taxi that was travelling from Kampala to Jinja. The driver of the second trailer that was travelling from Kampala failed to brake and rammed into the taxi.
The injured have been rushed to Kawolo hospital for treatment while bodies of the deceased have also been taken to Kawolo hospital mortuary for post-mortem. The trailer that reportedly caused the accident is reg. No. KPJ 271L/ZD 195 and the Taxi is reg. No UAZ 971R.The second fuel tanker was UAX 170Q/UAY 064C travelling from Kampala to Nairobi.
Watch: Mob justice after cop causes kombi crash
A passenger who declined to be named said the cop had ordered the driver to drive to Drill Hall Police Station but had apparently changed his mind and seemed to ask for a bribe. "The driver appeared not to cooperate, resulting in the cop grabbing the steering wheel," said the passenger.
The Bulawayo United Public Transporters Association (Bupta) kombi uprooted a pillar and crashed into a glass display at a hardware shop at the corner of Third Avenue and Lobengula Street around 10AM. Witnesses said the commuter omnibus which had been impounded by police at a check point near McKeurtan Primary School "dangerously zigzagged across the road" and sent pedestrians scurrying for cover as the driver and the unnamed cop wrestled for the steering wheel.
"The kombi started swerving and we knew something was wrong.  It then shot off the road and hit a pillar forcing its way into the hardware shop." said Mr Alliance Kamuti. "If it wasn't for the pillar, there would have been serious injuries." Only the driver is said to have sustained minor injuries in the fracas.
Another witness said the officer who had impounded the vehicle tried to flee with an angry mob in hot pursuit. "Some people kicked and punched him all over the body. He ran across the road. He seemed dazed as he returned towards the mob. Angry pedestrians ran after him and one slapped him before his colleagues rescued him," said the witness.
The shop owner, who only identified himself as Mr N Moyo, said: "I was inside the shop when I heard a loud bang.  I went outside to investigate and saw that a kombi had slammed into my shop." He said the officer jumped out of the car and fled. "When I got outside, the police officer started running away.  I tried to stop him but he continued running," said Mr Moyo. "The driver disembarked from the kombi screaming that the cop had grabbed the steering wheel causing him to lose control."
Mr Moyo said battles between traffic police and kombi drivers should not endanger the public.
"This is not right, so we have to die just because the police want a $5 bribe. They should keep their battles to themselves and not put the public in danger," said Mr Moyo. "We can't die because someone wants a $5 dollar bribe. Imagine if there were people on the pavement, they would have all died and their families would suffer. "If the police want bribes, it's better they brand their roadblocks as tollgates so that we know every time we approach a police check point that we have to leave some money."
Mr Moyo said he reported the matter to the police. "They refused to attend the scene citing security reasons. They said they were waiting for back-up as people were now beating officers of the law," he said. Bulawayo provincial police spokesperson Inspector Precious Simango yesterday said she was yet to receive a report of the issue.
Bupta secretary general Mr Albert Ncube declined to comment for the same reason.
Grace Mugabe in freak accident
 In a statement, Charamba confirmed that the First Lady, Dr Mugabe suffered some soft tissue bruising on the right ankle as a result of a freak car incident at the Harare International Airport soon after arrival this morning.
The accident occurred as the First Family was about to leave the airport for the residence.
The First Lady was taken to local facilities where doctors examined and treated the bruise and confirmed that she suffered no major injury. At the time of her discharge, she complained of pain from the hurt ankle.
The President, accompanied by daughter Bona and son-in-law, Simba Chikore were with the First Lady throughout the examination, treatment and subsequent discharge.
Jubilee parliamentary candidate dies in road accident along Kisii-Kisumu road
By Erick Abuga 15th July 2017
Three people among them Leonard Mwamba, Kitutu Chache South constituency Jubilee candidate die in a road accident at Nyakoe Market along Kisii-Kisumu road. One male passenger died on the way to hospital while the class four child died on the spot after the Land cruiser Prado lost control and crashed him.
Sources say the aspirant was in the car together with four other passengers who have all been rushed to a private hospital in Kisii town.
Several motorists were injured in a chain of collisions on both sides of the highway, Netcare 911 spokesperson Nick Dollman said.The Netcare 911 helicopter was dispatched to the scene while the 48-year-old woman was still trapped in her bakkie. Firefighters used the Jaws of Life to free her. She succumbed to her injuries while paramedics tried to resuscitate her.On each side of the road, roughly several hundred meters apart, there were accidents involving about 20 vehicles.
Cop arrested over $10 bribe
A JUNIOR traffic police officer based in Kwekwe was taken to court on Monday charged for public abuse of office after he was allegedly caught red-handed receiving a $10 bribe from a traffic offender. The accused, Constable Newrance Chikwanda (40), denied the charge and provincial magistrate, Ngoni Nduna remanded him in custody to July 19.
The State alleges that Chikwanda was trapped and caught red-handed by his colleagues last Thursday, as he was receiving a $10 bribe from the aptly named Carpenter Dube, a carpenter by profession, to destroy an accident docket prepared against Vincent Hlanganiso.
Hlanganiso was allegedly involved in an accident in January this year after he ran over a pedestrian and the matter was being investigated by Chikwanda. It is the State's case that when Chikwanda failed to locate Hlanganiso, who had relocated to Silobela, he pounced on Dube and threatened to charge him for his relative's crime. Chikwanda allegedly confiscated Dube's two wooden stools and later demanded an additional $10 bribe to cover up Hlanganiso's traffic offence.
The accused later arrested Dube and placed him in police cells, demanding his bribe money. Dube reported the matter to the police, resulting in a trap being set for Chikwanda, who was caught red-handed by Detective Inspector Cornelius Dale receiving the trap money. The arrest was also captured on camera after Dube tipped journalists of the transaction.
Boda Boda man makes wrong U-turn, nearly causes grisly accident – turns violent
They are also known to speed and overtake dangerously. But this rider was not lucky when he made a wrong u-turn near Serena Hotel in Nairobi and almost caused an accident. Police officers who were manning traffic did not waste time. They pounced on him and tried to handcuff him but he turned violent. He was eventually pinned down, chained and taken to Central Police Station.
He tried to defend himself but the officers would hear none of it. Photos: Wilberforce Okwiri
Killer truck driver blames steering fault 
 THE trial of the driver of a South African-registered haulage truck, which sideswiped a Johannesburg-bound Proliner bus, killing 31 people on the spot and leaving 40 others injured near Chaka business centre along the Harare-Masvingo Highway, started on Monday, with the accused alleging the truck's steering wheel locked, resulting in the accident.
The accused, Regis Mangwari, made the claims when he appeared before Mvuma magistrate, Tayengwa Chibanda facing 31 counts of culpable homicide and negligent driving. But, a report from the truck's tracking system produced in court indicated that Mangwari was speeding at the time of the horrific accident, which occurred on April 5 this year. Both vehicles went up in flames on impact, resulting in some of the victims being burnt beyond recognition.
Mangwari's lawyer, Passmore Mabukwa, however, disputed the truck's tracking system report, saying he was not privy to the evidence.
The trial continues today with the State calling its second witness. The State alleges that on April 5, Mangwari, on approaching the 218km peg along the Harare-Masvingo Road, lost control of his tyre-laden vehicle and sideswiped the bus, killing 31 people on the spot.
Bernard Nyoni is prosecuting the matter.
Zimbabwe: Chihuri defends roadblocks
Government officials and the public have raised alarm over the excessive number of roadblocks on highways and in some instances within cities. Dr Chihuri said the police were only carrying out their constitutional mandate and did not formulate the law, neither did they assemble vehicles.
Speaking at the commissioning of new housing units at ZRP Support Unit Changadzi in Chimanimani yesterday, Dr Chihuri said police were on the highways to protect the public. He said police did not formulate laws, but only enforced the same to ensure compliance and maintain order. "People have bitter mouths," he said. "You only want to talk about the bad things without acknowledging the good things that are being done. This is so because we have evil intentions within ourselves which cloud our minds not to see good things.
"We know as the police we are being criticised about roadblocks and so on. "The roads are there. They were not constructed by the police. The vehicles are there, they were not assembled by the police. The laws are there, they were not formulated and enacted by the police." Dr Chihuri said a lot happened on the roads. "Some people get killed in road accidents and so forth," he said. "All these things are not being done by the police, but you hear grown up people criticising the police heavily as if Zimbabwe is the only country that has cops on the roads.
"Why are you so much afraid of the police on the roads, yet they are there to protect you? You are used to being protected by dogs. What is more important to be safeguarded by a police officer or a dog? You have the answer and I will not continue talking about this issue."
Related Links :
Namibia: Three-vehicle pile-up kills two between Okahandja and Otjiwarongo
11th July 2017 by Ndapewoshali Shapwanale
Two women died and a minor was severely injured in a car crash between Okahandja and Otjiwarongo Sunday evening.The minor has been hospitalised and said to be in a critical condition. Police spokesperson chief inspector Kauna Shikwambi confirmed the accident that happened about 40km outside Okahandja.
The accident allegedly involved three vehicles. It is not clear which vehicle the women were travelling. Police are yet to release the identities of the victims as well as their ages.
Fly-over accident, car lands in railway line
 HARARE – A Toyota Corolla car allegedly flew from Mupedzanhamo fly-over into a railway line. The driver and passengers fled from the scene before Bulawayo24.com arrived at the scene.
NIS Boss brother dies in road accident
By Sarah Nyakio Mon, July 10th 2017  
Kenya army personnel retrieve the mangled wreck of a pick-up truck that plunged into River Gura. (Photo: Mose Sammy, Standard)
Two people died in a road accident along the Kiandu-Karima road, Othaya. The driver of the Toyota double-cab pick-up they were travelling in lost control of the vehicle and it rolled down a cliff. One of the dead was the brother of National Intelligence Service (NIS) boss Philip Kameru, Augustine Mathenge.
Mr Mathenge was travelling with a friend, Patrick Kibui, when their car plunged into Gura River on Saturday night. The accident happened about 400 metres from Mathenge's home in Othaya. Mathenge, the director of Nyeri-based Lichi Security, was the one driving, police said.   The car rolled down a 100-metre slope before landing in the river. The two died on the spot.
Residents say they were woken up by a loud bang. They saw the car rolling down the slope into the river. Joseph Wachira, a resident, said by the time he and others rushed to the scene, the two were dead. Put guard rails "The driver was lying by the car and the passenger was thrown (a few metres away)," Mr Wachira told The Standard. He added that the area was a black spot and urged the Kenya National Highways Authority to put up guard rails.
Five killed, four injured as lorry plunges into Kyenjojo swamp 
10th July 2017 By Francis Mugerwa and Edson Amanyire
Kyenjojo. Five people have been confirmed dead after a vehicle they were traveling in plunged into a swamp in Kyenjojo District. According to eye witnesses, the driver of the tipper lorry, registration number UAN 263S which had nine people lost control before plunging into the swamp at Rubango village in Katooke town council. The accident happened on Saturday night.
Ms Lydia Tumushabe, the Rwenzori West regional police spokesperson said the Victims were workers of Kiryambogo supper catering services who were returning from a party.
The deceased were identified as Christopher Kiiza, 42; Rosemary Kasanda, 36; Tushabe Versy, 42; Grace Tukasubwa, 36. All the deceased were residents of Katebe village in Kyenjojo District.
The bodies and the four people who sustained injuries were taken to Kyenjojo hospital, Tumushabe added. A post mortem on the deceased was done by medics and the injured were by press time receiving medication. The Injured have been identified as one B. Mujuni, Enid Kabasomi, Nyastazio and Bosco Burengero.
Three feared dead as lorry plunges into river Nile
Police identified the victims as Baraza Nelson, the driver; Arafat Farid, the turn man and Abonyang Ibrahim, the passenger who had hired the vehicle. According to Mr Anwar Umar the owner of the vehicle, the trio left the Paidah Friday morning.
Eye witness account: Mr Emmanuel Esaku, an employee working at Sinohydro Corporation Ltd in Karuma trading centre told Daily Monitor that the vehicle hit the left rail guard of the bridge before plunging into the water.
He said he witnessed the accident while trying to cross Karuma Bridge from Karuma trading center. "I was on a boda boda motorcycle from Karuma trading centre. We saw the truck approaching the bridge heading to Kampala and stopped. But instead of the truck adjusting to maintain its course on the left hand side, it went straight and hit the rail guards on the bridge and plunged into the water." "All we heard was a loud bang in the water, I don't know the fate of the occupants," Mr Esaku said. He noted that as the vehicle was approaching, they had to stop before entering the bridge since the vehicle was "big".
"We stopped before approaching the bridge, the vehicle was big, it had already entered the bridge and we couldn't dare join but unfortunately, it went into the water," Mr Esaku said.
Albertine Region Public Relations officer Allan Hakiza confirmed the incident to Daily Monitor.
"It's true a Lorry plunged into river Nile at about 7pm. We understand that three people were on board but we are trying to establish their fate, " Mr Hamish said.
 Past incidences at Karuma bridge Friday's incidence is the second time this year that a truck plunged into River Nile at Karuma bridge. In February this year a lorry laden with cotton seeds from neighbouring Democratic Republic of Congo plunged into Karuma Falls in Kiryandongo district. The driver of the truck survived the nasty accident with minor injuries. In 2000, a gateway bus plunged into the River Nile waters at the Karuma Bridge, killing at least 11 people.
Family perishes as seven die in accidents
Bulawayo. Mr Ncube lost his elder brother, the wife and the wife's younger sister in a road traffic accident in Hillcrest suburb in Bulawayo. The accident occurred on the intersection of Burnside and Durham roads on Friday night.
Bulawayo police spokesperson Inspector Precious Simango said the Hillcrest accident occurred after Mr Ncube's younger brother who was driving a Ford Sedan, due east, turned right at an intersection in front of an oncoming Toyota Land Cruiser which was being driven by a 20-year-old Mr Daniel Van Damme along Burnside Road, due west. Insp Simango said the three passengers in the Ford Sedan, Mr Edward Ncube and his wife and the wife's younger sister, died on the spot and their bodies were taken to the United Bulawayo Hospitals mortuary. She urged motorists to be cautious and observe road traffic rules.
According to the Ncube family spokesperson Mr Obert Masara the deceased was the elder brother to Mngane Ncube. "This was the elder brother and his name is Edward Ncube, he was 49 years old. He was in the company of his wife Mavis and her younger sister Faith from the Mbedzi family and another brother who was driving," he said.
He said the family was going to Hillcrest to drop off Faith en route to Mr Ncube's Burnside residence when tragedy struck. Mourners are gathered at Mr Mngane Ncube's Burnside residence.
In Lupane, Matabeleland North, four pedestrians died on the spot and seven were injured when a BMW vehicle veered off the road and hit them while they were at a bus-stop. Police confirmed the two accidents yesterday. In the Lupane accident, National police spokesperson Chief Superintendent Paul Nyathi said a BMW vehicle carrying five passengers burst its left rear tyre, veered off the road and hit five pedestrians who were at a bus-stop waiting for transport.
"Four pedestrians died on the spot and one was injured while all the six occupants of the BMW vehicle sustained injuries," he said. The accident occurred at the 120km peg from Bulawayo along Victoria Falls Road near St Luke's Hospital at around 4am. Chief Supt Nyathi said it is suspected that the driver was speeding. Names of the deceased could not be disclosed as their next of kin have not yet been notified. He said the injured persons were taken to St Luke's Hospital and they suspect that the driver was speeding. Chief Sup Nyathi said drivers should not speed when approaching built-up areas.
"They (drivers) should not carry excessive baggage or overload passengers. We appeal to drivers to be cautious on the road," said Chief Supt Nyathi.
Meanwhile, one person was injured in Plumtree near Figtree when a Granvia registered B596 BDH carrying seven passengers burst its tyre, veered off the road and broke into Bravo Farm on Friday night at around 10pm.
5 dead, 3 rescued alive as container falls on fully loaded bus in Lagos
9th July 2017  Author: Oluwatobi Bolashodun
No less than five people have lost their lives in an early morning accident after a truck fell on a bus – Three persons were rescued alive and were taken to the hospital – The passengers were reportedly on their way back from a vigil Report just reaching NAIJ.com indicates that 5 people have been killed after a fully loaded container fell on a commercial bus in Ojota area of Lagos.
Three people have been rescued from the wreckage by Lagos State Emergency Management Agency officials. The occupants of the bus were returning from the monthly vigil at the Redeemed Christian Church of God headquarters on Lagos-Ibadan Expressway,  
Zimbabwe: Watch: Bus conductor gets leg broken in fight with traffic police
Central African Republic truck crash kills 78, leaves 72 injured injured, doctor says
6th July 2017 
Seventy-eight people have been killed and dozens more injured when a truck heavily loaded with goods and passengers crashed in Central African Republic, a doctor says.
The accident happened about 10 kilometres outside the town of Bambari, which is about 300 kilometres north-east of the capital Bangui, as the truck was travelling to a weekly market day in the village of Maloum.
"At the moment, we have counted 78 dead and 72 wounded. Some wounded were taken directly to their homes from the accident scene and died there some time after, but most died here," Chamberlain Bama, chief doctor at the university hospital in Bambari, said.
A member of parliament from Bambari said the truck was overloaded and travelling faster than normal. "They were driving fast to make it to the market on time. That's what probably caused the accident," Amaseka Topi told Reuters.
Decades of neglect have left the landlocked country's road system in ruins and safety regulations are rarely enforced. Central African Republic is racked by violence unleashed after mainly Muslim rebels ousted President Francois Bozize in 2013, provoking a backlash from Christian militias. Thousands have died and a fifth of Central Africans have fled their homes.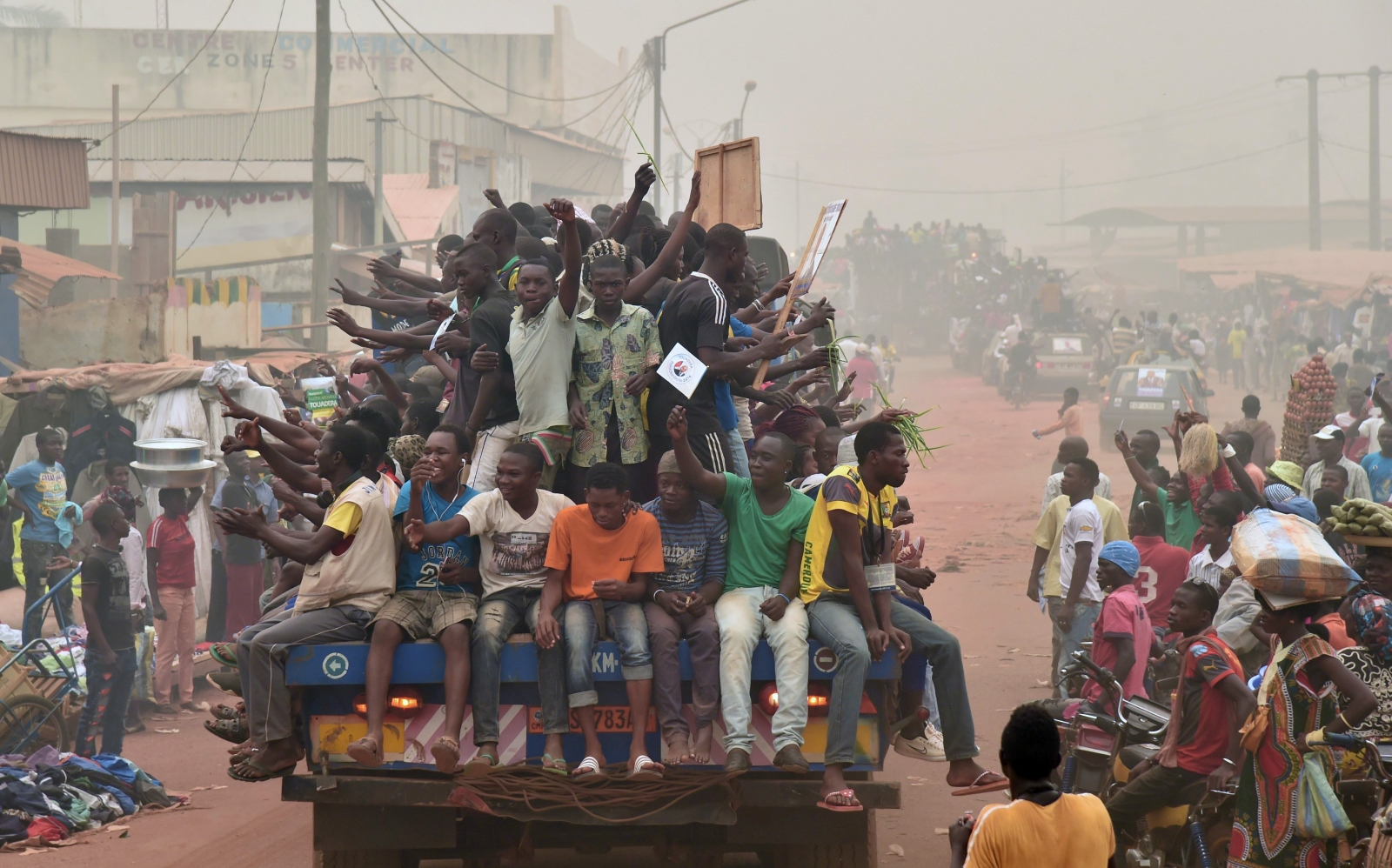 Uganda: IGPs escort car in accident, one officer dead 
6th July 2017 By Joyce Chemitai
A private Toyota Hiace car, registration no. UAE 8750 was on Wednesday evening involved in a fatal accident killing one, PC Micheal Gona a driver attached to Police Flying Squad. The accident happened at Towei Hill in Kawowo sub-county, a black spot on Kapchorwa-Mbale Highway.
Sipi Regional Spokesperson, Mr Rogers Chrispas Taitika confirmed the cause of the accident. "The cause is brake failure. Survivors say that the driver tried to apply brakes severally but failed making the vehicle roll several times before flying over a steep slope," said Mr Taitaka.
The IGP who had flown to Mbale for a night had to fly back to Kapchorwa on hearing about the incident. ASP Holleth Karakya, PC Vincent Chebet, Sgt Kawawa Isisiga, PC Okello are the police officers identified and civilians are Moses Wambi, Sarah Muzide, Anthony Mbale. They are said to have jumped out through the windows when they saw that the vehicle had lost control.
When Daily Monitor visited the scene, the body of the deceased had been taken to Kapchorwa Hospital mortuary and the injured were being attended to at the same hospital. The injured police officers will be transferred to Mbale for special management under a police doctor according to Mr Taitaka.
There were about 10 occupants in the car which was part of a convoy escorting the IGP who had visited Kapchorwa earlier in the day to assess the security situation following the killing of a police officer, PC Charles Oulanya by unknown assailants while on guard at Kapchorwa Boma Grounds where a trade show is taking place.
The accident happened just four days after another accident involving a heavy truck carrying metal bars in the same spot flew over a cliff and rammed into a home killing three children and one adult.
Bus accident survivor sues bus firm for $26 000
In his plaintiff declaration filed by his lawyers Messrs Pundu Company, Mapona said the accident was a result of the bus driver's negligence. He argued that the driver encroached into the lane of the Zupco bus, resulting in the head- on collision. Mapona lost his wife, Monica ,and daughter, Believe, on the spot, while he sustained serious head injuries.
He was then hospitalised in the Intensive Care Unit at West End Hospital. "The injuries the plaintiff suffered include a depressed skull fracture and a fracture on his collar bone. As a result of the accident, his injuries, two operations have been performed on him so far," reads the plaintiff's declaration.
"As a result of the accident, the plaintiff has been disfigured on his head, as a result the plaintiff now has constant severe headaches, and he experiences severe pain in his shoulders and as such has to consult medical specialists regularly. "The plaintiff has suffered financial loss as a result of the accident as he has been put out of pocket to seek medical intervention."
The declaration also reads: "Plaintiff lost two close family members and has not yet recovered from the tragic event. More so, plaintiff experienced a lot of pain and suffering and has also been disturbed in his studies." Mapona is demanding $4 000 for pain and suffering, $3 000 (loss of) companionship, $2 200 (funeral expenses), $3 000 (medical expenses), $3 500 (facial deformity), $7 000 (future medical expenses), $2 500 (risk of development of convulsion due to head injury). He also needs $300 for transport costs and $500 for doctor's consultations, bringing the total to $26 000.
Road fatalities down 15pc
July 4, 2017

Mr Chinyere
Tedious Manyepo Herald Reporter
At least 581 people have been killed, while 3 260 were injured in road accidents recorded countrywide between January and May this year, Traffic Safety Council of Zimbabwe (TSCZ) has said. The council said 11 513 accidents were recorded during the same period.
The figure represents a decline in the number of fatalities recorded last year that saw 685 people perish and 4 770 injured. At least 14 327 cases were recorded during the same period last year. The marginal reduction in the carnage has been attributed to massive awareness campaigns and the rewarding of competent public transport drivers by TSCZ.
TSCZ says a lot still needs to be done to combat road carnage. Speaking during the annual
Mashonaland Provincial Driver of the Year competition in Harare on Sunday, TSCZ managing director Mr Obio Chinyere said concerted efforts were needed in promoting road safety. "The involvement of the private and public sector in road safety programmes cannot be overemphasised given that research has revealed the age band most at risk is the 26 to 45 group," he said. "Private citizens and corporate organisations should join hands with Government agencies to help curb accidents. We need your support in taming the traffic jungle on our roads. "Safety should be everyone's concern and it would be self-deception to think otherwise."
Mr Chinyere said it was disheartening to note that an average of five people were killed, while 40 got maimed daily in road traffic accidents around the country. "Friday nights, Saturdays and festive periods are the worst times," he said. "It is, therefore, paramount for us to increase our national road safety programmes, hence the importance and significance of the Driver of the Year Competition."
The provincial event will culminate in a national contest to be held in Mutare later this month, with winners of that event set to represent the country in the bi-annual 2018 World Driving Championships scheduled for Belgium. The global event was conceived to emphasise on improved safety on the roads. About 90 participants turned up for this year's provincial driving fiesta, where stakeholders called upon more school and kombi drivers to take part.
Mike De Lange, owner of the Mike De Lange Service Centre and a member of the Motor Industry Workshop Association (MIWA), believes these crashes can be attributed to a lack of maintenance on trucks and negligence. De Lange, who specialises in the servicing of trucks, says he often sees trucks owners trying to save on expenses and not doing regular inspections. He said: "Trucks are not being serviced as regularly as they should be and to a standard that is good enough for our roads."Unskilled drivers behind the wheel: long with that, De Lange believes that stricter laws should apply to who should be allowed to own a truck: "Anybody can buy a truck and put an underpaid and unskilled driver behind the steering wheel. This is resulting in major risk on our roads. The industry is also being compromised due to some players hiring and repairing on the cheap and then offering the cheapest quote possible for their services undercutting other players."Drivers should be receiving special training besides the requirements needed to get a code 14 license. I don't believe this is being done or done properly. Drivers also do not seem to understand the importance thereof."Unroadworthy vehicles Vishal Premlall, Director of MIWA, agrees saying the number of truck accidents each year is unacceptable, said: "You just need to drive on any of our major highways to see that many trucks are not roadworthy and not being maintained. Besides the obvious accident risk these vehicles present there is also the pollution factor and potential loss of cargo and damage to property when accidents happen. The answer is regular maintenance and better training." Premlall says regular maintenance is also the only way to guard against major repairs.He said: "Truck owners may believe they are saving by avoiding regular servicing but it ultimately costs far more when a major component needs replacing because it wasn't properly maintained. The key is to watch the mileage and months and to refer to the service booklet for when services are required. There are accredited workshops around the country who specialise in truck servicing at affordable rates. It pays to do your homework and find a workshop near you."Another worrying trend is the number of truck drivers that drive in the fast lanes, despite their trucks being limited to lower speeds.  He said: "Young and inexperienced drivers often don't fully understand the mechanical condition of the truck nor the safe braking distances needed to stop the truck in the event of an emergency."  He adds that there needs to be a clamping down from authorities on unroadworthy trucks and reckless drivers: "Trucks are a major risk factor on our roads and authorities need to be stricter on how these vehicles are being policed. Handing out fines and releasing dangerous vehicles and drivers back on to our roads is not good enough."
Fifteen others, who managed to escape, were also injured in the same incident."A taxi somehow lost control and rolled then bursting into flames on Sunday morning on the M4 North Bound near Virginia offramp in Durban North," said Rescue Care's Garrith Jamieson in a statement."Whilst 15 people managed to escape, two people were severely entrapped in wreckage and suffered fatal burn injuries on the scene."Jamieson described the accident scene as "absolute chaos". The injured sustained wounds ranging from minor to moderate and were stabilised on the scene before being taken to hospital.In another incidenton Saturday night in Borcherd Street in Upington, one man was killed and another was seriously injured after a bakkie crashed into a tree. Both men were found still trapped in the vehicle, when rescue personnel arrived on the scene, said ER24 spokesperson Werner Vermaak. "The local fire department had to use rescue tools to free them from the wreckage," he said.One of the men had sustained fatal injuries and was declared dead on the scene in Borcherd Street. The second man was seriously injured and rushed to hospital for further treatment.
43 injured in separate road accidents in Uganda
2nd July 2017
The first accident occurred on the outskirts of Masaka town in the country's central region.
Masaka: At least 35 pupils were injured, seven in critical condition, when a Fuso truck they were travelling in overturned as it climbed Kako hill along the Kampala-Masaka highway. The St Andrews Primary School, Mitete, pupils were on their way to a music, dance and drama competition.
Teachers onboard escaped unhurt as well as the driver who fled the area after the accident. According to Ms Deborah Kalanzi, one of the teachers, 85 pupils were onboard the ill-fated vehicle. 50 pupils escaped unhurt. "The driver was driving recklessly. We even told him to control his speed as pupils shouted," Ms Kalanzi said. Victoria Namirembe, a Primary Four pupil, said the truck started speeding immediately they left the school and nearly swerved off the road.
"We screamed and the driver reduced the speed, but later he increased it when we got to the tarmac road," she said. Mr Lameck Kigozi, a police spokesperson, blamed the school administrators for risking the lives of the pupils by using a truck to ferry them. "We are going to arrest the headteacher and place charges of using unauthorised vehicle to carry passengers. We have always warned schools against using trucks to transport pupils but many have continued to do so," he said. He said following the accident Friday, the police intercepted another truck transporting pupils as well as a bus with a serious mechanical problem also carrying school children.
The wreckage of a saloon car that was involved in the accident that left eight people injured along Mityana Road on June 29, 2017. PHOTO | JESSICA NABUKENYA
Meanwhile, eight people are receiving treatment at a hospital in Mityana, central Uganda, after they were seriously injured in a head-on collision. The two vehicles –a saloon car and a commuter taxi — collided head-on at Kiwawu, along the Kampala -Mityana highway.
One person was critically injured and trapped inside one of the vehicles, with the Ethekwini Fire Department having to employ the Jaws of Life to free the victim."The remaining patients had all sustained serious, but mostly, minor injuries. All of them were stabilised and taken to several local hospitals in and around the Durban area by ambulances," said Robert McKenzie of the KwaZulu-Natal Emergency Medical Services (KZN EMS).According to Netcare 911, 45 commuters in the minibus taxis required medical assistance at the scene, though the majority of injuries were minor in nature. McKenzie told News24 that police were on the scene to investigate, and that the cause of the accident was not known yet. He asked road users to be vigilant and refrain from doing anything that would impede their driving."With no prejudice to this case, it is pay weekend so it's a traditionally busy time for EMS; so we would like to remind people to please be cautious on the road, and to not drink alcohol before or while driving a motor vehicle," he said.
Nigeria loses N80bn ($228million) to road accidents annually — FG
Uganda: Mityana crash 1 dead
1st July 2017
Cops crash into house, injure 2
The police officer, whose name could not established yesterday, was in the company of a colleague when the accident occurred just after midnight. He is suspected to have lost control of the car after an empty beer bottle rolled underneath the brake pedal while he was negotiating a corner.
When The Chronicle visited the house yesterday, the walls of the room where the children were sleeping were destroyed, while the damaged property had been removed. Michael Chibaya (11) was treated and discharged while his younger brother Josphat Chibaya, 6 was admitted to the hospital for the injuries they sustained after the accident.
Neighbours said the police officers, who are also from Nkulumane were driving a red Honda Fit and were drunk when the accident occurred. "I heard a screeching noise outside followed by a loud bang that rattled the windows. The two children who were sleeping in the house screamed and most neighbours rushed to the house. We found the two police officers who are our neighbours trying to move the car from the rubble while the children were screaming in pain. "We asked them what had happened and we realised that they were drunk. One of them fled the scene and we apprehended his colleague who couldn't even run. They tried to drive the car from the scene but the doors were stuck," said Mrs Nobuhle Ntuli.
She added that the driver of the car told them that his colleague's wife was driving when the accident happened. "He knew that they were in trouble. So he lied in an effort to conceal evidence that they were drinking and driving. The woman he was talking about was at home sleeping. "The two were extremely drunk. They behaved strangely and shouted obscenities. They even fought in front of us. One of them only came back in the morning to apologise," said Mrs Ntuli.
Another neighbour, Mr Noel Chizu said they discovered that the driver lost control of the car after one of their empty bottles rolled underneath the brake pedal.
"When the doors were opened the bottle was still stuck underneath the brakes. We're suspecting that it's the reason why he failed to control the car. "We called the police and they attended the scene. It's embarrassing for police officers to behave like this. And the painful thing is that they are our neighbours. We tried to shoot videos with our cell phones but it was very dark," said Mr Chizu.
The cops, residents told The Chronicle, returned to the scene yesterday around 4PM with a woman that they claimed had been driving. "We chased them away because we knew they were lying. They obviously paid the woman. We know her as she frequents night spots," said a resident who asked not to be named.
On Tuesday four police officers, two of them in uniform, caused a stir when they threw opaque beer from their private vehicle after being involved in an accident in the Bulawayo city centre. The officers, who appeared drunk, threw a scud and a super, popularly known as Chibuku batai munhu, in an apparent bid to conceal evidence that they were drinking.
Bulawayo police spokesperson Inspector Precious Simango could not immediately comment on the latest crash involving police officers.
Recently, the Deputy Minister of Home Affairs Obedingwa Mnguni urged members of the public to record videos of police officers violating the law. He said evidence gathered will come handy in prosecuting rogue law enforcement agents.
Falls, police confirmed. The vehicle hit the jumbo which then fell onto the roof of the vehicle trapping the two.
Officer commanding Victoria Falls District Chief Superintendent Jairos Chiwona identified the deceased as John Obester Banana (44) who died on his way to Bulawayo on Friday where he had been transferred following the accident that occurred on Thursday night. Mr Banana and the driver Mr Benard Munapo (48) employed by Pamusha Lodge, were coming from a boat cruise on the Zambezi River when the accident occurred.
It could not be established where Mr Banana hails from as police said investigations were still in progress, although his next of kin had been notified. "I can confirm that we received a report of two people who were involved in an accident along Park Way near waterworks. Mr Benard Munapo (48) who is employed by Pamusha Lodge was driving a Toyota Regius belonging to the lodge with a passenger John Obester Banana when he hit an elephant," said Chief Supt Chiwona.
He said Mr Munapo failed to avoid a herd of elephants resulting in the accident. Some motorists rescued the two and rushed them to Victoria Falls District Hospital where they were admitted. Mr Banana was transferred to Mpilo Central Hospital in Bulawayo because of his condition but died along the way.