Editorial 2017 "Who is responsible for Road Safety?"
 Crash News AFRICA from July 2017 
11 injured in roadblock evasion crash
ELEVEN people were injured after an unlicensed BMW driver who was allegedly trying to evade a police roadblock made a sudden U-turn and crashed into a truck they were travelling in. The accident occurred on Monday afternoon along the Bulawayo-Harare Road near One Infantry Brigade.
The truck was travelling to Shangani in Matabeleland South and the BMW was travelling in the same direction, before making a sudden U-turn. The open truck had 13 people including the driver while the BMW driver was travelling alone. The 11 people who were injured were all in the truck.
Bulawayo Chief Fire Officer, Mr Richard Peterson said the injured were rushed to the Bulawayo United Hospitals some with spinal injuries. He said the unlicensed BMW driver was arrested.
"We attended to a road traffic accident on Monday involving a BWM and an open Toyota Truck where 11 people, ages ranging from five to 77 years, were injured. The suspected unlicensed driver of the BMW made a sudden U-turn in front of a truck resulting in the crash that injured the 11," said Mr Peterson.
He said the injured were ferried to hospital with serious injuries. "Among the injured were a 77-year-old woman and a 45-year-old man who were complaining of spinal injuries while a five year old boy complained of a headache. Others complained of pain in their lower limbs," Mr Peterson said.
"Drivers need to be conscious of the presence of the other motorists on the roads."
Earlier this month, Chief Justice Luke Malaba's wife Eunice was rushed to a private hospital in Bulawayo after a Honda Fit driver made a sudden turn in front of her vehicle, thereby crashing into her vehicle.
Two GSU officers critical 15  injured in Bungoma crash
16th August 2017 By Nathan Ochunge
General Service Unit officers drill (Photo: Courtesy)
SUMMARY Two GSU officers are fighting for their lives after they were involved in an accident at Marakaru along the Kanduyi–Chwele road They were taken to Bungoma West hospital for specialised treatment 15 others sustained minor injuries Two GSU officers are fighting for their lives after they were involved in an accident at Marakaru along the Kanduyi–Chwele road on Monday.
The officers, alongside 15 others who sustained minor injuries, were aboard a police vehicle heading to Chwele market. Bungoma South OCPD David Kirui said the officers were on patrol when the incident happened. "The officers were ensuring all was well after elections when their car hit a pothole and rolled," he said. Kirui said the two were seriously injured and were taken to Bungoma West hospital for specialised treatment.
Teen killed, six others critically injured in KZN bus accident
16th August 2017 Kaveel Singh, News24   
Durban – A 14-year-old boy has been killed after a bus full of school-going children crashed in KwaZulu-Natal on Tuesday morning.The crash took place between Mandeni and Eshowe, IPSS spokesperson Paul Herbst said."The bus was fully packed with school kids. Six others have been critically injured. One of those six was airlifted to hospital. The other five remain critical."

Herbst said the pupil had to be airlifted due to poor terrain.
Related Links
Road accidents claim ten lives in Central South Africa 
CHRISTAL-LIZE MULLER  16th August 2017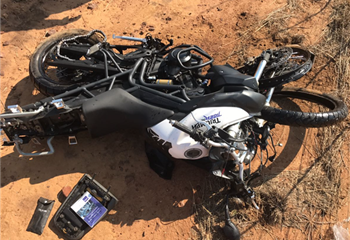 Photo: ER24
Two young children are among ten people who died in various road accidents across Central South Africa at the weekend.
A five-year-old boy and seven men died in a collision between two cars in Keimoes on Saturday night. Police are investigating a case of culpable homicide after a Hyundai Accent and Renault Clio collided head-on in another #NCroadaccidents. A Toyota Condor with eight occupants was also found in a nearby veld. Police spokesperson, Sergio Kock, says the Condor overturned and when police arrived on the scene the injured occupants were lying outside the wreckage. The names of the deceased have not been released yet.
In another #Fsroadaccidents, the daughter of a local police officer from the Park Road Police Station, Eugene Ferreira, died in a collision between two cars in Bloemfontein on Sunday.Ferreira's 9-year-old daughter, Larissa Ferreira, was declared dead on the scene while her mother, Ansja, and her sister, Kaylah, sustained moderate injuries and are being treated in a local hospital.According to Mediclinic Bloemfontein spokesperson, Barbara Steenkamp, Ansja and the 12-year-old Kaylah are doing well under circumstances.Steenkamp says they are in a stable condition after the collision in the neighbourhood, Universitas, at about 15:00.A woman in the other car, a Porsche Cayenne, also sustained moderate injuries and she was apparently taken to another hospital in town. Police spokesperson, Chaka Marope, said police are investigating a case of culpable homicide. The exact cause of the accident is yet to be determined.
Meanwhile, in another #NWroadaccidents, a man was killed and three others were injured last night when a car collided into the side of another car on the N4 Highway at Rustenburg. ER24 spokesperson, Russel Meiring, says when paramedics of ER24 arrived on the scene, both vehicles were on the side of the road. The occupants had already been pulled from the wreckages by members of the public who stopped at the accident scene to assist the injured. He says advanced life support interventions followed in an effort to revive a man. Meiring says the man, unfortunately, was declared dead on the scene. Three men sustained moderate injuries. They were treated by paramedics and taken to hospital for treatment.
The man who died in the Rustenburg crash was one of several fatalities that were reported in Central South Africa since the weekend.
A middle aged man died when he allegedly lost control of his motorcycle on the R500 near Parys in the Free State on Sunday. According to ER24, paramedics arrived at the scene and found the man lying ten to fifteen meters away from his motorcycle, next to a game fence. The man, believed to be in his fifties, had sustained multiple fractures after crashing into the electric fence. He was declared dead on the scene.
Ghana: Three dead, many injured at Tinga
The bus had more than more than 20 people aboard.
At least three people were killed and dozens injured on Monday when an Assemblies of God Church mini bus carrying passengers from Wa to Techiman spurt a tyre and crashed into a nearby bush at Maluwe near Tinga in Bole District of the Northern Region.
The bus had more than more than 20 people aboard when the accident occurred at the outskirt of the small community few kilometers from Tinga where ten people lost their lives last month when a commercial van fleeing an approaching car rammed into a stationed truck.
The Tinga community youth secretary Dramani Alhassan who visited the scene confirming to Kasapa News said the mini van with registration number AS 963 – 17 crisscrossed on the road before smashing through the bush and landed on the ground, killing the three instantly. According to him all other passengers suffered varied degrees of injuries with some having mangled faces, dislocated joints and broken legs. The victims were conveyed to the Tinga health center before being referred to Bole Government Hospital where they are currently being treated.
The hospital sources told StarrNews of them were in critical condition. Police in the area were yet to receive briefing from field officers dispatched to the scene but added the cause of the crash would be investigated. Road crashes and armed robbery is becoming a major public health crisis in the area.
Experts tell Kasapa News road crashes and activities of armed robbers kill more than 100 people a year and injure or disfigure as many as 150. Many of these crashes have been attributed to poor roads and disregard for road safety efforts.
13 dead in 146 accidents
The Zimbabwe Republic Police say a total of 146 accidents which claimed 13 lives have been recorded between 12 and 14 August, amid calls for motorists to be cautious on the roads.
The motoring public have been called upon to exercise extreme caution on the roads to avoid loss of life as the number of accidents continues to increase this Heroes Holiday.
The figure is a sharp rise compared to the 5 death recorded during the same period last year. Police spokesperson, Chief Superintendent Paul Nyathi said police is concerned over the road carnages and will continue to impound unroadworthy vehicles.
He implored passengers, commuter omnibus owners and operators and the general public to observe road rules and regulations.
Namibia: Three killed in minibus crash
15th August 2017 by Nomhle Kangootui  
 THREE passengers, including a five-month-old baby, were killed after the minibus they were travelling in collided with a pick-up along Kalkrand's main road to Rehoboth on Sunday.
Police inspector Pendukeni Haikali confirmed the accident in the crime report today, and said 34-year-old Surieta Bezuidenhout and five-month-old Richardiene Slinger died on the spot, while five-year-old Luca Slinger succumbed to injuries at a hospital in Windhoek.
Meanwhile, a 47-year-old woman died on the spot on Sunday when the vehicle she was travelling in overturned on the Epembe-Onalulago gravel road in the Ohangwena region.
"The deceased was identified as Inosencia Mwatokoka Hakuunda. It is alleged that the driver of the car she was travelling in lost control of the vehicle, and it overturned," Haikali said.
The Onayena police opened a case of culpable homicide after a man whose age is unknown died on the spot after he was run over by a car along the Eenhana-Ondangwa main road on Sunday. The man was identified as Mulanduleni Jona. "It is alleged that the deceased was lying on the road at the time of the accident. Police investigations continue," said Haikali.
Five killed, four injured in Eastern Cape crash
3 Injured in Pinetown crash
14th August 2017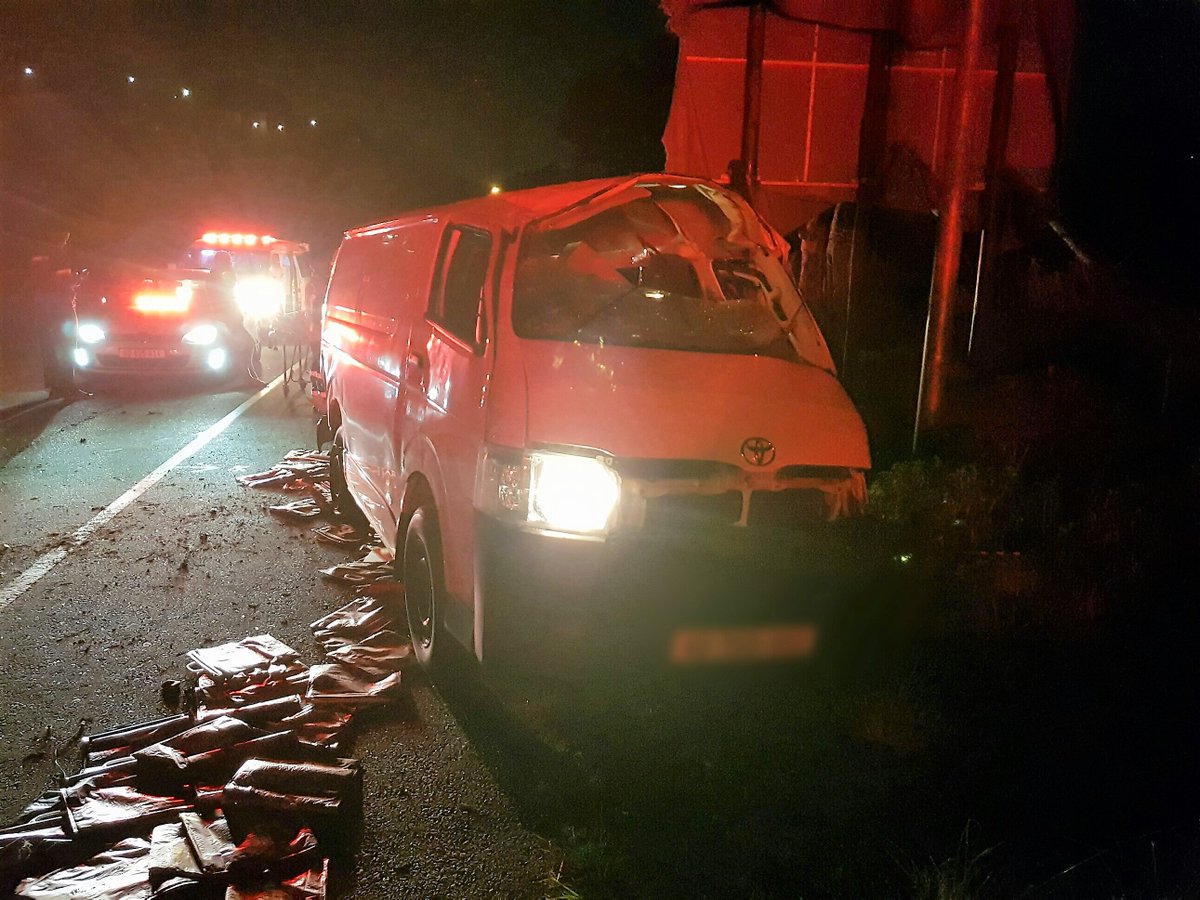 Three people have been injured two seriously so after the vehicle they were in lost control and rolled several times on Dinkelman Highway entrance to Clermont on Sunday morning.
Just after 4am Rescue Care Paramedics responded to the collision and found the single vehicle had ejected two occupants whilst rolling. The two had sustained moderate injuries and were stabilised on the scene by Advanced Life Support Paramedics before being transported to a nearby hospital for the further care that they required. The third occupant had sustained minor injuries and was also transported to a nearby hospital.
8 Perish in a grisly road accident at Ngonyi near Meru town
 13th August 2017
8 people died in a grisly road accident while others are nursing serious injuries following a head-on coalition between a matatu and a lorry along the Meru-Embu roa
  Seven dead in Eastern Cape crash
Young girl dies after bakkie crashes into jumping castle
12th Auhust 2017  Shantel Moses, Netwerk24 
That's how Vincent Christians, speaking at his home in Belhar, Cape Town, recounted in heart-wrenching detail his daughter's death.Five-year-old Vinisher was one of six children injured during a birthday party in Delft on Wednesday when a bakkie ploughed into the jumping castle they were playing on.  The child whose birthday it was, Farah Ely, 3, was also admitted to the Red Cross Children's Hospital in Cape Town with head injuries, Netwerk24 reports.Delft residents said the bakkie overtook a red Volkswagen Jetta at high speed.  "The bakkie was on the wrong side of the road. The driver lost control and the bakkie smashed with its rear end into a car which had been parked in front of the house. Then it landed on its side on the jumping castle. Crates of beer fell out," Thea-Liam Ely, 16, said.The jumping castle was on a cement slab in front of Farah's parents' home. Thea-Liam and his 16-year-old cousin Diego (Farah's brother) were there to keep an eye on the little ones.Sombre mood: According to Robert Daniels, spokesperson for the Emergency Medical Service in the Western Cape, six children were admitted to the Red Cross- and Tygerberg hospitals."Three girls (3, 5 and 11) and three boys (4, 7 and 12) were taken to hospital. Two of the girls (3 and 5) as well as the 12-year-old boy were in a critical condition.    Darren Frances, a spokesperson for the Red Cross Children's Hospital, confirmed that Vinisher had died in the hospital's ICU.
Israeli tourist dies in accident in northern Namibia
10th August 2017
OSHIKUKU (NAMPA) – An Israeli tourist died in the Oshikuku Roman Catholic Hospital in the Omusati Region after being involving in a road accident on the Oshikuku-Oshakati main road on Sunday.
Confirming the incident on Tuesday, Warrant Officer Linekela Shikongo of the Namibian Police Forces (NamPol's) Public Relations Unit in the Omusati Region could only identify the deceased as a 72-year-old Israeli from Tel Aviv.
Shikongo withheld the names of deceased, saying the next of kin are yet to be informed of his death.
The deceased was the driver and he was travelling towards Oshakati with his three passengers, who are his fellow Israelis of the age 73, 66 and 72. They travelled in a white double cab with registration plate number N169-762W. "The three passengers were transferred from Oshikuku to Oshakati (Intermediate) Hospital, with one of them [who] sustained serious injuries while two of them sustained moderate injuries," Shikongo said.
He said the deceased tried to avoid hitting a donkey, which was in the road, when he allegedly lost control over the vehicle and it overturned. The accident took place at 09h30 adjacent to the Etayi gravel road T-junction. Oshikuku NamPol have opened a culpable homicide case in connection with the accident.
Kombi conductor jailed for negligent driving
AN unlicensed Harare kombi conductor was yesterday sentenced to an effective 16-month jail term for negligent driving after he hit and injured four pedestrians crossing in front of his vehicle. William Majachani (21) was convicted on charges of driving without a licence and negligent driving, when he appeared before magistrate, Ruramai Chitumbura.
The accident occurred at Market Square bus terminus on August 6 this year. The court heard that on the day, Majachani unlawfully drove a Toyota Hiace public service vehicle and lost control, when he came across a group of pedestrians crossing the road.
The four pedestrians sustained injuries due to the accident and were taken to a private hospital for treatment.
Meanwhile, a commuter omnibus driver, Tendai Mubare, was fined $650 and banned from driving any type of motor vehicle for two years after being convicted on four counts of negligent driving.
The court heard that Mubare (28), who had no re-test certificate, medical certificate and defensive driving certificate, was involved in head-on collision with another car on July 15 after he attempted to overtake on a continuous white line.
Four passengers were injured in the accident.
71 people died in road accidents over 7 days
9th August 2017 By GILBERT KOECH@KOECHJUNIOR_  
Seventy-one people perished on the Kenyan roads between July 26 and August 1, compared to 45 the same period last year. The National Transport and Safety Authority yesterday said in a statement that the deaths — coming at a time people have been travelling to cast their votes — is a concern.
NTSA director general Francis Meja said the increase of traffic crashes translates into 58 per cent. "The number of serious injuries stands at 96 compared to last year when 79 serious injuries were reported. Meja said 91 per cent of the crashes were as a result of human-related factors.
"The crashes were attributed to speeding, reckless driving, dangerous overtaking and drink driving, among other issues,"he said.
On Sunday, hundreds of commuters were stranded at bus termini as they sought to travel to upcountry to vote. Some routes suffered shortage of buses. Travellers on other routes accused matatu operators of exploiting them by hiking fares.
Meja said high traffic is expected as many people travel to cast their votes. "This high travel will lead to serious offences such as speeding, drink driving, contravening routes by public service vehicles, boarding unlicensed vehicles that operates as public service, and the use of unroadworthy vehicles," Meja said. He said the high volumes of traffic has also been coupled with heavy rains in different parts of the country, increasing risks of road accidents. "We are committed to keeping our roads safe," Meja said, adding that NTSA officers will be on the major highways to enforce regulations.
Speed checks, lane discipline, verification of driving licence, random drink driving tests, general compliance, overloading and illegal PSVs are among what the officers will be checking.
According to the World Health Organization, an average of 3,000 Kenyans lose their lives in road crashes yearly. The majority of these people are vulnerable road users — pedestrians. According to an NTSA report that looked at the period between January 1, 2016 and June 30, 2016, 1,574 people lost their lives through road accidents. In 2015, 1,488 died over a similar period.
Driver fatigue crashes are Preventable!
9th August 2017
Ghana: Accountant dies in fatal motor accident
The Accountant's bike and Taxi
The Accountant of Begoro Salvation Army Clinic, Mr. Atibila met his untimely death last Friday afternoon after crashing his motor bike with a commercial taxi vehicle with registration number GE 1958-11.
According to report, the deceased, in his 50's was on a motor bike with registration number M-12-GT (2255) riding from Begoro Township towards his office, thus Salvation Army Clinic when the accident occurred.
Sources say, he had a crash with the taxi which was also coming from the other lane (Koforidua Road) to the township as a result, fell from the bike and hit his head on the floor.
"Since he was not in helmet, it made his condition very critical and was rushed by the Ghana National Ambulance Service to the Regional hospital in Koforidua" the eyewitness said. The deceased was later referred to the Korle-Bu Teaching hospital in Accra as his condition continue to worsen but was pronounced dead.
In a related development, a young man in his late twenties is also currently receiving treatment at the  Begoro Government hospital after crashing his motor bike with another parked "207" commercial vehicle with registration number GE 4644 Z.
Unlicensed driver who fatally knocked down 9-yr-old ordered to pay $16 000 to victim's family
THE High Court has ordered a woman from Gwanda who fatally knocked down a nine-year-old boy to pay the deceased's parents more than $16 000 as compensation for their loss and funeral expenses incurred.
Ms Sithandazile Mpofu (31), who is a nurse at Gwanda Provincial Hospital and does not have a driver's licence, was travelling with her husband Mr Melusi Sibanda (31) along the Bulawayo-Gwanda road when she lost control of the car.  It then veered off the road before fatally hitting Thabo Ncube who was sitting on the edge of the highway.
The boy's mother, Mrs Precious Ncube and her daughter, Nombulelo were also injured in the accident which occurred on September 8 in 2012 at the 97km peg. Sibanda tried to cover up for his unlicensed wife by telling traffic cops that he was the driver of the car. The trio was rushed to Gwanda Provincial Hospital where Thabo later succumbed to the injuries.
In papers before the court, Mr Kenneth Ncube who is the deceased's father, Mrs Ncube and their daughter Nombulelo are the plaintiffs while Mpofu and her husband were cited as defendants. Bulawayo High Court Justice Nokuthula Moyo ordered Mpofu and Sibanda to pay the plaintiffs $16 525 being general damages for pain and suffering as a result of the loss of Thabo and bodily harm, medical and funeral expenses incurred. The judge also ordered the defendants to pay the legal costs incurred by the plaintiffs.
In her judgment, Justice Moyo concluded that Mpofu was speeding and grossly negligent in causing the accident. "The accident was solely caused by the negligence of Mpofu who did not only drive negligently but also had no driver's licence," said the judge. In their summons, the plaintiffs claimed damages in the sum of $25 000, but the judge reduced the amount to $16 525.
Justice Moyo said the family suffered traumatic stress disorder and was emotionally drained following the death of Thabo. "I hold the view that this family has indeed suffered and has been traumatised emotionally by Thabo's death. The plaintiffs took us through a saddening and emotional explanation of how the loss of Thabo has caused emptiness and a permanent void in their lives. They are indeed struggling to come to terms with his death which is still haunting them," she said. The defendants, through their lawyers TJ Mabhikwa and Partners, challenged the claims by the plaintiffs, saying they wanted documentary proof to sustain them.
The court heard that on September 8, 2012 at around 3.30PM, Sibanda unlawfully permitted Mpofu to drive their car. The couple was coming from Gwanda and heading towards Bulawayo. As she tried to get into a road leading to Mtshabezi Mission School, Mpofu lost control of the car and it went off the road and hit Thabo, his sister and mother. When police arrived at the scene, Sibanda lied that he was the one who was driving the car in a bid to cover up for his unlicensed wife.
Investigations by police revealed that it was Mpofu who was driving the car leading to her arrest. She was slapped with a six months imprisonment term for culpable homicide and fined $200 or 30 days for driving without a licence.
Kericho – Kisumu highway accident claims 9 lives
7th August 2017
9 people have died in an accident involving a matatu and a lorry at Kipsitet along the Kericho – Kisumu highway. 8 passengers in the matatu died on the spot while the 9th, who was the driver of the lorry was pronounced dead on arrival in hospital.
Uganda: Two Kindergarten children killed by fuel tanker
6th August 2017 By Jessica Sabano
Mr
, the father of one of the dead children. Photo by Jessica Sabano
Two children from the same family were crushed beyond recognition by a fuel tanker that knocked them as they waited to enter the premises of Waterloo International Kindergarten in Seeta on Wednesday morning.
The two children were identified as Joseph Ilakuti ,5, and Jean Kansimire, aged 3. Kansimire was a daughter of  Mr Basil Tinka and Ms Tinka.  Ilakuti was a nephew of Ms Tinka.
It is reported that the family maid who survived, had escorted the children to school. As they waited for the gatekeeper to open for the children, disaster struck. It is also alleged that when the maid saw the trailer coming towards them at the gate, she took off leaving the two children helpless.
According to Ms Rebecca Kwagala, an eyewitness, the truck, Reg. No. KAY 052S/ZC 6774 that was coming from Jinja to Kampala, got a mechanical problem near the school. The driver parked it to check the engine. As he checked, the truck moved and hit a fuel tanker Reg. No. UAZ 216Y that was parked near the school gate; which in the process, knocked the children dead.
Police officers at Seeta Police Station took the bodies to Mulago Hospital. The Officer in Charge of Traffic at the station, Mr Muhammed Magwa, declined to comment on the accident.
Three die, 50 injured in luxurious bus accident on Auchi-Okene road
6th August 2017
British woman killed in South Africa road smash that left three of her family seriously injured
5th August 2017
A British woman has died in a car crash in South Africa that left three members of her family severely injured. Paramedics said crews arrived at the scene to find a car lying on its side with three people outside the vehicle and one woman trapped inside  
The South African Police Service (SAPS) said a case of "culpable homicide" has been opened for investigation after the crash on July 31. A spokesman said officers were investigating but had been unable to speak to the surviving family members because of the seriousness of their injuries, Wales Online reports.
The woman died in the crash was said to be 46-years-old.
  A 17-year-old boy was airlifted to hospital with critical injuries. A 14-year-old girl and a man were also injured.
Paramedics said crews arrived at the scene to find a car lying on its side, partially off the road, with three people found lying outside the vehicle with one woman trapped inside. Emergency response spokesman Russel Meiring told news website iol.co.za: "Upon closer inspection, paramedics found the woman lying trapped in the vehicle had sustained numerous injuries and showed no signs of life.
"Unfortunately, the woman had already succumbed to her injuries. Nothing more could be done for her and she was declared dead on the scene."  The teenage boy was later airlifted to hospital by ER24, a private emergency medical care company. The man found at the scene was said to have suffered "moderate injuries".
The crash happened sometime between 8am and 9am in the North West Province while the family were travelling from O.R. Tambo International Airport to neighbouring Botswana. The car rolled off the R509 in the Derby area outside of Rustenburg in the North West Province.
Road accidents: More than 1600 deaths in first half of 2017
 4th August 2017 
ALGIERS- More than 1600 people died in 12 358 road accidents in the first six months of 2017 said Wednesday in Algiers, the director of the National Centre for Prevention and Road Safety (CNPSR) Ahmed Nait El-Hocine.
Algerian-Spanish project for regulation of road traffic in Algiers launched from upcoming school year 
ALGIERS- The Algerian-Spanish project for the regulation of road traffic in the capital will be launched starting from the upcoming school year and will initially concern 200 crossroads announced Wednesday, the director general of the National Centre for Prevention and Road Safety (CNPSR), Ahmed Nait El Hocine. 
7 feared dead after grisly Voi-Maungu highway crash
4th August 2017
5 killed, 19 injured in separate road accidents
Five people died while 19 were injured in two separate accidents along the Bulawayo-Plumtree Highway and in Bikita on Tuesday.
Three people died in Bikita and 11 were injured, two seriously when a commuter omnibus collided with a Toyota Spacio. Acting Masvingo police spokesperson, Assistant Inspector Kudakwashe Dehwa, said the accident occurred around 6:30 PM at the 235 km peg along Mutare-Masvingo Road near Chipinda Business Centre in Bikita.
He identified the deceased as Temba Simon Mandireki (43) whose address was not given, Rosemary Mangwengwe (52) of Panene Farm, Kadoma and a male adult who has not yet been identified. He said the bodies were taken to Silveira Mission Hospital mortuary for post-mortem where the injured were also rushed to for treatment.
Nine passengers are said to be stable but two remain critical. "We have received a report of road traffic accident that claimed three people and injured 11 others near Chipinda Business Centre in Bikita. The accident involved two vehicles, a Toyota Hiace commuter omnibus and Toyota Spacio. The deceased died upon admission to Silveira Mission Hospital," said Asst Insp Dehwa.
He said Mr Kudakwashe Ziki (25) of Nemakweni Village under Chief Ziki in Bikita was driving the Toyota Hiace towards Nyika Growth Point with 13 passengers on board when the tragedy struck. Ziki pulled out of the road and stopped at the 235 KM peg .
"At the same material time," he said, "Mr Newton Mabhiza (60) whose address was not given was driving a Toyota Spacio along the same road and towards the same direction. Mr Ziki turned his vehicle to the right attempting to get back into the road to proceed with the journey but allegedly collided with Mr Mabhiza's car. Mr Ziki lost control and the vehicle veered off the road and rolled once before landing on its wheels injuring 11 passengers, four seriously," he said.
He said a Good Samaritan rushed the four who were critical to Silveira Mission Hospital but Mandireki, Mangwengwe and an unidentified man died upon admission. Mr Ziki also sustained some injuries but Mr Mabhiza escaped unhurt.
In the other accident, a 33 year old woman and a three year old boy died while eight other people including the driver were injured when a vehicle they were travelling in veered off the road and rammed into a tree along the Bulawayo-Plumtree Road.
Witnesses said the driver of the vehicle Mr Saul Phuthi who was reportedly speeding lost control of the Nissan Serena at the 61 kilometre peg on Tuesday afternoon leading to the death of three-year-old boy Tadiwa Makaza on the spot while the woman whose name could not be obtained died upon admission at the United Bulawayo Hospitals (UBH). The injured were taken to Plumtree District Hospital and UBH.
A survivor who is admitted at the Plumtree District Hospital, Mrs Emelda Ncube said they were on their way to Bulawayo when the crash occurred around 1PM. She claimed that the vehicle was speeding and overloaded.
A comment could not be obtained from Matabeleland South provincial police spokesperson Inspector Philani Ndebele as he was out of office.
18 injured in road accident near Delamere Farm, Naivasha
By ANTONY GITONGA 4thAugust 2017
More than 70 passengers escaped death narrowly when a bus they were travelling in was involved in a road accident that left 18 people injured. The early morning accident near Delamere Farm in Naivasha involved three vehicles and blocked part of the road before police moved in to tow them away.
The accident occurred when a lorry heading to Nakuru from Nairobi veered off its lane and rammed the side of the Climax Coaches bus that was heading in the opposite direction. The bus driver lost control and the vehicle landed on the side of the road while a truck that was also heading towards Nairobi hit the lorry that had stalled in the middle of the road.
Joel Kariuki, a witness, said the lorry driver could have fallen asleep at the wheel before veering off his lane.
Ethiopia: Volunteers Playing Roles in Minimizing Traffic Accidents  
By Yared Gebremeden 4th August 2017
Volunteers engaged in traffic safety service are reducing accidents in the capital through raising pediatricians' awareness towards road traffic safety and minimizing traffic congestion, said Addis Ababa Traffic Police Office.
Office Public Relations Expert, Assistant Inspector Assefa Mezgebu, told The Ethiopian Herald the volunteers are raising the awareness level of the pedestrians regarding to the safest ways of crossing roads, and are highly facilitating smooth traffic flow which in turn reduces traffic accidents.
The volunteers are well trained about road rules and the basic strategies of safe traffic system. Consequently, they teach the public to walk safely in sideways, he said adding "their role is immense to minimize traffic accidents."
"There are a number of pedestrians who cross the road illegally and expose themselves to risks. In this regard the volunteers are educating pediatricians and are making them use the safest place to cross.
Nothing that in some congested areas pedestrians have shared the road with vehicles, the Assistant Inspector said " in these areas volunteers are doing their level best in facilitating safe traffic flow.
Assistant Inspector Assefa said if the activity of the students further sustain in over extended period of time rather than limited in rainy season, would have considerable benefits in minimizing traffic congestion, and road accidents.
South Africa donkeys used to smuggle cars into Zimbabwe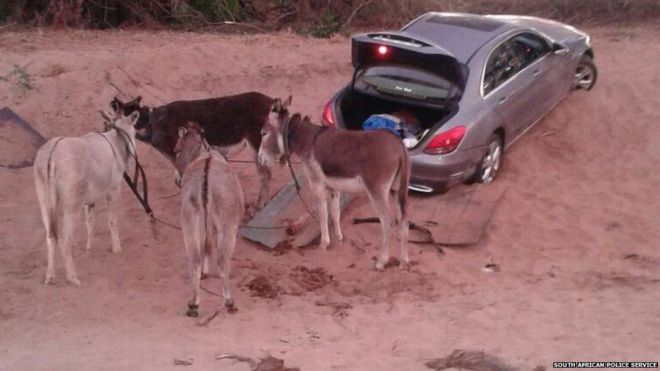 Police in South Africa have foiled an attempt to smuggle a stolen luxury car into Zimbabwe using donkeys to pull it across the Limpopo river. The suspects fled into the bushes towards Zimbabwe after their efforts to free the car from the sand failed, local police say.
Last December a vehicle stolen in Durban was recovered on the same river, attached to a group of donkeys. Local police are investigating whether a syndicate is behind the new practice. Police Brigadier Motlafela Mojapelo says a Mercedez Benz C220 was recovered on the river bed close to Musina.
The thieves had put metal sheets under the wheels to make it easier for the donkeys to pull. "The suspects were using donkeys to pull the car across the river' but our members were just in time to pounce on them after the donkeys were apparently no longer able to pull it through the sand," Mr Mojapelo is quoted in local media as saying.
The donkeys were unharmed.
It is not clear why the thieves do not simply driver the car into Zimbabwe but the BBC's Pumza Fihlani in Johannesburg notes that one reason might be that most modern cars are fitted with a tracking device which uses satellite tracking to locate a vehicle, if stolen. The tracker is only active when the car is running.
The Limpopo River forms the border between South Africa and Zimbabwe and is a well known transit point for illegal immigrants moving between both countries but the news of it becoming a smuggling point for cars is a surprise development, our correspondent says.
At least 34 killed in Madagascar bus crash  
2nd August 2017
At least 34 people died when a bus carrying young Christian worshippers plunged down a steep ravine in central Madagascar, police and hospital officials said Tuesday.
Police said 12 badly burned bodies were counted at the site, 70 kilometres (45 miles) north of the capital Antananarivo. Hospitals said that 22 other deaths had been confirmed after the late-night crash.
"The bus struggled to climb a road on a hill and fell down a ravine about 20 metres deep," police spokesman Herilalatiana Andrianarisaona told AFP. "It caught fire after rolling several times."
Photographs showed the white bus upside down and badly damaged, surrounded by burnt undergrowth.
The main hospital in Antananarivo said in a statement it had accounted for 18 dead, while a hospital in the town of Ankazobe near the crash scene reported four dead. Passengers on the packed bus were travelling from the central town of Soavinandriana to a church meeting in the north-western coastal port city of Mahajanga when the accident happened.
Madagascan roads are often poorly maintained, with overloaded bus and trucks regularly involved in deadly accidents. In January, 47 people, including 10 children and a newlywed couple, were killed when a truck carrying a wedding party and guests crashed. The vehicle was transporting passengers the day after the wedding.
Madagascar, a French colony until independence in 1960, is one of the world's poorest countries and relies heavily on international donors.
Fenced highway cuts accidents caused by stray livestock
The Gweru-Bulawayo highway which used to top road traffic accidents nationwide and most of them caused by livestock, has not recorded a single road accident involving animals since January this year. 
This follows the erection of a $400 000 perimeter fence on either side of the road.
According to the Traffic Safety Council of Zimbabwe (TSCZ), the Gweru-Bulawayo road used to record one accident involving animals every two days. The TSCZ said a total of 732 accidents involving animals were recorded from January 2014 to December 2016 along the same stretch of the road.
TSCZ managing director, Mr Obio Chinyere said after a perimeter fence was erected on either side of the road in January, no accident involving animals was recorded. "I'm glad to note that from January to date, we have recorded zero road traffic accidents involving animals along the Gweru- Bulawayo highway. We attribute this positive development to the fence we erected on both sides of the road which cost about $400 000," said Mr Chinyere.
He said the development is a confirmation that road accidents involving animals can be drastically reduced by erecting such fences along the highways. Mr Chinyere said his organisation was now finalising paper work for another perimeter fence to be erected along the Bulawayo- Plumtree highway. "Our next stop is the Bulawayo- Plumtree highway and the paper work is almost complete. We are just finalising the budget and other modalities," he said.
Mr Chinyere said TSCZ intends to complete the Plumtree-Bulawayo road and Gweru to Kwekwe road before the end of this year. The TSCZ, a parastatal under the Ministry of Transport and Infrastructural Development, last year embarked on a project to fence off the country's highways as part of measures to reduce carnage on the country's roads caused by stray animals. The programme started with the erection of the Bulawayo-Gweru Highway perimeter fence.
National hero Retired Air Commodore Mike Karakadzai who was also the National Railways of Zimbabwe (NRZ) general manager and Apostle Charles Chiriseri are among the people who were killed in road traffic accidents involving stray livestock along this stretch of the highway before the erection of the perimeter fence.
President Uhuru's motorcade involved in Kisii accident
By Erick Abuga 1st August 2017
Six people have been seriously injured in an accident involving a 14-seater matatu and a police vehicle that was clearing way for President Uhuru Kenyatta's convoy in Kisii County. A traffic van clearing the road for the President ran into a 14-seater matatu that was making a U-turn at a sharp corner near Mt Kenya University, Kisii branch.
(Photo: Courtesy) President Uhuru and other leaders were coming from addressing a rally at Gusii Stadium.The accident occured at Gesonso area along the Kisii-Migori road.
(Photo: Courtesy) The Head of State was forced to come out of his offical car as his security officers rescued the injured. Uhuru's official ambulance was forced to carry the injured to hospital. Kisii central Deputy Base Commander and another traffic officers are among those injured.
 Uganda: Masaka road accident
1st August 2017
Six people have been confirmed dead in accident at Maya along Masaka road. Eye witnesses told NBS the accident happened after a taxi number UAF 233N heading to Kampala collided with a Fuso truck number UBA 299T heading in the opposite direction. It is believed that the truck was avoiding hitting a motorcycle number UDY 191P when it rammed into the taxi.
2 killed in separate road accidents
TWO men died on the spot in separate road accidents last night in Bulawayo.
A cyclist was hit by a kombi near Mzilikazi fly-over along Luveve road while another man who was pushing a cart was hit by a Volkswagen vehicle near his home in Tshabalala suburb just before Tshabalala police station, along Nketa Drive. The Chronicle news crew visited the accident scenes last night.
In Tshabalala, a witness who spoke on condition of anonymity said Albert Bonde (60) was hit while trying to cross the road while pushing a cart near his home. "He was hit by a vehicle as he tried to turn and he died on the spot. His family which stays near the spot came to the scene and identified him," said the witness.
The driver of the Volkswagen, Mr Delight Dube said: "I was driving heading east and since it was dark I only saw him late as he was trying to turn in front of me. It was already late then and sadly I hit him. I am in pain and shock and cannot say much now."
Bonde's two children were crying uncontrollably when police came to take his body to the mortuary.
The cyclist who also died on the spot along Luveve Road, just after the flyover, had not been identified by time of going to press.
Five Buganda Masaza Cup soccer fans die 9 injured.
The wreckage of the commuter taxi at the accident scene. Photo by Sadat Mbogo
By SADAT MBOGO 31st July 2017
BUTAMBALA- Five people have been confirmed dead and nine critically injured in an accident at Seneene near Kibibi Town on Mpigi – Gomba Road.
According to police, the vehicle, a commuter taxi Reg. No: UAZ 212D carrying Bulemeezi County Football Team soccer fans who were travelling to Kabulasoke Core PTC playground to support their team in a return match (second quarter finals of Buganda Masaza Cup) with Gomba County Football Club, overturned after the driver lost control at a slippery section of the road. The road is under construction.
An eyewitness who preferred anonymity said: "Both the driver and many fans in the taxi were drunk. I have seen bottles of beer and sachets of waragi. I suspect this caused the nasty accident."
Mr Phillip Mukasa, the police spokesman in Katonga region blamed the Saturday accident on speeding and the bad situation of the road. "The driver didn't know that the road is under construction. Since he was speeding, he failed to control the car after reaching a slippery section," Mr Mukasa said.
Among the dead is the driver David Sserubbo,  Zamu Nalubega, a one Kenneth, a one Sarah and an unidentified student of Wobulenzi in Luwero District. Some of the injured include; Christine Nakidde, Hasifah Nattabi, Eric Ntuluma, Gayita Ssenjovu, Agnes Nakibuule, Bashir Mudde, Prossy Nambooze, among others. Dr Samuel Ssekamatte, the in-charge at Gombe Hospital where most of the injured people were taken said: "We have referred others to Mulago Hospital because we couldn't manage their condition."
Bodies were also taken to Gombe Hospital for a post-mortem.
Horror car crash claims two socialites
by Staff reporter 31st July 2017
TWO Gweru socialites died in a horrific road accident after a vehicle they were travelling in rammed a haulage truck's trailer. 
Tinashe Wena (30), an operations manager at Larochell Quarry and his friend John dos Santos (34) were in a Mazda 3 that rammed a haulage truck which was reversing from Zuva service station along Robert Mugabe way at around 5AM on Saturday.
The two friends were coming from a popular night spot in Gweru when the accident occurred. Wena and Dos Santos are said to have been friends to the late Alistair Shingirai Mukosera, another Gweru socialite who died in April in an accident as he was coming from a party.
Acting Midlands police spokesperson Assistant Inspector Ethel Mukwende confirmed the accident. "I can confirm that there was an accident that happened on Saturday morning involving a Mazda 3 and a haulage truck. The light vehicle crashed under the trailer of a haulage truck trapping the two occupants who died on the spot," said Asst Insp Mukwende.
Wena's brother Malvern expressed shock at the untimely death of his sibling. He said the Wena and Dos Santos families were still trying to come to terms with the sudden deaths of the two friends. Malvern said the deceased had been friends to the late Mukosera, who also died in an accident.
"We are still in a state of shock and can't believe what happened. We hear that they were coming from Bowling Club and getting into town to look for food when tragedy struck. We were told that there was mist and due to poor visibility their vehicle rammed underneath a haulage truck trailer. The haulage truck was reversing from Zuva garage into Robert Mugabe Road," he said. "Tinashe was full of life and determination. Funeral arrangements are underway."
An eye witness told The Chronicle that the Mazda 3 was speeding and failed to stop in time to avoid the accident. "I saw the Mazda 3 travelling at a very high speed and the severity of the crash testifies to the fact that it was speeding at the same time a haulage truck was reversing from Zuva garage into Robert Mugabe road. Visibility was also poor because of mist. Due to poor visibility and speeding, the driver of the light vehicle failed to stop and the car smashed into a haulage truck that was reversing from the garage," said Mr Amos Chinembiri, an airtime vendor.
Cape Town: 50 people injured in bus & car collision on the N1 Klipheuwel road
31 Jul 2017, Cape Town: At least 50 people were injured after a bus and a vehicle collided on the N1 at the Klipheuwel turnoff in the Western Cape Sunday afternoon.
When ER24 arrived on scene just after 17h00, two people from the vehicle had to be extricated by the jaws of life. The rest of the patients were walking on the scene.
Injuries sustained varied from minor to serious. Two people from the vehicle was in a serious condition.
ER24 as well as other medical services on scene transported the patients to nearby hospitals for further medical care.
The exact circumstances surrounding the incident are not yet known to our paramedics but the SAPS and local authorities were on scene for further investigations.
4 people were injured, including an 8 year old boy when bakkie crashed into a tree
30 Jul 2017, Limpopo: Four people were injured, among them an 8-year-old boy, when the bakkie they were traveling in collided with a tree off De Eiland Road in Letsitele, Limpopo this afternoon.
When ER24 arrived on the scene at 14H22, the driver was still in the bakkie and the passengers were lying outside of the bakkie. The injuries ranged from moderate to serious.
ER24 and other medical services on scene transported the patients to Letaba hospital for further medical care. The exact circumstances of the incident are not yet known to our paramedics but local authorities were on scene for further investigations.
2 separate head-on collisions a few kilometers apart claimed the lives of 5 people
29 Jul 2017, Namibia: In the early hours of Friday morning on the Otjiwarongo – Otavi road, tragedy struck when a light motor vehicle and a truck, transporting cattle, collided. Sadly four occupants of the light motor vehicle passed away on the scene. It's also being reported that 10 cattle also died in the crash.
It's believed that the driver of the corolla was traveling on high speed and overtook other cars even though the truck was coming. The truck driver who tried his utmost best to avoid this but could not, he is currently in hospital .
IN ANOTHER INCIDENT: Another horrific car accident has occurred 40km north of Otjiwarongo on the B1 national road. A woman died on impact after the Toyota bakkie and a Toyota Avanza collided head on. The accident happened just a few kilometres from where another accident occurred this morning where four people died.
10 die in road accidents in Kisii and Narok
29th July 2017  
By GEORGE SAYAGIE
A matatu that was involved in a crash with a lorry on the Narok-Maai Mahiu road leaving five people dead and nine others injured. PHOTO | GEORGE SAYAGIE | NATION MEDIA GROUP
At least 10 people have been killed in road crashes in Narok and Kisii counties.
In Narok, five people among them four secondary schoolgirls travelling home for the August holidays died Friday in a crash involving a matatu and a lorry at Maltauro on Narok-Mai Mahiu road. Two students died on the spot while two others succumbed to injuries on arrival at the hospital in the accident that occurred at noon.
HOSPITALISED: Nine of the passengers in the 14-seater matatu among them students from different high schools in Narok are hospitalised. One of the dead students has been identified as from Ole Tipis Girls High School in Narok town. The critically injured were rushed to Narok County Referral Hospital for emergency operations and bodies taken to the facility's mortuary.
DRIVER ESCAPES: A police report said the ill-fated Nairobi-bound matatu was hit from the rear by a tipper lorry. "Both vehicles were descending from the Nairagie Enkare hills towards Mai Mahiu when the lorry driver lost control of the vehicle and hit the matatu, which was ahead of him," Narok police boss Joseph Kisombe said. Mr Kisombe said the lorry driver fled after the accident and police are following leads to arrest him.
BOY DIES: In Kisii, at least two more people have died following a grisly accident that occurred on Kisii-Kilgoris road on Wednesday evening. Health officials Friday said the death toll has climbed to five among them a son of Kisii Central MCA Wilfred Monyenye, Dickson Monyenye.
Also dead was a 12-year-old who was knocked while walking on the road. The politician's son was on a bicycle when he was hit.
RECOVERY: At least 15 people, some of them pedestrians, were injured during the 3pm incident. Dr Enock Ondari of the Kisii Teaching and Referral Hospital said one of the patients who sustained chest injuries will be transferred to an advanced health facility for specialised treatment.
"Doctors in these hospitals are doing their best and so far many of them are out of danger," Dr Ondari told reporters outside Hema Hospital where 12 patients are hospitalised.
The accident occurred when a pickup with 12 mourners enroute to Hema mortuary to pick the body of a family member rammed into a Nissan van heading to Kilgoris from Kisii.
Four people die in a road accident in Kisii County
28th July 2017
2011 Msongari school bus crash victim seeks Sh26m in damages
28th July 2017 By CAROLE MAINA 
A former student of Loreto Convent Msongari Madikizela Otieno's mother Rael Lubasi and lawyer Daniel Ouma at the Milimani courts yesterday /COLLINS KWEYU
The amount is the medical cost that she has spent in hospitals, both locally and abroad, following the tragic accident. She has sued the Catholic school for negligence in the accident that left 69 others and seven teachers injured.  The school bus in which they were travelling in rammed into a bus belonging to Kerugoya Boys Secondary School at Subuiga area, on the Meru-Nanyuki roa, Buuri District, on July 20, 2011.
Otieno, then a Standard Eight pupil, told Justice Richard Mwenda that earlier in the day they had tried to convince the school's principal to allow them to use two buses because the one they were in was overloaded. "Class eight and seven were going for a class tour. Class eight requested to use a separate bus," she told a court.
The Standard Seven and Eight pupils from Loreto were travelling to Samburu for an excursion. The court heard the bus did not have enough seats and they ended up sitting on each other. They could not use seat belts because they were not working. The witness told the court the bus stopped at some point and the driver opened the bonnet. But after a brief discussion with the principal, they proceeded with their journey.
Soon after, the teenager told the court, she heard a loud bang. Otieno became unconscious only to come to while in a pickup truck. "I was in a lot of pain. I just saw blood all over and my head was heavy," she said. Through her father George Oduori, the second-year student at Tottenham University in the UK wants the school to pay her Sh14,330 907, in special damages, and a further Sh12,500,000 for future medical expenses.
She suffered head and face injuries. Her arm and shoulders were also injured, and was treated at the Nairobi Hospital and London. She argues the accident was as a result of negligence of the driver who drove recklessly and dangerously without due regard to safety of pupils on board. Otieno is also blaming the institution for failing to check road worthiness of the bus, and for failing to ensure it was properly serviced.
The hearing resumes on October 30.
Nearly 96% of road accidents due to human factor
ALGIERS- Nearly 96% of road accidents that occurred in the first half of 2017 are due to human factor, said the National Centre of Road Prevention and Security (CNPSR).
Truck overturns, spills 34,000 ltrs of sulphuric acid
 A ZAMBIAN truck overturned near Cross Dete along the Bulawayo-Victoria Falls road on Monday, spilling 34 000 litres of deadly sulphuric acid.
Police officer commanding Hwange district, Chief Superintendent Newton Mutomba confirmed the accident and said efforts were underway to detoxify the area.
He said the accident occurred on Monday afternoon at Gulalembila, about 35km from Cross Dete. The truck was heading towards Zambia. "The accident happened on Monday when a Zambian truck driver lost control and veered off the road," Mutomba said. "The tank's lid burst and contents poured out, contaminating the area.
"The Environmental Management Agency and Civil Protection Unit are on the ground monitoring the situation and doing awareness campaigns to ensure that people are safe." There were no serious injuries, police said. The truck is still on the side of the road, where it is lying on its side.
Witnesses claimed the driver was speeding, as he was racing with other trucks. Lasts year, three haulage trucks piled up in Insuza along the same road, resulting in three people being burnt beyond recognition. One of the trucks was carrying gas, which spilled on the road, posing a danger to villagers.
St Augustine accident: 5 accused of murdering boy
27th July 2017
Ghana: Central Region records 524 accidents in first half of 2017
27th July 2017
 
Central Regional Police Commander, Deputy Commissioner of Police (DCOP), Rev. David Ampah Bennin, has disclosed that the region recorded 524 accident cases from January to June this year with 844 persons sustaining various degrees of injuries.
According to him, the figure indicates an increase from that of last year during the same period where 369 cases were recorded with 531 persons sustaining injuries. DCOP Ampah Bennin disclosed this when he opened a capacity building workshop for branch secretaries of the Ghana Private Road Transport Union (GPRTU) in Cape Coast organised by the regional secretaries of the union.
He lamented that the development means drivers were not taking the education and precautionary measures being given them seriously. The regional commander pointed out that the single most significant cause of accident in the country was broken-down vehicles which were often abandoned on the roads.
This, he indicated, accounted for over one quarter of the total deaths recorded during the first half of the year in the region. He, therefore, charged drivers to make all the necessary efforts to tow their vehicles off the road when it breaks down. He mentioned some of the causes of accidents as drivers giving their cars out as spare to teenage drivers, Sprinter drivers who drive carelessly, blatant disregard for road traffic regulations, drunk-driving, speeding and running red light among others.
"Let us stop unnecessary racing on the road. We are not competing with anyone. The best driver is the one who has reached his or her destination safely," he advised. "With this trend, education on road safety campaign must be intensified by all stakeholders concerned," he further advised.
DCOP Ampah Bennin revealed that his outfit has embarked on night snap checks on the main Cape Coast-Accra highway to check the recent surge in armed robbery activities on that stretch. "I'm proud to say that since the night snap checks begun, there has not been a single robbery on that stretch of the road," he boasted.
The commander explained that the five-day training workshop is aimed at building the capacity of key transport administrators to improve upon their performance.
Drunk lorry driver arrested after four die in multiple car crash
Jul. 26, 2017,  By WAMBUGU KANYI  
Four people died in a multiple vehicle accident at Embassy area on Nyeri-Mweiga highway on Tuesday. Three others were injured in the 3pm incident involving three personal cars and a lorry.
Joseph Kinyanjui, the lorry driver, is said to have lost control while trying to overtake another lorry. Nyeri Central Divisional Police commander Muinde Kioko said Kinyanjui was unhurt and is in police custody on suspicion that he was drunk at the time of the accident.
Witnesses said the lorry, which was transporting animal feeds, rammed into three oncoming vehicles after losing control. The first vehicle to be hit had a male and female passenger who died on the spot. The driver of the second vehicle died as other motorists and police attempted to rescue him from the mangled wreckage. Occupants of the third vehicle escaped with minor injuries.
The deceased were taken to Nyeri Referral Hospital morgue, while the wreckages were towed to Nyeri Central Police Station. 
'Bulawayo-Harare highway deadliest'
by Staff reporter 26th July 2017
THE refurbished Harare-Bulawayo highway has accounted for most fatal road accidents in the past year although it is the best in terms of navigability. The stretch recorded 569 accidents representing 44 percent of the 1 291 road fatalities that occurred across the country in 2016.
About 304 (23 percent) were recorded along the Beitbridge-Chirundu highway. The Harare-Bindura and Harare-Murehwa roads contributed 128 and 97 cases, respectively.  The other 193 fatal accidents occurred in all the urban centres combined.
The statistics put to rest the notion that poor state of the roads are the major contributors to accidents. Speaking during the Driver of the Year National Awards ceremony held in Mutare over the weekend, Minister of Transport and Infrastructural Development Dr Jorum Gumbo said drivers should be responsible on the road to reduce carnage.
He said the Government was committed to the United Nations Decade of Action for Road Safety goal aimed at reducing road deaths by 50 percent by the year 2020. Dr Gumbo said an average of five people were killed while approximately 38 were injured in road accidents daily.
"Government is committed to the United Nations Decade of Action for Road Safety which seeks to reduce road deaths by 50 percent by the year 2020. "Drivers must therefore complement Government efforts if holistic road safety is to be achieved.
"Driving excellence is what every driver, at any level, would want to achieve so as to minimise the chances of being involved in road traffic accidents," said Dr Gumbo. Sixty-five provincial winners in different categories gathered in the Manicaland capital for the national competition. The competition seeks to improve "roadcraft" among drivers.
Dr Gumbo said the purpose of the competition was to promote good and responsible drivers. He said rewarding those who would have excelled would go a long way in achieving this goal. "There is no doubt that the purpose of this competition in promoting good and responsible driving goes a long way in reducing the carnage on the roads.
"Excellence in driving is gained through the acquisition of necessary road driving schools. These skills are further reinforced through competitions like the one we witnessed here in Mutare," he said.
Minister of State for Manicaland Province Honourable Mandi Chimene and Chikanga-Dangamvura Constituency Legislator Honourable Esau Mupfumi were some of the delegates who graced the ceremony.
Policeman was driving the doomed CRV
A POLICE officer was driving the Honda CRV which collided head-on with a Nissan Caravan at the 60-kilometre peg along Mvurwi-Centenary Road on Monday, killing 11 people and injuring 14 others.
Information gathered by The Herald yesterday, from the scene of the accident, showed that the CRV was being driven by a Centenary police officer, who was taking a murder and rape suspect from Bindura to Centenary for indications and was accompanied by two other officers.
It could not be immediately established, who, among the three deceased officers, only identified as Inspector Nehwangura (officer-in-charge Centenary), Constables Mashona and Zenda was driving the vehicle.
It is alleged that the suspect had beaten and raped an elderly woman in Centenary. The granny later died from injuries sustained from the attack, leading to the arrest of the suspect.
Speaking from the accident scene, the officer commanding national traffic Assistant Commissioner Isaac Tayengwa confirmed the death of the three officers from the Honda CRV. Asst Comm Tayengwa could neither deny nor confirm if a tussle occurred in the vehicle or that the driver could have been speeding.
"What we want to urge motorists is that they should always observe speed limits and take caution when approaching curves. In this case, we are not sure what could have happened inside the car. But yes, I can confirm that the officer-in-charge of Centenary, and two other officers were also in that vehicle and they were taking a murder and rape suspect to Centenary," said Asst Comm Tayengwa.
11 burn to death in kombi crash – full report
  ELEVEN people were burnt beyond recognition while 14 others were seriously injured when a Honda CRV vehicle collided with a Nissan Caravan at the 60km peg along the Centenary-Mvurwi Road yesterday afternoon.
The driver of the Honda CRV vehicle reportedly encroached into the lane of the Nissan Caravan at a curve causing the head-on collision. Both vehicles caught fire upon colliding.
Of the deceased, four were in the Honda CRV while seven were travelling in the Nissan Caravan. The Nissan Caravan had 21 passengers on board.
Police spokesperson Senior Assistant Commissioner Charity Charamba confirmed the accident last night. "Both cars caught fire upon colliding and the accident happened at a curve," she said. "Preliminary indications are that both cars were speeding and the driver of the Honda CRV encroached into the lane of the Nissan Caravan. Of the 14 injured, five were transferred to Parirenyatwa Hospital while others are admitted at Mvurwi hospital. It is sad bread winners, precious lives have been lost."
She said the survivors were rescued by a herdboy. "We want to thank him for being brave," she said. "In some instances, he had to pour water on the bodies of those passengers who were burning."
Snr Asst Comm Charamba said drivers should always abide by the road rules and regulations. "We have always stated as police that drivers should always stick to their side of the road especially when they cannot see what is approaching," she said.
"The fact that both vehicles caught fire suggests they were speeding. Moreover, 21 passengers in a Nissan Caravan is massive overloading." She added: "We appeal to drivers to exercise extreme caution especially when carrying passengers to avoid these kind of accidents. We urge members of the public who have relatives who might have been travelling along that route yesterday and are not locating them to approach Mvurwi Police Station. Police will also be updating the public as and when the information becomes available."
The accident comes after 43 people were killed last month in an accident that involved a King Lion bus along the Harare-Chirundu Highway. Preliminary investigations showed that it was caused by a tyre burst and speeding. The accident was declared a state of disaster. Human error has been blamed for most accidents.
Two perish in accident involving trailer and personal vehicle near Salgaa
By Mercy Kahenda 25th July 2017
Two people died in a road crash at Teachers near Salgaa Trading Centre on the Nakuru-Eldoret highway. Rongai OCPD Joseph Kioko said the weekend accident involved a trailer that was heading to Eldoret from Nairobi and a car.
The dead were among the three people in the car that was travelling to Nakuru from Eldoret. The third person sustained minor injuries while the trailer's driver escaped unhurt, according to the police boss.
The injured passenger was taken to Rift Valley Provincial General Hospital where he was treated and discharged. According to Kioko, the car was overtaking recklessly when it collided with the trailer head-on. He asked motorists to observe traffic rules and to avoid driving while drunk. He said there is increased traffic on the road as the August 8 election nears.
 Fourteen persons yesterday lost their lives in a fatal motor accident along Ife-Ibadan Expressway.
Daily Sun gathered that the victims were burnt beyond recognition in the accident which occurred at Moremi Estate Junction, Opposite Energy Filling Station, along Ibadan-Ife Road early yesterday morning.
The accident involved an 18-passenger Urvan commercial bus plying Ore/Ondo-Ibadan Expressway and a diesel-laden white colour truck with a Lagos registration number: MUS 702 XH.
We gathered that no sooner the truck had negotiated a very sharp bend than the bus, which was coming in top speed, rammed into it. The crash sparked fire immediately.
The passengers in the bus were trapped and could not escape because the engine of the truck pummelled the bus so much that they could not find their way out immediately, until they were consumed by the raging inferno.
We further gathered that nine passengers died on the spot, including six adults and three children.  They were burnt beyond recognition. Three passengers got timely intervention of Seventh Day Adventist Hospitals, where they were rushed to for treatment, but one of them died later.  The Osun State Sector Commander of the Federal Roads Safety Corps (FRSC), Mr Anthony Oko, who confirmed the accident, said the  survivors, who sustained critical injuries, had been taken to the hospital for treatment.
Research: These medicines can walk you into road accidents
By Gatonye Gathura  Mon, July 24th 2017
Medicines labelled as risky to take and drive or operate machinery have also been found to be dangerous for pedestrians to use and walk on motor ways. Some of the medicines known to affect user alertness, speed, balance, vision and hearing are now confirmed to be the cause of many pedestrian traffic accidents.
A study among 16,458 pedestrians involved in injurious traffic accidents has linked the crashes to the kind of medications the victims had been taking. The research linked 48 classes of medicine to the traffic accidents. Medicines for treating anxiety, allergies, arthritis, and pain were among the 10 most consumed by the studied pedestrians. Other drugs found to be a cause for concern are those for treating diabetes, high blood pressure, and migraine. Also featuring prominently on the list were pain medications – opioids.
The study covering a seven-year period involved a group of French universities and the national transport agencies and was led by the University of Bordeaux. The team concluded that several classes of medicine were associated with an increased risk of a pedestrian being involved in a road traffic crash. They also report that the medicines, which warn users against driving or operating machinery, were largely the same ones involved in pedestrian accidents. The study published last Tuesday in the journal, Plos Medicine, wants messages warning users not to take and drive to be extended to pedestrians. The study shows that most of the accidents (76 per cent) involved 12,474 pedestrians while they were crossing the road in good weather and working traffic lights.
Rein in schools that predispose their learners to road accidents
By The Standard 24th July 2017
A dangerous trend is cropping up — that of schools predisposing children to road accidents through sheer negligence and blatant disregard for basic safety rules.
On Friday, a kindergarten pupil died in a nasty accident involving a school bus in Tudor, Mombasa (see below) .
Six-year-old Jeremy Musila of St Augustine Primary School was run over when he slipped through a hole on the floor of the bus. The strange circumstances surrounding the death of the minor not only shocked the country but also raised the spectre of risks that await school children, especially in urban areas.
While safety is a shared responsibility, it is regrettable that our sense of concern regarding keeping every child safe in school only gets renewed with each tragedy that strikes. Still, we only scratch the surface in search for solutions. Last year, 180 children died in road accidents between January and August alone, according to statistics by the National Transport and Safety Authority (NTSA).
The figures are perturbing. On July 1, 2015, a three-year old boy was crushed to death after alighting from a school bus at Nyayo estate in Nairobi. On August 12 last year, four learners died in Kisii after their school bus, which was on a road test, rolled while on June 15 same year, three students died in Baringo in a crash that left many unanswered questions.
The safety of children must not be taken for granted any longer. Rather than be defensive, we urge school administrators to take safety to heart. NTSA should ride on the back of the road safety Bill signed by President Kenyatta on Friday to rein in disobliging schools. Strict enforcement of the Traffic Amendment Act 2017, which seeks to amend the Traffic (cap 403) should be a game changer. It provides that school vehicles meet all set standards. It should also be a policy that children are accompanied whenever being picked or dropped. Lax oversight in the transport sector must stop now.
1,695 killed in over 12,000 road accidents in H1 2017
24th July 2017 
ALGIERS – The National Center of Prevention and Road Safety (CNPSR) recorded 12,358 road accidents, killing 1,695 and wounding 17,715 during the first half of 2017, the centre said in a report.
Mystery shrouds Mugabe accident
 Mystery surrounds the car which was involved in a horrific accident with a biker who was leading President Robert Mugabe's motorcade last Saturday.
On Saturday, one of the bikers leading the motorcade was involved in a crash with an Isuzu truck near the One Commando military base along Airport Road as Mugabe was making his way from the Harare International Airport upon his return from a medical visit in Singapore.
The biker suffered multiple injuries and was admitted to hospital.
Before that had happened, Mugabe's wife, Grace, had been injured at the airport in a freak accident that occurred when the presidential chauffeur moved the car before the First Lady had been fully onboard.
The Daily News can report that in the case of the biker's accident, nothing is known about the driver of the Isuzu truck, nor the owner despite the mysterious car having a registration, AAX 3166, whose search at the Central Vehicle Registry last week presented more questions than answers.
Despite having a number plate, the Isuzu did not exist in the registration books, further adding curiosity to ownership and authenticity of the registration number displayed by the car. Police refused to comment, insisting that the investigative officer who attended the scene would be the best person to handle our enquiries.
It was not clear who had attended the scene of the accident as it happened on the borders of Hatfield, Cranborne and Braeside police stations. Authorities have zero tolerance for motorists who obstruct or fail to pave way for the presidential motorcade. Protocol demands that motorists – including vehicles that may belong to other security arms not part of the presidential motorcade – pave way for Mugabe.
In fact, according to the law, it is an offence not to pull from the road when Mugabe's speeding motorcade approaches. Several people have either been fined or jailed for falling foul of the laws governing Mugabe's motorcade. One classical example is of a Victoria Falls man, Trinity Gonongono, who was jailed 30 years when he failed to make way for the presidential motorcade.
Last Saturday's crash was not the first time that Mugabe's motorcade has been involved in crashes with motorists. In May this year, one of Mugabe's motorcade outriders was left badly injured in Harare during the evening rush hour, after he crashed into a motorist while trying to clear traffic for the Zanu-PF leader who was on his way to State House where he was hosting Lesotho king, King Letsie III.
In May last year, Mugabe's motorcade was involved in a similar accident when another of the outriders crashed into a commuter omnibus whose driver was later charged with negligent driving. And in one of the most horrific crashes to involve the presidential motorcade in 2012, one of Mugabe's outriders met a horrific death when his bike caught fire near Sam Levy village in Borrowdale, Harare.
Traumatised eyewitnesses watched helplessly then as the outrider writhed on the side of the road in agony, battling for dear life as his motorbike – which was lying by his side – was consumed by a raging fire, which also killed him moments later. This was after some passing motorists had desperately tried to put out the fire using their fire extinguishers.
Also in 2012, a police lead vehicle sent to clear traffic ahead of the president's oncoming convoy, rammed into a commuter minibus carrying 22 passengers. A male passenger in the minibus died on impact with a police Mercedes, while 15 other people – including two police officers – were seriously injured.
On another trip to Zvimba in the same year, the presidential convoy was also involved in two accidents. In the first crash, a homeless man was knocked down by a police motorbike in Harare – with the police outrider and the victim both being hospitalised, and the homeless man dying later. And as the president's convoy left Kutama on the return journey, an open-top army Land Cruiser carrying members of the presidential guard burst a tyre and overturned – killing Jeoffrey Mukotekwa and wounding several others.
A 7-year-old pupil crushed to death by school bus
22nd July 2017
A six year old kindergarten pupil was Friday morning crushed to death by a school bus in Mombasa County.
According to eye witnesses the boy fell off through an opening on the floor of the bus in a bizarre incident that has left the school fraternity with questions.
A sombre mood engulfed St. Augustine preparatory school community immediately they received the tragic news. It is said that at around 6am as the vehicle made its way through town picking up pupils, one of them a boy fell into a hole in the rusted floor of the bus and was crushed to death by the rear wheels.
Parents and guardians decried the sorry state of the school bus which they described as too old. They blamed the school management for negligence and called on the Ministry of Education to take action. The heartbreaking accident points to what could be a case of negligence by the school management and human rights activists want it to held responsible for endangering the lives of pupils.
Ghana: Another stationary car causes near fatality
The Ford Focus car crashed into the back of a Scania articulated truck
The driver of a Ford Focus car crashed into a disabled truck at Asemasa on the Beposo road in the Western Region in the early hours of the morning.
According to the Ghana Police MTTU, Ano Simon, a Togolese national was driving from Lome in the Republic of Togo to Abidjan when the incident happened.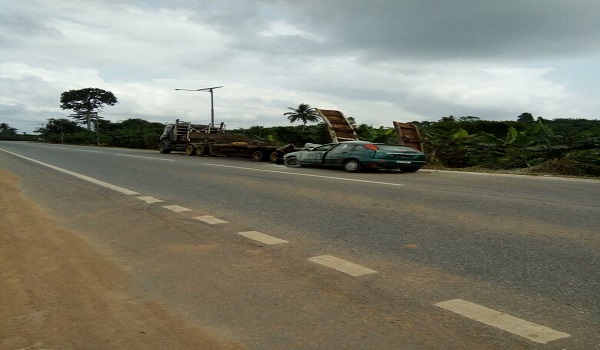 On reaching Asemasa near Beposo, he crashed into the back of a Scania articulated truck (WR 4195-12), which had broken down and was left in the middle of the road. The driver who was seriously injured was rushed to the Benedict hospital at Inchaban, where he was admitted, in a critical condition. The truck driver, Appah Reynolds, is currently in police custody, according to Supt. Richard Appiah of the MTTU in Sekondi.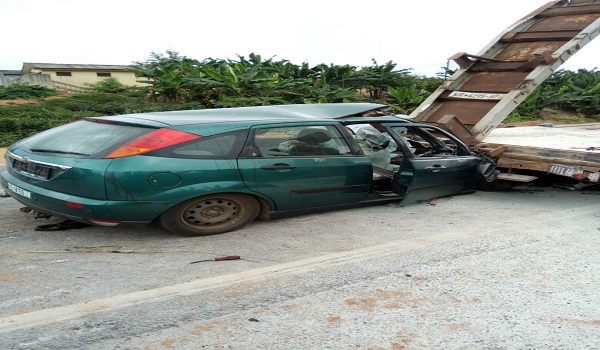 It will be recalled that the postponement of the National Towing Service has brought to the fort, the incidences of constant loss of lives and near-fatal accidents reported as a result of broken down, abandoned and disabled cars on major travelling routes across the country.
According statistics from the National Road Safety Commission, 21-25 percent of these crashes result in fatalities and the economic loss of livelihoods of innocent people annually.
 Traffic police introduces campaign to lessen road accidents
Jul 21st 2017, 5:02 PM , thecitizen.co.tz
Dar es Salaam. The ministry for Home Affairs has organized a countrywide campaign that aims to raise public awareness on road safety in a bid to curb road related accidents. This was said by Deputy Minister for Home Affairs, Mr Hamad Masauni when he spoke to reporters today. He said the national campaign is part of implementation of second phase of the strategic plan to mitigate road accidents in the country.
 Irish medical students injured in road accident in Malawi
21st July 2017
One of the group suffered a dislocated collarbone but the extent of the injuries of the others is not yet known.
A spokesman for the Department of Foreign Affairs confirmed to Independent.ie that they are aware of the incident and the department is providing consular assistance.
Tragic crash leaves one mother in ICU and another without two children
21st July 2017  Seugnet van Zyl and Ügen Vos, Netwerk24 
That's how Itha Kieser, production editor at  Wild&Jag/Game&Hunt magazine, announced the tragic news in a post on Facebook, Netwerk24reported on Wednesday.Christian, 15, Aldin, 12, and Itha's estranged husband, Heinrich, died on impact when their sport utility vehicle (SUV) crashed head-on into a truck on the N4, between Malelane and Hectorspruit on Tuesday afternoon.Joseph Mabuza, a spokesperson for the Department of Community Safety in Mpumalanga, said the truck driver had tried to avoid a collision with a car in front of him. He swerved to the right and smashed into Kiesers' SUV."We are still in shock," said her brother, Herman Pienaar. Gillian Venter, 47, and her son Jordan, 15, a Grade 9 pupil at Paul Roos Gymnasium in Stellenbosch, were on their way back with Heinrich after a holiday in Mozambique. Both are in Intensive Care in a hospital in Mbombela.
 ZimStat apologises for wrong accidents
statistics
July 21, 2017 
The Zimbabwe National Statistics Agency (ZimStat) yesterday admitted its statistics showing an increase by over 100 000 in road traffic accidents between 2015 and 2016 were wrong. ZimStat posted the wrong figures on its website, angering the Zimbabwe Republic Police, which is the major custodian of road accident statistics.
ZimStat had attributed the statistics to the Police General Headquarters.
Addressing a Press conference yesterday, ZimStat director-general Mr Mutasa Dzinotizei said they were going to take measures internally to deal with the issue. "The Zimbabwe National Statistics Agency wishes to unreservedly apologise to the whole nation for
any inconveniences and anxiety that may have been occasioned by the publication of incorrect information from our website," he said.
"We are going to take corrective measures internally to deal with this issue. The above constitutes a complete retraction of the stories that appeared in the media as a result of ZimStat mistake. "In future, due diligence will be exercised before figures are published and placed on our website. I sincerely apologise to the Government of Zimbabwe and to the Zimbabwe Republic Police in particular."
Mr Dzinotizei said the ZimStat received road accident statistics from Police General Headquarters in February this year. He said the correct figures that should have reflected for 2016 were that during the first quarter as at March was 11 392 accidents, second quarter as at June 11 847, 11 304 for third quarter as at September and 12 138 for fourth quarter as at December.
"This gives the correct total figure of 46 681 road accidents that occurred in 2016 and not 159 490 accidents as quoted in the media," he said. "The statistics on deaths and injuries were also erroneously given in the media as 9 301 and 44 917. The correct figures are 1 584 and 11 605 respectively."
Speaking at the same press conference, police chief spokesperson Senior Assistant Commissioner Charity Charamba said since 1965, road traffic accidents in the country had never reached 100 000. "The highest figure that was recorded in 1988 was a total of 58 101," she said.
On Tuesday, ZRP reacted angrily to the statistics quoted from the ZimStat website, accusing The Herald of cooking up the figures. In a tirade-laden statement, police claimed they last gave statistics to ZimStat in 2015.
'My heart is bleeding': man's pain at losing both wife and daughter
 21st July 2017  Nokuthula Khanyile, The Witness 
The scene after the attack.
"My heart is bleeding. I have lost two people that were dear to me." Those were the heartbreaking words of Sifiso Ximba from Ntshanga, who described the pain of losing his wife and daughter on the same day. Nondumiso Ximba (31) died in hospital and her eight-year-old daughter, Yolanda, died at the scene after they were hit by a bakkie on the N3 near the Cato Ridge off-ramp on Tuesday.
The bakkie, believed to be that of Mpumalanga Taxi Association vice-chairperson Dumisani Gwala, collided with another vehicle and veered from the roadway, hitting the mother and child.According to police, Gwala and another executive member of the association were travelling to Pietermaritzburg when occupants of a VW Golf started shooting at them. In an attempt to flee the shooters, Gwala veered off the road and hit the mother and child. Gwala was shot and died at the scene.
A car crash left me paralysed but I'm learning to live again
20th July 2017
Brian Muchiri before and after the accident. He was involved in a road accident in 2014 that left him paralysed. PHOTOS| COURTESY 
In Summary
At Aga Khan, MRI scans showed that I had suffered a C5 and C7 fracture to the spine, meaning I lost control of anything below my armpits, including my hands.
Doctors explained that the condition was incurable. They gave me painkillers to manage the pain from the fractures.
By the time I was discharged a month later, I was too weak to even sit up in the wheelchair.
By MILLICENT MWOLOLO  
It was just before 6am on Saturday, February 8, 2014. I was travelling back home from a party in Nakuru with four friends, one of whom was driving. A truck in the climbing lane was approaching us dangerously fast from the opposite direction and before we knew it, there was a head-on collision. It happened within seconds. Two days later, when I regained consciousness, I found myself in a hospital bed.
My name is Brian Muchiri Waihenya. I am 23 and this is the story of how my life changed within
Read more @ http://www.nation.co.ke/lifestyle/family/learning-to-live-again-as-a-paraplegic/1954198-4020028-7vcpkiz/index.html
Ghana: Two injured in ghastly accident
The accident involved a petrol tanker truck and a Cape Coast bound Metro Mass Bus
Two people have been severely injured in a ghastly accident that occurred at Assin Dansame on the Cape Coast – Kumasi High way.
The accident involved a petrol tanker truck and a Cape Coast bound Metro Mass Bus. The driver of the diesel tanker in an attempt to dodge a pothole at the middle of the road lost control hitting the Metro Mass Bus, sammersaulting and catching fire in the process. The driver and one other person in the diesel tanker truck were rescued before the car finally burst into flames.
The two, the driver and mate of the petrol tanker truck have been sent to the Francis Xavier Hospital at Assin Fosu for treatment. The Assin Praso District Police Superintendent Alhasan Sabaliko who confirmed the incident to Kasapa News' Central regional Correspondent Kwaku Baah-Acheamfour attributed the accident to the poor nature of the road .
The area, he explained has already witnessed four serious accidents in the last one month with some lives being lost. He therefore called on authorities to move in to fix the road to avoid a major catastrophe.
Road accidents: 48 dead, 2047 injured in one week 
20th July 2017
ALGIERS-Forty-eight people died and 2,047 others were injured in road accidents that occurred countrywide in one week, the Civil Protection announced Tuesday in a toll.
Two Feared Dead After Car Crashes Into River Tana
Two people are feared dead after the car they were traveling in veered off the road on Sunday and crashed into the crocodile-infested River Tana in Bura constituency. According to Garissa police boss Aaron Moriasi, two others, the driver and codriver, managed to swim to safety. They were treated for minor injuries and shock and later discharged.
The missing people were identified as Cyprian Ogallo, a student at NEP technical college, and George Onyango, a teacher in Garissa town. The survivors are driver David Wendo, an NIS desk officer based in Garissa, and Beryl Atieno.
The police boss said the car was traveling from Madogo to Garissa, but the occupants diverted to a local social joint in Mororo at 9.30pm, when the driver lost control of the vehicle. "Police officers rushed to scene immediately and cordoned off the scene. Unfortunately, the other two never surfaced," Moriasi said. "We shall confirm their status when we retrieve them either alive or dead from the river. At this point, we are doing everything within our powers as a police service to ensure that the vehicle and the two victims are taken out of the river."
UPDATE: The bodies of the two men believed to be brothers have been recovered 17 hours after the vehicle plunged into the crocodile infested river.
Watch the video below.
Four killed, ten injured in an accident along Masaka-Mbarara highway
19th July 2017
26 cars involved in N17 crash pile-up
 19th July 2017
Johhanesburg – Dashcam footage shows a huge crash involving 26 cars  along the N17 in Springs earlier in July. The pile-up was due to a nearby veld fire covering the road in heavy smoke.
Veld fire smoke: The smoke was said to be as a result of a veld fire next to the highway. Heavy smog drastically reduced visibility. Several motorists were injured in a chain of collisions on both sides of the highway. 26 cars are said to have been involved in the vehicle pile-up, according to Arrive Alive South Africa.
Safe driving recommendations: List by Arrive Alive
1 In the event of a fire, visibility can be reduced due to smoke and there may be large volumes of slow-moving traffic – drastically reduce speed, drive carefully and be on full alert.
2 If visibility becomes poor, don't attempt to drive through thick smoke or flame – many accidents occur when drivers attempt this.
3 Switch on your headlights and hazards so that you are as visible as possible to other vehicles, particularly fire tankers / emergency workers.
Reasons behind fatal road accidents in Kenya
Road accidents are now considered as the major cause of deaths in the country. The innocent lives are lost leaving relatives with losses and psychological torture. As the National Transport and safety Authority (NTSA) try to do their best to reduce the number of accident in the country, we still encounter such issues due to negligence. According to the NTSA statistics as at June 20th 2017, 521 pedestrians have died on roads compared to last years' 581 on the same date. A total of over one hundred and fifty drivers have lost their lives in such incidences.
Notable major causes of accidents are over speeding where drivers don't obey the speed limit that has been put for them. Overloading has become a common thing that many touts have embraced in search for more money. Many Kenyan drivers and travelers tend to ignore basic traffic rules used in driving of vehicles in favour of their preferred way of travel.
The introduction of Alco blow gadgets, confirms that many Kenyans opt to drive their vehicles when they are eventually drunk. However, this makes it easy for accidents and commotions to be caused on roads. Another major reason is that very few Kenyans will observe the regular policy of wearing safety belts that are crucial in helping them avoid minor injuries.
Efforts made by Former Transport and Communications Minister, John Njoroge Michuki to reform public transport since February 2004, especially the chaotic Matatu (Taxi) sector have been assumed. The rise in road traffic accidents are expected to rise if measures are not taken by both the people and the government.
Shock rise in road traffic accidents
Road traffic accidents went up by over 100 000 last year, while the number of deaths increased by 75 percent despite heavy police presence on the country's major roads, recent statistics from the Zimbabwe National Statistics Agency (Zimstat) reveal. 
Government in March reduced the number of police roadblocks following complaints from motorists, the public and tourists.
In its 2017 First Quarter digest statistics, Zimstat said road traffic accidents increased nearly four times from 45 701 in 2015 to 159 490 in 2016. This resulted in an increase in the number of fatalities from 2 368 in 2014 to 9 301 in 2016. A total of 44 917 people got injured during 2016, up from 12 399 in 2014.
The report further showed that between January and March this year, 319 people died in over 11 000 accidents recorded. In April this year, a South Africa-bound Proliner bus left 21 people burnt beyond recognition after it side-swiped a haulage truck in Mvuma before catching fire.
Last month, a Lusaka-bound King Lion bus left 45 dead after it veered off the road and ploughed into a tree along the Harare-Chirundu Highway. According to eyewitnesses, the bus had 76 passengers instead of 69 and was speeding.
Road accident investigators claim that accidents in Zimbabwe are caused by vehicle defects, speeding, animals, following too close to another vehicle, driver fatigue (inattention, misjudgement and distraction), failure to give way and turning in front of oncoming traffic.
However, Home Affairs Deputy Minister Obedingwa Mguni said police have been doing their work "but can only work to certain levels in preventing accidents".
"Police cannot stop accidents. It is the duty of the Vehicle Inspection Department (VID) to check a vehicle's fitness and road worthiness otherwise police would have done their part," said Deputy Minister Mguni.
Deputy Minister Mguni urged motorists and the public at large to be responsible and report any road traffic offence, particularly now that Government has reduced the number of roadblocks on the country's roads. "The problem that comes with reducing roadblocks is that motorists become complacent to observing traffic regulations. People must know that the police are on the roads to enforce the law," he said.
He said reducing the number of roadblocks, therefore does not mean people should stop being responsible. "The day we withdrew some details on the roads, there was a horrific accident on the Mutare highway and just today I saw a taxi driving in the opposite direction, which is a clear indication of reckless driving," said Deputy Minister Mnguni.
According to the same Zimstat report, the number of road traffic crimes has also been on the increase with 445 people fined for reckless driving in 2016 up from 266 in 2013. A total of 128 cases have already been recorded between January and March this year for reckless driving.
The number of negligent driving cases have also been increasing from 2 979 in 2013 to 6 312 in 2016. A total of 1 733 cases of negligent driving have been recorded in the first quarter of 2017. However, cases of other criminal activities such as robberies, armed robbery, and possession and selling of dangerous drugs have been going down. According to the report, cases of people caught in possession of dangerous drugs have gone down from a high of 3 462 in 2013 to 236 in 2016.  Thirty-five people have so far been arrested for possessing dangerous drugs between January and March this year.
The report further showed a decline in the number of people caught supplying these dangerous drugs from 292 in 2013 down to eight in 2016 and since the beginning of the year, only two people were arrested for selling dangerous drugs.
On robberies, the report showed a decline in recorded cases from 6 925 cases in 2013 to 2 583 in 2016. Armed robberies also declined from 554 cases in 2013 down to 214 in 2016.
"The figures given are crimes reported to the police for the periods shown. They are national total derived from reports from all stations," reads the Zimstat report. The Herald
6 killed in car crash on Lagos-Sagamu expressway
Author: Oluwatobi Bolashodun 18th July 2017
Not less than six persons have died in an accident on the Lagos-Sagamu expressway – Four people were injured in the accident which occurred at about 2.12 pm – Those injured are receiving treatment at the Sagamu General Hospital while the corpses had been deposited at the morgue.
The Federal Road Safety Commission (FRSC) in Ogun said six persons died while four were injured in an accident on the Lagos-Sagamu expressway on Monday. The Ogun Sector Commander of the FRSC, Mr Clement Oladele, told the News Agency of Nigeria (NAN) in Ota, Ogun, that the accident occurred at about 2.12 pm.
IPOB Oladele said that a Nissan Quest van with registration number FKJ 297 AJ coming from Ikorodu to Ibadan rammed into a moving Iveco truck due to excessive speed. The crash, he said, resulted in the death of the six persons while four sustained injuries. "The four injured persons are receiving treatment at the Sagamu General Hospital while the corpses had been deposited at the morgue," he said. He advised motorists to desist from excessive speed, especially during the rainy season.
Seven dead, 11 injured in Jinja road accident
Seven people have been confirmed dead and eleven others seriously injured following a road accident involving a taxi and two trailers. The accident happened Sunday evening at Bulyantete, a few kilometres from Lugazi town along Kampala Jinja High way.
According to eye witnesses, one of the trailers that was from a nearby washing bay entered the road abruptly hitting a taxi that was travelling from Kampala to Jinja. The driver of the second trailer that was travelling from Kampala failed to brake and rammed into the taxi.
The injured have been rushed to Kawolo hospital for treatment while bodies of the deceased have also been taken to Kawolo hospital mortuary for post-mortem. The trailer that reportedly caused the accident is reg. No. KPJ 271L/ZD 195 and the Taxi is reg. No UAZ 971R.The second fuel tanker was UAX 170Q/UAY 064C travelling from Kampala to Nairobi.
Watch: Mob justice after cop causes kombi crash
 AN angry mob rained blows on a police officer who had allegedly caused an accident by grabbing the steering wheel from a driver whose commuter omnibus he had impounded on Saturday. The cop's actions caused the vehicle to ram into a shop.
A passenger who declined to be named said the cop had ordered the driver to drive to Drill Hall Police Station but had apparently changed his mind and seemed to ask for a bribe. "The driver appeared not to cooperate, resulting in the cop grabbing the steering wheel," said the passenger.
The Bulawayo United Public Transporters Association (Bupta) kombi uprooted a pillar and crashed into a glass display at a hardware shop at the corner of Third Avenue and Lobengula Street around 10AM. Witnesses said the commuter omnibus which had been impounded by police at a check point near McKeurtan Primary School "dangerously zigzagged across the road" and sent pedestrians scurrying for cover as the driver and the unnamed cop wrestled for the steering wheel.
"The kombi started swerving and we knew something was wrong.  It then shot off the road and hit a pillar forcing its way into the hardware shop." said Mr Alliance Kamuti. "If it wasn't for the pillar, there would have been serious injuries." Only the driver is said to have sustained minor injuries in the fracas.
Another witness said the officer who had impounded the vehicle tried to flee with an angry mob in hot pursuit. "Some people kicked and punched him all over the body. He ran across the road. He seemed dazed as he returned towards the mob. Angry pedestrians ran after him and one slapped him before his colleagues rescued him," said the witness.
The shop owner, who only identified himself as Mr N Moyo, said: "I was inside the shop when I heard a loud bang.  I went outside to investigate and saw that a kombi had slammed into my shop." He said the officer jumped out of the car and fled. "When I got outside, the police officer started running away.  I tried to stop him but he continued running," said Mr Moyo. "The driver disembarked from the kombi screaming that the cop had grabbed the steering wheel causing him to lose control."
Mr Moyo said battles between traffic police and kombi drivers should not endanger the public.
"This is not right, so we have to die just because the police want a $5 bribe. They should keep their battles to themselves and not put the public in danger," said Mr Moyo. "We can't die because someone wants a $5 dollar bribe. Imagine if there were people on the pavement, they would have all died and their families would suffer. "If the police want bribes, it's better they brand their roadblocks as tollgates so that we know every time we approach a police check point that we have to leave some money."
Mr Moyo said he reported the matter to the police. "They refused to attend the scene citing security reasons. They said they were waiting for back-up as people were now beating officers of the law," he said. Bulawayo provincial police spokesperson Inspector Precious Simango yesterday said she was yet to receive a report of the issue.
Bupta secretary general Mr Albert Ncube declined to comment for the same reason.
Four perish in accident along Masaka-Mbarara highway
Grace Mugabe in freak accident
 In a statement, Charamba confirmed that the First Lady, Dr Mugabe suffered some soft tissue bruising on the right ankle as a result of a freak car incident at the Harare International Airport soon after arrival this morning.
The accident occurred as the First Family was about to leave the airport for the residence.
The First Lady was taken to local facilities where doctors examined and treated the bruise and confirmed that she suffered no major injury. At the time of her discharge, she complained of pain from the hurt ankle.
The President, accompanied by daughter Bona and son-in-law, Simba Chikore were with the First Lady throughout the examination, treatment and subsequent discharge.
Jubilee parliamentary candidate dies in road accident along Kisii-Kisumu road
By Erick Abuga 15th July 2017
Three people among them Leonard Mwamba, Kitutu Chache South constituency Jubilee candidate die in a road accident at Nyakoe Market along Kisii-Kisumu road. One male passenger died on the way to hospital while the class four child died on the spot after the Land cruiser Prado lost control and crashed him.
Sources say the aspirant was in the car together with four other passengers who have all been rushed to a private hospital in Kisii town.
Woman dies during N17 pile-up
15th July 2017 Lizeka Tandwa, News24 
 Johannesburg – A woman was killed in an accident on the N17 in Springs on Friday afternoon, believed to have been caused by a veld fire, paramedics said.
Several motorists were injured in a chain of collisions on both sides of the highway, Netcare 911 spokesperson Nick Dollman said.The Netcare 911 helicopter was dispatched to the scene while the 48-year-old woman was still trapped in her bakkie. Firefighters used the Jaws of Life to free her. She succumbed to her injuries while paramedics tried to resuscitate her.On each side of the road, roughly several hundred meters apart, there were accidents involving about 20 vehicles.
Cop arrested over $10 bribe
A JUNIOR traffic police officer based in Kwekwe was taken to court on Monday charged for public abuse of office after he was allegedly caught red-handed receiving a $10 bribe from a traffic offender. The accused, Constable Newrance Chikwanda (40), denied the charge and provincial magistrate, Ngoni Nduna remanded him in custody to July 19.
The State alleges that Chikwanda was trapped and caught red-handed by his colleagues last Thursday, as he was receiving a $10 bribe from the aptly named Carpenter Dube, a carpenter by profession, to destroy an accident docket prepared against Vincent Hlanganiso.
Hlanganiso was allegedly involved in an accident in January this year after he ran over a pedestrian and the matter was being investigated by Chikwanda. It is the State's case that when Chikwanda failed to locate Hlanganiso, who had relocated to Silobela, he pounced on Dube and threatened to charge him for his relative's crime. Chikwanda allegedly confiscated Dube's two wooden stools and later demanded an additional $10 bribe to cover up Hlanganiso's traffic offence.
The accused later arrested Dube and placed him in police cells, demanding his bribe money. Dube reported the matter to the police, resulting in a trap being set for Chikwanda, who was caught red-handed by Detective Inspector Cornelius Dale receiving the trap money. The arrest was also captured on camera after Dube tipped journalists of the transaction.
Boda Boda man makes wrong U-turn, nearly causes grisly accident – turns violent
They are also known to speed and overtake dangerously. But this rider was not lucky when he made a wrong u-turn near Serena Hotel in Nairobi and almost caused an accident. Police officers who were manning traffic did not waste time. They pounced on him and tried to handcuff him but he turned violent. He was eventually pinned down, chained and taken to Central Police Station.
He tried to defend himself but the officers would hear none of it. Photos: Wilberforce Okwiri
Killer truck driver blames steering fault 
 THE trial of the driver of a South African-registered haulage truck, which sideswiped a Johannesburg-bound Proliner bus, killing 31 people on the spot and leaving 40 others injured near Chaka business centre along the Harare-Masvingo Highway, started on Monday, with the accused alleging the truck's steering wheel locked, resulting in the accident.
The accused, Regis Mangwari, made the claims when he appeared before Mvuma magistrate, Tayengwa Chibanda facing 31 counts of culpable homicide and negligent driving. But, a report from the truck's tracking system produced in court indicated that Mangwari was speeding at the time of the horrific accident, which occurred on April 5 this year. Both vehicles went up in flames on impact, resulting in some of the victims being burnt beyond recognition.
Mangwari's lawyer, Passmore Mabukwa, however, disputed the truck's tracking system report, saying he was not privy to the evidence.
The trial continues today with the State calling its second witness. The State alleges that on April 5, Mangwari, on approaching the 218km peg along the Harare-Masvingo Road, lost control of his tyre-laden vehicle and sideswiped the bus, killing 31 people on the spot.
Bernard Nyoni is prosecuting the matter.
Expert calls for enforcement of law against trucks' overloading
Abuja. 13th July 2017
 Mr Obiekwe Anaduaka, the National Chairman, Nigerian Institution of Highway and Transportation Engineers has called for the enforcement of law against overloading of trucks on Nigerian roads.
Anaduaka told the News Agency of Nigeria (NAN) in Abuja on Wednesday that overloading of trucks had caused serious damages to roads in Nigeria. He urged the relevant law enforcement agencies on Nigeria roads to live up to expectations by ensuring that motorists adhere to the load limit approved for trucks by law.
Anaduaka also cautioned truck owners against sharp practices of changing the axle configuration of their trucks to be able to carry more loads against the original capacities. "The truck that is ascribed to carry 60 tons will end up carrying 130 tons and the law enforcement agents will be waving at them on the road." "Nobody is enforcing the laws and we have been talking about weigh bridges to control overloading, but when you put weigh bridges, the transport owners will start demonstrating." "So, it is indiscipline and lawlessness that is responsible for the damages on our roads across the country," he said.
Anaduaka said trading along the road resulting to obstruction as well as breaking of roads to connect water pipes and patching it with ordinary sand were other factors that caused damages on the roads.
"We have this problem all over the country where somebody wanting to connect water will break the road and use ordinary sand to patch it.""The challenge is that portholes will begin to develop from there and the road will start damaging and will continue to expand until it becomes a major problem."
"Most of the places where we have gridlock on roads across the country developed from these human activities and there are a lot of factors leading to damages on our roads." According to him, a bill seeking to reform the sector is pending the National Assembly, which when passed can address some of the challenges on the highways.
He said the bill would also ensure the establishment of the National Highway Authority to handle issues on highways. Anaduaka said the highway authority would create a department that would ensure effective and proper regulations in the road sector.
Zimbabwe: Chihuri defends roadblocks
 THE Commissioner General of Police Dr Augustine Chihuri yesterday fired a vitriol at people criticising high police presence on national roads, saying such characters  had sinister motives and evil intentions.
Government officials and the public have raised alarm over the excessive number of roadblocks on highways and in some instances within cities. Dr Chihuri said the police were only carrying out their constitutional mandate and did not formulate the law, neither did they assemble vehicles.
Speaking at the commissioning of new housing units at ZRP Support Unit Changadzi in Chimanimani yesterday, Dr Chihuri said police were on the highways to protect the public. He said police did not formulate laws, but only enforced the same to ensure compliance and maintain order. "People have bitter mouths," he said. "You only want to talk about the bad things without acknowledging the good things that are being done. This is so because we have evil intentions within ourselves which cloud our minds not to see good things.
"We know as the police we are being criticised about roadblocks and so on. "The roads are there. They were not constructed by the police. The vehicles are there, they were not assembled by the police. The laws are there, they were not formulated and enacted by the police." Dr Chihuri said a lot happened on the roads. "Some people get killed in road accidents and so forth," he said. "All these things are not being done by the police, but you hear grown up people criticising the police heavily as if Zimbabwe is the only country that has cops on the roads.
"Why are you so much afraid of the police on the roads, yet they are there to protect you? You are used to being protected by dogs. What is more important to be safeguarded by a police officer or a dog? You have the answer and I will not continue talking about this issue."
Car crashes cost SA close to R143bn in 2015
July 12th 2017
Cape Town – The cost of road traffic crashes on South Africa's roads amounted to close to R143bn in 2015, or 3.4% of GDP, said Kobus Labuschagne, chief engineer of Traffic Engineering at the Gauteng Department of Roads and Transport. 
Presenting on the cost of road crashes at the Southern African Transport Conference (SATC) held in Pretoria from July 10 – 13, Labuschagne said on Tuesday it is estimated that 13 591 persons died on South Africa's roads in 2015.In addition, 62 520 people were seriously injured and a further 202 509 slightly injured. A further 1 429 794 persons were involved in road traffic crashes without sustaining any injuries. 
Labuschagne explained that using historical data, estimations are that the ratio of serious injuries to fatalities was 4.6:1 and the ratio for slight injuries to fatalities was 14.9:1 in 2015. "Human casualty costs accounted for 69.3% of the total crash cost, while vehicle repairs accounted for 14.9% and related incident costs 15.8%," Labuschagne said.He lamented the cumbersome process of obtaining useable data of South African-based road traffic crashes costs and related research. Before 2016, the last cost estimation for road traffic crashes was published in 2004 by the Department of Transport.Labuschagne said this is to a large extent indicative of the significant fragmentation that exists among the road traffic safety management fraternity in the country, plus a lack of clear leadership and associated road safety governance failures. 
He believes good recording systems and databases typically contain a plethora of data elements, including the severity of crashes and the injuries sustained, as well as road user type, gender and age, dates and times, type, location and road conditions and the type of vehicle involved.The reliability of the costing system of road traffic crashes is dependent on a consistent, credible, comprehensive, and timely crash database. This requires recording of crash data to be conducted with diligence."In the absence of this, strategies will have to be developed to simulate road traffic crash statistics as part of a go-forward strategy," said Labuschagne.
4 killed in head-on truck collision near East London
2017-07-11 Derrick Spies, News24 Correspondent 
Four people were killed in a head-on collision between two trucks near East London. (Supplied: SAPS)
Port Elizabeth – Four people have died and the R72 has been temporarily closed following a head-on collision between two trucks about 50km outside of East London.
Provincial police spokesperson Brigadier Marinda Mills said the accident had taken place on Tuesday morning on the R72 near Ncerha, towards Port Alfred, when a truck lost control and collided with another."There are fatalities on scene and the road has been closed for further investigation," she said.
Provincial Department of Health spokesperson, Sizwe Kupelo, said four people had been killed in the accident.
Related Links :
Namibia: Three-vehicle pile-up kills two between Okahandja and Otjiwarongo
11th July 2017 by Ndapewoshali Shapwanale
Two women died and a minor was severely injured in a car crash between Okahandja and Otjiwarongo Sunday evening.The minor has been hospitalised and said to be in a critical condition. Police spokesperson chief inspector Kauna Shikwambi confirmed the accident that happened about 40km outside Okahandja.
The accident allegedly involved three vehicles. It is not clear which vehicle the women were travelling. Police are yet to release the identities of the victims as well as their ages.
Fly-over accident, car lands in railway line
 HARARE – A Toyota Corolla car allegedly flew from Mupedzanhamo fly-over into a railway line. The driver and passengers fled from the scene before Bulawayo24.com arrived at the scene.
NIS Boss brother dies in road accident
By Sarah Nyakio Mon, July 10th 2017  
Kenya army personnel retrieve the mangled wreck of a pick-up truck that plunged into River Gura. (Photo: Mose Sammy, Standard)
Two people died in a road accident along the Kiandu-Karima road, Othaya. The driver of the Toyota double-cab pick-up they were travelling in lost control of the vehicle and it rolled down a cliff. One of the dead was the brother of National Intelligence Service (NIS) boss Philip Kameru, Augustine Mathenge.
Mr Mathenge was travelling with a friend, Patrick Kibui, when their car plunged into Gura River on Saturday night. The accident happened about 400 metres from Mathenge's home in Othaya. Mathenge, the director of Nyeri-based Lichi Security, was the one driving, police said.   The car rolled down a 100-metre slope before landing in the river. The two died on the spot.
Residents say they were woken up by a loud bang. They saw the car rolling down the slope into the river. Joseph Wachira, a resident, said by the time he and others rushed to the scene, the two were dead. Put guard rails "The driver was lying by the car and the passenger was thrown (a few metres away)," Mr Wachira told The Standard. He added that the area was a black spot and urged the Kenya National Highways Authority to put up guard rails.
Five killed, four injured as lorry plunges into Kyenjojo swamp 
10th July 2017 By Francis Mugerwa and Edson Amanyire
Kyenjojo. Five people have been confirmed dead after a vehicle they were traveling in plunged into a swamp in Kyenjojo District. According to eye witnesses, the driver of the tipper lorry, registration number UAN 263S which had nine people lost control before plunging into the swamp at Rubango village in Katooke town council. The accident happened on Saturday night.
Ms Lydia Tumushabe, the Rwenzori West regional police spokesperson said the Victims were workers of Kiryambogo supper catering services who were returning from a party.
The deceased were identified as Christopher Kiiza, 42; Rosemary Kasanda, 36; Tushabe Versy, 42; Grace Tukasubwa, 36. All the deceased were residents of Katebe village in Kyenjojo District.
The bodies and the four people who sustained injuries were taken to Kyenjojo hospital, Tumushabe added. A post mortem on the deceased was done by medics and the injured were by press time receiving medication. The Injured have been identified as one B. Mujuni, Enid Kabasomi, Nyastazio and Bosco Burengero.
Three feared dead as lorry plunges into river Nile
Police identified the victims as Baraza Nelson, the driver; Arafat Farid, the turn man and Abonyang Ibrahim, the passenger who had hired the vehicle. According to Mr Anwar Umar the owner of the vehicle, the trio left the Paidah Friday morning.
Eye witness account: Mr Emmanuel Esaku, an employee working at Sinohydro Corporation Ltd in Karuma trading centre told Daily Monitor that the vehicle hit the left rail guard of the bridge before plunging into the water.
He said he witnessed the accident while trying to cross Karuma Bridge from Karuma trading center. "I was on a boda boda motorcycle from Karuma trading centre. We saw the truck approaching the bridge heading to Kampala and stopped. But instead of the truck adjusting to maintain its course on the left hand side, it went straight and hit the rail guards on the bridge and plunged into the water." "All we heard was a loud bang in the water, I don't know the fate of the occupants," Mr Esaku said. He noted that as the vehicle was approaching, they had to stop before entering the bridge since the vehicle was "big".
"We stopped before approaching the bridge, the vehicle was big, it had already entered the bridge and we couldn't dare join but unfortunately, it went into the water," Mr Esaku said.
Albertine Region Public Relations officer Allan Hakiza confirmed the incident to Daily Monitor.
"It's true a Lorry plunged into river Nile at about 7pm. We understand that three people were on board but we are trying to establish their fate, " Mr Hamish said.
 Past incidences at Karuma bridge Friday's incidence is the second time this year that a truck plunged into River Nile at Karuma bridge. In February this year a lorry laden with cotton seeds from neighbouring Democratic Republic of Congo plunged into Karuma Falls in Kiryandongo district. The driver of the truck survived the nasty accident with minor injuries. In 2000, a gateway bus plunged into the River Nile waters at the Karuma Bridge, killing at least 11 people.
Family perishes as seven die in accidents
 SEVEN people died and several others were injured in two separate road accidents in Bulawayo and Lupane on Friday and yesterday morning with three of the deceased being relatives of Bulawayo property developer Mr Mngane Ncube of Hawkflight Construction.
Bulawayo. Mr Ncube lost his elder brother, the wife and the wife's younger sister in a road traffic accident in Hillcrest suburb in Bulawayo. The accident occurred on the intersection of Burnside and Durham roads on Friday night.
Bulawayo police spokesperson Inspector Precious Simango said the Hillcrest accident occurred after Mr Ncube's younger brother who was driving a Ford Sedan, due east, turned right at an intersection in front of an oncoming Toyota Land Cruiser which was being driven by a 20-year-old Mr Daniel Van Damme along Burnside Road, due west. Insp Simango said the three passengers in the Ford Sedan, Mr Edward Ncube and his wife and the wife's younger sister, died on the spot and their bodies were taken to the United Bulawayo Hospitals mortuary. She urged motorists to be cautious and observe road traffic rules.
According to the Ncube family spokesperson Mr Obert Masara the deceased was the elder brother to Mngane Ncube. "This was the elder brother and his name is Edward Ncube, he was 49 years old. He was in the company of his wife Mavis and her younger sister Faith from the Mbedzi family and another brother who was driving," he said.
He said the family was going to Hillcrest to drop off Faith en route to Mr Ncube's Burnside residence when tragedy struck. Mourners are gathered at Mr Mngane Ncube's Burnside residence.
In Lupane, Matabeleland North, four pedestrians died on the spot and seven were injured when a BMW vehicle veered off the road and hit them while they were at a bus-stop. Police confirmed the two accidents yesterday. In the Lupane accident, National police spokesperson Chief Superintendent Paul Nyathi said a BMW vehicle carrying five passengers burst its left rear tyre, veered off the road and hit five pedestrians who were at a bus-stop waiting for transport.
"Four pedestrians died on the spot and one was injured while all the six occupants of the BMW vehicle sustained injuries," he said. The accident occurred at the 120km peg from Bulawayo along Victoria Falls Road near St Luke's Hospital at around 4am. Chief Supt Nyathi said it is suspected that the driver was speeding. Names of the deceased could not be disclosed as their next of kin have not yet been notified. He said the injured persons were taken to St Luke's Hospital and they suspect that the driver was speeding. Chief Sup Nyathi said drivers should not speed when approaching built-up areas.
"They (drivers) should not carry excessive baggage or overload passengers. We appeal to drivers to be cautious on the road," said Chief Supt Nyathi.
Meanwhile, one person was injured in Plumtree near Figtree when a Granvia registered B596 BDH carrying seven passengers burst its tyre, veered off the road and broke into Bravo Farm on Friday night at around 10pm.
5 dead, 3 rescued alive as container falls on fully loaded bus in Lagos
9th July 2017  Author: Oluwatobi Bolashodun
No less than five people have lost their lives in an early morning accident after a truck fell on a bus – Three persons were rescued alive and were taken to the hospital – The passengers were reportedly on their way back from a vigil Report just reaching NAIJ.com indicates that 5 people have been killed after a fully loaded container fell on a commercial bus in Ojota area of Lagos.
Three people have been rescued from the wreckage by Lagos State Emergency Management Agency officials. The occupants of the bus were returning from the monthly vigil at the Redeemed Christian Church of God headquarters on Lagos-Ibadan Expressway,  
Road accidents: 1351 dead in H1 2017 
8th July 2017

ALGIERS-1351 people were killed in road accidents in the first half of 2017 against 1559 deaths during the same period of last year, down by 13,34%, the National Gendarmerie said in a troll.  
Zambia records 310 Road Traffic Accidents during this year's Trade Fair Weekend
Esther Katongo says 310 Road Traffic Accidents were recorded throughout the country during the just ended four days holiday. Ms Katongo said there is an increase in number of accidents recorded this year compared to 282 calamities last year. She however said the number of people that died this year was 26 compared to 2016 where 47 people died which indicates a decrease of 21. Ms. Katongo further said fifty six people sustained serious injuries in 2017 while 2016 had 75 recorded showing a decrease of 19. She added that those who sustained slight injuries in this year were 82 as compared to 85 people last year.
Ms. Katongo stated that Lusaka Province recorded the highest number of accidents followed by Copperbelt and Central Province respectively while Western Province recorded the least number of accidents.
She said the general picture indicates that there has been a decrease in the number of casualties which she attributed to regulatory measures by Government such as Statutory Instrument No. 76 of the Laws of Zambia which restricts movement of Public Service Motor vehicles in the night.
Ms. Katongo said the decrease in casualties can also be attributed to the operations that were conducted throughout the country during the period by both Traffic Police Officers and officers from Road Transport and Safety Agency (RATSA).
Zimbabwe: Watch: Bus conductor gets leg broken in fight with traffic police
7th July 2017 (Duncan Alfreds, News24)
Harare – Police in Zimbabwe say they will investigate a case of alleged brutality by officers in central Harare after a conductor they were wrestling with had his leg broken under the wheel of his own bus.
In the video the conductor kicks metal spikes away from the wheels while being manhandled by two police officers. But as one officer wrestles with him, the bus moves off and that's when the man's left foot appears to be run over.
The man collapses in the middle of the road as people gather around to witness the scene. Other officers join their colleagues and they whistle for another commuter bus to stop to take the injured man away. There is a roar of pain as the police officers lift him and his left foot appears to hang limp. One of the by-standers in the video can be heard to shout, "police brutality".
The video, which has been viewed more than 120 000 times since it was first posted on Friday, has provoked anger from ordinary Zimbabweans on social media. Police spokesperson Charity Charamba told state ZBC radio on Thursday that police were investigating the incident. "As it stands it is very difficult to comment on a video on social media which has not been reported at any of our police stations," she said.
"It is being investigated but we also want that complainant to come forward." The use of metal spikes by police at checkpoints is controversial as the spikes sometimes cause accidents.
Central African Republic truck crash kills 78, leaves 72 injured injured, doctor says
6th July 2017 
Seventy-eight people have been killed and dozens more injured when a truck heavily loaded with goods and passengers crashed in Central African Republic, a doctor says.
The accident happened about 10 kilometres outside the town of Bambari, which is about 300 kilometres north-east of the capital Bangui, as the truck was travelling to a weekly market day in the village of Maloum.
"At the moment, we have counted 78 dead and 72 wounded. Some wounded were taken directly to their homes from the accident scene and died there some time after, but most died here," Chamberlain Bama, chief doctor at the university hospital in Bambari, said.
A member of parliament from Bambari said the truck was overloaded and travelling faster than normal. "They were driving fast to make it to the market on time. That's what probably caused the accident," Amaseka Topi told Reuters.
Decades of neglect have left the landlocked country's road system in ruins and safety regulations are rarely enforced. Central African Republic is racked by violence unleashed after mainly Muslim rebels ousted President Francois Bozize in 2013, provoking a backlash from Christian militias. Thousands have died and a fifth of Central Africans have fled their homes.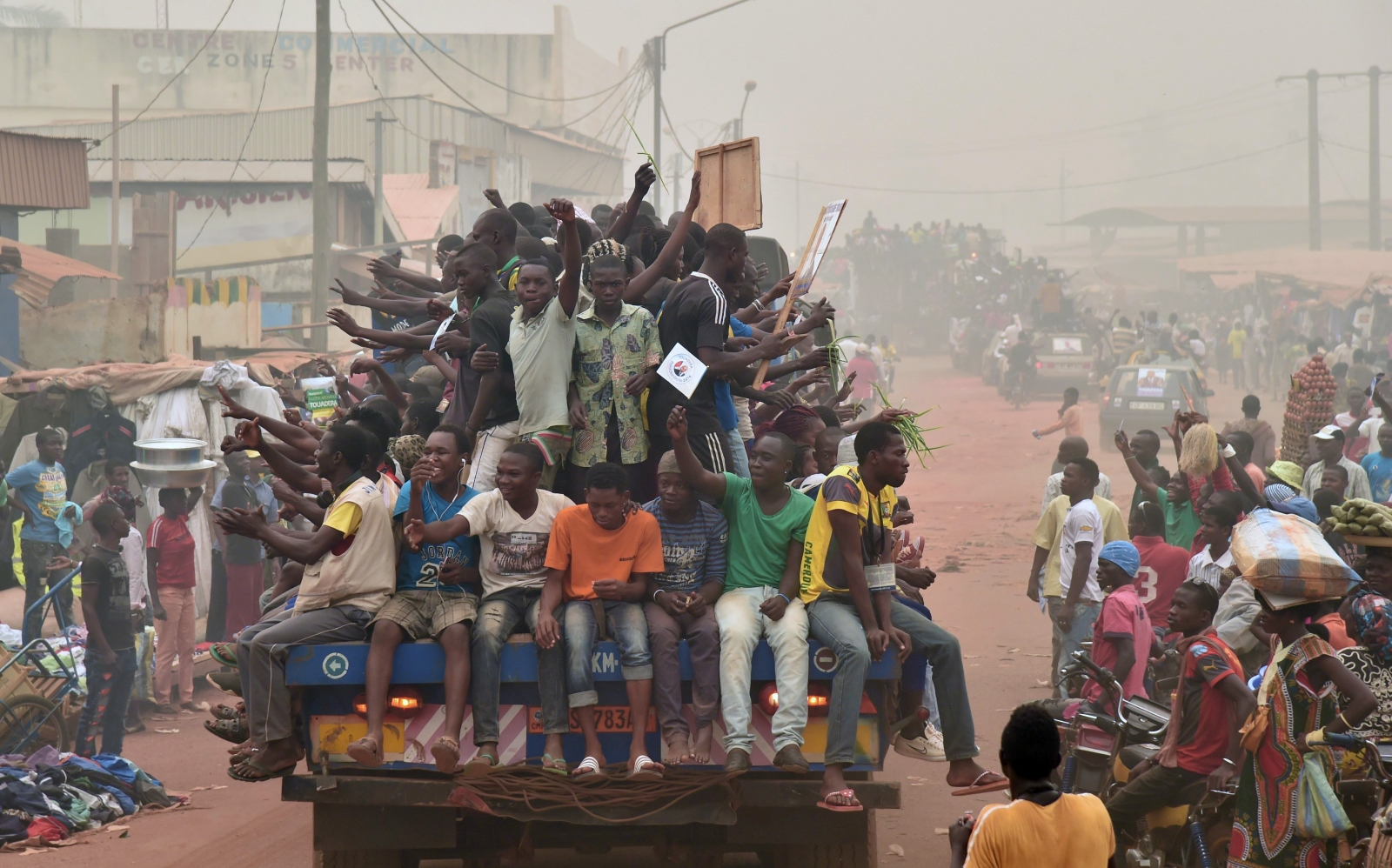 Uganda: IGPs escort car in accident, one officer dead 
6th July 2017 By Joyce Chemitai
A private Toyota Hiace car, registration no. UAE 8750 was on Wednesday evening involved in a fatal accident killing one, PC Micheal Gona a driver attached to Police Flying Squad. The accident happened at Towei Hill in Kawowo sub-county, a black spot on Kapchorwa-Mbale Highway.
Sipi Regional Spokesperson, Mr Rogers Chrispas Taitika confirmed the cause of the accident. "The cause is brake failure. Survivors say that the driver tried to apply brakes severally but failed making the vehicle roll several times before flying over a steep slope," said Mr Taitaka.
The IGP who had flown to Mbale for a night had to fly back to Kapchorwa on hearing about the incident. ASP Holleth Karakya, PC Vincent Chebet, Sgt Kawawa Isisiga, PC Okello are the police officers identified and civilians are Moses Wambi, Sarah Muzide, Anthony Mbale. They are said to have jumped out through the windows when they saw that the vehicle had lost control.
When Daily Monitor visited the scene, the body of the deceased had been taken to Kapchorwa Hospital mortuary and the injured were being attended to at the same hospital. The injured police officers will be transferred to Mbale for special management under a police doctor according to Mr Taitaka.
There were about 10 occupants in the car which was part of a convoy escorting the IGP who had visited Kapchorwa earlier in the day to assess the security situation following the killing of a police officer, PC Charles Oulanya by unknown assailants while on guard at Kapchorwa Boma Grounds where a trade show is taking place.
The accident happened just four days after another accident involving a heavy truck carrying metal bars in the same spot flew over a cliff and rammed into a home killing three children and one adult.
Bus accident survivor sues bus firm for $26 000
 A police officer who lost his wife and daughter in a Pioneer bus accident in 2015 is suing the company for $26 000. In papers filed at the High Court, John Mapona is suing for damages for injuries suffered and compensation for medical bills he incurred. The accident happened on January 18, 2015. The Pioneer bus was involved in a head-on collision with a Zimbabwe United Passenger Company (Zupco) bus at the 35- kilometre peg along the Harare-Nyamapanda Road.
In his plaintiff declaration filed by his lawyers Messrs Pundu Company, Mapona said the accident was a result of the bus driver's negligence. He argued that the driver encroached into the lane of the Zupco bus, resulting in the head- on collision. Mapona lost his wife, Monica ,and daughter, Believe, on the spot, while he sustained serious head injuries.
He was then hospitalised in the Intensive Care Unit at West End Hospital. "The injuries the plaintiff suffered include a depressed skull fracture and a fracture on his collar bone. As a result of the accident, his injuries, two operations have been performed on him so far," reads the plaintiff's declaration.
"As a result of the accident, the plaintiff has been disfigured on his head, as a result the plaintiff now has constant severe headaches, and he experiences severe pain in his shoulders and as such has to consult medical specialists regularly. "The plaintiff has suffered financial loss as a result of the accident as he has been put out of pocket to seek medical intervention."
The declaration also reads: "Plaintiff lost two close family members and has not yet recovered from the tragic event. More so, plaintiff experienced a lot of pain and suffering and has also been disturbed in his studies." Mapona is demanding $4 000 for pain and suffering, $3 000 (loss of) companionship, $2 200 (funeral expenses), $3 000 (medical expenses), $3 500 (facial deformity), $7 000 (future medical expenses), $2 500 (risk of development of convulsion due to head injury). He also needs $300 for transport costs and $500 for doctor's consultations, bringing the total to $26 000.
Road fatalities down 15pc
July 4, 2017

Mr Chinyere
Tedious Manyepo Herald Reporter
At least 581 people have been killed, while 3 260 were injured in road accidents recorded countrywide between January and May this year, Traffic Safety Council of Zimbabwe (TSCZ) has said. The council said 11 513 accidents were recorded during the same period.
The figure represents a decline in the number of fatalities recorded last year that saw 685 people perish and 4 770 injured. At least 14 327 cases were recorded during the same period last year. The marginal reduction in the carnage has been attributed to massive awareness campaigns and the rewarding of competent public transport drivers by TSCZ.
TSCZ says a lot still needs to be done to combat road carnage. Speaking during the annual
Mashonaland Provincial Driver of the Year competition in Harare on Sunday, TSCZ managing director Mr Obio Chinyere said concerted efforts were needed in promoting road safety. "The involvement of the private and public sector in road safety programmes cannot be overemphasised given that research has revealed the age band most at risk is the 26 to 45 group," he said. "Private citizens and corporate organisations should join hands with Government agencies to help curb accidents. We need your support in taming the traffic jungle on our roads. "Safety should be everyone's concern and it would be self-deception to think otherwise."
Mr Chinyere said it was disheartening to note that an average of five people were killed, while 40 got maimed daily in road traffic accidents around the country. "Friday nights, Saturdays and festive periods are the worst times," he said. "It is, therefore, paramount for us to increase our national road safety programmes, hence the importance and significance of the Driver of the Year Competition."
The provincial event will culminate in a national contest to be held in Mutare later this month, with winners of that event set to represent the country in the bi-annual 2018 World Driving Championships scheduled for Belgium. The global event was conceived to emphasise on improved safety on the roads. About 90 participants turned up for this year's provincial driving fiesta, where stakeholders called upon more school and kombi drivers to take part.
Lack of servicing, training to blame for truck crashes in SA – MIWA
4th July 2017 
Mike De Lange, owner of the Mike De Lange Service Centre and a member of the Motor Industry Workshop Association (MIWA), believes these crashes can be attributed to a lack of maintenance on trucks and negligence. De Lange, who specialises in the servicing of trucks, says he often sees trucks owners trying to save on expenses and not doing regular inspections. He said: "Trucks are not being serviced as regularly as they should be and to a standard that is good enough for our roads."Unskilled drivers behind the wheel: long with that, De Lange believes that stricter laws should apply to who should be allowed to own a truck: "Anybody can buy a truck and put an underpaid and unskilled driver behind the steering wheel. This is resulting in major risk on our roads. The industry is also being compromised due to some players hiring and repairing on the cheap and then offering the cheapest quote possible for their services undercutting other players."Drivers should be receiving special training besides the requirements needed to get a code 14 license. I don't believe this is being done or done properly. Drivers also do not seem to understand the importance thereof."Unroadworthy vehicles Vishal Premlall, Director of MIWA, agrees saying the number of truck accidents each year is unacceptable, said: "You just need to drive on any of our major highways to see that many trucks are not roadworthy and not being maintained. Besides the obvious accident risk these vehicles present there is also the pollution factor and potential loss of cargo and damage to property when accidents happen. The answer is regular maintenance and better training." Premlall says regular maintenance is also the only way to guard against major repairs.He said: "Truck owners may believe they are saving by avoiding regular servicing but it ultimately costs far more when a major component needs replacing because it wasn't properly maintained. The key is to watch the mileage and months and to refer to the service booklet for when services are required. There are accredited workshops around the country who specialise in truck servicing at affordable rates. It pays to do your homework and find a workshop near you."Another worrying trend is the number of truck drivers that drive in the fast lanes, despite their trucks being limited to lower speeds.  He said: "Young and inexperienced drivers often don't fully understand the mechanical condition of the truck nor the safe braking distances needed to stop the truck in the event of an emergency."  He adds that there needs to be a clamping down from authorities on unroadworthy trucks and reckless drivers: "Trucks are a major risk factor on our roads and authorities need to be stricter on how these vehicles are being policed. Handing out fines and releasing dangerous vehicles and drivers back on to our roads is not good enough."
'Absolute chaos' as 2 dead in Durban taxi blaze
3rd July 2017 News24 Correspondent
Durban – Two people were killed in a Durban taxi accident on Sunday when the vehicle rolled and burst into flames, trapping them.
Fifteen others, who managed to escape, were also injured in the same incident."A taxi somehow lost control and rolled then bursting into flames on Sunday morning on the M4 North Bound near Virginia offramp in Durban North," said Rescue Care's Garrith Jamieson in a statement."Whilst 15 people managed to escape, two people were severely entrapped in wreckage and suffered fatal burn injuries on the scene."Jamieson described the accident scene as "absolute chaos". The injured sustained wounds ranging from minor to moderate and were stabilised on the scene before being taken to hospital.In another incidenton Saturday night in Borcherd Street in Upington, one man was killed and another was seriously injured after a bakkie crashed into a tree. Both men were found still trapped in the vehicle, when rescue personnel arrived on the scene, said ER24 spokesperson Werner Vermaak. "The local fire department had to use rescue tools to free them from the wreckage," he said.One of the men had sustained fatal injuries and was declared dead on the scene in Borcherd Street. The second man was seriously injured and rushed to hospital for further treatment.
43 injured in separate road accidents in Uganda
2nd July 2017
The first accident occurred on the outskirts of Masaka town in the country's central region.
Masaka: At least 35 pupils were injured, seven in critical condition, when a Fuso truck they were travelling in overturned as it climbed Kako hill along the Kampala-Masaka highway. The St Andrews Primary School, Mitete, pupils were on their way to a music, dance and drama competition.
Teachers onboard escaped unhurt as well as the driver who fled the area after the accident. According to Ms Deborah Kalanzi, one of the teachers, 85 pupils were onboard the ill-fated vehicle. 50 pupils escaped unhurt. "The driver was driving recklessly. We even told him to control his speed as pupils shouted," Ms Kalanzi said. Victoria Namirembe, a Primary Four pupil, said the truck started speeding immediately they left the school and nearly swerved off the road.
"We screamed and the driver reduced the speed, but later he increased it when we got to the tarmac road," she said. Mr Lameck Kigozi, a police spokesperson, blamed the school administrators for risking the lives of the pupils by using a truck to ferry them. "We are going to arrest the headteacher and place charges of using unauthorised vehicle to carry passengers. We have always warned schools against using trucks to transport pupils but many have continued to do so," he said. He said following the accident Friday, the police intercepted another truck transporting pupils as well as a bus with a serious mechanical problem also carrying school children.
The wreckage of a saloon car that was involved in the accident that left eight people injured along Mityana Road on June 29, 2017. PHOTO | JESSICA NABUKENYA
Meanwhile, eight people are receiving treatment at a hospital in Mityana, central Uganda, after they were seriously injured in a head-on collision. The two vehicles –a saloon car and a commuter taxi — collided head-on at Kiwawu, along the Kampala -Mityana highway.
Scores injured in triple minibus crash
2nd July 2017 Nation Nyoka, News24
Three taxis have crashed, injuring over 40. (Netcare 911)
Durban – More than 40 people were injured in an accident involving three minibus taxis on the M4 highway near the Edwin Swale off-ramp on the south bound lane in Durban, on Saturday.
One person was critically injured and trapped inside one of the vehicles, with the Ethekwini Fire Department having to employ the Jaws of Life to free the victim."The remaining patients had all sustained serious, but mostly, minor injuries. All of them were stabilised and taken to several local hospitals in and around the Durban area by ambulances," said Robert McKenzie of the KwaZulu-Natal Emergency Medical Services (KZN EMS).According to Netcare 911, 45 commuters in the minibus taxis required medical assistance at the scene, though the majority of injuries were minor in nature. McKenzie told News24 that police were on the scene to investigate, and that the cause of the accident was not known yet. He asked road users to be vigilant and refrain from doing anything that would impede their driving."With no prejudice to this case, it is pay weekend so it's a traditionally busy time for EMS; so we would like to remind people to please be cautious on the road, and to not drink alcohol before or while driving a motor vehicle," he said.
Nigeria loses N80bn ($228million) to road accidents annually — FG
Nigeria loses N80 billion annually due to road accidents, Minister of Health, Prof. Isaac Adewole said on Friday. Adewole who made this known at a handover ceremony of 31 ambulances donated by the Japanese Government in Abuja, said that Nigeria was among countries with the highest rates of vehicle accidents globally.
As a matter of concern, next to Boko Haram Insurgency, road crash is the second highest source of violent death in Nigeria. According to FRSC reports, Nigeria is among the countries with the highest road accident rates in the world, having 5,400 deaths in 12,077 road crashes in 2015 and 18,353 people injured in road crashes between 2009 and 2013. According to WHO report in 2015, one in every four road crash deaths in Africa occur in Nigeria, having a higher death toll than malaria. " Also, Nigeria loses about N80 billion annually to road accidents,'' he said.
The minister said the donation of the ambulances was the outcome of a Memorandum of Understanding both parties signed in September 2016. He added that the ambulances donated by the Japanese government would support the Federal government's policy on emergency medical services, developed in 2016 in response to the trend of road accidents.
Adewole further said that the ambulances were to be distributed to selected tertiary health institutions in each state of the country. "This move by the Japanese government has provided the opportunity to strengthen greater collaboration and partnership between our two countries.
""This gesture will contribute immensely in supporting the Federal Government's efforts in strengthening the National Emergency Response Programme of the Federal Ministry of Health."
In his address, Japanese Ambassador to Nigeria, Mr Sadanobu Kusaoke said health was among the top priorities of Japan's relations with Nigeria. Kusaoke said that the ambulances were part of a series of Japan's aid project to Nigeria's health sector. ""Through our Grant Assistance for Grassroots Human Security Projects, the Japanese Embassy, in partnership with local NGOs, has been providing various primarily health care facilities for rural communities.
""We have also supplied advanced medical equipment for secondary health centres; another support is scholarship programmes for undergraduate medical students for training in Japan. "These ambulances are the latest example of a series of our aid projects in the health sector. "
He said the ceremony marked the delivery of the first batch of 31 ambulances in health centres in the country. The News Agency of Nigeria (NAN) reports that the remaining 12 ambulances would be handed over in 2018. NAN also reports that the Japanese Government earmarked 400 million Japanese Yuan (approximately 4.1 million dollars) for the project. The ambulances would be delivered to 15 teaching hospitals and 13 Federal Medical Centres in the country.
Uganda: Mityana crash 1 dead
1st July 2017
Cops crash into house, injure 2
TWO siblings aged 6 and 11 years from Nkulumane were rushed to Mpilo Central Hospital with serious injuries yesterday when a police officer, suspected to have been drunk, rammed his vehicle into a house they were sleeping in.
The police officer, whose name could not established yesterday, was in the company of a colleague when the accident occurred just after midnight. He is suspected to have lost control of the car after an empty beer bottle rolled underneath the brake pedal while he was negotiating a corner.
When The Chronicle visited the house yesterday, the walls of the room where the children were sleeping were destroyed, while the damaged property had been removed. Michael Chibaya (11) was treated and discharged while his younger brother Josphat Chibaya, 6 was admitted to the hospital for the injuries they sustained after the accident.
Neighbours said the police officers, who are also from Nkulumane were driving a red Honda Fit and were drunk when the accident occurred. "I heard a screeching noise outside followed by a loud bang that rattled the windows. The two children who were sleeping in the house screamed and most neighbours rushed to the house. We found the two police officers who are our neighbours trying to move the car from the rubble while the children were screaming in pain. "We asked them what had happened and we realised that they were drunk. One of them fled the scene and we apprehended his colleague who couldn't even run. They tried to drive the car from the scene but the doors were stuck," said Mrs Nobuhle Ntuli.
She added that the driver of the car told them that his colleague's wife was driving when the accident happened. "He knew that they were in trouble. So he lied in an effort to conceal evidence that they were drinking and driving. The woman he was talking about was at home sleeping. "The two were extremely drunk. They behaved strangely and shouted obscenities. They even fought in front of us. One of them only came back in the morning to apologise," said Mrs Ntuli.
Another neighbour, Mr Noel Chizu said they discovered that the driver lost control of the car after one of their empty bottles rolled underneath the brake pedal.
"When the doors were opened the bottle was still stuck underneath the brakes. We're suspecting that it's the reason why he failed to control the car. "We called the police and they attended the scene. It's embarrassing for police officers to behave like this. And the painful thing is that they are our neighbours. We tried to shoot videos with our cell phones but it was very dark," said Mr Chizu.
The cops, residents told The Chronicle, returned to the scene yesterday around 4PM with a woman that they claimed had been driving. "We chased them away because we knew they were lying. They obviously paid the woman. We know her as she frequents night spots," said a resident who asked not to be named.
On Tuesday four police officers, two of them in uniform, caused a stir when they threw opaque beer from their private vehicle after being involved in an accident in the Bulawayo city centre. The officers, who appeared drunk, threw a scud and a super, popularly known as Chibuku batai munhu, in an apparent bid to conceal evidence that they were drinking.
Bulawayo police spokesperson Inspector Precious Simango could not immediately comment on the latest crash involving police officers.
Recently, the Deputy Minister of Home Affairs Obedingwa Mnguni urged members of the public to record videos of police officers violating the law. He said evidence gathered will come handy in prosecuting rogue law enforcement agents.
Falls, police confirmed. The vehicle hit the jumbo which then fell onto the roof of the vehicle trapping the two.
Officer commanding Victoria Falls District Chief Superintendent Jairos Chiwona identified the deceased as John Obester Banana (44) who died on his way to Bulawayo on Friday where he had been transferred following the accident that occurred on Thursday night. Mr Banana and the driver Mr Benard Munapo (48) employed by Pamusha Lodge, were coming from a boat cruise on the Zambezi River when the accident occurred.
It could not be established where Mr Banana hails from as police said investigations were still in progress, although his next of kin had been notified. "I can confirm that we received a report of two people who were involved in an accident along Park Way near waterworks. Mr Benard Munapo (48) who is employed by Pamusha Lodge was driving a Toyota Regius belonging to the lodge with a passenger John Obester Banana when he hit an elephant," said Chief Supt Chiwona.
He said Mr Munapo failed to avoid a herd of elephants resulting in the accident. Some motorists rescued the two and rushed them to Victoria Falls District Hospital where they were admitted. Mr Banana was transferred to Mpilo Central Hospital in Bulawayo because of his condition but died along the way.