Editorial 2017 "Who is responsible for Road Safety?"
  Crash News WORLD '17  Oil truck explosion kills 132 people in Pakistan
 Crash News AFRICA 2017
Ghana: Deputy Speaker insults critics of prepaid towing
The insults by Joe Osei-Owusu, former Chief Executive Officer of the Driver and Vehicle Licensing Authority (DVLA), was reaction to calls by the public for the law to be scrapped, as it amounts to daylight robbery.
As boss of DVLA, Osei-Owusu, championed and got the roadworthy responsibility under the Authority privatized, putting money in the pockets of private individuals, who could build and acquire licenses for that purpose. The privatization process, denied the state-owned DVLA its revenue base, as it only get a paltry sum from the private garages.
He is again championing this venture for Zoomlion's Road Safety Management Services Limited (RSMSL) to cream money from the poor taxi drivers, Trotro drivers and other car owners, into deep pocket individuals, who will push any agenda no matter the cost, so long as their financial interests prevail.
In a Citi News interview, Mr. Osei-Owusu, who readily uses insults and strong language in making his points, argued that, the policy was in the supreme interest of road users, after research showed that a huge number of road accidents are caused by broken down vehicles.
The National Road Safety Commission (NRSC) was expected to begin a nationwide towing programme in July 2017, to ensure that all vehicles that breakdown on highways are cleared off the roads. For this reason, drivers were required to pay a road safety fee ranging between GH¢10 and GH¢200 in addition to their road worthy certification fees.
40 Ghana cedi = 10 US dollars
Commercial vehicles and taxes will pay GH¢40, mini buses will pay GH¢80, while heavy duty trucks will pay between GH¢80 and GH¢200 annually, depending on their tonnage. Non-commercial vehicles are expected to pay GH¢20. The Road Safety Management Services Limited (RSMSL) has already acquired some 118 trucks ahead of the implementation, for the exercise.
Read more:  http://www.ghanaweb.com/GhanaHomePage/NewsArchive/Egomania-Deputy-Speaker-insults-critics-of-prepaid-towing-calls-them-shallow-brains-551477 
 Kenya: 5 die
25th June 2017
A family in Voi is mourning the death of five family members in a road crash that yet again highlights the country's unacceptably high traffic death rate. And even though the transport and safety authority says the road accident deaths have reduced compared to last year, the lower numbers are anything but comforting to those who have lost their loved ones.
Five people from one family perished early Friday in a road accident along Voi Mwatate road. The deceased were transporting the body of their relative for burial in Wundanyi when the accident occurred.
Uganda: One dead, 17 injured in another Fort Portal car accident
One person has been confirmed dead and 17 others seriously injured after a minibus in which they were travelling got a tyre burst and overturned in Fort Portal District.
The victims were mourners travelling from Rwimi to Kamwenge.
Rwenzori East police public relations officer, Lydia Tumushabe said the accident happened on Saturday afternoon at Rurama along Fort Portal-Kamwenge road. The injured were rushed to Fort Portal Regional Referral Hospital. The wreckage of the vehicle, registration number UAU 116G was towed to Fort Portal police as investigations continue.
In the accident which happened on Tuesday, eye witnesses told this reporter on that the Fuso truck, registration number UAS 065B, which was carrying mourners from Bulungu along Fort-Kasese road, heading to Kansenene-Harugongo in Busoro Sub-county scratched another car. However, the driver tried to speed off but failed to negotiate a sharp corner along Kakiza road. He lost control of the truck which fell on its left side thereby killing two on spot.
Woman hit by car, dies
An unidentified woman was fatally hit by a Toyota Land Cruiser at Koala along Chitungwiza highway today.
It is unclear how the accident happened.
Ghana:  IGP's vehicle in near-fatal accident
The badly mangled Toyota Landcruiser cross country vehicle driven by Chief Inspector John Ankomah, crashed into a KIA Rhino truck at about 9:20pm, at Nkawanda No. 2 near Nkawkaw in the Eastern Region. The truck with registration number GW 1756 and driven by 28-year-old Alhassan Kipo, was carting fertilizer from Accra to Tamale when the IGP's vehicle also registered GP 1, rammed into it.
Another passenger onboard the IGP's vehicle named only as Corporal Ntiful together with the driver, sustained serious injuries and were rushed to the Holy Family Hospital at Nkawkaw for treatment. The Eastern Regional police have initiated investigations into what may have caused the near-fatal crash.
IGP, David Asante Apeatu The IGP, who was not onboard the vehicle at the time of the incident, is in the Ashanti Region attending the National Police Command Conference taking place in Kumasi.
The two day conference, which is under the theme "Transforming Ghana Police Service into a world class police- the role of Regional Police Commanders" seeks to brainstorm the work of the Ghana Police Service as an effective law enforcement agency. It is being attended by senior police officers, including all commissioners, deputy commissioners, regional and district commanders, among others.
Intercape bus in road accident
22nd June 2017
A Johannesburg bound Intercape bus is reported to have hit four cattle at Neshuro turn off last night.
An eyewitness who sent Bulawayo24.com the photo below said: "All passengers are safe but the driver is alleged to have sustained minor injuries."
Human error caused 72% of traffic accidents in 2016: CAPMAS
CAIRO – 20 June 2017: Seventy-two percent of traffic accidents in Egypt occur due to human error, according to CAPMAS figures released Tuesday. The Central Agency for Public Mobilization and Statistics (CAPMAS) issued a press release with the statistics of car and train accidents in 2016.
The total number of accidents rose by 1.1 percent in 2016 to record 14,710 accidents resulting in 5,343 deaths, 18,646 injuries and 21,089 damaged vehicles.
August and July had the highest number of accidents in 2016, 9.5 percent and 9.3 percent of the total number of accidents, respectively.  Human error accounted for 72 percent of accidents. Technical problems in vehicles caused 18.2 percent of accidents and road problems accounted for 3.1 percent.
Daily road fatalities decreased in 2016 to an average of 14.6 deaths daily in 2016 after an average 16.9 deaths daily in 2015, and daily injuries decreased from 52.9 in 2015 to 51.1 in 2016. Death rates on inter-governorate roads fell by 18.3 percent to a total of 4,381 in 2016, and the injury rate also declined by 3.5 percent to 14,649 total injuries.
Highway deaths, however, rose significantly by 14.7 percent from the previous year recording, 962 highway deaths in 2016. Fatalities among 25- to 44-year-olds declined by 2.7 percent to a total 354 in 2016, representing 36.8 percent of all traffic accident-related fatalities.
Train accidents increased by 1.1 percent recording 1,249 cases. There were 62 train accident related fatalities, which is higher than 2015 by 44.2 percent, and 164 injuries, an increase of 65.7 percent.
Egypt recorded 14,548 traffic accidents in 2015.The crashes resulted in 6,203 deaths, injured 19,325 people and damaged 19,116 vehicles, according to the CAPMAS statement. "63.3 percent of accidents on highways in 2015 were due to human error, followed by technical issues with vehicles causing 22.9 percent," read the statement.
Ghana: 6 killed 8 injured in car accident at Wansama 
22nd June 2017
Six traders died on the spot at Wansama, a village in between Mumuni Camp and Samreboi in the Amenfi West District when a Kia Rhino truck transporting them veered off into a River.
Eight other victims who sustained various degrees of injuries are on admission and receiving treatment at the Samartex hospital in Samreboi. The deceased who are yet to be identified include a male and five females.
Assistant Superintendent of Police (ASP) Daniel Atta Sarfo, Motor Transport and Traffic Department (MTTD) Commander in charge of Asankrangwa district who confirmed this to the Ghana News Agency said the incident happened at 1730 hours when the Kia Rhino truck with registration number AS 8772-10 was returning to Wassa Akropong from Wansama with the traders and their foodstuffs.
He explained that the deceased hail from Kumasi in the Ashanti region and were from the ages of 22 and 40 years. ASP Sarfo said the bodies had been deposited at the Enchi government hospital morgue in the Aowin district for the autopsy.
Namibia: Truck driver dies in accident
News – National 21st June 2017  by Netumbo Nekomba
A TRUCK driver died on the spot while a passenger was injured after the vehicle overturned 20 kilometres from the Mururani checkpoint between 20h00 and 21h00 on Sunday night.
The truck, belonging to Nel Snel Transport at Omaruru, was transporting more than 100 boxes of fish from Walvis Bay to the Democratic Republic of Congo when the accident happened on the Grootfontein-Mururani road.
Constable Gabriel Lukas, a traffic officer at the Mururani checkpoint, said he suspects that the driver fell asleep behind the wheel. "From my observation, he might have been sleeping. There was no other vehicle involved in the accident.
He had a passenger, but the passenger survived, although he complained of internal pains," said Lukas. The passenger, Warren Ruben van Wyk (20), was rushed to Grootfontein State Hospital in an ambulance.
21st June 2017 
Uganda: Police report
20th June 2017
 20th June 2017
Mr Mbuga, one of the members of Rich Gang crew was going to his home in Buziga, an upscale Kampala suburb when he got the accident.
Mugabe orders 'only' 4 roadblocks per province
Namibia: Two die in car crash near Swakop
News – National | 2017-06-19 by Adam Hartman
WRITE-OFF… The bakkie was a complete wreck.      
TWO days after three people died on Erongo roads, two more were killed and one was seriously injured after a truck and bakkie collided near Swakopmund today. 
The accident happened about 30 kilometres from Swakopmund at around 12h30.Those who died are the truck driver and a passenger in the bakkie.Although details are sketchy, Swakopmund fire chief Adri Goosen who was at the scene when The Namibian contacted him said it was a head-on collision.
Kenya: Passengers hit most in accidents
19th June 2017
Three students die in dawn road accident
By Ben Ahenda and Mercy Kahenda 19th June 2017
[Photo: Kipsang Joseph, Standard]
The wreckage of a bus belonging to Lokichar Secondary School at the Kaptimbor blackspot on the Kabarnet-Iten road. Three people died on the spot and several others injured after the bus rolled downhill.  Three students died on the spot after their school bus rolled several times at a blackspot two kilometres from Kabarnet town.
Six other students are admitted to the intensive care unit (ICU) at the St Luke Hospital in Eldoret where they were transferred to from Kabarnet County Hospital. The accident occurred Friday at the Kaptimbor blackspot on the Iten-Kabarnet highway at 6am when the bus veered off the road and rolled downhill. Baringo Police Commandant Peter Ndung'u said the bus hit a guard rail and rolled several times before landing in a ditch. The roof of the school bus was ripped off on impact, with students' personal effects strewn all over the scene.
Spinal injuries  The 66-seater bus belonging to Lokichar Secondary School in Turkana County had 52 occupants — the driver, his assistant, four teachers and 46 students. Other injured students were rushed to Baringo County Hospital. The hospital's Superintendent Dr Stephen Kalya said the students taken to ICU were stable. "They had abdominal and spinal injuries, which required special attention and treatment, but they are stable and out of danger," he told reporters at a press conference attended by Rift Valley Region Director of Education Mrs Mary Gaturu and Baringo County Executive for Health Dr Andrew Kwanyike. The injured were attended to by intern nurses due to the ongoing nurses' strike.
The students were on their way back to school from the Rift Valley Secondary Schools Term Two B Games at Kabarnet High School. The Turkana County team had just been eliminated from the games.
Mugabe's govt, police, drivers liable for the horror accidents
The accident that happened in the Nyamakate area near Karoi revived calls for government to ban night driving for public transport vehicles and raised questions about the effectiveness of the many police roadblocks on the country's roads.
Former Finance minister Tendai Biti took to Twitter to express his outrage over the unchecked road carnage and invited relatives of the people who died in the accident and survivors to contact his law firm with a view to fight for their rights in the courts.
Biti (TB) who described Zimbabwe's road carnage, where an estimated 1 700 people died on the roads annually, while 30 000 are injured as soft genocide, told our reporter Obey Manayiti (OM) that he is gathering evidence before taking the government to court.
He believes the government, police, drivers and insurance companies are liable for the accidents and , therefore, people must use the law to fight so that they minimise road accidents.
Read more: http://bulawayo24.com/index-id-opinion-sc-interviews-byo-112411.html 
"Reports from the scene suggest that the driver of a Volkswagen Polo hatchback, lost control of the vehicle at high speed, whilst travelling on the south bound side, causing the vehicle to careen across the centre median, before colliding head on with a minibus taxi on the north bound side of the roadway."He added: "Eyewitness reports allege the driver of the Volkswagen fled the scene on foot in an unknown direction shortly after the collision."Van Reenen said the 12 injuries were commuters from the minibus who sustained injuries ranging from minor to moderate. "One commuter having sustained fatal injuries and unfortunately being declared deceased on arrival of paramedics." Van Reenen said the injured were taken to hospital.
Related Links
Bus accident, 9 injured
Nine people sustained minor injuries when a Gachegache bound Kudakwashe bus they were travelling in burst a left front tyre, swerved and landed in a ditch in Makande, Mashonaland West Province.
Police spokesperson for Mashonaland West Province, Inspector Clemence Mabgeazara confirmed the accident which occurred last night in the remote part of Kariba rural. He said all the nine injured passengers were treated and discharged at Kanyati clinic in the Gachegache fishing camps area.
Man in critical condition after his vehicle overturned on Moot street Daspoort 
Fatal accident along Bulawayo-Harare highway
From the two images sent by the source, it appeared as though the vehicle hit crashed into a tree. Details about the accident are still sketchy. Bulawayo24.com will be updating this story as soon as more information come in.
3 people dead, 1 critical, 2 serious in N3 head on crash 
Netcare 911 Paramedics | Kwa-Zulu Natal | NARI
Several killed as speeding bus hits train in Benin
Accident claims four in Lukenya, Machakos County
By Erastus M Mulwa 15th June 2017
Two Administration Police officers were among four people who died in an accident involving a Toyota Land Cruiser and a saloon car belonging to the Machakos County on Monday night. The other two were officers of the county government.
Athi River OCPD Shama Wario said the accident at Lukenya area along the Nairobi-Mombasa highway occurred as the driver of the Land Cruiser, which was heading towards Nairobi, tried to overtake but collided head-on with the county vehicle, killing the four on the spot.
Spikes victim seeks help
A 43-YEAR-OLD Warren Park woman is appealing for help after she was allegedly injured in an accident caused by a ZRP traffic cop spike. Nyarai Chituu was injured on January 25 at around 8pm on her way from work at corner Mbuya Nehanda Street and Nelson Mandela Avenue when a police officer threw a spike and missed the target, hitting her in the process.
As a result, Chituu sustained a deep cut on her right leg and she is still nursing the wounds. Chituu told H-Metro that she was shocked and surprised by the conduct of the police officer. "After hitting me with a spike, the police officer ran away instead of helping me leaving me injured at the scene.
"I used to think that the duty of the police is to serve and safeguard the nation and its people but that is not what I see considering what happened to me. "No action has been taken against the police officer. I went and lodged a complaint at Harare Central Police Station and up to now no action has been taken," said Chituu.
She added: "The use of spikes by the police should be banned permanently because the incident occurred at around 8:05 pm and the police were still using spikes at that hour and injured me yet nothing has been done. "My children need food, clothes and school fees, I also need clutches so I am seeking for assistance in any kind so that my condition will improve."
Those wishing to assist Chituu can be contacted on 0773906609.
17 Children injured in Taxi Crash Durban
Rescue Care Paramedics | Kwa-Zulu Natal | NARI
St Anne's pupils protest after matatu hits their traffic marshall
Blind Comrades hero Richard Monisi hailed after dying in hit-and-run accident
Veteran blind Comrades Marathon runner Richard Monisi has been hailed as a hero after his death in a hit-and-run accident on Saturday in Johannesburg.
Elephant falls on vehicle, one person killed
ONE person died and the other was injured when their vehicle hit an elephant in Victoria Falls, police confirmed. The vehicle hit the jumbo which then fell onto the roof of the vehicle trapping the two.
Officer commanding Victoria Falls District Chief Superintendent Jairos Chiwona identified the deceased as John Obester Banana (44) who died on his way to Bulawayo on Friday where he had been transferred following the accident that occurred on Thursday night. Mr Banana and the driver Mr Benard Munapo (48) employed by Pamusha Lodge, were coming from a boat cruise on the Zambezi River when the accident occurred.
It could not be established where Mr Banana hails from as police said investigations were still in progress, although his next of kin had been notified. "I can confirm that we received a report of two people who were involved in an accident along Park Way near waterworks. Mr Benard Munapo (48) who is employed by Pamusha Lodge was driving a Toyota Regius belonging to the lodge with a passenger John Obester Banana when he hit an elephant," said Chief Supt Chiwona.
He said Mr Munapo failed to avoid a herd of elephants resulting in the accident. Some motorists rescued the two and rushed them to Victoria Falls District Hospital where they were admitted. Mr Banana was transferred to Mpilo Central Hospital in Bulawayo because of his condition but died along the way.
12 injured in Roodepoort
13 Jun 2017, Roodepoort: Twelve people sustained minor to moderate injuries after a Polo and a taxi collided on Goldman street and Golf club Terrace in Roodepoort during the early hours of this morning.
Prez Mugabe in NY laments 'senseless loss' of lives in Zim bus crash
10 June 2017 
Harare – President Robert Mugabe has lamented the "senseless loss" of more than 40 lives in a bus crash this week on the main highway to Zambia.
Most of the dead were Zimbabwean cross-border traders on their way to Lusaka and then Malawi in search of goods to sell back home.
In a statement from New York where he is attending a UN summit on the oceans, Mugabe said: "The senseless loss of so many innocent lives in circumstances that could otherwise have been avoidable is heart-rending and most regrettable." "On behalf of Government and the people of Zimbabwe, my family and indeed on my own behalf, I wish to extend my sincere condolences to the affected families on the loss of their beloved ones," Mugabe added.
Overspeeding Police investigations and accounts by survivors say the driver of the overcrowded 69-seater bus was on Wednesday night driving too fast along the treacherously windy northern road that links the capital Harare to the Zambian border post at Chirundu.  The bus veered off the road at a curve and smashed into a tree.
National disaster Acting President Emmerson Mnangagwa told parliament on Thursday that the accident would be declared a national disaster. In a separate statement he castigated public transport operators for putting people's lives at risk by travelling in the dark and "chasing after profits without due regard to the safety of their patrons."
Zimbabwe's International Cross-Border Traders Association (ICTA) said that 40 of those killed were cross-border traders, drawn from five of the country's 10 provinces.
Other accidents ICTA President Denis Juru called on the government to withdraw the passenger permit of the King Lion bus company. He cited several other accidents involving the company's buses in recent years that have claimed the lives of traders. "So many children have been orphaned by the negligence of untrained King Lion bus drivers," he said in a statement.
The company has not yet commented on the the tragedy.
35 bus crash victims positively identified
Relatives of the victims were still streaming in at Chinhoyi Hospital mortuary this Friday to collect the bodies of their loved ones. 18 of the 35 identified victims had their ages given, and these ranged between 25 to 46 years, with the majority being in their 30s.
Police spokesperson, Senior Assistant Commissioner Charity Charamba appealed to families who cannot account for their relatives' whereabouts in the aftermath of the disaster to visit the Chinhoyi Provincial Hospital mortuary to try and help in identifying the remaining 3 bodies.
MDC-T mourns death of 45 passenger at Nyamakate
The MDC-T Spokesperson Obert Gutu has said his party joins the nation and the families in mourning the death of the 45 people who perished in the tragic bus accident at Nyamakate, near Makuti, on Wednesday evening.
"We mourn with the families of the deceased as well as with the entire nation of Zimbabwe,the sad and gruesome loss of life of Zimbabweans who were traveling to Lusaka,Zambia,in order to buy goods for resale to sustain their families.It is indeed,a very sad indictment on the unsafe driving habits of some public transport operators who fail to exercise due diligence and care on the country's roads," he said.
"Our national roads are in a serious state of despair and dilapidation as a result of decades of neglect and lack of proper maintenance,thanks to the misrule and mismanagement of the economy by the Zanu PF regime.We call upon all road users,particularly the drivers of public transport vehicles,to exercise maximum care and attention on the roads in order to prevent the unnecessary and tragic loss of lives."
He said the MDC also calls upon the Zanu PF regime to ensure that all country's roads are made safe and reliable for vehicular traffic.
"We are also deeply concerned by the lack of jobs in the country which has led to many young Zimbabweans to resort to cross border vending as way of survival and sustenance.We pray that the souls of the deceased passengers rest in eternal peace," he said.
Ghana: DVLA set to introduce new licences, review contracts with service providers
The Chief Executive of the Authority, Kwesi Agyemang Busia, told Joy News in an exclusive interview Wednesday it is unacceptable that service providers were taking 70 percent of revenues generated from the service they render to the public.
According to him, due diligence was done in some of the contracts signed by the past administration, adding there is the need to review them. "I have contracts that when we pay to one of the big ones I stutter simply because we over committed. "I think the cash flow and source of funds was not critically looked at because the contractors were making more money than the Authority before the ink on the contract dries," he lamented.
He said such developments have led to a situation where although the Authority is not in a cash crunch, it is neither prudent nor sustainable, to continue on this path. "I didn't want us to get to that point where drastic measures have to be taken," he said.
A new driver's Licence to be introduced: According to Mr Busia, the Authority will also phase out the existing driver's licence and replace it with a new one which will be introduced to the public on July 18. He said the new driver's license will have enhanced security features which will make it difficult to duplicate. "This is a unique card with a contact chip in it which is popular across the world like the new biometric passport," he said.
Mr Busia said the Authority wants to ensure that there is only one legalised licence used in the country to counter duplication. Like the biometric passport, he explained that it will have a lot of security features some of which will be visible to the eye and others which are not. He believes this will also block the financial leakage in that department as the services of fraudsters and 'goro boys' will not be needed.
Explaining the frustrations of applicants having to wait for months before getting their licenses, he said the new driver's license will be ready for pick up between three weeks and a month after the application has been submitted. For those who apply for the new premium service, they will receive their licenses within two weeks. Applicants will also have the option of picking it up at any of the DVLA offices across the country or having it delivered to their offices at a fee.
He believes this will create a hole in the activities of the 'goro boys' and in the long term when their efforts are frustrated, people will stop patronising their services. He revealed that the Authority is working to clear the backlog of applications pending since 2014. "For those who applied in 2014/15 and are captured in our systems, they should come back at no cost at all to get a new license," he said.
Commenting on the development, transport expert, Cecil Gabrah, agrees that it is a smart move by the Authority as it has become easy to secure a fake license which is not good for the country. "It is really good and I support it and I commend them for making it conform to international standards with embedded security features. "It is now time to get police the required scanners and teach them how to scan people's licences because at the moment I can tell you that 40-50% of licenses are not genuine," he said.
He bemoaned the involvement of some DVLA staff in helping outsiders to create the fake license for unsuspecting members of the public. "I believe that the CEO with his team will weed all those people out and get genuine people." Mr Garbrah wants the database to be linked with the National Identification Authority (NIA) system to add to the nation's quest for a good national identification system. "It is time for us to do the right thing once we have another opportunity," he said adding the new licence will help reduce the number of accidents on the road.
ALGIERS- Seventy four (74) people were killed and 453 others were injured in 551 road accidents that occurred during the first ten day of the month of Ramadan said Tuesday, the National Gendarmerie in a communiqué.
4 perish after Matatu collides head-on with incoming vehicle in Wote
7th June 2017
Gregory Govender, owner of Sagekal Logistics, will under the plea and sentence agreement pay a combined fine of R25 000, the National Prosecuting Authority (NPA) said on Monday.Truck driver Sanele May is serving a 10-year jail term at the Umzinto Correctional Services facility for his role as the driver in the incident. In September 2013, the truck hurtled down Fields Hill after its brakes failed to apply.May took the first off-ramp towards Richmond Road, Pinetown. The truck went through the intersection – smashing into two cars and four minibus taxis in an incident that killed 22 people immediately. Another two people later died in hospital.

 Govender pleaded guilty to the Contravention of the National Road Traffic Act regarding the roadworthiness of the truck and the trailer that was involved in the crash – this in terms of the duties of an operator. The act requires the operator of a motor vehicle to conduct his operations with due care to public safety.

The fourth charge is a contravention of the Immigration Act and relates to the employment of May – from Swaziland – who was in the country illegally.  "For counts 1 and 2 [taken as one for the purpose of sentencing], the accused was sentenced to a fine of R10 000 or 12 months imprisonment. He was further sentenced to a fine of R10 000 or 12 months imprisonment for count 3 and a fine of R5 000 or six months imprisonment for count 4," NPA spokesperson Natasha Kara said.

Kara said charges against Sagekal Logistics were withdrawn because "the company is currently subject to liquidation proceedings and is insolvent".

The KZN Director of Public Prosecutions Adv Moipone Noko welcomed the sentence. "We welcome the sentence and hope it serves as a warning to transport operators to ensure that their vehicles are roadworthy. Truck accidents contribute significantly to the carnage on our roads."
Truck, scotch cart accident kills 1
ONE person and his two donkeys died on the spot when a haulage truck rammed into his scotch cart from behind at Umguza Bridge. The accident occurred at the 56KM peg along the Bulawayo–Victoria Falls Road at around 7PM on Sunday night. Both the truck and cart were heading towards Victoria Falls.
Library image:
Mr Johannes Kauapirura (38) from Majene area was driving the truck which had Namibian registration. He escaped unhurt.
A source said: "Butholenkosi Ngwenya (29) of Block D village, Umguza was travelling alone in his donkey-drawn scotch cart. " It was dark and his scotch cart had no reflectors and hence the truck driver may have failed to see it in the dark until it was too late," said the source. "The scotch cart was flattened and Ngwenya died on the spot together with his donkeys."
Matabeleland North police spokesperson Inspector Siphiwe Makonese confirmed the incident. She urged motorists and road users to observe road rules and regulations to avoid unnecessary loss of lives as a result of accidents. "Police are urging motorists to be observant, cautious and ensure they do not speed, overtake in dangerous situations and above all safeguard lives on the road.
"Let us all drive to arrive alive and contribute towards safety on the roads. Drivers should not be reckless and where possible avoid travelling at night," said Insp Makonese. "Members of the public should desist from using scotch carts on highways, especially at night when visibility is poor. Scotch carts should have reflectors to avoid accidents".
Last month, seven people died in an accident involving a DAF CF lorry, a Nissan Caravan and an ox-drawn scotch cart along Kwekwe-Gokwe Road near Summerview Mine.
Ghana: 10 feared dead in gory accident in Ashanti Region
About 10 people are feared dead in an accident that occurred at Amanfrom in the Bantama constituency of the Ashanti Region.
The accident happened at 9:30pm when a driver of a Nissan with registration number ER-6878-X collided with a Hyundai Grace (registration number AS-1916-16). The Victims are currently at the Komfo Anokye Teaching Hospital (KATH) receiving treatment.
An eyewitness who spoke to our Correspondent Osei Kwadwo said the driver of the Nissan collided with the Hyundai Grace when he tried to go past a pothole on the road. According to the eyewitness, they believe that the driver of Nissan Toyota was drunk and lost control and subsequently rammed into the Hyundai Grace.
Meanwhile, two people have been involved in a terrible accident at Abrepo, a suburb of Kumasi. An eyewitness speaking said the Taxi driver with registration number GS-3239_09 rammed into a Sequoia vehicle with registration number AW-7091-12 after he lost control.
The victims are receiving treatment at the Komfo Anokye Teaching Hospital (KATH).
Bakkie crashes into ditch leaving six injured, Umkomaas
 14 injured as minibus taxi crashes into car then wall
Road Accident Fund bosses to get 30% bonuses – MP
Documents in possession of the Democratic Alliance reveal that the Road Accident Fund (RAF) has proposed to its Board that a 30% bonus be given to its executives' MP Manny de Freitas said on Friday.
Two people died Wednesday night in a road accident that happened along the Molo-Nakuru road.
2nd June 2017
A boda boda rider and his passenger died on the spot after colliding head on with an oncoming matatu.
Baby among 4 accident victims as 3 are injured
FOUR people, including a five month-old baby girl, have died and three others were injured in separate road accidents that occurred on Monday and Tuesday in Mbeya Region.  
The Regional Police Commander (RPC), Dhahir Kidavashari, told the 'Daily News' yesterday over the phone , that in the first accident, the baby identified as Agape Dickson, died and her mother, Neema Jerome (38), sustained injuries following a collision between two motorcycles in Igalako village in Mbarali District. He explained that the riders vanished with their bikes shortly after the accident.Mr Kidavashari said the injured woman was responding satisfactorily to treatment at Mbarali District Hospital, where the body of her son is preserved, pending completion of burial arrangements.
In another accident, a motorcyclist identified as Peter Nasson (21), died and his two passengers were injured when his motorbike ( of T-Better make with registration number MC 755 AMX) overturned along Mbalizi/Mkwajuni Road in Msangamwelu village in Mbalizi District on Tuesday.
The RPC, who attributed the accident to speeding, further identified the passengers as Emmanuel Sailasi (14) and Grvatus Bahati (21). "The injured persons are undergoing treatment at Ifisi Hospital, where the body of the deceased is preserved," he said.
In yet another incident, the police officer said a pedestrian whose identity was yet to be established, and whose age is set at between 25 and 30, died after being run over by a motor vehicle at Bagamoyo area in Rungwe District on Monday night. He said the body of the deceased is preserved at Rungwe District Hospital pending identification and subsequent burial.
An accident blamed on speeding, also claimed the life of Gabriel George (25), in the wake of a collision between his motorcycle (registration number MC 458 BS) and a rickshaw ( MC 634) which was being driven by one Jackson Samson (23).
The accident occurred at Sinde, on the outskirts of Mbeya city on Monday night. The RPC said the body of the deceased was preserved at Mbeya Referral Hospital pending completion of burial arrangements.
Residents slam police over roadblocks
Senior Asst Comm Mutamba was officially opening New Magwegwe Police Station, which was built with input from residents. Speaking during the event, district Crime Consultative Community (CCC) Acting Chairman Mr Zephania Moyo said kombi drivers must refuse to pay money at roadblocks.
"We are not happy with the conduct of the traffic police. If you check, there are more than five road blocks on the 12 kilometre stretch along Luveve Road. Police at each roadblock want kombi drivers to pay between $3 and $5. I wonder how much they spend on roadblocks per day. Kombi drivers must stop bribing police officers. It is better if they take them to police station rather than lose money for no reason," said Mr Moyo.
He said police officers must put the interest of members of the public first. Senior Asst Comm Mutamba said members of the public also have a duty to report corrupt police officers. "I would like to thank all New Magwegwe residents for contributing towards building this station. All of you are police officers. Youths, you have a duty to make Magwegwe a crime-free area. All of us here have an obligation to report corrupt police officers," he said.
There has been a countrywide outcry over police roadblocks, which are said to be retarding economic development. More than 50 percent of tourists interviewed during a recent Zimbabwe National Statistical Agency (Zimstat) survey said they felt harassed by heavy police presence on roads.
Breaking: 1 dead, 5 injured in NDDC MD's convoy accident
Author: Oluwatobi Bolashodun 2nd June 2017
The convoy of NDDC MD, Obong Nsima Ekere, has been involved in a road mishap – A policeman reportedly died in the accident – Five others were said to have sustained injuries The convoy of the managing director of Niger Delta Development Commission (NDDC) Obong Nsima Ekere was  , involved in an accident on Calabar road, Vanguard reports.
NAIJ.com gathered that the incident, occurred along the Calabar-Itu Road, when a trailer ran into the pilot vehicle carrying policemen attached to Ekere who was on his way to Calabar to receive the Acting President Yemi Osinbajo. Unfortunately one policeman died while five others sustained injures. The convoy of the Managing Director of NDDC, Nsima Ekere, has been involved in a road mishap.
The former deputy governor of Akwa Ibom state replaced Ibim Semenitari who was the acting managing director of the NDDC. Ekere is from Akwa Ibom state and has a degree from the University of Nigeria in Nsukka. He worked in the private sector doing estate evaluation and real estate development. In 2011, Ekere was nominated to be the deputy governor alongside Godswill Akpabio but he later resigned when he risked getting impeached by politicians.
New vehicle number plates for South Africa come into effect later in 2017
With talk of new number plate laws in South Africa set to come into effect later in 2017 (no official roll-out date has been set), it's best to know how this will affect motorists.According to Wheels24, the new plates and associated laws are part of the Department of Transport's strategy to standardise number plates in SA. It will form part of the National Road Traffic Act as well as the South African National Standard for number plates.The Department of Transport said: "The security features of the number plates are part of the broad road safety strategy, which will ensure that we have the right vehicles on our roads, which to a larger extent contribute to the fatalities and carnage on our roads."Law For All's Managing director, advocate Jackie Nagtegaal, answers questions regarding new number plates for SA:1. When will the new plates come into effect? Nagtegaal: "Originally devised in January 2015, the draft regulation amendments have been going back and forth due to public debate, it's believed that South African motorists will have to comply with these rules in 2017."2. What is the proposed design for the number plates? According to the proposed changes, a legal South African number plate must feature the following:• A certified stamp of approval from the South African Bureau of Standards (SABS)
• South African National Flag on top left corner
• The name of the province under the South African flag
• Licence number and licence mark of the province
• Four-dimensional barcode with the QR code that contains the registration number of the manufacturer of blank number plates.
• The name of the province in which the vehicle is registered
• The sequence number on the bottom left of the number plate.All info will be embossed on an aluminium plate and coated with a retro-reflective surface.3. Will all number plates have the same design? 
Nagtegaal: "For the most part, yes, but different colours for the letters and figures will be used to differentiate between types of vehicles:Public transport vehicles – Black
Government vehicles – Red
Diplomatic vehicles – Green
Personal vehicles – BlueAn example of public plates:4. What about customised number plates? According to Adv. Nagtegaal, personalised number plates will still be allowed but will have to conform to the regulations, and the lettering and figures will have to be in blue.  What's more, personalised number plates may not contain any vulgar or offensive language or symbols (only numbers and letters will be allowed)."Citizens will also be allowed to report any number plates they find offensive to their local metro police," said Nagtegaal.5. Will the new number plates be a once-off purchase for motorists? 
Nagtegaal: "No. Much like renewing your licence disc every year and your driver's licence every five years, you will also have to renew your number plate every five years.6. What are your thoughts regarding the changes? Nagtegaal: "There are some positives and negatives that have been highlighted since the changes were first mentioned. Many have praised the fact that a Member of Executive Council won't have a say in what images will be featured on the plates because previously their influence resulted in the plates being difficult to read."The aluminium plates will last longer and won't burn as easily in the unfortunate event of an accident.  However, because there is still a lot of confusion surrounding the new laws, we don't know if there will be a fee for the renewal. Many South Africans are skeptical as there hasn't been much transparency regarding payment, renewal fees and fines."Whether or not the new number plate regulations will come into effect in 2017 is still a mystery, and leaving motorists in the dark is certainly not the way to go about this process, but, at this point, it's better to have some idea of what will be expected when (if) the laws are implemented."
Elderly man 'kills 1, injures 3' at funeral
AN 87-year-old man from Zaka allegedly fatally knocked down an elderly mourner and injured three others when he accidentally reversed a relative's car while trying to take a selfie during a funeral wake.
Masvingo police spokesperson Inspector Charity Mazula said the incident occurred on Monday at around 4 PM. The unlicensed Toperesu Makwara of Siyawareva Village under Chief Ndanga allegedly got into Liberty Mungana's car to take a picture of himself. He allegedly sat behind the steering in the vehicle, which had its engine running.
Villagers said he somehow stepped on the accelerator and the car which was in reverse gear started moving and hit four mourners who were sitting behind it. Patrick Chiro (72) of Chiro Village was seriously injured and doctors pronounced him dead upon arrival at Musiso Mission Hospital where he was rushed for treatment. Mr Zvinei Tapanya (62) of Nhopi Village, Ms Eunice Mubango (40) of Chiro Village and Ms Regai Maponga (42) of Siyawareva Village sustained injuries.
The three were rushed to the same hospital where they were treated and discharged. Insp Mazula said the body of the deceased was taken to Musiso Mission Hospital mortuary for a post-mortem.
Tanzanian pilgrims injured in Masaka bus crash
MASAKA. At least 27 out of 45 Tanzanian pilgrims heading for Uganda Martyrs Day festivities in Kampala have been injured, some seriously, in an accident on Masaka highway. Police say the Falcon Bus, Registration T967-BTA, rolled on its left side after the brakes failed while ascending a hilly stretch between Kyotera and Masaka town. Three sustained limp fractures or "serious head injuries", says Dr Charles Kajoba of Masaka Regional Referral Hospital where the victims were booked for treatment.
Among the injured are septuagenarian Maria Ngonyari, 40-year-old Robert Imman, Alex Rono, 64; Angela Kigulwe Biringi, 65; Gloria Mwisa, 29; Emiyana Babweiga, 65; and, Julliet Arshdes, 40. Witnesses say the unnamed driver unsuccessfully tried to control the bus as it jerked backwards before rolling on its side.
Police breakdown truck tows away the bus that was involved in the accident. Photo by Gertrude Mutyaba.
Mr Rogers Nandege, the officer in charge of traffic, tells Daily Monitor that preliminary investigations show mechanical failure as likely cause of the 6:30pm accident. Police towed the bus shortly after the crash, roughly two kilometres to Masaka town.
Tanzania each year has a substantial representation at the Uganda Martyrs Day celebrations, which falls on June 3, with Maria; the widow of the country's founding President Julius Nyerere, always attending. It is an important day on the Catholic calendar worldwide and Pope Francis celebrated a mass attended by thousands at Uganda Martyrs Shrine Namugongo during his November 2015 visit to the country.
The Tanzanians involved in the Monday accident were heading to the Namugongo Shrine ahead of the Martyrs Day observance due this Saturday. Majority of the victims sustained minor injuries and are out of danger, according to police and doctors at Masaka Hospital.
The magic words that reduce road deaths
31st May 2017
Watch @ http://www.bbc.co.uk/news/av/magazine-40096722/the-magic-words-that-reduce-road-deaths
Ghana: Driver fined for 'inconsiderate' driving
A Ho Circuit Court has fined Alfred Awunyo, a teacher, GH¢ 2,580  (600 USD) or in default serve six months in prison custody for causing the death of one Mohammed Moro in a careless driving incident.
Madam Priscilla Dikro, the Presiding Judge further ordered him to compensation the bereaved family with GH¢ 1,500 (350 USD. Shameful if that is all the life of an African is worth? – Ed).
The facts of the case was that the accused on March 14, 2016 whilst driving a Toyota Carina E saloon car with registration number GT 5641, during a rainstorm from Ho towards Ave-Dakpa in the Akatsi North District. The Prosecution said on reaching the Wudome Customs check point, Awunyo moved into the other lane to avoid the Customs barrier and hit Moro who was riding a Sanya motorbike.
Moro's left arm was chopped off as a result of the impact and he died a few hours after admission at the Volta Regional Hospital in Ho.
A post Mortem examination conducted on the deceased at the hospital gave the cause of death as "severe blood lost from amputated left upper limb in road traffic accident". A duplicate docket of the case was forwarded to the Attorney General's office and upon their advice, Awunyo was charged with careless driving and negligently causing harm.
The Court found him guilty on his own plea and was fined 250 penalty units.
 Johannesburg – As of January 2017, it became mandatory for speed governors to be fitted to certain vehicles registered weighing more than 3500kg on that date; vehicles include minibuses, midi-buses, buses and goods vehicles.The objective of speed governors is to limit the maximum speed of affected vehicles to 100km/h.According to MasterDrive:
"From the time the amendment was first mentioned in 2014, support was expressed for it. Of the estimated 12 deaths a day on South African roads, 25% can be attributed to these vehicles. For this reason, it is believed these laws can have a positive impact on road safety in South Africa."
Driver training needed: Speed alone is not the only cause of crashes associated with heavy or medium commercial vehicles.According to MasterDrive managing director, Eugene Herbert, as with most other classes of vehicles, training has the potential to reduce these accidents even more: "Yet, heavy goods vehicles are a category often overlooked in terms of training solutions."Just like an 18-wheeler truck, safely moving a goods vehicle around requires certain skills. A major challenge that drivers have to deal with is loads which change throughout the day and consequently how to best load the vehicle for safety."
Ghana: Drunken police driver rams car into trotro
A police driver who is alleged to have been heavily drunk but was driving a vehicle on Saturday night rammed into a mini passenger Urvan bus while a superior officer also said to be under the influence of alcohol on the passenger side looked on.
The Toyota land cruiser pickup belonging to the Ghana police service with registration number GP 3008 which was behind the mini Urvan bus with registration number WR 554-12 that was just about negotiating into the road leading to Kanda estates a suburb of Accra the national capital hit when the police vehicle rammed into it.
About 15 passengers onboard the 'trotro' bus sustained various degrees of injuries as a result even though occupants of the police vehicle including the unnamed police inspector and the driver in front and a junior officer behind the bucket escaped unhurt.
Ayamga Bawa Fatawu who reported to mynewsgh.com said "Inside the police pickup truck were a police inspector and the driver in front and a junior officer behind the bucket of the truck rammed into a trotro vehicle with a driver and fifteen other passengers, resulting in the serious accident with some passengers sustaining degree of injuries"
The junior officer behind the bucket of the police vehicle who spoke on condition of strict anonymity, did admit it was the fault of the police driver for both the driver and inspector seated in front were all drunk and could possibly be influenced as a result.
The scene attracted other road users who had thronged there to satisfy their curiosity and ostensibly make news out it. Who was at fault was the topic of discussion at the scene as they assessed the extent of damage to both vehicle.
SPECIAL REPORT : Why traffic laws need overhaul to reduce road accidents
29th May 2017
9 KILLED, SEVERAL INJURED IN SEPARATE ROAD ACCIDENTS
28th May 2017 By MARY WAMBUI and ANGELA OKETCH
At least nine people lost their lives on Friday in separate road accidents in Kisumu and Murang'a counties. In Murang'a, the accident at Mlima Swara claimed six lives, as five survivors remained at Thika Level Five Hospital under treatment. A conductor and a passenger were discharged.  Dr Joseph Wanjohi, the deputy medical superintendent said they received eight patients, most of them suffering multiple and severe injuries.
Victims said they boarded the vehicles at Kenol and were hit by a lorry ferrying timber along the busy Sagana­Nairobi highway.
FAMILY MEMBERS "I boarded the vehicle at 9:15pm and was to alight at Makuyu. I cannot recall what happened afterwards when the lorry hit the vehicle and another," said Anthony Muiruri from the hospital bed. Makuyu police boss Paul Wanjama said the two matatus were heading to Embu. The Kisumu accident along Ahero­Katito Road left a family in Nyamira County mourning its four members.
The wreckage of a matatu that was involved in an accident at Mlima Swara black spot near Kakuzi along the Nairobi­Nyeri highway. The accident claimed six lives.  The four were among 16 passengers in the vehicle ferrying passengers from Kineni to Bondo for the Jaramogi Oginga Odinga University of Science and Technology graduation ceremony. The driver lost control of the vehicle and plunged into a river.
SPEEDING "I do not know how my sister is going to react to this," said Mr Wesley Nyakundi, whose father died in the accident. He was recuperating at Jaramogi Oginga Odinga hospital. He said the driver of the vehicle was not speeding. "We do not know what actually happened," Mr Nyakundi who was in pain, said, adding that the 14 ­seater matatu belonged to Gusii Commuter Sacco.
Nyanza Traffic boss Andrew Naibei said the driver lost control of the vehicle and veered off the road before plunging into a river. "Three men died on the spot while a woman died while receiving treatment at Ahero sub county hospital," he said. Mr Naibei cautioned drivers against speeding on unfamiliar roads, noting the driver was not familiar with the narrow road.
Ghana: 5 killed 15 injured in crash at Kenyase
27th May 2017
Five individuals are reported dead in an accident that occurred at Kenyase in the Ashanti Region around 1pm on Friday, May 26.
Maxwell Frimpong, an eyewitnes
s narrated to ClassFMonline.com that a 207 Benz Bus with registration number GW 4632 U that had loaded passengers from Dr Mensah and was heading to Bonwire rammed into a truck on its way to Duase when it tried to manoeuvre round a car that had partially blocked a road near the Garden City University College.
The driver of the 207 Benz Bus is reported to have died on the spot followed by four other fatalities. Over 15 persons who were in the bus sustained various degrees of injury.
Police in Kenyase later conveyed the bodies to the Manhyia Hospital as the others who were injured proceeded to the Komfo Anokye Teaching Hospital for treatment.
Zimbabwe govt to introduce new fuel levy
THE Government plans to introduce a fuel levy to finance a new Road Accident Fund that will ensure compulsory compensation of road traffic accident victims, an official has said. The fund will also cover disbursements of funds to victims on compassionate and medical grounds.
Various options on the structure and operations of the fund are still under consideration, with focus on the South African, Namibian and Botswana models.
The South African model entails 11 cents per litre in local currency levied on motorists that goes towards the fund. It raises about $2 billion annually and covers loss of a relative in an accident, medical costs in the event of injury, post hospital costs and loss of future earnings, which depends on one's capacity before the accident. The South African model has been saddled with structural and operational challenges that have seen it being described as the "lawyers and doctors' business", as most payouts cover legal and medical claims.
Due to payout for loss of future earnings, rich claimants take up significant chunks of the money, it was also established.
Addressing stakeholders at a meeting in Karoi recently, the director responsible for transport in the Ministry of Transport and Infrastructural Development, Mr Allowance Sango, said the Government was proposing the fund for compulsory compensation. "We are proposing compulsory compensation, which ensures that people get health services when they need them soon after an accident," said Mr Sango.
"The fund will also address the state of preparedness in the event of an accident, as most people lose their lives because they don't get specialised medical care in time." Experts say most people's lives could be saved if they get specialised care within the first hour known as the "Golden Hour" of an accident occurring.
Mr Sango said the setting up of the Road Accident Fund would address Pillar 5 of the Moscow Declaration, which deals with post-crash management. The fund is expected to bolster paramedic visibility on the country's roads and institutions. In most cases, ambulance services have been hesitant to attend to people injured at accident scenes because of uncertainty over payment. "Paramedic services will not worry about being paid because there is an established fund, which will cater for that," said Mr Sango.
The establishment of the fund, he said, would provide an opportunity for private-public-partnerships for procurement of helicopters and other specialised vehicles. Stakeholders at the consultative meeting said the fund should be domiciled under the Traffic Safety Council of Zimbabwe (TSCZ). "What we do not want is for another board, executive and other premises which will chew more money, but a lean and efficient structure that really serves the interests of the people," said a participant.
The Namibian and Botswana schemes are hybrids, borrowing the framework of the South African model, but with some adjustments.
TSCZ director for finance and administration Mr Clifford Gobo said the South African model required the use of lawyers to process claims, while the Namibian one had defined benefits and payout thresholds. "The Namibian fund has partnered government to build a rehabilitation centre for accident victims," said Mr Gobo. "The Botswana fund is mainly funded from the fuel levy, with 90 percent of the money coming from investments the fund has made." The Namibian and Botswana funds are running at a surplus, while the South African fund is running into challenges.
Of the R33 billion reportedly generated by the South African fund last year, R6,6bn went to lawyers, while R120 million went to medical expenses. It dealt with R424 million fraudulent claims, with provisions to claim for loss of future earning drawing R126 million.
Participants at the workshop, although welcoming the introduction of the fund, called for stringent mechanisms to deal with corruption and unequal access to the funds and services between the rich and the poor. "There should be a cap on how much someone can claim, so that we don't have a situation where the rich get richer while the poor get poorer," said Mr Tendai Katepa.
Several people gave testimonies of how they were involved in accidents, but did not get any compensation. It emerged that most people were being injured in unregistered and uninsured pirate vehicles. Zimbabwe has an estimated vehicle population of about 1,2 million, which is growing at a rate of between five and 10 percent per year.
3 dead in car crash
Two died on the spot and the third person died at Gweru Provincial Hospital following the crash that occurred at around 12:20PM.
Gweru Fire Brigade sub officer Mr Ephraim Manzera confirmed the fatal accident and said the vehicle could have been speeding. Mr Manzera said they were called to the scene at around 12:30PM and arrived at about 1PM. He said the three people in the Toyota Altezza were driving from Shurugwi towards Gweru when the fatal accident occurred.
"The Toyota Altezza light vehicle was travelling towards Gweru city when it veered off the road and crashed into a very big tree at the 20km peg along the Gweru-Shurugwi highway near Chikwingwizha Seminary turnoff, killing two people on the spot," said Mr Manzera.
He said when they arrived at the scene, the third person who later died on admission to Gweru Provincial Hospital had been removed from the wreckage by fellow travellers.
Mr Manzera said they suspected that the vehicle was speeding and hit a pothole before veering off the road. "When we got to the scene we found the vehicle lying on its side and we took about 45 minutes to cut the doors before removing the two bodies from the wreckage. The third passenger had been ferried to Gweru Provincial Hospital after being rescued by some travellers. Unfortunately he died on admission," he said.
The Parliamentary Portfolio Committee on Transport and Infrastructural Development has previously said 85 percent of accidents in the country are due to human error. MPs listed 12 other causes of accidents that include bad state of roads, speeding, drunken driving, fatigue, use of cellphones when driving and going through red robots. The use of second hand tyres, stationary and defective vehicles, stray animals on the roads, inadequate road signage and markings as well as lack of traffic enforcement were also cited.
Johannesburg – A minibus taxi driver was killed, and 10 of his passengers injured, when their vehicle collided with a delivery van in Witbank, Mpumalanga, paramedics said on Friday.Officials arrived at Clewer Landau Road on Thursday afternoon to find both wrecked vehicles on the side of the road and several people walking around, said ER24 spokesperson Russel Meiring.In the front passenger seat, next to the body of the driver, rescue officials found a critically injured 13-year-old boy who was trapped. They had to use specialised equipment to free him. Ten commuters were injured in total, five of whom were in a critical condition. Meiring said the cause of the crash was being investigated.Related Links
Zimbabwe: 'Owners of stray animals that cause accident must be prosecuted'
THE Senate has concluded debating a motion calling for the prosecution of people whose stray animals cause accidents on the country's roads. Over the years, stray animals have contributed to a number of fatal accidents on the country's roads.
The mover of the motion Zanu-PF Manicaland senator Judith Mawire said the country has laws to prosecute owners of stray animals, but the legislation was largely not being implemented.
Part of the motion read: "Incensed by the fact that some people have suffered from bites inflicted on them by rabid dogs and have faced challenges in getting proper medication while others have been involved in fatal accidents caused by such animals; now therefore, calls upon the local authorities and the Society for Prevention of Cruelty to Animals to enforce laws that do not only protect the stray animals but also safeguard the lives of people; prosecute owners of stray animals and also ensure that proper facilities are constructed for the safe custody of such animals."
Senators said they were disturbed by the persistent problems posed by stray dogs and other domestic animals to surrounding neighbourhood and communities countrywide. They said they were concerned that owners of such stray animals were being careless. Senator Mawire appealed to the SPCA, Zimbabwe Parks and Wildlife Authority, chiefs and the Veterinary Services Department to ensure that laws that have become redundant are resuscitated and implemented.
"This motion was on stray dogs and other domestic animals which are handled carelessly, we know that there used to be a law which had been put in place for the society for the prevention of cruelty to animals," said the Senator. "I am therefore appealing to the Government to resuscitate these laws which are now redundant and the resuscitation should be put into practice because we have these animals which are suffering due to lack of care resulting in accidents and also leading to fatal accidents."
The Government, through the National Traffic Safety Council (NTSC) last year launched a programme to erect perimeter fences along highways. A fence has since been erected along the Bulawayo-Gweru highway, but there is concern that people leave gates open, thus animals continue to be seen on the highway, posing a danger to motorists.
THE Ray Nkonyeni Municipality has asked motorists to respect the rules of the road and take part in promoting road safety.This comes after a number of road incidents and accidents have occurred where human error is suspected to be the cause. Last week, the Fever published an article about the apparent disregard of traffic law by motorists (Traffic laws widely disregarded, May 11).The photographs accompanying the article showed a number of motorists intentionally breaking the law. Ray Nkonyeni Municipality spokesperson, Simon April, said there are mainly four causative factors for road accidents – human factor, vehicle factor, engineering factor and the environmental factor."The human factor is the most contributing one on our roads due to driver behaviour such as drunk driving, speeding, using cellphones while driving, reckless, negligent and incon- siderate driving and lastly, passengers pressurising drivers to speed to reach their destination."He asked motorists not to use cellphones while driving, not to drive while under the influence of intoxicating substances, to keep to the speed limit and not overtake on barrier lines. "Pedestrians should also cross roads safely and should wear light or bright colours to enhance visibility particularly at night." He also cautioned against jay walking and the use of cellphones or loud headphone music by pedestrians while crossing roads.
"Let everyone adopt the slogan, 'road safety starts with me'."
Three children die after being struck by car in Nquthu on eve of elections
Tragedy struck the northern KwaZulu-Natal area of Nquthu on Tuesday afternoon, the eve of the much-awaited municipal by-elections when three school children died after being knocked by a car.
NMG driver dies in road crash
24th May 2017
A policeman looks at the wreckage of a Nation Media Group van that collided with a lorry on the Nairobi-Mombasa road on May 23, 2017. PHOTO | LUCY MKANYIKA | NATION MEDIA GROUP  
A Nation Media Group driver died after his newspaper delivery van collided with a lorry at Maungu, on the Nairobi-Mombasa highway on Tuesday morning. Voi County traffic boss Silas Wanyonyi said the driver died on the spot while his colleague was rushed to Moi County Referral Hospital in Voi with serious injuries.
"There were two occupants in the vehicle and one died on the spot. The driver was overtaking a vehicle in front when [his van] collided head-on with the oncoming lorry," he said.
In another incident on the same highway, three people suffered serious injuries when their Nairobi-bound vehicle collided head-on with a Mombasa-bound Simba Coach bus at Mbuyuni. The three were taken to Moi County Referral Hospital for treatment.
Road accidents: 30 killed, over 1500 injured in one week
Published On : Tuesday, 23 May 2017
ALGIERS – Thirty (30) people were killed and 1,525 others injured in 1,359 traffic accidents during the period from 14 to 20 May in several provinces of the country, Civil Protection said in a statement.
Namibia: Pohamba's guard dies in car crash 2 others killed.
News – National | 2017-05-23 Marx Itamalo
 LONG serving guard at former President Hifikepunye Pohamba's homestead at Okanghudi was killed on Monday afternoon in a car accident. Matheus Islaer died when the car he was driving crashed head on with another at Ondobe village on the Onhuno-Eenhana main road in Ohangwena region.
The accident also claimed the lives of two other people who were travelling in the other vehicle. According to Ohangwena police spokesperson Abner Kaume Itumba, Islaer's vehicle collided with a Tata bakkie. The two other people who died were identified as Kaudife Naholo (age unknown) and Mwaetako Tuhafeni (31).
The driver of the bakkie, Immanuel Naholo Kalonge (34) from Ondobe village, and another two passengers Tomas Enghali (28) and Tomas Nghilundwa (24) – both from Omunyekadi village – survived and were taken to the Engela hospital.
Itumba said one of the cars was avoiding hitting another car when they crashed.  "That's what we are suspecting but we are not very sure, investigations are still ongoing," he said.
DEATH as matatu crashes into shops
Author: Abdikarim Hussein 23rd May 2017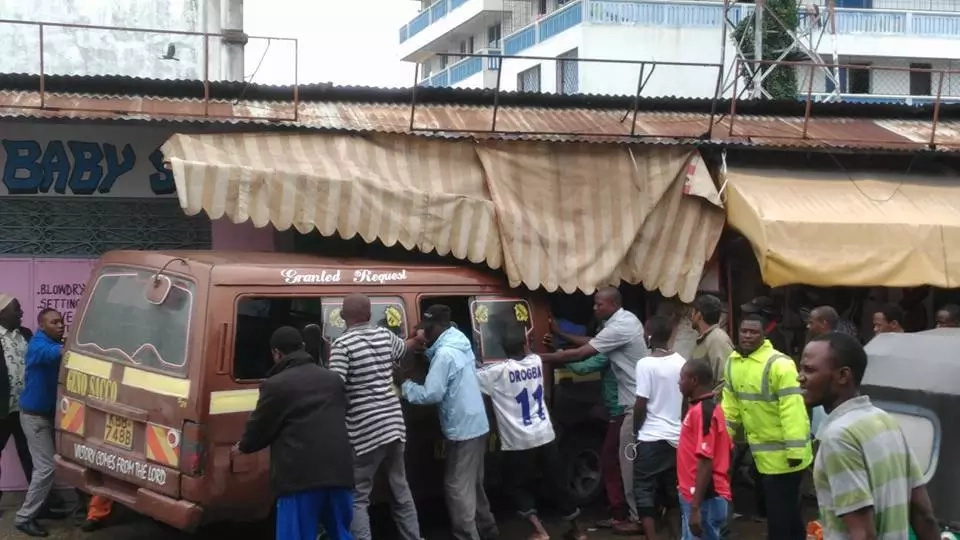 One woman has been confirmed dead after a matatu lost control and crashed into several kiosks in Mombasa – The Monday morning accident in Mombasa is said to have been caused by the matatu driver who was speeding.
The woman is said to have been in one the kiosks when the vehicle crashed into her. A witness claimed the driver of the matatu had been speeding on the busy road when he lost control and smashed into the shops.
Lorry, bus accident driver now insane
Regis Mangwari, the driver of a South African-registered haulage truck which sideswiped a Johannesburg-bound Proliner bus killing 31 people on the spot and leaving 40 others injured near Mvuma along the Harare-Masvingo Highway, has reportedly become mentally unstable.
Mangwari appeared before Mvuma resident Magistrate Mr Tayengwa Chibanda facing 31 counts of culpable homicide. His lawyer Mr Passmore Mabukwa told the court that his client had not been physically examined by a medical doctor. He said his head was not scanned following injuries he sustained in the fatal crush.
"My client suffered some head injuries but was not attended to and is suffering from hallucinations, his speech is incoherent. May he be examined by a medical doctor and psychiatrist according to the Mental Health Act before he can stand trial," said Mr Mabukwa.
Mr Chibanda remanded Mangwari in custody for psychiatric evaluation.
Uganda: Four die in Kyegegwa car crash
Four people have been killed in a road accident along the Kampala-Fort Portal road. The four have been identified as Rogers Basiima, David Sande, Ali Swahaba and another unidentified person are all residents of Kyenjojo town council.
The accident occurred today at about 9:00am at Mukonomura in Butunduzi town council, Kyegegwa District.  Lydia Tumushabe, the Rwenzori Region Police Spokesperson said the deceased were traveling from Kyenjojo to Kampala in a taxi registration number UAY 774F.
According to Ms Tumushabe, the taxi knocked a Fuso Truck, which was being repaired on the side of the road.
Ms Tumushabe said the driver of the taxi escaped unhurt and he is on the run. She added that the accident was a result of reckless driving and over speeding.
Father and children perish in accident outside Grootfontein
21st May 2017
A 48-year-old man, his son and daughter died in a collision near Grootfontein Friday night. Spokesperson of the Namibian Police in the Otjozondjupa region, warrant officer Maureen Mbeha told Nampa in an interview the deceased have been identified as Moses Gariseb, his son Petrus Gariseb, six, and the 14-year-old Saara Garises. "Their relatives have been informed."
Mbeha said the Gariseb family was travelling in a red Uno Fiat heading north of Grootfontein, while a black Ford Focus headed opposite direction. The two cars collided head-on approximately eight kilometres outside Grootfontein on the B8 road.There were six people in the Uno, including Moses Gariseb who was the driver, while there were three people in the Ford, including the 32-year-old driver. A 44-year-old woman and two girls aged 14 and 15 who were in the Uno sustained serious injuries.They were taken to the Grootfontein State Hospital and were Saturday morning transferred to the Katutura State Hospital in critical condition. The driver of the Ford sustained minor injuries and was also admitted to the Grootfontein State Hospital. A case of culpable homicide has been opened at the Grootfontein Police Station and police investigations continue.
Motorbrike crashes into tractor, two seriously injured
Two people were seriously injured when a motorbike they were riding collided with a tractor at Forester D Estate in Mvurwi Mashonaland Central yesterday. Sources privy to the development allege two men took a motorbike belonging to the farm foreman without his consent and crushed into a tractor that had no lights at all.
The two were rushed to Mvurwi hospital where one of them identified by Bulawayo24.com as Forget was referred to Parirenyatwa Group of Hospitals for better treatment.
In a related incident a couple from Mazowe Mine was allegedly hit by a vehicle at Concession intersection in Concession last night.  According to Tobias Kapale, Cosmas Chekami 54 together with his wife Galdencia Kapale 47 were hit by a vehicle in Concession and Galdencia is currently  admitted at Concession hospital.
"These motorbikes are becoming very dangerous my sister was hit together with her husband at Concession junction she is currently admitted at Concession hospital," he said.
Meanwhile, cases of motorbikes colliding with vehicles are prevalent in Mashonaland emanating from human error.
A member of the war veteran association Shambakumanja Shambakumanja denounced new farmers who cycle motorbikes without driving licences. "These accidents are rampant because most new farmers are just riding without licences so at the end of the day an accident is recorded. "Police should arrest these cyclists and a stiff purnishment should be implemented to those found wanting," bellowed the war veteran.
Ghana: Two dispatch riders in Bawumia's convoy involved in accident
20th May 2017
Two of Vice President Mahamudu Bawumia's dispatch riders have reportedly been involved in an accident Thursday.
According to reports, the rider crashed into a Nissan Patrol vehicle which crossed him at Song, a village in the Mion district when the convoy was moving from Yendi to Tamale. the dispatch rider was thrown off the motorbike and crashed onto the ground.
The Northern Regional Police Public Relations Officer, ASP Muhammed Yussif Tanko confirmed the accident to Adom News. He said riders of motorbikes with registration number GP-4135 and GP-4425 were thrown off the motorbike and crashed onto the ground.
Adom News' Illiasu Abdul Rauf who was part of the Vice President's convoy said the rider who sustained injuries and was rushed to the Tamale Teaching Hospital for treatment.
The Vice President, Dr. Mahamudu Bawumia is on a four-day tour of the Northern region.
No charges yet as Omalume continue to transport pupils in bakkies
Friday marks as week since law amendments prohibiting school pupils being transported in the back of bakkies came into effect. However, in Pietermaritzburg it seems many school children are still being transported in the back of bakkies.The law amendment makes it illegal to transport school children for reward (paying a driver) in the goods compartment of any vehicle.Despite threats from the Department of Transport that they would enforce the law when it came to effect last week, it appears no one has been fined under this amendment. Instead, bakkie drivers transporting children have been fined for their unroadworthy vehicles and for drunk driving. The drivers of the bakkies, known as omalume (uncles), have told The Witness their discussions with the Department of Transport to try and find a lasting solution to the scholar transport issue in the province have reached a stalemate.KZN Scholar Transport Association spokesperson Jabulani Dladla said the negotiations had reached a deadlock, which meant the bakkies would continue to operate. "This is not a new issue. Government has been saying that they do not want the bakkies for a long time now. Our argument has been simple, if government wants to ban bakkies, then they must help us get cars that will comply with the regulations."We have had a series of meetings trying to find common ground but no results [have been forthcoming] yet. We are hoping that in the follow-up meeting, which has not been scheduled yet, we will be able to find each other," he said.Dladla said the operations of omalume had not been affected since the new amendments came into effect. "Before the law came into effect there was talk that there would be police stationed outside schools to enforce the law. "That did not happen and our operations have been going smoothly," he said.Transport spokesperson Nathi Sukazi admitted that no one in KZN has been charged for transporting pupils in the bakkies. "Since last week there are 39 charges that have been made. There are 27 written notices issued and two bakkies have been suspended. All of these relate to unroadworthy vehicles transporting pupils."There were also two arrests of drivers of minibuses caught driving under the influence of alcohol," he said.The amendments, which were announced late last year, were made to curb the spate of accidents involving bakkies, which have claimed many lives in the province. The move was met with disapproval by omalume, who complained the new rules had been poorly communicated. School governing bodies had also complained that the process had been co-ordinated poorly.
Prez Mugabe blames sanctions for infrastructure collapse
Speaking at the groundbreaking ceremony for the dualisation of the Harare-Beitbridge Road at Chaka business centre in Chirumanzu, Mugabe said Zimbabwe was failing to secure lines of credit to finance its infrastructural projects because of economic sanctions.
"Because our country has been under sanctions for more than a decade and a half, our infrastructure has deteriorated," Mugabe said. "We face several challenges in our attempts to secure lines of credit. Thus, when funding such as that for this project has been secured, we cannot ever afford to maintain a business-as-usual approach to work."  Mugabe said the road was not only strategic to the country, but to the Sadc region and part of the North-South corridor as well.
The project – which will cost $984 million – will be funded by main contractor Geiger International under the private-public partnership arrangement, with 40% of the work reserved for local contractors. Mugabe said the nature of the project was expensive, hence, required high standards for government to get value of the cost. He challenged local companies that would get tenders in the project to maintain high standards of work.
"Clearly, infrastructure development is expensive, hence, whenever we undertake such projects, we must demand that the product be of high quality and must be durable and give good value for money," he said. "Sub-standard work should never be tolerated."
Mugabe said increased pressure on the road, which he described as narrow, had seen many accidents occurring on the highway with the latest being that involving a bus where 30 lives were lost. He, however, admitted that protracted negotiations with various potential financiers had delayed the project. Mugabe also appealed to community leaders to lead campaigns against vandalism of national infrastructure.
Geiger International vice-president Eric Geiger said his company would do everything possible to ensure that the road was completed within three years as per the contract agreement.
Last night, 1 person died, 1 injured in a high speed collision Hendrik Potgieter
19 May 2017, Roodepoort: The driver who lost control sustained moderate injuries and was transported to hospital for further medical attention. The driver of the red hatchback unfortunately succumbed to their injuries and was pronounced dead on scene.
Use of spikes wreaks havoc
ZPP said it is alleged that a Karoi woman died after she was run over by a pirating taxi that veered off the road when municipal police threw spikes at a moving vehicle.
"The wanton use of spikes by police officers has resulted in a surge in traffic accidents. On Tuesday 16 May in Karoi council police are alleged to have thrown spikes at pirating taxi operators after which one of the taxis ran over three people who sustained injuries. It is also alleged that when vendors realised that the municipal police had arrived in a taxi they pounded the vehicle with stones and later torched it. Zimbabwe Republic Police (ZRP) officers that arrived at the scene to restore order also had their car damaged during the running battles," said ZPP.
"When contacted for comment, Karoi police confirmed the death but indicated that they could not be quoted. Constable Taizivei, from ZRP General Headquarters, said they had not received the report. Recently a police officer was assaulted by members of the enraged by throwing of spikes at a moving vehicle along Chinhoyi Street in Harare. The incident resulted in property damage and three pedestrians sustained injuries. Another commuter omnibus crashed along Gleneagles road in Harare after the driver lost control trying to avoid police spikes."
ZPP said metal spikes are increasingly being used to impede or stop vehicles believed to be flouting road regulations in most parts of the country.
"Since motorists drivers are left with damages some quite extensive when spikes are thrown at their vehicles, they have questioned the legality of their use. In March, Home Affairs deputy minister, Obendingwa Mguni said police officers should only use spikes to control traffic and not to the extent of endangering motorists and passengers. The minister also highlighted that the spikes should be laid, not thrown," ZPP said.
"A motorist has since lodged an application in the High Court challenging the use of spikes. However, the use of spikes has worsened conflict between police officers and society as police officers have continued to cause mayhem with the use of spikes. There are surely other methods that police officers can use to follow up on motorists that flout road regulations. ZPP therefore urges police officers to fulfill their constitutional mandate, which is to protect lives and property."
Heavy rain and localised flooding on the N2 cause of various collisions
IPSS Rescue | Kwa-Zulu Natal | NARI 17th May 2017
Ghana:  9 Mourners die 14 injured in accident near Berekum
16th May 2017
Biadan, near Berekum in the Brong Ahafo Region, has been thrown into a state of mourning following the death of nine mourners in a gory accident as they were returning from a funeral at Wamahinso in the Asutifi North District.
Fourteen others got injured in the accident, which occurred at Amanfoso, near Nsoatre on the Sunyani-Berekum highway about 5:30 p.m.last Saturday. The deceased, made up of five males and four females, have been identified as Michael Bediako, Issifu Kramo, Braimah Kramo and Rose Tawiah, 42, who died with her daughter, Abenaa Foriwaa. The rest are Auntie Mary, 75, who died along with her 42-year-old daughter, identified only as Ataa, Kwasi Gyedu, alias Akakpo, 61, and Afia Charity, 52.
The Brong Ahafo Regional Commander of the Motor Traffic and Transport Department of the Ghana Police Service, Superintendent of Police Ms Stella Sedame, who confirmed the accident in an interview, stated that the injured were currently receiving treatment at the Berekum Holy Family Hospital, while the bodies of the deceased had been deposited at the Sunyani Regional Hospital mortuary.
According to her, the accident occurred when the driver of the Sprinter Bus, with registration number BA 2423 – 12, on which they were travelling, is said to have lost control of the vehicle when it burst one of its rear tyres and ran into a valley.  A rescue team was dispatched to retrieve the bodies and send the injured to hospital.
Biadan community: The entire Biadan community was adorned in red and black, amid wailing and the singing of dirges when the Daily Graphic visited the town. There was a joint family gathering on a school park where hundreds of sympathisers had converged to mourn with the affected families. With many people sitting with their hands supporting their chins, it was clear that some families had been hard hit by the accident, as investigations revealed that one family lost as many as three people, while other families lost two.
Briefing the Daily Graphic, the Assembly Member for Biadan East, Mr Wonder Amo Appau, explained that the victims were returning from Wamahinso where they had attended the funeral of the mother of a former assembly member for Biadan. He added that all the 23 people on board the vehicle were from Biadan and that the accident had greatly affected the entire community. He explained that three siblings, Bediako, Issifu and Braimah, lost their lives, while Rose also died with her daughter, Foriwaa.
For his part, Mr George Hinneh, the Assembly Member for Biadan West, disclosed that the mass funeral of the nine deceased had been fixed for Friday, May 26, 2017. He described the accident as "the first tragedy of its kind" to befall the town, adding that the entire community had decided to come together to support the affected families.
Zimbabwe govt to set up accident fund
 THE Government is setting up a fund to assist road accident victims after it emerged an accident occurs every 15 minutes and about five people are killed every day on the country's roads.
A levy on fuel or motorists has been considered among possible ways to raise money for the fund. The Deputy Minister of Transport and Infrastructural Development, Engineer Michael Madanha, yesterday told Bulawayo residents at a Road Accident Fund Consultation meeting that accident statistics had forced his ministry to act.
"According to statistics, a road accident occurs in Zimbabwe every 15 minutes and five people are killed every day on our roads. On average we have about 1 700 fatalities and over 30 000 people are injured every year. "These statistics though frightening must always be remembered so that we come up with a viable and sustainable Fund which takes into consideration our country's economic realities," said Eng Madanha.
"The dilemma service providers face becomes one of deciding between response to save lives with the possibility that the majority of the injured may not be able to pay for the services versus long term viability." He said there was a possibility that medical practitioners are hesitant to respond to accidents as fast as they could as they grapple with the question of how such services will be paid for.
"Ironically as the experts will confirm, the first hour post-crash is the most critical for the injured to receive medical attention if they are to survive," said the Deputy Minister.
"The Minister has already sold the concept of setting up this fund to his colleagues in Cabinet and has been tasked to refine the idea and submit the same to Cabinet for consideration." Transport and Infrastructural Development Permanent Secretary Mr Munesu Munodawafa said motorists must contribute before anyone else.
"As things stand now we are in the consultation process; there is no fixed mode of funding that we have adopted. However,  vehicle users must contribute something towards the fund because there is no point in taxing Zimbabweans towards a fund which is specific to road accidents," he said.
"We are saying in some countries they put a small levy, a small fee on fuel and then you calculate how much it will earn you, maybe half a million per month. We haven't taken the matter to Cabinet and we are still deliberating on the options that we have." Mr Munodawafa said after the provincial consultations, they will have a national stakeholders' meeting where they will have insurance experts and others.
"This is a crash programme we are working on but at the same time we want it to be as productive as possible. We started with Bulawayo today and we will go to all the provinces in the next two weeks," he said. According to the Traffic Safety Council of Zimbabwe, there is a large number of uninsured motor vehicles despite the fact that it is compulsory for motorists to insure their vehicles.
"Although a large number of accidents occur in urban areas, the majority of the high casualty accidents occur in remote out of town areas with basic evacuation and medical facilities. As a result, there is an unnecessarily high morbidity or mortality rate. The lack of specialist modes of transportation for the casualties, lack of trained personnel and adequately prepared medical facilities adds to the carnage," reads the TSCZ statement.
"Note-worthy is that Zimbabwe and all other developing countries have not achieved a systematic way of educating, enforcing, evacuating, treating and rehabilitating their populations as has been done in developed countries. All these require adequate funding for the cash-strapped developing countries."
Bellville: 2 suspects killed in early morning crash on Modderdam road
News, Accidents, Robberies & Incidents | Western Cape 
Trial date set for Mvuma Killer Driver
The trial of Regis Mungwari (29) a driver of Transmech Logistics a South Africa-registered haulage truck, which on 05 April 2017 sideswiped a Johannesburg-bound Proliner bus, killing 21 people on the spot and leaving 40 others injured near Mvuma along the Harare-Masvingo Highway, at Nyamatikiti River near Chaka Business Centre in Chirumanzu has been set for May 18.
The South Africa-bound bus had over 60 passengers on board, while the truck was laden with tyres. According to the State, preliminary investigations at the accident scene indicated that Mungwari was speeding on a winding road  and lost control of his tyre-laden truck on approaching the 218km peg, and encroached the path of the oncoming bus.  The vehicles sideswiped and both burst into flames because of the impact. State Prosecutor said Mungwari acted negligently resulting in the loss of life.
Regis Mungwari of no fixed abode in Zimbabwe is facing 21 counts of culpable homicide and will be tried at Mvuma Magistrates Courts by resident Magistrate Mr Tayengwa Chibanda.
The death toll rose by 10 from the previously announced 21 following DNA tests.
The charge of vehicular manslaughter carries a maximum sentence of up to 20 years in prison. Regis Mungwari refused to disclose his contact details and residential address to police. He is languishing in custody at Whawha Remand Prison.  Whawha prison is the infamous penitentiary which housed President Robert Mugabe during the Ian Smith regime era. Mugabe spent 10 years at Hwahwa prison from 1964 to 1974.
One-ton truck hurtles down M1 at Marlboro Drive, leaves 4 dead
Two men were trapped in the wreckage of a one-ton truck.
One dies in motorcycle, Delta truck accident
One person died after a motorbike he was riding collided with a Delta Beverage truck in Centenary Mash Central on Thursday. Sources close to investigations confirmed the incident.
"We can confirm that there was an accident in Centenary and one person died," said the source. According to the source, the deceased was a former Delta Mvurwi employee identified as Muroyiwa. He was laid to rest on Saturday in Muzarabani.
Bus overturns leaving approximately 70 children injured.
Accident kills 2 people 9 injured
TWO people died while nine others were injured when a vehicle they were travelling in was involved in an accident along the Harare-Chirundu Road near Banket on Monday night.
"A Nissan Vanette was travelling due west along Harare-Chirundu Road with nine passengers on board and on approaching the 91km peg, the driver encroached into the lane of an oncoming Nissan Sunny resulting in a head-on collision. "One person died on the spot and the other one died at Banket Hospital," Snr Asst Comm Charamba said.
The deceased were identified as Freddy Jonathan (43) and Stanley Nyamagara (77) of Banket.
Their bodies were taken to Banket Hospital mortuary for postmortem while the injured were taken to the same hospital for treatment. "Police are urging motorists to exercise caution on the roads. Drivers must keep their lanes to avoid interference with other road users," Snr Asst Comm Charamba said.
Ghana: You can be jailed for crossing roads 'recklessly' – MTTD warns
10th May 2017

Pedestrians who cross road indiscriminately are to be prosecuted in order to reduce carnage on the roads, the Motor Transport and Traffic Directorate (MTTD) has warned.
The officer in charge of Education, Research and Training of the MTTD, DSP Alexander Obeng observed that persons who have been knocked down by vehicles in the first quarter of this year are more than that of last year.
A total of 1,303 persons were knocked down by vehicles, resulting in 703 deaths in the first quarter of 2017 as compared to the 894 deaths recorded in the whole of last year.
This, he said, makes it impending on the MTTD as a law enforcing agency to find mechanisms to reduce accident to the barest minimum.
Police officers across the country would soon be given orders to arrest and prosecute persons who would cross any road carelessly, DSP Obeng revealed to Onua FM News whilst reacting to a proposal by a magistrate judge Mrs. Victoria Akua Ghansah who presides over the Abeka District Court had charged the Ghana Police Service to prosecute pedestrians who cross the road anyhow and therefore causing accidents and putting drivers into trouble.
She was not happy that law enforcing agencies are only interested in holding drivers responsible for accidents and not pedestrians who do not pay heed to road safety regulations. The magistrate made the proposal whilst passing judgment on cases involving various traffic offenses, including careless and inconsiderate driving.
Fatal accident claims two, injures three
TWO people died and three others injured when a car they where traveling in overturned twice at 216KM peg along Mutare-Masvingo road near Pamushana Mission High School.
According to a police internal c-trap seen by Bulawayo24.com, the fatal accident happened early Sunday morning.  "Darlington Dube was driving along Mutare-Masvingo road towards Mutate with 4 passengers on board. "Upon reaching the 216km peg near Pamushana Mission High School he lost control of the vehicle which veered off the road to the left, overturned twice and landed on its wheels.
 "Five people were injured as a result of the accident" reads part of the confidential Masvingo East District report filled under number 117B/17. They were rushed to Silveira Mission Hospital were Barbra Dube (39) the car owner and Sasha Ruvarashe Dube aged nine died upon arrival.
The injured where identified as Seth Tanaka Dube (16), driver Dube and Rukara Benjamin aged 38.
All have Mutare addresses.
Niger records 472 road traffic accidents, 220 deaths in 2026- FRSC
Magana said that 1,178 people were injured while 220 died within the period under review. According to him, the crashes were mostly caused by speeding. Therefore, the FRSC had started arresting commercial motorists without speed limiters, he said.
The commander further said that the focus of the 4th UN Road Safety Week was to increase understanding on the danger of speeding and take appropriate action to address the problem. Magana called for the support and understanding of the members of the public in the agency's efforts to reduce road traffic crashes to the barest minimum.
Kombi, truck head-on kills 11
ELEVEN people died while several others were seriously injured when a Toyota Hiace commuter omnibus collided head-on with a haulage truck near Summerview shopping centre in Zhombe along Gokwe-Kwekwe highway on Friday night.
The accident occurred at around 7 PM when the Gokwe bound commuter omnibus which had approximately 18 people on board collided head-on with a haulage truck which was heading towards Kwekwe. 
According to passengers, the haulage truck first sideswiped an ox drawn cart which had three people on board and swerved to the right encroaching onto the lane of the oncoming commuter omnibus resulting in the head-on collision. They said three of the dead were in the cart while eight were in the kombi.
Zhombe Legislator, Engineer Daniel McKenzie Ncube confirmed the accident saying eight people died on the spot as a result of the collision while the other three died at Kwekwe District Hospital where the injured were rushed to.
He said the driver of the haulage truck lost control of the vehicle when he sideswiped a scotch cart and encroached onto the lane of the oncoming commuter omnibus resulting in the head-on collision.  A survivor Mr Kenny Magoronga who was travelling in the commuter omnibus said after the haulage truck sideswiped with a scotch cart killing all the three people in the cart, it swerved to the right lane.
"I am one of the passengers who were injured in the accident. Eleven people died in the accident according to the information we got. We were going towards Gokwe when a haulage truck hit a scotch cart before swerving to the right encroaching into our lane resulting in a head on collision," he said.
Police Officer Commanding Midlands Senior Assistant Inspector Abigail Moyo could neither deny nor confirm the accident. "I was not in the office for the past few days because I am off duty. I however received a report on the accident but I do not have enough details," she said.
National Police Spokesperson, Chief Superintendent Paul Nyathi said he was not in the office while Senior Assistant Commissioner Charity Charamba's mobile phone went unanswered.
21 killed 33 injured as truck hits minibus in Guinea
Conakry – At least 21 people, mostly women, were killed in a head-on crash between a truck and a minibus packed with passengers in Guinea, police said on Sunday.
The deadly crash took place on Saturday just north of the capital Conakry, with the minibus crushed by a truck which was carrying sand, authorities and AFP correspondents at the scene said.
"The toll from the deadly accident on Saturday near Dubreka is at least 21 dead, including 12 women," said road police official Babacar Sarr, referring to a town some 50km north of the capital. Another 33 people were injured, Sarr said, explaining that the minibus was "packed" with passengers up to "the luggage rack", some of whom were on their way to a wedding.
The minibus driver "made a dangerous passing" on the road and the vehicle came "head-to-head with a truck which was transporting sand," he said.
Deadly road accidents happen often in the west African country and are generally due to bad road conditions or rundown vehicles, and careless driving.
Tanzania school bus crash kills dozens
6th May 2017
Cyclist Costa Seibeb dies in accident
6th May 2017
Rolf Adrian of the Namibian Cycling Federation confirmed the news saying it was a huge loss for Namibian cycling. Costa was a rare talent and his death is a huge loss for Namibian cycling. Seibeb was the defending Namibian Mountainbike Marathon champion while he won numerous Namibian titles during his career.
Namibia: Road carnage worsens
5th May 2017 by Ndapewoshali Shapwanale
ROAD fatalities during the May Day long weekend have shot up from 13 last year to 32 in 2017, police said yesterday.
The statistics cover the period from 28 April to 1 May. While it was reported yesterday that 22 people died on the roads between 28 April to 1 May midday, the number has grown to 32 with 10 more deaths reported in the final hours of Monday.
According to statistics issued by the police, 77 crashes and 207 injuries were recorded this year compared to 78 crashes and 125 injuries last year. The crashes decreased by one, but 19 more deaths have been recorded this year.
Memorial service for 18 pupils killed in horror accident is held amid tears and grief 
5th May 2017
A memorial service for the 18 pupils killed in a road accident in South Africa has been held – Local education and transport officials termed the loss of the 18 pupils "a national loss" – They also pledged to support the families of the deceased A memorail service for the 18 pupils killed in a horrific road accident in South Africa.
The mood was somber as families, teachers, and fellow pupils remembered their loved ones who perished when a minibus taxi exploded in flames after it collided with a truck in Bronkhorstspruit, 50km east of Pretoria, on April 21. Pupils fro Refano primary school, which lost 14 pupils, sang: "We will remember you, our friends."
Panyaza Lesufi, the head of the Transport department in Gauteng province, said the loss of the pupils is "a national loss." Lesufi said: "I want to stand here and say we must not allow death to be normal. It's abnormal to lose 20 people at the same time, and to me, it's a national disaster."
Gauteng Education MEC Panyaza Lesufi has told family members and fellow learners at a memorial service in Sokhulumi, Mpumalanga, that tombstones in remembrance of the 18 pupils who died in the horror minibus crash, will be put up. Lesufi said the tombstones, bearing the names of the learners who died, will be put up at the entrances of Refano Primary School and Mahlenga High School – the two schools who had lost pupils in the crash.
Road accident kills 83 people in Ashanti Region
A total of 83 people were killed in road crashes in the Ashanti Region during the first quarter of the year, Samuel Obeng Asiamah, Regional Manager of the National Road Safety Commission (NRSC), has announced.
AAccording to him, 127 others also suffered broken bones and cuts and described the trend as quite disheartening. Mr Samuel Obeng Asiamah in an interview with Kumasi based Abusua FM's Osei Kwadwo disclosed that from January to March, a total of 200 accidents cases were recorded. There's a slight increase in the statistics as the region recorded 78 during the same period under review in 2016.
Ghana is said to have one of the highest road accident fatality rates in Sub-Saharan Africa and the world. The National Road Safety Commission (NRSC) in 2016 described the number of road accidents recorded as overwhelming. The Commission recorded over 11,000 accidents in 2016; about 2,000 more cases from the 2015 figure of about 9,000.
It said it had failed to meet its 2016 target in reducing traffic-related deaths to 1,000.
Crash cop charged with triple homicicide
 A POLICE officer who allegedly overtook another vehicle at a blind rise resulting in a head-on collision that killed the chief executive officer of Redcliff-based company, Steelmakers, Mr Alexander Johnson and two others has appeared in court facing three counts of culpable homicide.
Constable Privilege Fundira (31) of Number 1 Mugabe Way in Newton suburb, Kwekwe who was driving without a driver's licence, allegedly caused the death of Mr Johnson, his wife Achamma and their driver Mr Sherman Majuru last year.
Fundira who appeared before Kwekwe Magistrate Mr Livard Philemon, pleaded not guilty to all the counts and was remanded in custody to May 5.
Fundira produced a photocopy of a licence he claimed to have obtained from the Democratic Republic of Congo (DRC). However, Mr Philemon said the licence appeared to be fake.
Prosecuting, Ms Yeukai Mugumba said on May 18 last year, Fundira was driving a Mercedes Benz along the Harare-Kwekwe road towards Kwekwe without a driver's licence.
"On the same date, Mr Sherman Majuru, the driver of Mr Johnson's vehicle was driving a Mercedes Benz on the same road going the opposite direction with Mr and Mrs Johnson on board," she said.
Ms Mugumba said on approaching the 196 km peg, near Sable Chemicals Company near Kwekwe, Fundira overtook a vehicle that was in front of him resulting in a head on collision with Mr Johnson's vehicle. Mr Johnson and his wife died on the spot while Mr Majuru died on admission to Kwekwe District Hospital," she said.
The court heard that Fundira and two other passengers were seriously injured and were taken to Kwekwe District Hospital where they were admitted and later discharged.
"The driver was negligent as he was travelling at an excessive speed under the circumstances and even went on to overtake on double continuous lines. Fundira failed to stop or act reasonably when an accident or collision seemed imminent and failed to keep the motor vehicle under proper control," said Ms Mugumba.
Namibia: 178km stretch of death
News – National | 2017-05-03 by Ndapewoshali Shapwanale
THE 178km stretch of road between Okahandja and Otjiwarongo has claimed more than 20 lives this year alone, making it one of the deadliest roads in the country.
Between 28 April and 1 May, 17 people were killed on this part of the B1 main road. In the latest carnage, 10 people were burnt beyond recognition on Sunday when the minibus they were travelling in collided with a bakkie. All five people in the bakkie also died on the spot. Two others died on the same stretch of road on Monday evening.This is the same stretch that claimed the life of the former fisheries permanent secretary Uitala Hiveluah last November, and the president of the Mineworkers Union of Namibia (MUN), Raimo Hausiku.Just last month, youth minister Jerry Ekandjo's driver, Jafet Amakati, was also killed on this road when the government car he was driving collided with another car.
Most of the accidents on this stretch of road appear to occur closer to Okahandja than to Otjiwarongo.
As with Sunday's horrific mass deaths, the incidence of mass casualties on this stretch is not uncommon. In 2012, 10 people died in a crash just 10km outside Okahandja.
The accident that killed Hiveluah also claimed the lives of five others on 11 November 2016. This happened about 50km outside Okahandja.
In September 2016, six people died on the spot when two cars collided at the 33km mark north of Okahandja, while a bus and truck collision on 28 January 2014, 25km outside Okahandja, killed seven people. An accident on the same road also claimed four lives in two different accidents a day apart in early April this year.
Motor Vehicle Accident Fund CEO Rosalia Martins-Hausiku said the Otjozondjupa region has the second highest crash and fatality rates, especially on the road between Okahandja and Otjiwarongo.
She said while the causes of the accidents are multifaceted, drunk driving, speeding, animal collisions and mechanical failures can be considered as the most common causes.
"Vehicle congestion during long weekends have become a problem as drivers become impatient and overtake where and when they are not supposed to do so," Martins-Hausiku said.
She said the fund has paid N$160 million in medical bills for accident survivors for the 2016/17 financial year, which is the highest amount ever paid.
In an update on Sunday's horror crash, police spokesperson Kauna Shikwambi said the names of the deceased cannot be released as the remains of those who burned in the Iveco bus have not been identified yet.
Police and the MVA Fund are urging road users to practise caution as the high number of crashes on this particular stretch of road has become highly alarming.
Namibia: 22 killed on roads
News – National | 2017-05-02by Ndapewoshali Shapwanale
The accident that claimed 15 lives involved an Iveco minibus with 24 occupants that collided with a Nissan bakkie carrying five people. The accident occurred on the B1 main road 85 kilometres south of Otjiwarongo on Sunday afternoon at about 16h00. The bus burst into flames following impact.  Speaking to The Namibian yesterday, transport minister Alpheus !Naruseb described the mass death as "sad, painful and disappointing".
"It is so depressing that we have to lose fine sons and daughters on the roads in these accidents. It is very bad," the minister said, adding that he was yet to be briefed on the details of the accident, since he was out of the country.
Yesterday afternoon police spokesperson Kauna Shikwambi said the cause of the accident had not been determined yet, but said it was definitely a sideswipe incident. Ten occupants of the minibus, which was travelling from the north, were burnt beyond recog­nition after the vehicle caught fire while all the occupants of the bakkie also died on the spot. Fourteen people travelling in the minibus survived the accident and sustained varying degrees of injury and were rushed to various hospitals.
Police have asked that those with relatives who travelled from the north on Sunday but did not reach their destination, should visit the Windhoek police mortuary to assist with DNA samples for identification.
In another road accident, Ester Kunovale Shatipamba (31) died at the Tsumeb State Hospital after the vehicle she was travelling in with her family overturned on the B1 main road between Tsumeb and Oshivelo at about 13h45 on Friday.  Shatipamba's husband, who was driving, allegedly lost control of the vehicle and it overturned. He sustained serious injuries and was taken to the Oshakati State Hospital where he is said to be in a critical condition. Other occupants sustained slight to serious injuries.
Also on Friday, Anthea Isaaks (24) and Ricardo Swartz (13) died instantly after the Polo Vivo they were travelling in overturned after its left tyres burst, causing the car to overturn. The accident happened on the Aus/Keetmanshoop road.  The driver and an unknown number of passengers sustained slight injuries.
Angela Kheibes (39) died on Saturday after the car she was travelling in also overturned. The accident happened about 10km north of Keetmanshoop on the B1 main road at about 17h00. The driver sustained slight injuries.
Richard Karipo died instantly on the Hereford road on Friday evening after he allegedly veered into the lane of an oncoming Iveco bus carrying 24 people causing a head-on collision with his car. The driver of the minibus and some of the passengers sustained injuries of varying degrees.
Xalied Nadia van der Bergh (27) died on Saturday on the B1 main road between Rehoboth and Windhoek, after the bakkie she was travelling in collided head-on with a sedan. Both drivers sustained serious injuries.
Nicholas Basson (62) died on Saturday on his way to the Dordabis clinic after he fell from a moving vehicle transporting furniture. The accident happened at about 18h30 near Farm /Garib.
Last night 8 people were killed in a head-on collision involving a bakkie & car
Ghana: Doctor, nurse killed at Doctor's funeral
Two staff of the Kumasi South District Hospital, who were attending the funeral of the late former Akwatia New Patriotic Party (NPP) Member of Parliament (MP), Dr Kofi Asare, died on the spot in an accident that occurred at Akyem Anyinase in the Akyemansa District of the Eastern Region Saturday morning.
The two, identified as a doctor and nurse, are Dr Patience Fleischer and Philomena Adomah Kwayie. One Dr. Kwame Boadu and the driver of the hospital's car, as well as another believed to be the medical director, sustained serious injuries and were rushed to the Komfo Anokye Teaching Hospital for treatment.
Dr Fleischer was said to be an eye specialist at the hospital.
DAILY GUIDE gathered that the accident, which occurred at about 8:00 am, was caused by a commercial Kia bus with registration number GT 4921-15, which was coming from Kumasi to Oda. It reportedly had a brake failure and rammed the Toyota Fortuner with registration number GT 6284-15 belonging to the Kumasi South Hospital. The driver of the Kia is in the grips of the Oda police to assist in investigation.
1 person was killed, 5 injured in bakkie roll-over collision Potchefstroom
Man's leg falls into lagoon after ghastly accident on Third Mainland Bridge
2nd May 2017 Author: Nomso Obiajuru
A passenger in a Danfo bus has lost his leg following a ghastly accident on Third Mainland Bridge – His leg fell into the lagoon after the danfo bus sustained a heavy crash with a private car on the bridge – RRS riders and monitors are at the scene of the accident to help recover the missing leg
A yet to be identified man on Sunday morning, April 30, lost his limb in an accident between a red Toyota and a commercial bus otherwise known as 'Danfo'. According to a report on The Nation, the victim, who was a passenger in the danfo bus, sat in front when the accident happened.
His limb was reported to have fallen into the lagoon after the bus sustained a heavy crash with a private car on the bridge.  It was gathered that RRS riders and monitors at the scene subsequently called for emergency unit to help recover the missing leg.  And as it the time of this report, effort by the Marine Police and a team of RRS officials is on, while the man has been moved to Gbagada General Hospital, Lagos.
Johannesburg – Eight people have died in four separate accidents across the country this weekend, including a collision between a motorbike and kudu, paramedics said on Sunday."A witness explained that he saw the rider and his bike flung into the air, but did not know the man collided with the animal," said ER24 spokesperson Werner Vermaak about the accident which happened on Sunday morning on the R512 outside Lanseria, west of Johannesburg."Paramedics from ER24 were dispatched to the scene where they found the rider, his bike and the kudu lying several metres apart from each other." The man was pronounced dead at the scene. The animal was also killed in the accident.In another incident, four people were killed and two others injured when their vehicle overturned on the R501 near East Driefontein in Carletonville also on Sunday. "It is understood that all of them were occupants in the same vehicle. Two people with fatal injuries were found inside the vehicle and another two with fatal injuries were found several meters away from the vehicle. It is believed they were ejected during the rollover." He said the other two occupants were treated on scene and later transported to a nearby hospital for further care."The exact circumstances surrounding the incident is not yet known," he said.Meanwhile, two people died, one was left critically injured and two others sustained minor injuries after a collision between four vehicles on the R57 in Warden in the Free State. "Paramedics arrived at the scene and found the roadway obstructed with accident debris and the twisted frames of the vehicles," said Netcare 911 spokeman Chris Botha about the incident which took place at around 05:00 between three cars and a heavy goods truck.Some of the injured were trapped in the wreckage, while two people were found dead on the scene. The critically injured person was airlifted to hospital.Also on Sunday morning, a crash in Tongaat in Kwazulu-Natal left one person dead and two injured. "One person tragically died, one was seriously injured while one miraculously escaped with minor injuries," said Botha.
Bus hits debris, three hurt on Narok-Maimahiu road
1st May 2017
Three people were seriously injured after a bus they were travelling in hit debris deposited on a section of Narok-Maimahiu road by flash floods on Sunday morning. The area has been experiencing heavy rains in the last two days.
According to Narok police boss Phillip Kipkurui, on Saturday night, tens of motorists travelling to Narok, Bomet, Kisii, Nyanza and western Kenya were delayed for hours as the floods rendered the highway impassable near Suswa trading centre.
"We call on motorists to be careful when approaching this area, there are heavy rains at the moment," said the OCPD.
https://www.facebook.com/wouter.joubert1/videos/10155526378538274/
Inter Africa bus kills 5 people
27th April 2017
 Please note that Bulawayo24 does not edit WhatsApp updates. We publish them as sent by our readers and we do not disclose the sender's telephone number.
[10:05, 4/26/2017] +263 7*********: 👆🏿interAfrica 🚌 bus this morning paShamhu along Harare -Mutare road five died on the spot
[10:06, 4/26/2017] +263 7*********: Veered off the road to the right, hit a culvert n side swiped a big road side tree, deflated right front wheel n rested 201 metres later…..
Ray Nkonyeni Municipality Mayor, Cllr Nomusa Mqwebu sent condolences to the families and victims, many of whom came from Bizana in the Eastern Cape. "The accident is one of a number of accidents that have claimed 20 lives within our municipal area since the Easter fever started."Mqwebu will be visiting the survivors in hospital and has called on drivers, especially those driving commuter transport, to drive with care and be extra cautious when driving as most accidents are caused by human error.South African National Association Council (Santaco) local spokesperson Mandla Mzelemu said it was tragic that so many lives had been lost. Mzelemu said as the public transport association they were glad that no taxi accidents claiming the lives of commuters had been reported during the holidays. "This shows that our drivers are still negligent of road rules, and in this case you can see the main cause of the accident was speed."Two of the taxis were from the Eastern Cape and the one was from a Bambanani association which operates in Margate.  This is unacceptable and we urge our drivers to drive cautiously and stick to the speed limit to avoid such tragic events," said Mzelemu.
NELSON MANDELA BAY SENIOR TRAFFIC OFFICIAL ARRESTED FOR CORRUPTION AND BRIBERY
26th April 2017
A 51-year-old, senior traffic official, from the Nelson Mandela Bay traffic department was arrested today, 25 April 2017 at about 16:30, on charges of corruption and bribery, following a sting operation that was conducted.
It is alleged that the traffic official wanted R200 from the complainant in exchange for not writing out a traffic fine and returning the complainants drivers licence. The exchange took place at Queen Mary Crescent and the traffic official was subsequently arrested by the police. The suspect is due to appear in the Uitenhage Magistrate's Court soon.
Uitenhage Station Commander, Brigadier Laurence Soekoe said: "The arrest proves that there are consequences for unethical and unprofessional conduct by law enforcers and the SAPS is committed to ensure that all cases of corruption and bribery are investigated thoroughly'.
Verena – It would take a week to get the results of DNA tests done on the 18 pupils killed in a minibus taxi crash in Mpumalanga, Gauteng Education MEC Panyaza Lesufi said on Monday
He said this was a 51% increase over last year's figure of 156. Maswanganyi announced the preliminary statistics at the GCIS head office in Pretoria. Easter saw tens of thousands of South Africans taking to the roads for holiday and religious pilgrimages.The Justice Project South Africa, questions the validity of the statistics and the cost of crashes in South Africa. The JPSA said: "This year's Easter road fatalities represents an unmitigated catastrophe and trying to place spin on it in order to lessen the blow is both, disingenuous and extremely telling of the Department of Transport and RTMC's complete failure to take ownership of the problem."Read Report click here
Barely hours after Transport Minister Joe Maswa nganyi released horrific Easter road-crash statistics, in which fatalities grew by 51%, reports that 19 learners perished on their way back from schools between Bronkhorstspruit and Groblersdal surfaced.The learners – from two Gauteng schools, Refano Primary and Mahlenga Secondary schools – were being ferried in a sprinter minibus headed for their homes in the Mpumalanga towns of Wolvenkop and Verena, respectively, when the school minibus collided with a horse-and-trailer truck on the R25 between Bronkhorstspruit and Groblersdal on Friday.A few hours earlier, Maswanganyi had told reporters in Pretoria that government hoped that communities would take road accidents seriously.This after road deaths increased during the Easter long weekend from 156 last year to 235 this year, according to a preliminary report by the Road Traffic Management Corporation (RTMC). Over Easter, there was an increase of fatalities across provinces except in the Free State.Maswanganyi bemoaned the fact that government spent a total of R147bn annually on road accidents. This figure was in addition to the R33bn spent annually by the Road Accident Fund on paying out injury claims. He said these funds could be redirected to other government priorities, such as addressing unemployment, poverty and inequality, if driver behaviour improved and crashes were reduced. Maswanganyi also expressed concern that the crashes and fatalities were happening despite the deployment of more than 18 000 officers to hot spots on hazardous national routes during the Easter holidays.Authorities noted that most accidents happened on residential and rural roads. "We emphasise awareness more than enforcement. We cannot have an officer on every corner of our roads. We will continue to improve enforcement policies and strategies," said Maswanganyi.Former finance minister Pravin Gordhan said during the tabling of this year's budget that government would have a balance of R149bn, which would have to be borrowed. This figure was almost equal to the amount spent by government on road crashes and fatalities annually.In this year's Budget Review, compiled by outgoing Treasury director-general Lungisa Fuzile, it was noted that the water and sanitation budget was estimated at R125.3bn. This would go towards developing and rehabilitating water infrastructure, including dams, canals, water treatment works, reservoirs and pipelines to connect households. The amount was less than that spent on road crashes annually.The review also showed that while government forked out billions on road accidents, it was spending less on some of its social programmes.RTMC board chairperson Advocate Zola Majavu said he was disappointed that the corporation had not achieved its target of reducing accidents by 50% this Easter, citing human behaviour and the lack of consequences as factors.Western Cape Transport MEC Donald Grant said one of the challenges faced by the province was pedestrians crossing highways. In the Western Cape, 30 000 pedestrians risked their lives crossing highways weekly, despite the presence of bridges and elevated walkways, which were also hard to police.https://youtu.be/BQt_kAjqYds
A grisly road accident claims the lives of five family members
Five members of a family have lost their lives in a grisly road accident at Sobea black spot at Salagaa.
The accident that occurred along the Nakuru- Kisumu highway on Saturday involved a Nissan matatu and a lorry.Among the people who died were three children and two adults.
The Nissan matatu is said to have been overtaking at a corner when it collided with a truck that was headed to Nakuru.
This comes barely two months after another tragic road accident involving five vehicles and which claimed the life of one person was witnessed at Salgaa along the Nakuru-Eldoret highway.
At least 20 children are killed after a bus crashes into a truck and bursts into flames in South Africa
At least 20 school children were killed when the minibus they were travelling in crashed into a truck and exploded into a ball of fire in Mpumalanga province 
DEATH reported after Modern Coast bus hits lorry
Author: Abdikarim Hussein 20th April 2017
A Modern Coast bus bound for Nairobi has been involved in a fatal accident – The bus hit a stationary lorry near Malindi airport – A 12-year-old boy was rescued after being trapped for hours in the bus A Nairobi bound Modern Coast bus has been involved in fatal accident in Malindi on Wednesday night, April 19. The accident occurred near Malindi airport, when the bus hit a stationary lorry.
 The lorry driver is said to have hit a tuk-tuk and escaped. The tuk-tuk driver is said to be in critical condition. A Nairobi bound Modern Coast bus has been involved in fatal accident in Malindi on Wednesday night, April 19.
 Modern Coast bus in a statement said the bus driver was killed in the accident, but the number of injured passengers is yet to be confirmed. TUKO.co.ke has learnt that a 12 year-old boy trapped for hours in the bus was rescued by the Kenya Red Cross.
Read more: https://www.tuko.co.ke/237607-death-reported-modern-coast-bus-hits-lorry.html
Tanzania: CAG reveals misuse of 300m/- (135,000 USD) road sign funds

FAUSTINE KAPAMA 20 APRIL 2017
THE Controller and Auditor General (CAG), Prof Mussa Assad, has accused the Tanzania National Roads Agency (TANROADS) of misusing 309.7m/- that had been allocated for erection of signs for people with disabilities in eight regions of Tanzania Mainland.
"Despite TANROADS having allocated 309.7m/- in the year 2015/2016 for erection of signs for people with disabilities in the eight visited regions, only about 15 per cent of required disability signs was installed," the CAG pointed out in his performance report on management of roads furniture.
The CAG conducted interviews with TANROADS regional offices from Dar es Salaam, Coast Region, Dodoma, Tanga, Morogoro, Iringa, Mbeya and Mtwara regions and discovered that some of the funds for disability signs were used for other activities.
For example, he noted, the Mbeya regional office used the funds for road safety activities and procurement of traffic control signal facility which was installed at Mafiat junction.
He said that Mtwara regional office did not install any disability sign despite receiving 21.460m/-in the financial year 2015/2016 for such purpose. Similarly, other regions also reallocated the received safety funds for other maintenance activities. As a result, disability signs were not installed as budgeted for.
"This shows that the regional offices are not keen on attending to issues related to road safety and in particular to road furniture. Out of 718 required signs for people with disabilities, only 106 were installed, which equals to 14.8 per cent of the required signs," the CAG stated in the report.
He further noted that Iringa Region was ranking high on compliance as they installed 100 per cent of the requirement. However, he said, the audit noted that TANROADS has no information for other regions on installation of disability signs. For example, in Dodoma Region, four disability signs were installed in urban area, but the same was not shown in TANROADS data.
TANROADS was supposed to conduct needs assessment to identify the actual demand of disability signs for each region before disbursing the funds. However, the CAG noted, TANROADS allocated funds for financial year 2015/2016 without considering the regional needs. He said that Iringa Region was given 33m/- for installation of 30 signs while Morogoro Region was given 43.3m/- for installation of 504 signs.
"Most of these regions did not plan and establish need for disability sign. Therefore, the given funds were not adequately spent. TANROADS disbursed funds for procuring disability signs based on the coverage of road networks of each region," he said.
In addition to the missing roads furniture, the audit by the CAG also observed roads furniture with poor visibility along Morogoro-Dodoma, Dodoma- Iringa, TANZAM Highway (Igawa-Mbeya) and Mbeya- Lwanjilo-Chunya roads.
"Road signs and markings were not easily seen from a distance during day and night. This is because the materials used were not reflective. Also, the guard rails lacked reflective plates. Further, the audit observed that improper location impaired the visibility of road furniture," he said.
Ghana: 25 killed, 93 injured in road crashes during Easter – MTTD
He stated that 26 pedestrians were also knocked down by vehicles during the same period. However no road accidents were recorded in Kwahu in the Eastern Region during the festivities.
The Motor Traffic and Transport Department (MTTD) of the Ghana Police Service which confirmed the figures said there were 17 fatalities on the roads during the celebrations last year. Accidents recorded from April 14 to 17 this year, involved 73 commercial vehicles, 91 private cars and 30 motor cycles.
The breakdown of the accidents in the regions are; Greater Accra 48, Tema – seven,Eastern -16,Central -six,Western -10,Brong-Ahafo – four,Ashanti -18, Volta -seven,Northern -two with Upper West and Upper East recording one each.
The Head of Education Research and Training of the MTTU, Deputy Superintendent of Police (DSP) Alexander Obeng told The Ghanaian Times in Accra yesterday that the causes of the accidents included speeding, indiscipline on the roads and unlawful changing of lanes.
DSP Obeng said as part of efforts to ensure sanity on the roads, the police in collaboration with stakeholders in the transport sector including the Driver Vehicle and Licenses Authority and the National Road Safety Commission have embarked on its vigorous sensitisation programmes.
"We will sustain the pre-Easter education to ensure drivers obey best practices," adding that "police on the roads will ensure the enforcement of the law."
DSP Obeng said the MTTD has observed that some drivers either do not have licenses or were using unapproved ones, and cautioned that they soon would embark on an exercise to arrest and prosecute them.
He further warned vehicle owners not to release their vehicles to unlicensed drivers. DSP Obeng urged drivers to tow their vehicles off the road when they develop mechanical faults, adding that the police can be contacted on emergencies lines such as 191 and 18555 for support.
He urged drivers to abide by the road safety regulations to ensure that precious lives and property were saved. Relatedly, our correspondent, David Kodjo, reports from Koforidua that 32 people died in 275 vehicular accidents in the Eastern Region alone between January and March this year.
The Eastern Regional MTTU, Assistant Commissioner of Police (ACP) Ebenezer Larbi who disclosed this, added that 495 people were also injured while 101 pedestrians were knocked down by vehicles within the same period.
Speaking at a regional road safety education programme, ACP Larbi described the situation as very alarming.
The campaign was organised by the commission to create awareness and reduce the number of road accidents. The Eastern Regional Road Safety Manager, Kwasi Tibi Yirenkyi said the region has some of the most dangerous roads and urged drivers to exercise caution when plying on them.
Ghana: Six die in Assin Juaso road crash
19th April 2017
Two others were later confirmed dead at the Saint Francis Xavier Hospital in Assin Fosu and four are currently responding to treatment.
Assistant Superintendent of Police (ASP) Peprah Asieti, Assin Central Municipal Commander of the Police Motor Traffic and Transport Division (MTTD), confirmed the news to reporters at Assin Fosu.
He said the accident occur around 1630 hrs when a Nissan pick-up collided with a Toyota saloon car with a (DV) registration number in an attempt to dodge a pothole.
It took the combined effort of the police and the personnel of the Ghana National Fire Service to rescue all the victims from the damaged vehicles.
ASP Asieti used the opportunity to appeal to drivers to drive with care.
Namibia: MVA Fund claim limits survive challenge
19th April 2017 by Werner Menges
THE limits placed on the amounts of money that victims of road accidents in Namibia can claim from the Motor Vehicle Accident Fund are not unconstitutional, the Supreme Court has ruled.
The ruling came in a case in which a young man who lost his eyesight as a result of a motorcycle accident was challenging the constitutionality of the limits placed on claims against the MVA Fund in 2003.
A year after the claim limits were introduced, the then 16-year-old, Alfred Visser, survived an accident that changed his life when he was left blind as a result of head injuries suffered when a motorcycle he was riding was hit by a rental car driven by a German tourist.
The collision, on 28 November 2004, was caused by the German driver's negligence, acting judge of appeal Theo Frank noted in the Supreme Court's judgement on an appeal that Visser brought to the court.
Visser appealed against a High Court judgement in which his constitutional challenge of the caps on claims against the MVA Fund was dismissed in October 2014.
The limits on claims against the MVA Fund were introduced in regulations that the then minister of finance issued under the Motor Vehicle Accident Fund Act.
Visser questioned the constitutionality of the regulations in a case in which he was suing the MVA Fund for N$9,08 million, while also pursuing an alternative damages claim of N$8,7 million against car rental company Europcar, which owned the vehicle that was involved in the crash with his motorcycle.
However, the effect of the regulations issued by the finance minister were that Visser's claim against the MVA Fund would be limited to an amount of N$380 000.
The claim limits introduced through the regulations include limits of N$100 000 for future loss of earnings, N$100 000 for general damages, N$100 000 for past hospital expenses, N$80 000 for past medical expenses, and N$200 000 for future medical expenses.
Read more  @ http://www.namibian.com.na/53529/read/MVA-Fund-claim-limits-survive-challenge
Both vehicles had been found on the side of the road, ER24 spokesperson Russel Meiring said."One taxi was found upright, while another was found lying on its side. It was evident that both vehicles had rolled after they had collided," he said.Paramedics found the bodies of a woman and two men on the scene, one of whom was found lying beneath the overturned vehicle. "Unfortunately, all three patients had already succumbed to their multiple injuries. Nothing could be done for them and they were declared dead on the scene." Meiring said the other 35 patients were assessed on scene. Their injuries ranged from minor to moderate."The cause of the collision is not yet known, but local authorities were on scene for further investigations."Traffic in the Mooi River, N3 area was heavily affected due to the collision, Meiring warned commuters.
Six die in car accident
 Six people died early this morning while 20 others were injured in an accident involving a Honda Fit and a Nissan Caravan vehicle near Chinhoyi.
Zimbabwe Republic Police spokesperson, Chief Superintendent Paul Nyathi said the accident occurred at the 111 kilometre peg along the Harare-Chirundu road.
He said preliminary investigations indicate that the driver of the Honda Fit encroached into the lane of oncoming vehicles resulting in the head on collision.
Chief Superintendent Nyathi said the Nissan Caravan, which had 24 passengers on board overturned killing four people on the spot while another one died on admission at Chinhoyi Provincial Hospital.
He said the driver of the Honda Fit vehicle also died on the spot adding 20 people were injured and were taken to Chinhoyi Hospital for treatment.
Chief Superintendent Nyathi said the names of the people who died in the accident will be released in due course once their next of kin have been informed.
"We are really hurt and disappointed at this disaster which occurred after we have been working for weeks to avoid such disasters. Traffic officers have been placed on the full alert and have been tasked to get engineers to get to the bottom of this matter."
2 people injured, 1 seriously when vehicle rolls
15 Apr 2017, Gauteng: Vehicle rolls injuring two Last night at around 23h00 a vehicle travelling along Robert Broom drive towards Munsiville south lost control and swerved off the road.
Emmanuel Makori aka Ayeiya Dies in Accident Along Lang'ata Road
By VINCENT KEJITAN on Friday, 14 April 2017
Popular Churchill Show comedian Emmanuel Makori, popularly known as Ayeiya, has reportedly passed on.
Makori died on Friday morning in a grisly road accident along Lang'ata Road. Reports indicate that survivors of the accident were rushed to Kenyatta National Hospital.
4 Vehicle collision leaves 11 injured
11 People were injured this afternoon after a four-vehicle collision on the N12 Highway, under the Voortrekker Bridge, in Benoni.
ER24 paramedics arrived on the scene and found a taxi, truck, bakkie and light motor vehicle in the left-hand lane of the road. Several patients were found seated on the side of the road.
Paramedics assessed the patients and found that a total of 11 had sustained injuries ranging from minor to moderate.
Paramedics treated the patients and thereafter transported them to Sunshine Hospital for further care.
The cause of the collision is not yet known but local authorities were on the scene for further investigations.
How road rage led to treason charge in Zambia
13 April 2017 Last updated at 18:22 BST
Nigeria road safety commander cut hair of female employees
Image caption
A Facebook post containing photos of the incident has now been deleted from the organisation's official page, though the pictures have been shared thousands of times on social media.
The post said that Mr Kumapayi was carrying out a "hair, uniform and fingernails inspection" of staff.
Other officers involved in the incident had also been recalled, FRSC spokesman Bisi Kazeem told the state-run News Agency of Nigeria. An investigation was under way and "appropriate sanctions" would be taken against those involved, he added.
Namibia:  Ekandjo's driver dies in road accident
12th April 2017
MINISTER of sport Jerry Ekandjo's driver died in a road accident outside Okahandja in the early hours of yesterday.
Johannes Lusiano (44) died instantly in a head-on collision between the government pickup he was driving and a sedan. Lusiano burned in the wreckage of his vehicle.The other driver also died on the spot, about 30 kilometres outside Okahandja on the Otjiwarongo road at about 01h00. Ekandjo was not in the vehicle at the time of the accident. Lusiano was a sergeant in the Very Important Persons' Protection (VIPP) directorate of the Namibian Police.
The launch took place outside Kimberley next to the N12 weighbridge on Monday (10/04)."Contributing factors for road fatalities have been identified as, amongst other, the abuse of alcohol by both drivers and pedestrians, speeding, violations such as using cellphones while driving, not wearing seatbelts, dangerous overtaking, defective tyres and steering – especially on public and freight transport vehicles and fatigue," Williams said.Williams said that awareness of stray animals can be a way of reducing road fatalities during the Easter weekend. All major and secondary interprovincial roads, as well as cross border roads such as the N1, N12, N8, N14, N18, N7, N10, R31 and R27, will be closely monitored due to their high traffic volumes.According to Williams much more needs to be done to achieve the target set by the United Nations Decade of Action for Road Safety and the National Road Safety Strategy 2020. She promised that road safety operations will be targeted for certain times of the day and certain days of the week."Thursday night to Sunday night is the most dangerous period causing the biggest number of fatalities, with Saturday night being the highest. The Francis Baard District's cluster commander of the police, Jean Abrahams, pledged her support towards the Easter weekend safety campaign. She promised that operation points will be activated, including points for the Diamonds and Dorings Music Festival.The provincial chairperson of the South African National Taxi Council (Santaco), Mazwe Nkonki, urged that a format should be emphasised where drivers rest every 300 to 400 km. He added that roadblocks should pay more attention to fatigue.Although Easter is characterised by a religious mood, this time is also known as a devastating period, as many lives are lost in road accidents and all road users must be aware of this.
Bus-car head-on collision kills 1 person
11th April 2017

One person was killed while two others were injured in a head-on collision involving a VW Jetta and a bus near Mazunga area along the Bulawayo – Beitbridge road on Sunday morning.
Sixty four passengers who were in the South African registered Delta bus escaped unhurt, while the deceased and the injured were travelling in the VW Jetta. The bus was traveling to Bulawayo while the private car was heading towards Beitbridge.
Matabeleland South police spokesperson, Inspector Philisani Ndebele said they suspect that both the bus and car were speeding. He identified the deceased as Mmongameli Mpofu (44) of Silobela under Chief Simana.
"Indications are the bus and car were travelling in opposite directions and they had a head-on collision at the 27km peg along the Bulawayo-Beitbridge road. "As a result Mpofu died instantly while two other passengers were injured. Those from the bus were unhurt.
"The deceased's body was taken to Beitbridge district hospital mortuary pending a postmortem, while the injured are admitted to the same hospital,"he said.
Insp Ndebele said they were worried with the high number of road accidents attributed to human error.
He said police would be out in full force to deal with traffic offenders during the Easter holidays. Insp Ndebele warned motorists against driving unroadworthy vehicles and to always exercise caution to avoid the unnecessary loss of life.
"We are aware there are people who during major holidays try their luck by bringing unroadworthy vehicles on the roads. Let them be warned that they risk prosecution and that we will impound all such vehicles,"said Insp Ndebele.
The stretch between Makhado and Mtetengwe along the Bulawayo-Beitbridge road under which Mazunga falls has become a death trap because of the bad state of the road in that area.
Over 10 people were killed in accidents around that area in 2016.
Police fines 16 motorbike owners
The Madina Divisional Police Command, have arrested and arraigned 16 motorbike owners in Adenta and Kwabenya, leading to a total fine of GH¢ 4,200.00.
The bike owners paid a fine of GH¢300.00 and GH¢400.00 for offences ranging from using expired insurance and roadworthy certificates. Some were also riding without valid registration numbers or without authentic documents.
Chief Inspector Bukari Seidu, the Divisional MTTU Police Station Officer, who made this known to the Ghana News Agency in Madina in the Greater Accra Region, said due to the impending Easter holidays drivers and motorists should refrain from drink driving.
He warned long journey drivers to check their tyres, brakes and brake lights and make sure they were functioning well. He cautioned drivers to be careful when speeding, overtaking and descending hills to avoid motor accidents and also refrain from over loading. Chief Inspector Seidu cautioned motor riders to refrain from riding through red lights.
Family of six die in Kenya road accident
GRISLY ROAD ACCIDENT CLAIMS LIVES OF SIX FAMILY MEMBERS
9th April 2017
By HILARY KIMUYU, @hilarykimuyu
Six members of the same family perished in a grisly road accident involving private car and a lorry along Eastern bypass, Ruai, Nairobi on Saturday morning.According to police report, the driver of the private car a Toyota Noah survived and was rushed to hospital in a serious condition while the occupants of the lorry escaped unhurt.
The six were from a graduation event in Kakamega headed for Kangundo when the accident happened at about 5am.
According to a traffic police officer who was involved in the rescue operation, the accident occurred at a junction on the Eastern by-pass, alythough it remains unclear who between the two motorists was at fault.
Police are investigating the incident.
2 weeks to identify bus accident victims
EXPERTS from the National University of Science and Technology (Nust) Applied Genetic Testing Centre (AGTC), which does DNA profiling, have said it will take about two weeks to identify the bodies of accident victims that were burnt beyond recognition in the Mvuma fatal road crash.
The team yesterday revealed that 21 people, not 20 as earlier reported, were burnt when a South Africa-bound Proliner bus they were travelling in sideswiped with a haulage truck and caught fire at Nyamatikiti River near Chaka in Mvuma on Wednesday night.
AGTC chairperson Mr Zephaniah Dhlamini said his team and pathologists from Harare's Parirenyatwa Group of Hospitals have started their investigations to identify the bodies.
"Today we have started the process to identify the bodies. All of them were burnt beyond recognition, some were cut into pieces. The pathologist will determine whether the body was male or female. In the DNA section, we will take samples of the bones," said Mr Dhlamini.
"We are going to extract the DNA from the lab and get DNA samples from relatives then we'll look for matches. We hope that in two weeks we will be done with the matching process."
He said such tragedies should serve as a wake-up call to Government to prioritise DNA profiling. Mr Dhlamini said legislators should consider DNA profiling for every citizen as this will expedite the identification process in case of other disasters.
Pregnant woman, one other burnt to death in Lagos accident
Author: Eromosele Ebhomele 9th April 2017
The commercial bus, which reportedly was on high speed, wanted to overtake a speeding SUV when the incident happened.
Rescue efforts were carried out by officials of the state Emergency Management Agency (LASEMA) and the RSS A pregnant woman and one other passenger have died following an accident involving a commercial vehicle, popularly called danfo in Lagos state, with the registration number, KTW 479 XQ.
Rescue efforts ongoing at the scene of the accident NAIJ.com learnt that the bus was descending a slope in the Maryland bridge in the afternoon of Saturday, April 8 when it suddenly somersaulted leaving the t
wo women completely burnt while four other occupants of the bus sustained injuries.
The two most affected women are believed to be fish sellers coming from Oyingbo where they had gone to buy fish. The danfo was heading towards Ikeja when the incident happened. A witness explained that the danfo was trying to overtake a Toyota Highlander, which was equally speedily descending the bridge when it somersaulted and caught fire instantly.
The burnt bus and rescue effort The driver, conductor and four other occupants of the bus were reported to have escaped with injuries while the ladies who were trapped in the fire completely got burnt. Officials of the Rapid Response Squad (RRS) and the state Emergency Management Agency (LASEMA) assisted in the rescue of the victims while the remains of the two women have been taken to Ikeja General Hospital.
Those with injuries have equally being given first aid treatment while those with serious wounds have been transferred to the hospital by the state Ambulance Emergency Services (LASEMBUS).
Police confirmed on Twitter that nine other people had been injured in that accident.In a second incident, a case of culpable homicide was opened after four people died when a tipper truck and a taxi collided in Southport, Port Shepstone. The crash happened at the infamous "suicide bend" in the Southport area, said Captain Nqobile Gwala.She said it happened at approximately 07:00, in rainy and wet road conditions.Drivers unharmed Eight other passengers in the taxi were injured and taken to hospital. "The cause of the accident is under investigation," said Gwala, adding that the drivers of the taxi and truck escaped unharmed.Two people were killed when a taxi they were in rolled numerous times on the M13 near Westwood Mall.The crash occurred around 06:00. Fifteen people were injured and taken to various hospitals in Durban, said Ceron Lennox of Rescue Care.Also on Friday morning, at about 05:13, a passenger was killed when a taxi veered off the road and overturned on Chris Hani Road in Parkhill, Durban.Several others were injured and taken to different hospitals, said Netcare 911 spokesperson Chris Botha.
Fatal crash on the B2 route in the Vierkantklip vicinity, Namibia
8th April 2017 
Kombi crashes as driver falls asleep on the wheel
Eye witnesses allege the kombi driver fell asleep on the wheel and veered off the road before it landed sideways.
"The driver who came from Muzarabani slept and failed to control the kombi resulting in the accident," said the source. There were minor injuries recorded and the injured received treatment at Mvurwi hospital.
Bus inferno, truck driver faces 20 counts of culpable homicide
7th April 2017
The driver of the haulage truck which sideswiped a Proliner bus in Mvuma on Wednesday, resulting in the death of 20 people, will be charged with an equal number of culpable homicide cases, police have said.
Police chief national spokesperson Senior Assistant Commissioner Charity Charamba yesterday said the haulage truck driver was believed to have encroached into the lane of the bus, resulting in the fatal accident.
The driver of the bus also survived the accident. "The truck driver is going to be charged with culpable homicide because he is the one who encroached into the lane of the bus, resulting in the sideswipe," said Snr Asst Comm Charamba.
She said the remains of the deceased had since been collected from the wreckage. Anyone missing their relatives should go to Gweru Provincial Hospital for samples of DNA to be taken.
Snr Asst Comm Charamba said the bus crew did not have a passenger manifest, making it difficult to ascertain both the numbers and the names of the passengers. She said the 41 injured passengers were taken to hospitals in Masvingo, Mvuma, Gweru, Driefontein Mission and Harare.
Two of them were in critical conditions. Survivors yesterday blamed the bus driver for the horror crash, accusing him of speeding.
2 alleged hijackers killed after high speed chase with police in Mitchells Plain
7th April 2017 News, Accidents, Robberies & Incidents | Western Cape
Bus accident, 30 Zimbabweans feared dead
AT least 30 passengers were feared dead last night when a South Africa­bound Proliner Bus sideswiped a haulage truck and caught fire at Nyamatikiti River near Chaka.
 Most of the victims were burnt beyond recognition. The bus had over 60 passengers on board, while the truck was laden with tyres when tragedy struck. The accident took place around 8pm and by midnight the bus shell was still smouldering, with bodies inside.
 Witnesses said more than 15 passengers managed to escape through the windows. The injured were rushed to Mvuma District Hospital and Driefontein Mission Hospital.
 By late last night, police were still guarding the shell of the bus, with the charred remains of some of the passengers. Police were also controlling traffic as the burning vehicles blocked the road.
Ethiopia: Drivers' discipline a must to reduce traffic accident
Namibia: 13 dead, 48 injured in 36 road crashes
5th April 2017 by Nomhle Kangootui
THE Motor Vehicle Accident (MVA) Fund reported that 13 people died in road accidents between 27 and 30 March in what has been labelled one of the darkest weeks on the country's roads.
The MVA Fund also reported that 48 people were injured in 36 crashes countrywide.The fund's CEO, Rosalia Martins-Hausiku, said in a recent statement that the fund's contribution to funeral expenses of the 13 deceased persons was expected to amount to N$91 000 (N$7 000 per deceased)."The daily loss of lives on our roads render us inept as a nation to effectively overcome psychosocial and economic challenges, in addition to the immeasurable loss of loved ones.
"The fund, therefore, reassures the public that we will dedicate every effort in fulfilling our mandate to sincerely assist the families of the deceased."We further encourage the families to contact the nearest MVA Fund service centre for relevant claims, that is the funeral grant, injury grant, loss of support, and loss of income benefits," Martins-Hausiku said.
The Fund will also assist with a loss of support in case any of the deceased had dependants. The actual value will only be determined upon confirmation of such dependants. The loss of support cover is up to N$100 000 per dependant.Martins-Hausiku also said in reference to the 48 people who were injured in crashes that the Fund would cover medical expenses up to N$1,5 million per person, which could amount to N$72 million to support them to recover.
Two die in Mbarara town accident
The truck that was involved in the fatal accident. Photo by Felix Ainebyoona 
4th March 2017 By FELIX AINEBYOONA
MBARARA- Two people died on spot in an accident at Amehembegente Round About on Mbarara- Masaka high way. The accident involved a Mitsubishi Fuso truck which was travelling from Mbarara to Kampala carrying merchandise, which rammed into a Toyota Corona, an Isuzu truck and a boda boda motorcycle. Two people who were travelling on the motorcycle died instantly.
Rwizi Region Traffic officer Justine Opusi confirmed the accident and identified the boda boda cyclist as Enock Turinawe, 26, a resident of Kitagata-Bugongi in Sheema District, who was operating from Friends' Corner Stage in Mbarara Municipality and the yet-unidentified passenger he was carrying.
Mr Opusi said the accident that happened at 2.49 pm on Sunday afternoon is suspected to have been caused when the truck driver failed to stop his vehicle. ''We are investigating how the truck swayed from its lane to this side of the road but we have already picked the bodies of the victims and taken them to Mbarara Regional Referral Hospital mortuary for postmortem,'' Mr Opusi said.
He added that the truck was taken to police as investigations continue into the whereabouts of the truck driver. Eye witnesses said the truck was speeding before it failed to negotiate the roundabout bend.
Botswana: Three Die Along A1 Road 2 seriously injured
4th April 2017
PALAPYE: Three people died along the A1 road in the late hours of Wednesday after the Toyota Altezza they were travelling in veered off the road and tossed them outside through the window.
Ghana intensifies efforts to reduce alarming road carnage
4th April 2017
ACCRA — Ghana will roll out a national towing project to reduce the alarming rate of motor accidents in the country, an official said here on Monday.
The pilot project, which is expected to start on May 1, is aimed at removing broken-down vehicles from the roads to avoid accidents, as most accidents are caused by these abandoned vehicles, Roland Walker, Communications Director of the Road Safety Management Services Limited (RSMSL), told local media.
The program will see the RSMSL and its partners teaming up to ensure that broken-down vehicles are towed within an hour or two, depending on the location.
Road accidents have become one of the leading causes of death in Ghana.
More than 500 persons were killed in 2,890 motor accidents in Ghana during the first three months of this year, according to figures from the Motor Transport and Traffic Department (MTTD) of the Ghana Police Service.
There are fears that the figures will rise with the Easter festivities on the horizon, a period that is noted for recording high incidence of road disasters.
Ghanaian President Nana Akufo-Addo has bemoaned the spate of accidents and causalities that have characterized Easter celebrations over the years and urged the citizenry to make this year's celebration see a drastic drop in the number of road accidents and fatalities.
"Everyone should observe the rules of the road, and make this Easter the best in terms of a reduction in accidents and causalities on our roads. It is a major concern of mine. Help me make this a reality," he told a gathering of transport operators in Kumasi, Ghana's second largest commercial city over the weekend.
The RSMSL plans to deploy over 100 tow trucks for the project and will be complemented by other facilities to ensure effective monitoring of the roads.
"When the final project rolls out in May, we are going to launch ambulances equipped with paramedics and some basic first aid equipment to attend to injured people on the highways," Operations Manager of the RSMSL told Joy FM, a local radio in Accra.
Gov't will take steps to reduce road accidents – Akufo-Addo
Uganda: Appreciate traffic warning signs to avoid accidents
April 3, 2017 Written by Zurah Nakabugo
ZIMBABWE: Karma or bad luck? Three men who robbed a dying pastor have now ALL died
2017-04-03 
Fatal crash near Motibaskraal about 10 km from Polokwane.
01 April 2017 | From Arrive Alive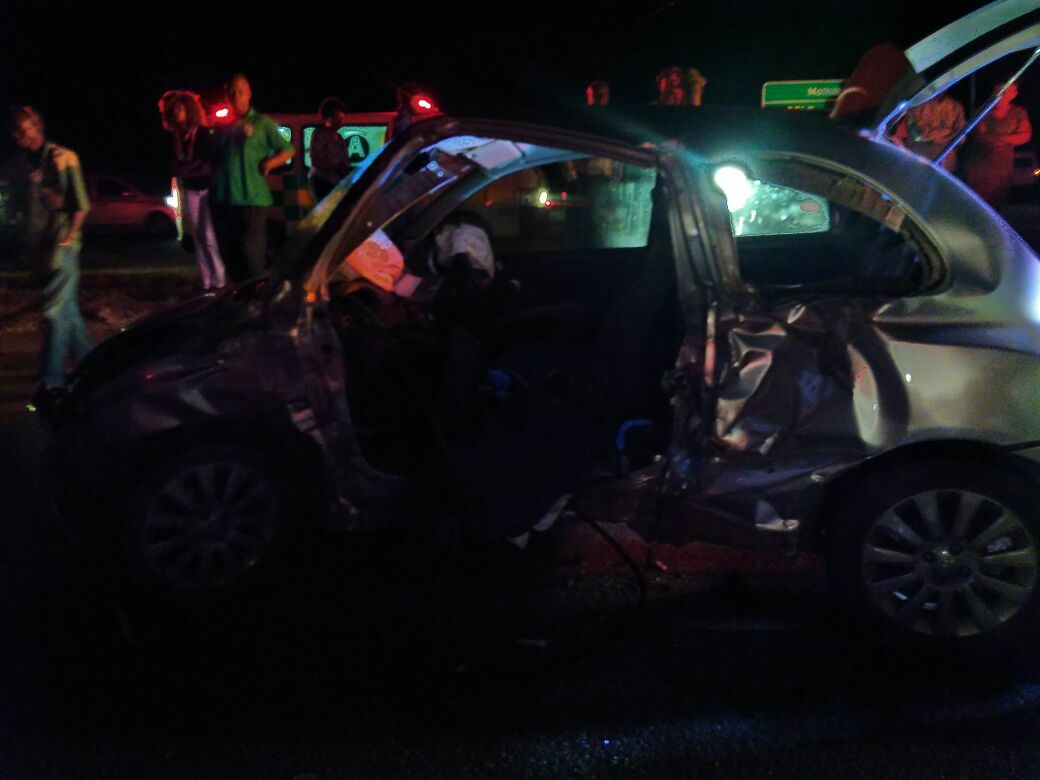 Accident on the R71 on Friday 31 March at about 19h00 near Motibaskraal about 10 km from Polokwane.1 Person declared dead at the crash and one declared dead at the hospitalOne person sustained very serious injuries and another sustained light injuries.
Road carnage in Ghana on the rise – MTTD worried
31st March 2017
More than 500 killed in Ghana road crashes in 3 months: police
31st March 2017
Photo shows the Ghana National Theater against the backdrop of Gulf of Guinea.
ACCRA, – More than 500 persons were killed in 2,890 motor accidents in Ghana during the first three months of this year, local media reported here Wednesday, quoting police sources.
A report by the state-run Ghana News Agency (GNA) quoted the Police Motor Transport and Traffic Unit (MTTU) as saying that between January and March 25, Ghana recorded 2,890 road crashes in 2017 as against 2,830 recorded over the same period in 2016.
It said the number of vehicles involved in these crashes rose from 4,088 to 4,802, with 510 people deaths as against 485 deaths recorded in 2016, and attributed 70 percent of these crashes to lack of maintenance of vehicles and irresponsible driving such as over-speeding and wrongful overtaking.
Deputy Superintendent of Police (DSP) Alex K. Obeng, Director in-charge of Education and Training, MTTD of the Ghana Police Service, made this known Wednesday at the launch of Street Sense Organization (SSO), a Non-Profit Organization, which champions road safety education.
He said 2,971 people were injured within the period under review as against 2,576 in 2016, adding: "The statistics is scary and we need to come together to partner the government to address it."
DSP Obeng commended the SSO for their foresights and pledged the MTTD's preparedness to support them in achieving their targets.
Oswald Lavoe, Executive Chairman of the SSO, in a speech read for him, said despite some progress over the years, road safety still remained a great national concern that required collaborative and concerted efforts to promote it.
"These statistics on road crashes in Ghana is startling and worrying, and we cannot just sit with folded arms and watch thousands of innocent souls perish through accidents without taking any actions," he stated.
Three implementing legislations of new law on road traffic to be enacted next week, says minister
31st March 2017
Police officer dies in motor accident
The police fraternity is mourning the sudden death of Assistant Superintendent of Police (ASP), Moses Ocitia, who perished in a motor accident at Lubowa on Entebbe Road on Thursday morning.
Ocitia, who was the Officer in Charge of Bulenga Police Station on Mityana Road, was crushed in his private car Regno UAD 171W. Kampala Metropolitan Police spokesman, Mr Emilian Kayima, said Ocitia met his death when he crushed into a white Super Custom that was coming from the opposite direction. The deceased was rushed to Mulago Hospital from where he was pronounced dead on arrival.
"His body is still at Mulago awaiting a postmortem to be done. We send our heartfelt condolences to the family and police fraternity. May his soul rest in peace," Mr Kayima said in a statement issued to the media.
Tanzania: Stray elephant falls from truck, injures three
30th March 2017
MAUN: Three men sustained minor injuries after an accident involving a stray elephant, which was being translocated from Maun to Shorobe.
District Wildlife coordinator, Timmy Blackbeard explained in an interview that they were transporting the jumbo when it fell out of the truck enroute to Shorobe.
He explained that there were three volunteers in the truck with the elephant and they too went crashed to the ground with the elephant.
He stated:  "They sustained minor injuries and were treated and discharged."
The elephant caused a commotion  at Matswane ward on Tuesday after a big crowd gathered to see it. It was suspected to have stayed from the neighbouring wildlife areas.
More than 50 pupils rescued from overturned school bus near Stellenbosch
News24 – Wednesday 29th March, 2017
Cape Town – More than 50 pupils from a Northern Cape high school were trapped after their school bus overturned in an accident near Stellenbosch on Tuesday afternoon, a Western Cape traffic official said.
The bus went over the side of the R304 after giving way for a vehicle that had stopped in front of it, said traffic chief Kenny Africa.
With the bus in a precarious position, the children could not get out, because it would have tumbled over onto the left hand side, he said. The 54 children had to wait for officials to secure the bus before they could get out.
Africa said the pupils, from a high school in Kakkemaas, escaped unscathed. The bus would be taken to a weighbridge to make sure it was roadworthy.
Namibia: Crash survivors in critical condition
News – National | 2017-03-29 by Staff Reporter
THE two drivers who survived a fatal head-on-collision on Monday have been admitted to the Roman Catholic private hospital in Windhoek, while the son of one of the drivers was admitted at the Cottage private hospital at Swakopmund.The two drivers, Hansie Doëseb (38) and Leonard Shipopyeni survived the accident outside Arandis, as did Doëseb's 12-year-old son Shaun Haraseb. Doëseb's wife Hilde Antonia Doëses and their three children Chansie Doëses (12), Rashida Doëses (9) and Obasen Doëseb (2) died in the crash. Doëseb's two-month-old baby survived with no injuries.According to Erongo crime investigations coordinator deputy commissioner Otillie Kashuupulwa, Doëseb and Haraseb are in serious but stable condition, while two-month-old Rashika Almira Doëses was discharged on Monday, and is in the care of her paternal grandmother. The driver of the other vehicle, Leonard Shipopyeni, is reportedly in a critical condition.Doëseb and his family were travelling in a Nissan bakkie from a farm heading towards Arandis at around 04h00. Shipopyeni was travelling alone in a VW Polo, driving from Arandis towards Usakos.Shipopyeni allegedly failed to negotiate a curve and lost control of the vehicle, colliding with the bakkie as he attempted to return to his lane.
Over-speeding accounts for about 50% of road accidents
FRSC Author: Oluwatobi Bolashodun 29th March 2017
The Federal Road Safety Corp (FRSC) has said that speed accounted for 50% of road traffic crashes in the country. FRSC blames over-speeding for about 50% of road accidents The Niger Sector Commander of the corps, Mr James Mbatse, made this known on Tuesday, when he paid a courtesy visit to the leadership of the state House of Assembly in Minna.
Mbatse stated that the alarming rate of accidents caused by drivers who sped necessitated the introduction of the speed limiting device for commercial drivers. "We are doing our best to reduce road traffic crashes to the barest minimum that is why we have introduced the speed limiting device. "Some transport companies like ABC have since keyed into programme and we urge others to do the needful because it is for their good," he said.
The FRSC boss appealed to the Assembly to ensure speedy passage of the passengers' manifest bill when it eventually comes before it. He also called on members of the public to always obey traffic rules and regulations as well as desist from over loading and other practices capable of endangering lives on road.
Alhaji Ahmed Marafa, tasked the corps to focus more on educating and enlightening the populace on road safety. He promised the state's legislature would give the FRSC the support it required to effectively execute its mandate.
Speeding kombi kills Grade 5 pupil at zebra crossing
A GRADE Five pupil died on the spot while a man was critically injured after they were hit by a speeding commuter omnibus  while crossing a road in Bulawayo yesterday. The speeding kombi hit Natasha Tshuma, a pupil at Gampu Primary School and Mr Bongani Sibanda – a conductor with a kombi from which the pupil had just disembarked from – at a zebra crossing at  the Rio turn-off in Matshobana suburb.
Mr Sibanda, who was helping Natasha to cross the road, was rushed to Mpilo Central Hospital with serious injuries. The accident occurred at about 7AM while Natasha was on her way to school from Pelandaba suburb. Natasha's grandfather Mr Ephraim Sibanda said he was devastated by his granddaughter's "painful death."
"The devil came in the morning. My granddaughter was taken in a painful way," said Mr Sibanda. He said Natasha started commuting to school on Monday as she usually stayed with him in Matshobana suburb, about 150 metres from her school. "Her mother was staying in South Africa and when she came over the weekend, she requested that Natasha visits her and we allowed the visit. So yesterday (Monday) she came to school from Pelandaba suburb," he said. Mr Sibanda said they thought it was good for the child to stay with her mother.
"Today (yesterday) was supposed to be her second day but tragedy struck as she was hit by a car while trying to cross the road being assisted by a conductor. She died on the spot," he said. Mr Sibanda said one of his daughters saw Natasha's body lying on the road while on her way to school and she rushed home to inform the family. He said his wife collapsed when she heard her granddaughter had died in a car accident.
"When I got there, scores of people were already gathered. Her body was covered with a blanket. My granddaughter was gone," said Mr Sibanda. Mr Enock Bako, the driver of the kombi from which Natasha disembarked, said: "I had asked Bongani to accompany the child at the zebra crossing when the two were hit on the inner lane. The kombi was speeding and it suddenly hit Bongani on the arm and ribs while the child was dragged for about five metres towards where I had parked my kombi."
When a Chronicle news crew arrived at the scene, a sombre atmosphere had engulfed the area with teachers and some residents bursting into tears as police took away Natasha's body. Acting Bulawayo Provincial Education Director Mrs Ollicah Fikelephi Kaira said the Ministry was mourning with the family as it was difficult to lose a child.
Bulawayo police spokesperson Inspector Precious Simango said the speeding driver has been arrested and would appear in court soon. She appealed to drivers to exercise caution on the roads.
Johannesburg – At least 15 children in a taxi and a motorist in a passenger car were injured in a crash at an intersection on Beyers Naude Drive in Randpark Ridge, Johannesburg, on Monday.The entire front and side of the minibus were torn open on impact, ER24 spokesperson Russel Meiring said.Pictures from the scene show the crumpled taxi on Dale Lace Avenue with glass and debris lying the road.The woman driving the car had to be freed with mechanical equipment.
Separate accidents injure 23
23 people were last night injured in two separate accidents that occurred at the same spot near Caves Hotel in Chinhoyi.
The first accident involved a Toyota Regius which drove past an intersection before hitting a tree, injuring all the 18 people on board.
In the second accident, a truck towing another vehicle veered off the road, hit a parked car at the accident scene before hitting two pedestrians and injuring three more passengers. One of the injured pedestrians is prominent Specialist Surgeon, Dr Samuel Mvurume and his family member.
Dr Mvurume and others who were seriously injured were referred to Parirenyatwa hospital in Harare. Mashonaland West Police Spokesman, Inspector Clemence Mabweazara confirmed the incident.
5 Bosso fans die in crash
FIVE people, two of them police officers, believed to be Highlanders' Football Club supporters, died while five others were critically injured in an accident along the Bulawayo-Gwanda Road on Saturday night.
The accident occurred at around 8PM at the 20km peg, just before the meandering escarpment popularly referred to as "Danger" when the driver of a Toyota Gaia they were travelling in lost control of the vehicle and rammed into a tree.
The nine passengers and driver were coming from Barbourfields Stadium where Highlanders had taken on Caps United in the final of the ZNA Commander Charities' Shield.
Bosso lost the match 2-3 after a penalty shootout following a 0-0 stalemate in regulation time.
The injured victims are admitted to United Bulawayo Hospitals (UBH).
National police spokesperson Chief Superintendent Paul Nyathi confirmed the accident.
"I can confirm the death of five people who were involved in a car accident at the 20km peg along Bulawayo-Gwanda Road near the danger point. The driver lost control of the car and it veered off the road before it hit a tree. Two people died on the spot while two others died upon admission to hospital. The other one who was in the intensive care unit died today (yesterday)," said Nyathi.
He said they were travelling in a black Toyota Gaia and there were 10 people on board.
Sunday comment: Concerned Kenyan lady appeals to public to end gross misconduct in public transport
More often we use public transport while going to our workplaces, visit our friends or relatives and when on other personal engagements. Ms. Whitney Hamisi does not like her experience when using public transport just like you and me. She has since taken it up to appeal and campaign for a likely hard to achieve change in the sector through her message as herein.
She posted this touching message on her social media;
" Today on my way to maseno I was seated at the far end in a matatu, then, as usual, we have to wait until its full (overloaded) in order for us to leave. I observed how people got in since I was behind I could see everything going on, who gets in and who gets out. The conductor arranged people how they would sit and finally, the 'sambazas' were put to place. Its a normal thing for Kenyans so people still got in and sat on the wooden plates.
Now its time to leave and the conductor has to get in, so in mind, I knew what comes next is him hanging at the door.
Sincerely if you lean on someone and put your armpit directly on their face, what goes on in your mind? Kenya police at the roadside are ready to take bribes from the conductor and the driver. A 14 seater carrying 19 passengers!!!!.
Is this justice!!!! Are we helping the wananchi or instead encouraging accidents on our roads. It is my plea as a frequent user of public transport that we refuse to be overloaded in a matatu.
We can say no to this kind of act. Change starts with us. Let us not get into a matatu if it's packed and they(conductors and drivers) will get used to it. The traffic police kindly help us.
Greed is a bottomless pit which exhausts the person in an endless effort to satisfy the need without ever reaching satisfaction. Taking bribes won't build you a mansion. Overloading people won't make you a millionaire," she posted.
25th March 2017
Kenya ministry intensifies campaign to reduce road fatalities 
25th March 2017
NAIROBI  Kenya's ministry of transport in partnership with industry and welfare groups on Thursday announced a new campaign targeting motorists and pedestrians in a bid to reduce road accidents that claims an estimated 3,000 lives annually in the country.
Ministry of transport officials said at a forum in Nairobi that a revitalized road safety awareness campaign involving stakeholders in government and private sector was an imperative in order to end carnage on major highways.
Martin Eshiwani, the head of road transport services in the ministry of transport and infrastructure said that public education, law enforcement alongside improved road designs will be prioritized to reduce accidents on urban highways.
"There are various ways to minimize fatalities on our roads and we are in agreement with key stakeholders that aggressive campaigns targeting pedestrians, motorists, law enforcement agencies and contractors are long over-due to tackle this menace," Eshiwani remarked.
Kenya ranks among Sub-Saharan with high road fatalities linked to drunken driving, lax policing and over speeding.
Eshiwani said the government has focused on retraining of drivers, technology driven monitoring of vehicular flow along highways as well as erection of speed bumps and signage to reduce accidents.
"We have increased the number of foot bridges in the major highways alongside deploying additional police officers to monitor and apprehend motorists who flout traffic rules," said Eshiwani.
Kenya recorded a 3 percent reduction in road accidents between 2015 to 2016 thanks to improved policing along major highways, robust public awareness and enactment of punitive legislation.
The Director General of National Transport Safety Authority (NTSA), Francis Meja, said Kenya has borrowed global best practices to reduce road accidents that are a major public health challenge in the country.
"We are targeting high risk roads in Nairobi and other major towns in the new campaign to educate motorists and pedestrians on the enormous price to pay for flouting traffic rules," said Meja.
He added that traffic police, driving schools, learning institutions and community welfare groups will be part of the new campaign to educate pedestrians, motorists and motorcycle riders on the need to observe traffic rules.
5 PEOPLE SUSTAINED MODERATE TO SERIOUS INJURIES WHEN TRUCK OVERTURNED ON N8 FREE STATE
25th March 2017
18 school kids cheat death, police flee accident scene
Ghana: John Dumelo caught with state vehicles?
Kenya: Boda boda banned from carrying coffins
By Jackline Inyanji 24th March 2017
Boda boda riders have been banned from ferrying coffins on their motorcycles across all major towns in Western. The riders have also been cautioned against creating disturbance while escorting bodies for burial.
Regional traffic police boss Geoffrey Njogu yesterday said those found violating the directive will be prosecuted. "Ferrying bodies on motorcycles inconveniences other road users. Besides scaring people, it is also not healthy to carry bodies on a motorcycle that is used by other commuters. We have a special vehicle known as a hearse meant for that job," Mr Njogu said.
It has become common for boda boda riders to escort bodies through major shopping centres while hooting and shouting in the name of mourning. Most riders are usually hired for that purpose.
Accidents have occurred in some instances, some resulting in death, as the riders escort bodies. The police boss warned that riders who get hired and turn the town into a mourning den would be arrested for violating traffic rules. "It is only hearses or ambulances that are authorised to carry bodies. Carrying bodies on motorcycles is illegal.
Let us mourn in a decent way and not creating disturbance on the road by riding in a careless way and causing accidents in the name of escorting the dead from the mortuary. Many people have died because of such carelessness," he said. He asked the riders to adhere to security measures and observe traffic rules to curb accidents and insecurity.
"Riders should be at the forefront to end road accidents by observing traffic rules and not carrying excess passengers," he noted. Every Thursday, business comes to a standstill as riders escorting bodies from the mortuary make noise and ride carelessly, creating commotion and inconveniencing other road users.
Namibia: Municipality bus overturned
24th March 2017 
A City of Windhoek bus driver sustained serious injuries after the bus he was driving overturned on Thursday morning.The accident happened in the Avis residential area, a few metres before the junction of Kwame Nkrumah Street and Sam Nujoma Avenue around 06h15. City Spokesperson, Lydia Amutenya confirmed the incident to Nampa the same day, saying the bus was carrying 25 passengers.She said 16 passengers were transferred to the Katutura State Hospital for treatment, while paramedics treated nine at the scene. The bus driver is receiving treatment at the Lady Pohamba Private Hospital.Amutenya noted that 15 passengers were discharged by Thursday afternoon.
Uganda: Boda bodas set up teams to fight off criminals
Speaking at the opening of Nyakayojo Division boda boda offices on Monday, the association chairman, Mr James Arinaitwe, said crimes committed by boda boda riders and assassins disguised as cyclists, have put their business at a risk and members of the public have lost confidence in them.
Mr Arinaitwe said the teams will help monitor behavior of their colleagues and identify the wrong elements. "We are worried because of people using motorcycles to steal and sometimes our boda boda cyclists kill other people. We are working with security organs… We think this will eliminate the criminals. The association is in the process of issuing identity cards to cyclists so as to get rid of masqueraders, and Boda boda cycyclists who operateat night are required to have reflector jackets.
Other cyclists suggested that every riders should be investigated before they are given a stage in town to operate from so as to guard against wrong elements in the business.
"Government should regulate boda boda operations in the country by investigating people who want to start the business before they are allowed to operate. Many people no longer trust us because of the killings that are happening in the country that are said to be aided or executed by boda boda cyclists," Mr Aggrey Akatwijuka, one of the cyclists said.
Mbarara District officer in charge of traffic Goda Katureebe advised the cyclists to always be observant when people approach them for transportation. He said riders must be on the look for those carrying weapons and dangerous tools.  "I advise boda boda riders to always be security conscious. Armed people like using them and at the end of the day their motorcycles are taken or are used to commit crimes unknowingly," Mr Katureebe said.
Kenyan Musician Jaguar Kills 2 in Road Accident
A car belonging to musician, Kanyi Njagua, popularly known as Jaguar, has hit and killed two people in Kirinyaga County.
The musician, police say, was driving his Range Rover heading towards Makutano when he lost control and veered off the road before hitting a motorcyclist and his passenger at Rukanga, along the Sagana- Makutano road, on Wednesday.
DIED ON THE SPOT Police on Thursday said the vehicle, which was later towed to the Sagana Police Station, had loose chippings. The motorcyclist, Mugo Mwangi, 21, and his pillion passenger, James Maingi,21, died on the spot and their bodies were taken to the Kibugi Mortuary.
The musician on Thursday morning took to social media to express his distraught about the accident, moments after news of it went viral. "It is with grief that I share this post today. As it is now public, I was involved in a car accident. Sadly, lives were lost in the incident,
Police vows to charge Nasarawa governor's son to court over student's death
Ghana: Bunso residents threaten to block Accra – Kumasi Highways
22nd March 2017
Angry residents of Bunso junction in the Eastern region, a community located along the Accra to Kumasi Highways have threatened to block the highways on Monday should Ghana Highways Authority remain adamant in responding to their several calls for construction of speed bumps at the Bunso Junction stretch of the road.
Residents argue that, several people mostly breadwinners have lost their lives through Pedestrian knockdowns by speeding vehicles while several preventable accidents have been recorded on that stretch of the road due to the absence of speed bumps to slow down speeding vehicles, adding that architects of the road also failed to construct footbridge for residents to safely cross the road to the other side.
The angry residents mostly youth issued this warning on Tuesday when they demonstrated to express their displeasure over the situation by hoisting placards with inscriptions that communicated their sentiments .
According to them, several complaints have been lodged to Highway Authorities and their Member of Parliament for the issue to be addressed however, to no avail therefore, issued a week a ultimatum to the Ghana Highways Authority to respond swiftly or risk preventing vehicles from plying the Accra to Kumasi Highways through Bunso.
Paramedics assessed the patients and found that nine had sustained injuries ranging from minor to moderate. Fortunately, no serious or fatal injuries were reported on the scene.
Three die in kombi crash
Eyewitnesses said the driver failed to negotiate a curve and lost control of the vehicle and it rolled several times throwing passengers outside before landing on its side in a nearby stream.
Gweru Fire Brigade sub officer Mr Ephraim Manzera said the vehicle hit a bridge and it burst its front tyre before rolling several times.
Midlands police spokesperson Assistant Inspector Ethel Mukwende confirmed that three people died on the spot and that as police they had no full details of the accident as they were still assessing the accident scene.
The injured were taken to Gweru Hospital and the names of the deceased are still being withheld until their next of kin have been advised.
Netcare 911's Chris Botha told News24 that one person had died, one was critically injured and about 60 people had sustained minor to serious injuries in an accident involving 14 vehicles.However, Ekurhuleni Disaster Management spokesperson William Tlali, who was at the scene, said more than 30 people had been injured and 29 vehicles were involved. He did not report any deaths.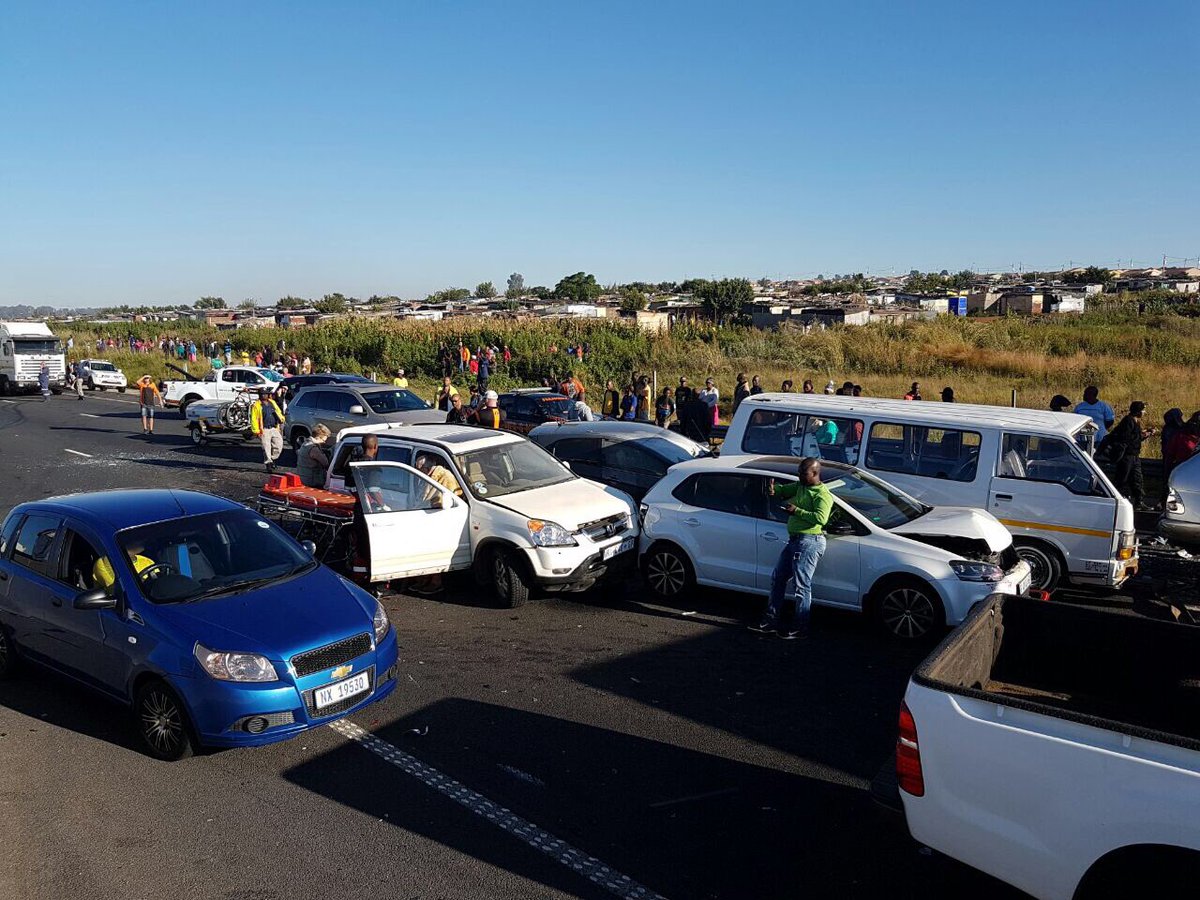 He said the east bound section of the freeway had been closed to traffic. The accident happened at around 06:30, opposite Cloverdene informal settlement, between the Putfontein on ramp and Daveton off ramp.It is believed that motorists were distracted by heavy mist, which obscured their vision. Patients were treated and taken to various hospitals around Ekurhuleni.The vehicles involved included trucks, minibus taxis, bakkies and cars.
Three killed, 5 injured in car crash on Tirinyi highway
21st March 2017
KAMPALA. Three people have been confirmed dead and five others injured in an accident in Mazaba trading centre, about 8 kilometres to Namutumba town, when a commuter taxi and Noah vehicle collided head-on at around 4:30pm.
The driver of the Noah vehicle, who was reported to be on the run by press time, was overtaking a stationary vehicle when it crashed in the oncoming Kampala-bound mini-bus. "The accident was caused by reckless driving…driver should not speed," said Mr Stephen Magoma, the police officer in-charge traffic in Namutumba District.
Preliminary findings based on physical inspection of the vehicle suggest the Noah was not roadworthy, he said. All its occupants survived almost unhurt and the driver took off.
Of the three taxi passengers who perished, police was able to only identify Catherine Nandudu, a resident of Katali village in Sironko District. The other two deceased had no identification documents.
Police transferred the dead bodies to Namutumba Health Centre III while the injured, some seriously, were taken to Iganga Hospital for further management.  The injured included two baby girls; one seven-months-old and the other 14-months-old. Police named them as Phionah Nekesa and Shamidu Milinda whose mothers Nubu Tibiwali and Dorcus Namanja, respectively, survived with injuries. Police named the fifth injured passenger as Harriet Kissa.
Today's (Sunday's) crash on the eastern Tirinyi highway happened five days after Toroma County Member of Parliament Cyrus Amodoi, who was buried today, together with nine other passengers perished in an accident on Jinja highway on Tuesday involving three vehicles.
Apostle Chiriseri 'strike' from the grave
A police officer who allegedly robbing the late  Apostle Charles Chiriseri's corpse of $200 has died.
Namibia: Nurses arrested for refusing to take blood sample
20th March 2017 by Theresia Tjihenuna
TWO nurses at the Katutura Intermediate Hospital emergency department were arrested for refusing a demand by the Windhoek City Police to take a blood sample from a drunk driving suspect yesterday.
The nurses, whose names cannot be disclosed, yesterday said three City Police officers arrived at the hospital at around 07h00 and asked them to draw blood from a suspect.
Since the suspect's form stated that only a doctor was authorised to take a blood sample, the nurses said, they asked the officers to wait.
One of the nurses claimed that the officers insisted that they should draw the blood.
"I told them I was unable to do so," the nurse said, while the other nurse said the officers insisted even when they were busy attending to a boy who had had a convulsion.
"One of the police officers kept knocking on the emergency door, demanding that we give him our names after we refused to take the blood sample. I asked the officer what he wanted to do with my name. I refused to give it to him. We were then told that we are under arrest for refusing to follow police instructions and refusing to give our names," she said.
The nurses were taken to the Katutura Police Station where they were to be charged but were freed when Windhoek City Police chief Abraham Kanime ordered their release.
Kanime said yesterday that he had ordered that the officers who arrested the nurses be investigated.
"I want to understand how officers can arrest nurses who are on duty, who were attending to an emergency for that matter. They need to explain to me what warranted such an action," Kanime said, adding that he was very concerned by what happened.
Kanime said civilians can be charged for refusing to assist or provide relevant information to an officer of the law, but admitted that officers can only arrest a nurse on duty if they were posing a risk to a patient.
One dead, 25 injured in gory Winneba accident
19th March 2017
One person has been confirmed dead in a gory accident Sunday morning at Okyereko junction on the Winneba-Kasoa highway in the Central region.
Two others are also in critical condition and have been rushed to the Winneba Specialists and Trauma Centre for treatment. The two are reported to be in coma due to the severe injuries they suffered.
The accident was occurred between two Sprinter Benz Buses with registration
number AS 7393-16 and GG 2006-16 after an attempt by a VW Golf car to overtake on a narrow stretch forced one of the sprinter buses to veer off hitting the side of the other sprinter bus.
In all 25 passengers were on board the sprinter bus as those who suffered minor injuries have been treated and discharged from the hospital.
Winneba MTTD Commander ASP Charles Obiri confirming the accident to Starr News Central regional correspondent Kwaku Baah-Acheamfour said the Police are still conducting its investigations.
Ghana: 2017 road accidents: NRC calls for strict regulations after 2,445 in 74 days.
19th March 2017
The National Road Safety Commission (NRSC) has urged road users to comply with all road regulations to enhance safety on the roads. The advice comes in the wake of the alarming spate of accidents in recent times, which the commission believes was preventable.
Police records indicate that barely 74 days into the year, 2,445 road accidents have been recorded nationwide, resulting in 426 deaths and 2,523 injuries. Speaking to the Daily Graphic in Accra last Tuesday, the Head of Communications of the NRSC, Mr Kwame Atuahene, said all the accidents recorded during the period were as a result of negligence.
Causes. Mr Atuahene attributed the high prevalence of accidents on the roads to speeding beyond approved limits, wrong overtaking, driving under the influence of alcohol, poor vehicle maintenance and unqualified drivers. He said if all stakeholders, particularly, drivers and passengers would adhere to road traffic regulations, most of the accidents that occurred would have been avoided.
Mr Atuahene said as part of initiatives to improve safety on the roads, the commission was holding dialogues with stakeholders to support national efforts at reducing road accidents. The discussions, he said, would consider the introduction of monitoring cameras on the roads and the introduction of spot fines to deter recalcitrant drivers.
Remedies. Mr Atuahene said the commission would also intensify its research and public sensitisation programmes with the hope of reducing the prevalence of road accidents in the country. "No matter the road sensitisations we do or the level of knowledge the public acquire on road safety, if they do not apply the knowledge, no meaningful impact can be achieved," he said.
He stressed that road safety was a collective responsibility and, therefore, all stakeholders, particularly the commission, passengers, pedestrians and the Ghana Police Service, as well as vehicle owners, needed to be proactive in their respective roles.
Challenges. Touching on challenges of the NRSC, Mr Atuahene mentioned funding, and appealed to corporate bodies to fund some of the commission's activities.
Tanzania: Motorcycle accidents continue to rob youth of their future
19th March 2017
Full story @ http://www.thecitizen.co.tz/magazine/soundliving/Motorcycle-accidents-continue-to-rob-youth-of-their-fututre/1843780-3846626-c91xvxz/index.html 
Zimbabwe: Police launch national WhatsApp hotline
Anyone who feels cheated has a right to call the National Complaints Hotline on +263(0)47036311 where their complaints will be attended to immediately.
Meanwhile, below is a list of OFFICIAL fines that guilty motorists must pay as far as Zimbabwe Government's Traffic Regulations are concerned. I recommend that you print this charge sheet and keep it in your car.
ZIMBABWE VEHICLE REGISTRATION & LICENSING ACT CHAPTER 12:14
List of penalties go to http://bulawayo24.com/index-id-news-sc-local-byo-106547.html 
Senior Inspector PHIRI: Public Relations. Nat.
Complaints
Line: 04 703 631 (24 hr service)
Senior Inspector NCUBE: 077 2719 730 or
071 2769 768
Senior Inspector KANGWARE: 071 2415 491
Spokesperson Traffic Inspector CHIGOME:
0772 965 030
Namibia: Otjiwarongo Police accused of brutality on taxi driver
FRSC confirms 4 dead 3 injured in Sokoto auto crash
18th March 2017 
Four people died in an accident at the Eastern Bye-Pass in Sokoto City late on Thursday, the News Agency of Nigeria (NAN) reports.
Two arrested for causing Edo road accident in which 10 died.
Uganda: Tragedy as MP, 9 others perish in accident
 16th March 2017
The wreckage of the vehicles involved in an accident at Kitigoma Buikwe district that killed 10 people instantly on Tuesday night. PHOTO BY DENIS EDEMA
Uganda  Funeral  Services  Ltd  van waiting by Jinja hospital  mortuary door to transport Toroma county Member Parliament  Mr  Cyrus  Amodoi who died in an accident Buikwe district  traveling to Katakwi  district  on Wednesday.
Ghana to introduce dedicated traffic cameras in June
The National Road Safety Commission (NRSC) is to install the first-ever dedicated traffic cameras in the country by June, 2017. The move is to help curb the recent high-incidence of road accidents.
Speaking on the Late Edition on 3FM, Deputy Executive Director In-Charge of Planning, Mr David Adonteng, said the new traffic arrangements is aimed at arresting reckless driving across the country and curb unwanted deaths on the roads.
Mr Adonteng was speaking to host of the show, Johnnie Hughes, from the Apam Junction accident site where a team of NRSC officials visited victims of the accident which claimed 14 lives and injured several others at the weekend.  Statistics from the NRSC indicates that 1,990 deaths were recorded from a total of 11,378 road accidents at the end of November last year involving 17,746 vehicles.
Casualties stood at 12,154 and injuries at 10,154. Mr Adonteng was responding to claims that the high rate of accidents was due to human interference in traffic management systems, adding "we hope to introduce the cameras by June and hope that we will eliminate the huge human interference in traffic management practices across the country".
Ghana ranks 38th worst country in world traffic accidents ratings per 100,000 at 24.60, while the world road traffic accidents standing as the 9th cause of deaths with a total of 1,254,526. Other worst performing  countries are Cote d'Ivoire (24), Egypt (15.34). Iran, Iraq and Venezuela top the list, while Norway (2.86), Sweden (2.36 and Maldives (1.05) top the list with the lowest figures per 100,000.
Mr Adonteng said the Commission has had problems with human interface and was now moving their strategies a few notches higher to bring sanity and responsibility to road traffic management. He explained that when the traffic cameras are installed, "it will bring on board a completely new way of reducing speeding and recklessness on our roads; a system by which we will arrest people who jump red lights, drive recklessly and pose serious danger to themselves and other road users."
Traffic cameras are highly in use in Europe and America and are a major resource to police security investigative processes. The new camera regime is collaboration between the NRSC and the Driver Vehicle Licensing Authority.
Comment: The process requires that the registered owners can  be traced via a registration system. Since properties often don't have a house number or name and street signs are rarely visible, local landmarks like bars, banks or even trees are used instead to help people find their way. Identifying the law breaker is one thing locating the law breaker is another issue – Ed.
Uganda: One dies, five injured in Wakiso accident
People gather at the accident scene. Photo by Joseph Kiggundu.
Mr Richard Kamara,an eye witness said that the Noah was hit by the speeding Lorry after the driver tried to make a U-turn in the road.
"I was by the roadside by the time the accident happened. I saw the lorry and the Town Ace (Noah) heading opposite directions but all of a sudden, the Noah made a U-turn, a little too late for the lorry driver to stop," Mr Kamara said. He said that the injured were rushed to hospital while one person died in the process.
Mr James Lumanyika, the OC traffic attacked to Wakiso District said investigations are ongoing to ascertain the cause of the accident, he added that the driver of the Noah is under custody. "We're yet to identify the injured people and the one who died," Mr Lumanyika said.
Zimbabwe: Gumbo must resign over bad state of roads
14th March 2017
Gumbo recently admitted in an address to Parliament that the government has not done enough to resolve the infrastructure crisis facing the transport sector. Bulawayo PDP organising secretary Bekithemba Nyathi said the Zanu-PF regime was highly responsible for the accidents that were claiming lives on a daily basis.
"As PDP we are still shocked not only by the unfortunate accident, but more by the regime's failure to take responsibility and at least apologise to the family. We would like to call upon the Minister of Transport Gumbo to resign or better still (President) Robert Mugabe's whole administration," Nyathi said.
"Ours is a case of a failed State and a collapsed economy and the current crop of political players have no moral capacity to turn around the fortunes of this country hence the call for a National Transition Authority."
Nyathi challenged the families of the accident victims to sue the government for negligence in terms of failure to rehabilitate road infrastructure despite the motorist's paying out money at tollgates. A recent visit at Esigodini tollgate established that there were potholes even just before and after it.
Gumbo also described the country's roads as deplorable "death traps.""You cannot drive safely as there is a danger to your car and to yourself because of potholes, particularly when it is raining because you cannot even tell whether you are going to hit a pothole, as it is just water. It is even worse in rural areas because the roads have been swept away. Even on tarred roads, you would wish you were driving on a dust road than a tarred road," he told the Senate.
He, however, blamed the state of the roads on Cyclone Dineo which hit parts of the country recently.
Ghana: 14 die in gory motor crash
Centurion School Bus Crash
13th March 2017
School bus crash on tulip road in Mnandi Emer-G-Med is on the scene
6 people killed in Nakuru and Nyamira road accidents
12th March 2017
Six people have lost their lives in two separate road accidents in Nyamira and Salgaa areas. In the first incident three people died while another sustained serious injuries after a lorry lost control and overturned along the Nyamira-Kisumu road.
13 pothole horror deaths victims named
A commuter omnibus they were travelling in collided with a haulage truck in a horrific accident near the National University of Science and Technology.
In a statement yesterday, Local Government Public Works and National Housing Minister Saviour Kasukuwere said Government had joined the nation in mourning the deceased. He described the accident as tragic and said the nation shares the sorrow of the bereaved families and wished full recovery to the injured who are admitted to the UBH.
Kasukuwere said the bereaved families would receive $200 for each person who perished in the accident. "To all drivers countrywide, may I reiterate the fact that life is sacred and should be protected by all means possible. Due to the bad state of our roads countrywide as a result of unusually high rainfall, all drivers are urged to practically apply defensive driving tactics and also take advantage of daytime travel.
"I have since invoked Section (32) (c) of the Civil Protection Act Chapter 10.06 of 1989 and therefore assistance of $200.00 per deceased is being rendered to the bereaved," said the Minister. On Thursday, National police spokesperson Senior Assistant Commissioner Charity Charamba said: "The accident involved a South Africa registered international haulage truck towing two trailers, and a Toyota Hiace minibus that was carrying 18 passengers onboard and a body.
On approaching the said spot, the haulage truck hit a pothole and the driver lost control of the vehicle. He then encroached onto the lane of the oncoming vehicles resulting in a head on collision with the kombi. Thirteen people from the minibus died on the spot, while four others were seriously injured and rushed to United Bulawayo Hospitals."
Mourners from two families were travelling in the kombi with the body of a 14-year-old boy in a coffin, when the haulage truck coming from the opposite direction allegedly hit a pothole and jackknifed into the lane of oncoming traffic.
It collided with the kombi and dragged it for a distance. The truck's load – tonnes of glass and wooden pallets – crushed the kombi.
Read more: http://bulawayo24.com/index-id-news-sc-national-byo-106080.html
Comment. What is a life worth in Africa? Only $200? If that is the case, it is unfortunately cheaper to let people die than invest inroad safety and safer roads. There is no incentive to improve safety. In the UK the costs associated with a fatal accident is £1million (A valuation of road accidents and casualties in Great Britain – Gov.uk) –  Ed.
Chapter 10:06 CIVIL PROTECTION ACT Acts 5/1989, 3/1992, 22/2001. 32 Application of Fund. Without derogation from the generality of section thirty-one, the Fund may be applied to—
The dirty secret of 'African quality' fuel
11 March 2017
The amount of sulphur in some fuel used in Africa is 300 times the level considered safe in Europe. It can cause a lot of respiratory diseases.
15 dead in horrific accident as truck hits pothole
10th March 2017
 'The driver is saying the truck reportedly hit a pothole and lost control before its load fell on the Kombi (Volkswagen camper van).'
 Bulawayo – Fifteen people died in a horrific road accident near the city of Bulawayo in southern Zimbabwe – and it's all being blamed on a pothole, it was reported on Thursday.
Fifteen people from two families travelling in a commuter omnibus to a funeral in Masvingo died when a haulage truck collided with their vehicle and crushed it in a horrific accident near the National University of Science and Technology in Bulawayo.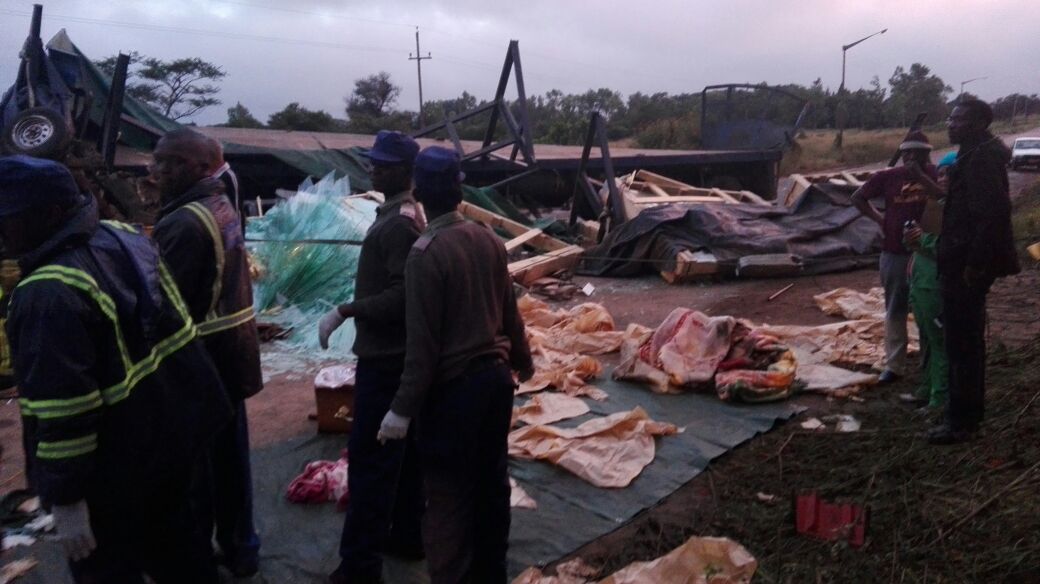 National police spokesperson Senior Assistant Commissioner Charity Charamba confirmed the accident yesterday. "The Zimbabwe Republic Police would like to confirm the fatal road traffic accident which occurred at the 8km peg along the Bulawayo-Gwanda road, where 14 people died and four others were seriously injured.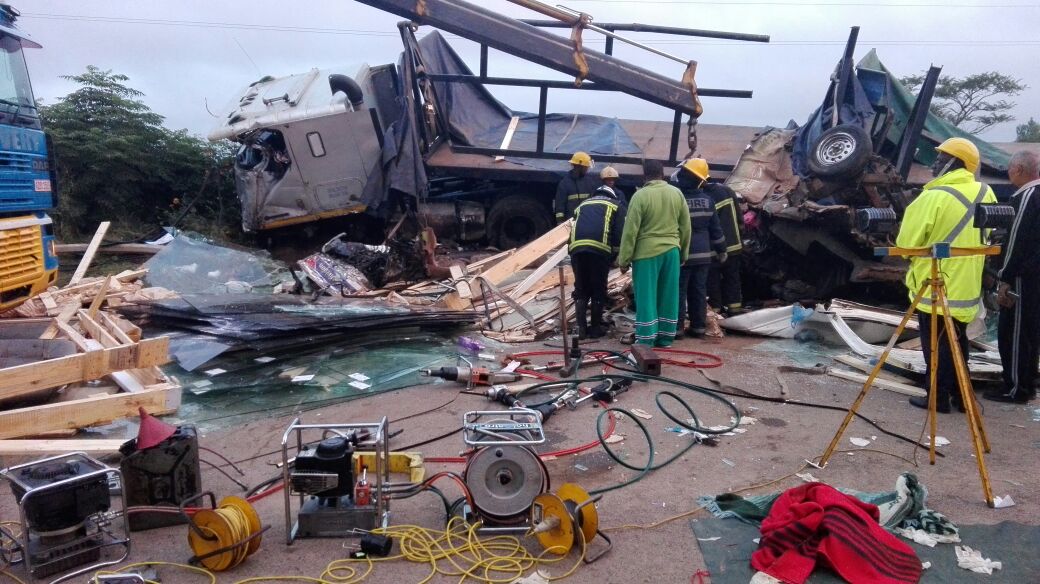 "The accident involved a South African registered international haulage truck towing two trailers, and a Toyota Hiace minibus that was carrying 18 passengers onboard and a body.
On approaching the said spot, the haulage truck hit a pothole and the driver lost control of the vehicle. He then encroached onto the lane of the oncoming vehicles resulting in a head on collision with the kombi. Thirteen people from the minibus died on the spot, while four others were seriously injured and rushed to United Bulawayo Hospitals," Snr Asst Comm Charamba said.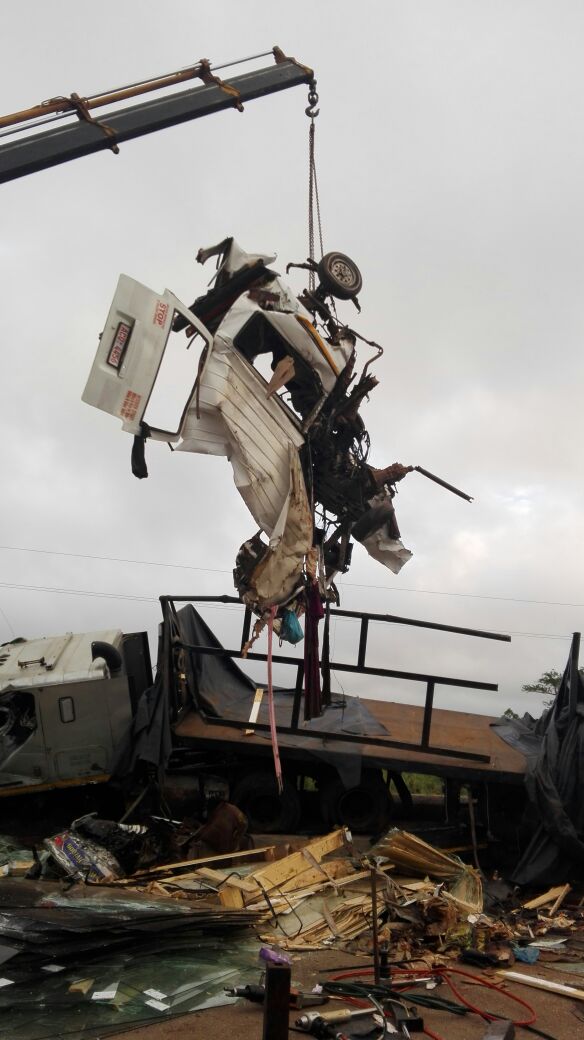 "Due to the state of our roads, the ZRP is appealing to motorists to avoid travelling at night and observe speed limits to preserve life. As police, we are quite saddened by the unnecessary loss of lives in situations which we could be avoided. Let's all preserve the sanctity of human life".
Mourners from two families were travelling in the kombi with the body of a 14-year-old boy in a coffin, when the haulage truck coming from the opposite direction allegedly hit a pothole and jackknifed into the oncoming traffic lane.
The truck's driver told the state Zimbabwe Broadcasting Corporation that he hit a pothole and lost control. A minibus then collided with the truck. The ZBC put the number of the dead at 15.
Motorists in Zimbabwe complain bitterly about the road network's twin menace of potholes and police roadblocks. At the end of January, Zimbabwe national soccer team defender Onismor Bhasera survived a serious crash after his BMW hit a pothole near Birchenough Bridge, Zimbabwe's Soccer24 site reported
Female NYSC member set to pass out next month dies in Enugu 7 injured.
Uganda: House cuts committee budgets to buy MPs cars
PARLIAMENT. Committees of Parliament absorbed budget cuts running in hundreds of millions of shillings so as to buy cars for all MPs.
Information given to Daily Monitor shows that after the Ministry of Finance said it would not allocate to Parliament all the money it had asked for to buy cars for all MPs, especially those with pending court cases, the House administration turned to its budget.
Out of Shs22.7b (USD 6 million) which had been allocated to House committees this financial year, Shs5.5b was slashed and diverted. Parliament's communications director Chris Obore confirmed the cuts but explained it away as part of the government's directive to secure money to feed the hungry across the country.  "It is not true that the Finance ministry refused to give money to MPs because facilitation of MPs is statutory," he said.
However, committee chairpersons confirmed to Daily Monitor that the explanation given to them for the cuts was to the effect that Parliament wanted to raise money to buy vehicles for MPs.
"The MPs had to be facilitated with the cars to ease their work but also committees need the money," Mr Alex Byarugaba, the chairperson of the Natural Resources committee, said.
A similar explanation was given by the chairperson of the Rules and Privileges committee, Mr Clement Ogalo-Obote. "The reduction was just a general reduction by Parliament because the Finance ministry was not releasing money for all the MPs so it was decided that we find a way of buying all MPs cars," he said. According to Article 81(1) of the Constitution, a Member of Parliament shall be paid such emoluments and such gratuity and shall be provided with such facilities as may be determined by Parliament.
Every beginning of each Parliament, the government, therefore, sets about buying vehicles for each MP. Government provides vehicles for its senior officials for official transport. However, unlike the lawmakers, such cars are not personal property of the bureaucrats and they leave them for their successors when they retire or leave work.
In Kenya, every MP is given a grant of Kshs3 million (USD 29,000) for, as a must, a four wheel drive car. The government holds onto the car logbook until the end of the term to ensure that the MP does not trade it off. After that, the MP takes the car.
More Kenyans dying in Western Kenya over bodaboda accidents
It has been cited that majority of the bodaboda riders do not observe discipline on the road as they ferry Kenyans to their various destinations. These bodaboda drivers mainly consist of young men who have no training on road safety. They only eye the prize money that their customers will pay and therefore a race for who will have most of the customers at the end of the day. The transport costs a minimum of fifty shillings and this business has been seen as profitable to the youths most who are jobless.
Bodabodas carry more than one passenger with cases of up to four people being carried at a go on one motorcycle. Furthermore, passengers do not have reflectors or helmets. All this has been ignored risking the lives of many Kenyans. This has become the norm with no one raising their voices to criticise such practices. The traffic police officers who are responsible with enforcing the safety rules are corrupt and only charge the riders with non-existent crime and ask for bribes to set them free.
The traffic police officers and the National Transport and Safety officials should run a crackdown on unroadworthy bodaboda operators. Bodabodas should carry a maximum of two passengers  (and a driver? Crazy – Ed) with each wearing a helmet and a jacket reflector. People should not continue to ignore the road safety rules because our lives are in danger. The greed to earn more money quickly should not be the reason for accidents caused by bodaboda operators.
3 People die in grisly road accident along Namanga Isinya road
9th March 2017
3 people died on the spot in a fatal road accident involving 3 trailers along Namanga road near Isinya town on Tuesday night. The two trailers that were rammed into, belonged to Dricon transporters and were moving towards Kajiado with one towing the other.
KZN Transport MEC attends funeral of N2 road crash victims
8th March 2017
MEC for Transport, Community Safety and Liaison, Mxolisi Kaunda attended the funeral service of four members of the Ndebele family on 5th March.
MEC Kaunda joined the family and friends in bidding farewell to the four Ndebele family members, who were crash victims in the head-on collision on the N2 near the Engen One-Stop on Sunday, 26 February 2017.
Nine killed as taxi and truck collide near Bhisho
Four policemen die in Lagos auto crash
Police cautions drivers against speeding as 2 die 12 injured
MONDAY MARCH 6 2017 
Two people died and 12 others were injured in a car crash in Kirinyaga County. The incident, which occurred on the Makutano-Embu road at Difathas market, involved a 14-seater matatu and a Toyota Probox.
The survivors were taken to Embu and Kerugoya hospitals for treatment. County police commander Joseph Nthenge said the man and the woman died on the spot. "Two people among them a woman succumbed to injuries instantly but the rest who escaped death were rescued by the police," Mr Nthenge said.
The matatu was heading to Embu from Nairobi and all the seats were occupied. Witnesses said the public service vehicle veered off the road, rolling several times before landing in a ditch.
Residents and police officers had to use axes to cut through the vehicle's body to free the trapped passengers. "They hacked away metals to rescue the trapped victims. Some had suffered multiple fractures," Ms Mary Muthoni, a witness, said.
The wreckages were towed to Wang'uru police station. Mr Nthenge said investigations have been launched and cautioned drivers against speeding. "To avoid such fatal accidents, drivers plying local routes should adhere to traffic rules," he advised. He warned that drivers found flouting traffic rules will be arrested and prosecuted.
 Zanu-PF's Mukupe in car accident
Mukupe was in Johannesburg South Africa in the last few days and he indicated on facebook that his car had a breakdown on his way back to Zimbabwe.  Mukupe wrote, "The devil is a liar, I will only die when God says it's time!!! Back to sender I'm alive!!!"
Fatal collision earlier on Sunday between a VW golf & an Intercape bus
SAPS investigates culpable homicide case after 7 people were killed in head-on collision
5th March 2017
At least four people, among them a pedestrian, have died following a crash involving two private cars in Jogoo, along Kisii-Nyamira road early Saturday. One passenger died on the spot while two others and a pedestrian died at the Christamarianne Mission Hospital while undergoing treatment.
No one was injured in the Subaru car during the dawn accident. Kisii County Commander Agnes Mudambi said 10 people were to hospital for treatment. Doctors at the hospital said many of the patients sustained chest and head pains.
A witness told the Nation.co.ke that a Probox car heading to Kisii town hit a pothole before it swerved and hit an oncoming Subaru car. The Toyota Probox was carrying 13 passengers and was in high speed, according to witnesses. Among the dead is a security officer who was on his way to work to relieve a night duty colleague.
Magistrate in fatal head-on collision
The newly transferred Guruve magistrate Mathew Mutiro was involved in a fatal head-on collision at the 46 kilometer peg along Mazowe-Centenary highway on Friday.
Eye witnesses allege a Concession council owned Isuzu was trying to
overtake a scotch cart full of tobacco there by encroaching into another lane resulting in a head on collision.
"The Isuzu car tried to avoid the scotch cart there by encroaching into an oncoming traffic and there was a head – on collision," said the source.
When Bulawayo24.com arrived on the scene the deceased was still trapped in Mutiro's car and Mutiro who was behind the wheels had been carried to Mvurwi poly clinic and later transferred to Harare.
Speaking to Bulawayo24.com the magistrate complained of back and chest pains.  "I am in pain my chest and back is giving me problems but the doctor has given me an injection and it is getting better," he said.
Victims of Isuzu kb identified as Mazai and Mufandaedza cheated death as they came out with minor scratches. Meanwhile, Mvurwi traffic police attended the scene and sent the deceased to Mvurwi mortuary for safe keeping this morning.
The section does not have a car and private cars had to be used to attend the scene. Additionally, fire brigade Bindura reportedly responded late to the incident.
According to police road accidents are on the increase in Mashonaland Central province.
Efforts to contact Mashonaland Central police spokesperson inspector Milton Mundembe were fruitless as his mobile phone unavailable up to the time of this writing.
Uganda: 50 passengers injured in bus accident
3rd March 2017 By ROBERT MUHEREZA
About 50 passengers that were heading to Kisoro town from Kampala were involved in an accident when the bus they were traveling in lost control and overturned at Mubwindi trading center in Muko Sub County in Rubanda District early on Thursday morning.
The Rubanda district police commander Mr Tai Ramathan said that the accident happened at about a half past midnight on Thursday. He added that the bus, Reg No UAV 119U belonging to Bismarkan Bus Company was heading to Kisoro from Kampala and none of its occupants died.
Ramathan added that one passenger sustained serious injuries and was rushed to Kabale regional referral hospital for medical attention together with those who had sustained minor injuries.
"The cause of the accident is reckless driving because the bus driver failed to negotiate the sharp corner. I appeal to the drivers on this Kabale-Rubanda-Kisoro road to always observe traffic rules and regulations, avoid over speeding and be aware of the night mist that usually covers the road especially in the valleys and corners. Putting on fog lights can also help the drivers that use this road during night hours," Ramathan said.
Last week the Rubanda District vice chairman Mr Silver Baguma sustained serious injuries on the same Kisoro-Kabale road after he failed to negotiate a sharp corner as he rushed to attend the district council executive meeting.
Three dead, five injured in matatu crash in Kisii
 3rd March 2017
Three people have died while several others have been injured in a road crash involving a matatu at Egesa along the Kisii-Marani road in Kisii County. The driver of the Premium shuttle operating along the Kisii-Kisumu highway lost control of the vehicle when it hit several potholes and consequently disengaging the brakes.
County Police Commander Agnes Mudambi said five other passengers were injured taken to the Kisii Teaching and Referral Hospital. Three people died and several others injured in a road accident at Egesa on the Kisii-Marani road in Kisii County.
The matatu, which was coming from Kisumu, was carrying eleven passengers and its driver when it crashed. One of the passengers, Mr Mogosi Getembe, said the driver lost control of the vehicle before landed in a ditch as he was trying to avoid hitting other vehicles. Mr Getembe blamed the many potholes on the road for the crash. "The driver was not even speeding. It is impossible to speed on that kind of road," said Mr Getembe.
Mr James Mochama, a witness, said the matatu landed on its side as the driver tried to avoid colliding with oncoming vehicles. "These are not even potholes but (big) holes that stretch for several metres and are getting deeper each day. The road should be renovated immediately to avoid any other deaths," said Mr Mochama.
The driver, who is in her 80s, got out of the car without any assistance. "The tannie was very shocked, but at least wasn't hurt. "And fortunately there was no one in the play area, otherwise it could have been disastrous," said Olivier.
The car is an automatic and Olivier thinks she might have mistaken the accelerator for the brake. Even though the parking lot next to the restaurant is fenced in, the car came in through the only gap, at the entrance.
"There is an opening which serves as entrance to the stoep and as things would have it, the car managed to get through," said Olivier.
The costs of damage to the massive window, aircon, carpet and tiles still have to be determined, but Olivier says the fact that no one was injured is the most important.
Police spokesperson Captain Gerda Swart confirmed the incident and said no charges are being investigated.
ER24 spokesperson Werner Vermaak put the death toll at eight. Vermaak said nine people survived the crash but four were very badly injured and were stabilised and then taken to hospitals in the area.Botha said two people were in a critical condition while four people sustained serious injuries.
Road crashes kill 16 in 20-days in Ghana Eastern Region
1st March 2017
The Eastern Regional Fire Service Commander, ACFO Joshua Nguah, has expressed worry about the recent increase in vehicular accidents recorded in the Eastern Region, even before the end of the first quarter.
About 11 accidents have occurred in some parts of region in the month of February alone, with over 32 casualties and 16 deaths, including the death of the former Member of Parliament for the Akwatia Constituency.
In the early hours on Tuesday, February 28, three persons lost their lives with 9 others injured at Omenako, a town in the Suhum Municipality, when the vehicle they were travelling in ran into a parked articulated truck by the roadside.
Speaking to Citi News, the Eastern Regional Fire Service Commander said "these recent accidents are a major worry for us. I am personally not happy at all about the happenings on our roads. The number of deaths we have recorded so far is very alarming and it's high time we work assiduously to stop the carnage." "Between February 9th to 28th alone, we have recorded more than 11 accidents in the region on the Kpong -Akosombo road, Nkawkaw0Kumasi road, Suhum-Nsawam road, and the suhum kibi Anyinam road where more than 32 casualties were recorded and over 16 on the spot deaths, those who may have lost their lives on admission at the various hospitals are not even included."
Issue with road markings. ACFO Nguah blamed some of these accidents to the absence of white markings on the road, which he said makes it difficult for drivers at night, and the failure of heavy trucks to use triangle reflectors to caution other road users.
"What I have noticed is that, the markings on the main Kumasi highway is not visible enough, in some cases there are no markings at all and drivers plying the route face difficulties in staying in their designated lanes, others who drive with their highlights on also impair the sight of the opposite drivers making it difficult for them to see clearly."
"Secondly, bigger trucks who faces challenges and suffer breakdowns in the course of their journey leave their trucks at the edge of the road without using reflective triangles to warn approaching vehicles. The recent accident which led to the death of the former member of parliament for Akwatia is as a result of somebody's negligence; it could have easily been avoided if the truck which was parked at the roadside had triangular reflector warning sign displayed," he said. Nguah thus called for a collaborative effort from the Police service, the National Road Safety, Ghana Highways Authority, and other stakeholders to reduce the carnage on the roads.
"Going forward, I believe one of the measures we can employ to avert the carnage on our roads is that we should collaborate with all the stakeholders. The Police needs to inform us the fire service; give details on broken down trucks parked on sides of the roads; we have machines we can use to tow these trucks from the roadside to safer places.
Stop senseless killings on roads – Rev. Dr Opuni-Frimpong
1st March 2017
Traffic police should up their game
The Christian Council of Ghana has called for a halt to what it describe as the 'senseless killings on the country's highways.'
It said there had been countless number of carnage on the country's major roads in recent times, most of which could have been avoided.
Accidents. Cataloguing a number of road accidents that had claimed lives on the country's major roads, the General Secretary of the council, Rev. Dr Kwabena Opuni-Frimpong, called for effective measures to make the roads safe.
He mentioned one of the causes of the accidents as broken-down vehicles on the Kumasi-Accra, Accra-Cape Coast, Cape Coast-Takoradi, Techiman-Kintampo roads among other highways. For instance he claimed that as at last week, there were as many as 27 broken-down vehicles on the Kumasi-Nkawkaw road alone.
Rev. Dr Opuni-Frimpong said as a result of such recklessness, many lives had been lost on those roads. According to him, the recent death of the former Member of Parliament for Akwatia on the Kumasi-Accra road was a typical case of 'senseless death.'
Blame. He laid the blame squarely on the doorsteps of the Motor Transport and Traffic Directorate (MTTD) of the Ghana Police Service, urging it to enforce and tighten road regulations without fear or favour. "We are asking them to tighten their efforts so that such vehicles would be removed and the owners surcharged," Rev. Dr Opuni-Frimpong proposed.
He further called on the MTTD to ensure that all broken-down vehicles were towed immediately to avoid further killings. Rev. Dr Opuni-Frimpong also advised drivers not to leave their broken-down vehicles in the middle of the roads.
He said the council was aware of the number of groups and individuals who had on many occasions also expressed concern about the carnage on the roads. "But we need to go beyond expressing concerns to finding solutions. It is the MTTD that is supposed to make sure our roads are safe. That is why we are calling on them to enforce the laws," Rev. Dr Opuni-Frimpong added.
He said the MTTD could liaise with private towing companies to tow broken-down vehicles for a fee. Rev. Dr Opuni-Frimpong explained that the council's concern was about the negligence and irresponsibility on the roads, which the MTTD needed to deal with decisively to save lives.
Protesting truck drivers block major highways into Pretoria
The protest is believed to be organised by the Coal Transportation Forum who have said in a statement that they organised the protest in response to government's committment to renewable energy which the forum believes will lead to crippling job losses in the sector.
Residents burn down 14 trucks, Land Cruiser after motorbike crash
Kenya: TUESDAY FEBRUARY 28 2017
Angry residents torched 14 trucks and a Land Cruiser in Mariashoni, Molo after one of the truck drivers hit and killed a boda boda rider and his passenger.
The incident happened around Kiptunga Forest Monday night.
The trucks belong to Comply Industries Limited – a wood products manufacturing company based in Nakuru.
The victims were identified as a local pastor and one of his worshippers.
Accident victim files $80 000 lawsuit against Mzansi Express
A BULAWAYO bus accident victim has filed an $86 000 lawsuit against Mzansi Express, after he got injured in a horrific crash that occurred along the Bulawayo-Beitbridge Road in 2014.
Florence Moyo, who was one of the passengers, claims she sustained multiple injuries when the bus driver, Isaac Mathanti Ncube, lost control of the vehicle, which eventually overturned and injured her on February 25, 2014. The matter has been set to be heard on March 7 by Bulawayo High Court judge Justice Nokuthula Moyo.
In her summons, Moyo submitted that $6 000 was for special damages and $80 000 as general damages. "Plaintiff's claim against the defendant is for payment of interest on the total figure of $86 000 at the prescribed rate of 5% per annum from the date of issue of summons," reads the summons in part.
In her declaration of the claim, Moyo submitted that on February 25, 2014, Ncube lost control of the bus near Mazunga area, resulting in the accident. "The said accident was caused by the negligence of defendant (Ncube). In one more or all of the following respects, he travelled at a speed which was excessive, failed to stop or act reasonably, where the accident seemed imminent, failed to keep a proper look out in the circumstances, failed to keep the bus under proper control," she submitted.
Moyo said the accident was due to negligence of the company through failure to service the bus so as to keep it roadworthy. She said she sustained injuries, which included loss of teeth, a double fracture on her right ankle, fractured ribs and damages to her spinal code. She said she is currently receiving physiotherapy and will continue to do so.
"As a result, the injury sustained by Florence Moyo, suffered damages in the amount of $86 000, which is calculated as follows, estimated future expenses $4 000, special damages consisting of cost or damaged items being lost cash in the sum of 12 150 rands, spectacles $300, cellphone $500, bus ticket $22, general damages as a result of pain and suffering, loss of amenities of life and permanent disfigurement $80 000," reads the declaration of the claim.
Police were on the scene to investigate the accident.
Related Links
Road Traffic Accidents Could Be Another Epidemic In Sierra Leone
26th February 2017
Road traffic accidents are a major, but neglected national health problem that is requiring concerned efforts for effective and sustainable prevention.
After the ten year senseless war, and almost two years of the Ebola epidemic, Sierra Leone is once again facing carnage of traffic accidents that the nation does not seem to pay attention to.  2016 however, could be recorded as a year of tremendous lives lost due to road traffic accidents across the country. How much did the police Department review and intervene in determining the causes of rigorous road accidents raises my 50 Million Leones question.
Using a quantitative survey with my clients mainly from the United States and United Kingdom, road traffic accidents is the number one causes of unnatural deaths today in Sierra Leone.  I discovered that the main causes of accidents in Sierra Leone are due to several reasons that undermining the safety of people on road transports.  On the basis of the investigation I made, I examined the social processes and dimensions embodied in road transport regulations on the broad spectrum of circumstances in which road accidents frequently occur.
Viewing the issues in the urban cities, and Freetown in particular, many drivers, approximately 20 to 35 %, own their vehicles, therefore their driving tends are more cautious since they have a single vehicle on which their livelihood and personality depends, hence they have to be careful with it.  On the other hand, the majority of drivers on public transport fail to adhere to the driving standards of taking extreme caution, instead, rushing every time to reach to a destination.  Consequently hundreds of fatal accidents have occurred and many people have been left with physical and psycho-social disabilities.
Respondents to my interview believe that authority pays little attention to the fact that there is no possibility to ensure road traffic safety conformity of roads to the country's safety requirements. Despite the fact that the rules and regulations for road traffic safety are on the book, yet most of those rules have never been implemented and enforced by the law informant authorities.
According to findings, high incidence of road accidents has been recorded in the last several years due to various factors. The most serious one is drink driving that police do not seem to pay attention.  Authority fails to understand and examine the influence of alcohol on drivers.
Read more @ http://sierraexpressmedia.com/?p=80482
23 students survive crash in Gilgil
SATURDAY FEBRUARY 25 2017
Students narrowly escaped death when the vehicle they were travelling in got involved in a crash on the Nakuru-Nairobi highway. The 23 students from Murindu Secondary School in Nakuru were heading back home from Naivasha where they had participated in sports festivals when their van was hit from behind by a lorry.
Gilgil OCPD Sarah Koki confirmed the accident and said two students suffered serious fractures. She said others were rushed to St Mary's Hospital where they were treated and discharged.
Medics at the hospital told Nation there were no fatalities and those admitted are out of danger. At the same time, Ms Koki said that a mother and her child were hit and killed by a lorry at Kikopey. Ms Koki said the the driver lost control veering of the Gilgil-Nakuru highway. The baby was eight months old. "The woman was walking on the sidewalk when she was hit and killed," she said.
The OCPD added that the driver recorded a statement, indicating that he swerved off the road to avoid colliding with oncoming vehicles. She said police have started investigations.
Namibia: Speeding can cost you your car
News – National | 2017-02-24 by Ndapewoshali Shapwanale
CARS will be seized and drivers arrested over speeding if the transport ministry gets its way. 
Both Namibian police traffic unit head Ralph Ludwig and City Police senior superintendent Adam Eiseb yesterday confirmed talks with the transport ministry over the reintroduction of a regulation under which drivers caught speeding excessively could be arrested and jailed without the possibility of paying an admission of guilt fine.
"Nothing is official yet. This is still all in process," Eiseb told The Namibian. The ministry's intention is to have drivers caught speeding over 151km/h in 120km/h zones arrested immediately, and their vehicles seized. Official submissions by the ministry to the Office of the Judiciary state that the car will eventually be forfeited to the state. According to Ludwig, the driver will be able to get his vehicle back after paying bail, but if caught a second or third time, then the state would take ownership of the vehicle until a court decides otherwise.The proposed stricter traffic regulation is a direct consequence of the increase in traffic offences which have led to an increase in road injuries and deaths, as well as the destruction of property, due to speeding and inconsiderate driving. Ludwig and Eiseb feel the new regulation was one way of deterring road users from speeding. Eiseb added that the provision would also be applicable to those found speeding over 120km/h in urban areas, where the limit is 60km per hour.
"This is better than to pick up lifeless bodies from accidents," he added.The deputy director of transport legislation in the transport ministry, Chris Fikunawa, declined to comment on the matter, as it was based on leaked correspondence from a government department. "The ministry will unfortunately not comment on the content of the letter at this stage as the content contains a matter which is still under discussion. The public will be duly informed when all formalities and legal issues surrounding the matter are clarified," Fikunawa stated.The intervention would give effect to sections 81 and 107 of the Road Traffic and Transport Act, which makes reckless, inconsiderate driving or speeding an offence which can lead to the seizure and eventual forfeiture of a vehicle.Politicians travelling in official vehicles will, however, still be exonerated from compliance with speed limits. (Fortunately they will have to comply with the laws of Physics in the event of a crash – Ed).
Kenya: Four people killed in Naivasha road accident
By Antony Gitonga  Thursday, February 23rd 2017
A police signboard cautioning motorist at a blackspot. PHOTO: FILE
Four people died and one person was seriously injured following a grisly road accident involving two trucks along the Nairobi­Nakuru highway.
During the incident near Marula farm which is 10kms from Naivasha town another passenger escaped unscathed as transport along the busy road was paralysed. One of the three men died on the spot during the Wednesday evening incident while the other three succumbed to their injuries while undergoing treatment.
The accident occurred after a trailer heading to Nakuru from Nairobi rammed into an incoming trailer killing the driver on the spot. A witness Rose Njeri said that the overtaking trailer was to blame adding that the driver was in high speed and driving carelessly.  "The trailer was overtaking a fleet of vehicles when it ended up hitting the other truck with one person dying on the spot," she said.
Speaking on phone, the superintendent in charge of Naivasha sub­county hospital Dr Joseph Mburu said that they received three patients who were seriously injured. He added that the trio died as plans were underway to transfer them to Kijabe mission hospital for specialised treatment. "The three were suffering from head injuries while two had fractures but unfortunately we lost them while undergoing treatment," he said.
A senior police officer who declined to be named confirmed the incident adding that the bodies were lying at the Naivasha mortuary. "The accident was caused by careless driving and overtaking in which four people including the two drivers have died," said the officer.
At the scene, personal effects soaked in blood were littered all over as traffic police moved in to manage the traffic snarl­up.
City of Windhoek bus routes to accommodate pedestrians and cyclists
23 Feb 2017 
 The City of Windhoek (CoW) reintroduced the suspended bus route system that will soon accommodate pedestrians and cyclists.
The 14 bus routes were announced and then suspended last year November due to operational challenges such as passengers reaching their destinations late. The route saw busses halt at too many stops in the western suburbs of Windhoek, which delayed passengers.
The matter was however resolved and the City has also addressed other issues including not enough space at terminals for buses to park. The bus routes will provide frequent services to residents of almost all western suburbs to and from the city centre, and to other areas including Klein Windhoek, Auasblick and Rocky Crest.
During a bus test drive with the media on Wednesday, CoW Manager of Public Transport, Clarence Rupingena said the City will build infrastructure in a secure environment on the 14 bus routes for pedestrians and cyclists. "They will not have to worry about being run over because bus stops, cycle lanes and zebra crossing setups will be built to allow them to make better use of the road."
He said the CoW is in the final stage of installing tracking systems in 30 buses, which will aim to determine how long a bus ride would take from one bus stop to another in real time. The system will also help ease the flow of traffic in Windhoek.
Speaking during the bus ride, Minister of Works and Transport, Alfeus !Naruseb, said the implementation of the system is a great start, and he foresees improvements in Windhoek's public transport. "Attempts have been going consistently with regard to the 'Move Windhoek' concept," he said.
The concept is a joint project by the CoW, Ministry of Works and Transport, and Deutsche Gesellschaft für Internationale Zusammenarbeit (GIZ), which strive for an affordable, accessible, attractive and efficient public and non-motorised transport system. The plan was approved by Cabinet in 2014.
Ghana: NPP confirms demise of former Akwatia MP
The New Patriotic Party (NPP) branch at Akwatia in the Eastern Region has confirmed the death of the former Member of Parliament for the Constituency, Dr Kofi Asare.
The NPP says Dr. Asare died in an accident between Abetifi and Agogo road Tuesday evening.  The Akwatia NPP Constituency Secretary, Eugene Acheampong who confirmed the sad news to Onua FM's Yen Nsempa hosted by Bright Asempa explained that they were expecting President Akufo-Addo to give late Dr. Asare appointment in his government.
Mr. Acheampong explained that Dr. Asare drove his vehicle into an abandoned articulated truck in the curve on the Abetifi-Agogo trunk road Tuesday. He said the body is currently at the Nkawkaw Holy Family Hospital. Dr. Asare was working with Presbyterian University Collage, Agogo Campus.
He hailed from Akyem Wenkyi and left behind 6 children. He was 63.
[GERMISTON] – Multiple vehicle collision leaves six injured
22nd Feb 2017 
Six people have been left injured this morning after a multiple vehicle collision on the N12 west-bound near the Kraft Road turn-off in Germiston. ER24 paramedics, along with another service, arrived on the scene to find the right two lanes of the highway completely blocked by several vehicles. Upon closer inspection, paramedics found that two large trucks and four light motor vehicles had been involved in the collision.
Three die in a grisly road accident on Meru – Nanyuki road
Ingwebu breweries truck accident
21st Feb 2017
TSHOLOTSHO bound Ingwebu breweries truck overturned outside depot in Bulawayo.

Ekiti State Governor reacts to proposed nationwide ban on okadas
One dead as vehicle plunges into Lagos river
20th February 2017 
Student shoots himself dead after surviving road accident
By CYRUS OMBATI Sunday, February 19th 2017
Brian Kagwe A university student shot himself dead moments after surviving a grisly road accident in Nairobi's Loresho. Police say the deceased — Brian Kagwe — shot himself in the chest twice using his father's gun.
His mother Ms Nyambura Kagwe, said her son came home visibly disturbed having been involved in an accident a few minutes earlier with friends. She said, Kagwe, a student at the United States International University in Nairobi had been partying in the city with his friends when they decided to drive home on Friday night. According to police, on reaching Slip Road, Kagwe's car was involved in an accident that left one of his friends seriously injured. The other occupants had minor injuries.
Kagwe, 22, drove home at 2am restless and disturbed. On reaching home along Kabarage Drive, he woke up his mother and explained to her what had happened. He told his mother that because the friend had been injured he saw no reason to live. "The mother says the boy was upset and unsettled.
He went to his father's bedroom and got his gun which he used to kill himself," said Nairobi police boss Japheth Koome. The mother was apparently in the living room when she heard gunshots and on checking what had happened, found the boy bleeding. He was rushed to hospital but was pronounced dead on arrival.  Koome said they are however investigating the incident to establish if there was any other party involved in the shooting given Kagwe had wounds in the chest.
Mali region bans motorbike use
Truck collides with train
by Simbarashe Sithole 19th February 2017
 A South Africa registered truck travelling towards Harare along Chirungu-Harare highway collided with a train in Mapinga at a railway-crossing on Saturday.
No serious injuries have been recorded so far.   The train has blocked the traffic and motorists are forced to go through the bush
The truck driver is reported to have been ignoring railway's from Chirundu border post.
Three die in Makueni after bus collides with pickup
FEBRUARY 16 2017   By PIUS MAUNDU
Three people have died after a 45-seater minibus collided head-on with a pickup truck on the Tawa-Mbumbuni Road in Makueni County. The bus was heading towards Mbumbuni while the truck was heading to Tawa.
Mbooni East OCPD Peter Njeru confirmed the three deaths. He said police were still investigating the accident. Witnesses, however, claimed that five passengers were killed in the accident.
"The matatu was attempting to overtake a second matatu when it collided with the pickup," an eyewitness, Stephen Kimanthi, told the Nation by phone. The injured were rushed to Tawa Hospital.
Zimbabwe: Minister in bizarre police spikes denial
Home Affairs deputy minister Obedingwa Mguni has made a bizarre denial that traffic police officers do not throw spikes under vehicles. Police officers routinely throw spikes at commuter omnibuses to deflate tyres and causing accidents in some instances.
However, deputy minister Obedingwa Mguni  told parliament that  no police officers uses the spikes despite police officers being armed with the spikes at any roadblock. He was responding to MDC MP Priscilla Misihairabwi-Mushonga who had asked saying "I direct my new question to the Minister of Home Affairs.
" I would like him to clarify to us on the issue of police officers who move around carrying piercing metal objects which are called 'spikes', in English that they throw under vehicles. " We realise that this has become a problem so many times. I would like the Minister to clarify to the House which law or policy the police use to throw these objects? I thank you".
In response, Mguni said "I wish to state that police officers do not throw spikes under any car that is moving around because I heard the Hon. Member saying that they throw spikes under vehicles. No, they do not throw under any car" he said as quoted by the Parliamentary Hansard.
"The police officers have many and varied ways, using their Act, which they use in order to stop criminals. For example, a gunshot can be fired in the air – just one bullet. It can also happen that in the Act it was specified that a warning shot can be fired in the air in order to stop a criminal.  "That is an operation that is done in order to stop criminal activities that happen in this country".
Spike strips, also known as stingers, are used by police forces worldwide to immobilise vehicles by puncturing tyres. The stinger is composed of a collection of metal barbs or spikes pointing upward. Some police forces use hollow barbs which becoming embedded in the tyres and allow air to escape steadily in a bid to avoid a sudden flattening of tyres which can increase the risk of drivers crashing.
Three Kenyan musicians killed in road accident
By James Omoro 16th Feb 2017
Residents of Homa Bay town view a trailer that was towed by police at Homa Bay Police Station after being involved in a crash that killed three musicians in the county.
PHOTO: JAMES OMORO/STANDARD Three musicians have perished in a grisly road accident in Homa Bay County.
The three who were identified as Charles Onunga, Erick Omwanda and Vitalis Ochieng' died when their motorbike hit a trailer that was transporting sugarcane from Kisumu. The incident occurred at Nyakinyi Trading Center along Homa Bay – Kendu Bay road.
Eyewitnesses said the motorbike rider tried to avoid a cow that was ahead of them before losing control. Ochieng' and Omwanda died on the spot while Onunga died while undergoing treatment.
The musicians who were in their early thirties were on their way from Oyugis Town where they had gone to record their songs. Homa Bay county Police Commander John Omusanga said the truck driver was arrested and detained at Homa Bay Police Station. The driver will be arraigned in court after completion of investigations.
The police boss urged road users to adhere to traffic rules and regulations.  "It is unfortunate that the rider was just evading a cow but ended up hitting the trailer. Let all road users be careful while on the roads to avoid these kind of deaths," said Omusanga.
Namibia: Coping a year after Oshivelo horror crash
News – National | 2017-02-15 by Nomhle Kangootui
GONE BUT NOT FORGOTEN … Relatives of Toini Ndapanda Wilhelm (31), one of the 15 people who died in the horrific minibus-truck head-on collision last year.
Fidelis Dhimbulukweni Mbalabala (20) was the only one who survived the accident while Junias Kiingali, the truck driver involved in the crash, was released on a warning.
ZA: Most car owners' vehicles are paid-up
15th Feb 2017
JOHANNESBURG – More than half of South African car owners have paid their vehicles off.According to an eNCA survey, sponsored by Carzar, 52% of car owners fully own their vehicles, while 44% have their cars financed. 44% of car buyers opted to pay for their cars over 6-years or in 72 instalments, while 32% opted to pay over 5-years or in 60 instalments.A reliable car is definitely something we all need. CarZar makes selling your car convenient and risk-free. No hassle, no haggling and competitively priced. You receive an instant quote, free on-sight inspection, and within 30 minutes your car is sold!
38,2% of car owners were paying between 10% -11,9% interest on their vehicle finance contract and over 20% were paying 14% -15,9%.About 52% of car owners were paying between R3,000 and R4,999 on their monthly instalment while 25,6% were paying R1,500 to R2,999 monthly.Over 85% of those who participated in the survey considered a car a necessary expense.Despite the economic climate, 82,7% of car owners said they were not considering selling their vehicles, while 17,3% said it was time to get something new.
 Uganda: About 72 motorcycles have been stolen and 35 riders killed in the last five years.
Ibanda. Operating a boda-boda business in Ibanda District has become very risky as theft and mortality rate of the cyclists soar according to police records. About 72 motorcycles have been stolen and 35 riders killed in the last five years. Other riders have reportedly been strangled and left unconscious.
Speaking at meeting of boda-boda riders last Friday, organised by the Resident District Commissioner, Mr Eliasto Akatuheebwa, the cyclists requested the district security team to find a solution to the increasing crime cases.
"Four people have lost their lives since January. The suspects connive with some riders at the stages to terrorise us," Mr Ronald Mugisha, the chairman of boda-boda operators in the district said. According to Mugisha, the riders have so far lost Shs324 million in theft as the current purchasing price of a motorcycle ranges between Shs4.5m and Shs4.8m.
Mr Deo Ishungisha, the district traffic officer, confirmed the incidents but also blamed the cyclists for posing security threats as they ride motorcycles with folded number plates.
"In 2012, boda-boda riders in the district were 18,000 but the figure has grown to 30,000 which calls for more stringent security measures," Mr Ishungisha said. However, the district police commander, Mr Denis Ochama, said: "Some boda boda riders refuse to give us information concerning bad riders and those who connive with the thieves at the stages."
Mr Ochama revealed that most murder suspects are not boda-boda owners but those who hire the bikes or sometimes given to run the business. In a bid to address the issue, Mr Akatuheebwa directed police to register all cyclists in the district and also carry out an operation in all garages. The riders also asked for a special desk at every police station to handle their issues effectively having sited mismanagement of cases by some officers.
 Durban – More than a dozen schoolchildren were injured in northern KwaZulu-Natal when the light delivery vehicle they were travelling in to school lost control and crashed into a traffic light on Tuesday morning, paramedics said.IPSS Medical Rescue's Paul Herbst said the accident happened in Sundumbili, in Mandeni.Herbst said about 17 to 18 patients were treated by paramedics. One patient was still trapped in the wreckage and personnel from Rural Metro Fire, a private fire department, were attempting to free them.Many of the children suffered multiple injuries.
 About 20 schoolchildren were injured when a vehicle crashed into a set of traffic lights in Sundumbili, north of KZN. (Supplied: IPSS Medical Rescue)
Cartoon in 'Namibian' 14th February 2017
Kenya police arrest US diplomat for fleeing accident scene
Durban – Four adults and a child were killed, and another person left in a critical condition, after a car and SUV collided on the N2 in the early hours of Sunday morning, IPSS Medical Rescue said."On arrival IPSS medics found that three occupants of the SUV as well as the driver and a 12-year-old child in the light motor vehicle had already succumbed to their critical injuries," said IPSS spokesperson Paul Herbst.A female passenger was found still alive and trapped in one of the vehicles. The jaws of life were used to free her from the wreckage and she was then transported to hospital. However, on her arrival, she went into cardiac arrest, Herbst said. "Resuscitation was started by the paramedics and the Stanger Hospital doctors and within minutes she regained a normal heart rhythm."The woman remains in a critical condition.
New highway code on the cards
THE Government is set to introduce a new Highway Code next month as part of ongoing efforts to enhance road safety and reduce accidents on the country's roads.
Transport and Infrastructure Development Minister Dr Joram Gumbo on Wednesday told Parliament that the upgraded Highway Code embraces traffic signs in the Sadc region. "An upgraded Highway Code encompassing Sadc signs is set to be launched on 30 March, 2017. I urge Members of Parliament and the public to familiarise themselves with the contents of the code," he said.
The Minister said Government has, in line with Sadc harmonisation of standards for testing drivers, started constructing at all VID yards, Sadc standard hill starts, three-point-turn, parallel parking and reversing facilities.
"The system entails that learner drivers who would have come for a road test, pick a ball from a basket with an office number leading them to the examiner who will take them for the test. "This strategy is envisaged to counter a pre-arranged corrupt choice of an examiner for the practical tests," he said.
Dr Gumbo said plans were also underway to introduce road safety education into school syllabi. "A comprehensive road safety document has been submitted to the Ministry of Primary and Secondary Education's Curriculum Development Unit (CDU) for consideration with a view to including road safety education into the school curriculum," he said.
Dr Gumbo said his ministry through the Zimbabwe Traffic Safety Council carries out continuous road safety awareness campaigns targeting children in schools, Junior Parliament, chiefs, headmen, and village heads. "The Traffic Safety Council also conducts training in defensive driving for both public service vehicles and private drivers all in a bid to reduce carnage on our roads," he said. The Minister said some accidents were caused by poor road signage and lack of carriageway markings.
"There is a huge backlog on carriageway markings and general signage on our roads. Regrettably, most road signs have been vandalised and we are acutely aware of the contribution this has had on accidents on our roads," he said.
Dr Gumbo said the rehabilitation and replacement of road signage requires a huge budget and urged people to report any acts of vandalism. He said retests for public service vehicle drivers have seen a reduction in loss of lives and property. The Minister said his Ministry has a zero tolerance policy to corruption in line with the aspirations of Zim-Asset.
Traffic offences fetch GHcedi 1.4m ($US 320,000) in fines for Government
GHANA: A trailer truck heading towards Pokuase, on the Accra-Nswaman highway has veered off unto the outer lane on the Mile 7 stretch.
10th February 2017
Details are still being gathered as to the cause of the accident, but reports indicate that the truck rammed into the rear of a mini passenger bus, toppling it over on its side.
An undisclosed number persons have been injured, as the police personnel are yet to gather the full details.
Story Credit|| Starrfmonline.com
Four killed in horror crash along R501
GAUTENG / 9 February 2017, Thembelihle Mkhonza
Near miss?
8th Feb 2017
This incident involving a Munava bus that goes to Gokwe rural area proved before Christmas shines light on this problem of poor maintenance by bus operator. This is the first bus to be reported to have lost a chassis while it is packed with people on board.
7 people were injured in late night taxi & bus crash in Umbilo, Durban
8th Feb 2017
Seven people have been injured after a bus and a taxi collided on Umbilo Road near Chestnut Road in Umbilo Durban on Monday evening.
Rescue Care Paramedics responded to the call just after 11pm. On their arrival, they found that a bus and a taxi had collided in the roadway before the taxi veered off the road and crashed into a fence on the roadside.
The taxi driver was found to be entrapped and the Durban Fire Department was called to assist and they had to use the jaws of life to free the man.
Six passengers in the taxi had also sustained various injuries and were stabilised on the scene by Rescue Care's Advanced Life Support Paramedics before being transported to a nearby hospital for the further care that they required.
AT this stage the exact cause of the collision is unknown however SAPS Umbilo were on the scene and will be investigating further.
2 Police officers injured after Bakkie and Police vehicle collided in Laseria
8th Feb 2017
Namibia: 60 000 drivers on warrants of arrest
News – National | 2017-02-07 by Staff Reporter
The spokesperson of the City Police, Edmund Khoaseb, said there are over 60 000 people with outstanding fines in Windhoek, and "to date, 63 people (! -Ed) have been arrested and taken to court to pay their traffic fines. Those who do not have money will then unfortunately be locked up".
"A traffic warrant is a warrant for a person's arrest," he explained.
Khoaseb further said failure to pay the fine on time may also result in a penalty of N$2 000 for contempt of court being added to the original fine. "If a member of the public suspects that he has a warrant against him, they can contact us (City Police) to verify that and make arrangements to pay the fine," he added.
The operation also included foreign nationals after one was randomly pulled off the road for not being in possession of an authorisation to transport passengers.
"The operation to account for people on warrants of arrest is an ongoing process and does not have a closing date, although the method of conducting the operations will change from time to time, for example the setting up of temporary roadblocks, or going to people's work and residential places," Khoeseb stated.
By Kepher Otieno 6th Feb 2017
The wreckage of Kenya Prisons bus that was involved in a grisly road accident at the notorious Mamboleo Junction black spot near Coptic church in Kisumu county.
(Photo: Collins Oduor/Standard)
One person died and scores injured seriously in a grisly road accident at Mamboleo black spot last evening. Nyanza Regional Traffic Police Commandant Andrew Naibei said the driver of a bus lost control and crashed into an electric pole at the notorious spot near the Coptic Church.
Mr Charles Akatch, a resident, attributed the road carnage to the ongoing construction and blamed contractors for placing objects on the road, which he claims distract drivers. "The Government must do something about this black spot. We can't continue to lose lives because of an ongoing construction," he said.
Lagos still grappling with Okada menace
5th Feb 2017
Mbombela – Three people have been injured after a vehicle and bus collided on Vandyksdrift Road  in Witbank, Mpumalanga.
"Shortly before 04:00 on  Saturday, paramedics from ER24 and other services arrived on the scene where they found the severely mangled wreck of a light motor vehicle," ER24 spokesperson Werner Vermaak said.
The driver of the car was found with serious issues, and the jaws of life was needed to free him. Two other occupants were treated on the scene for moderate injuries.
"It is understood that the vehicle crashed into the back of a bus. However, when paramedics arrived, the bus was not found on the scene," Vermaak added. Local authorities attended the scene and will investigate the cause of the collision, he added.
Money making scheme: Annual fitness checks for all private cars
 Zimbabwe PARLIAMENT has recommended to the Ministry of Transport and Infrastructural Development that all cars must be inspected yearly at a cost of $50 per unit, as part of the commercialisation of the Vehicle Inspectorate Department meant to raise $126 million annually.
At the moment, inspection for fitness is limited to public service vehicles at a cost of $25 and $20 for heavy and light vehicles respectively, in line with Statutory Instrument 134 of 1998. Private cars are only inspected at VID when they are involved in accidents or when there is suspicion that they have defects.
Although such executive decisions are normally taken by the responsible ministry, parliament through its Portfolio Committee on Transport and Infrastructural Development has recommended the idea. The parliament used its oversight function, which according to the Standing Order of Parliament Category (c) states that the committee shall; "monitor, investigate, inquire into and make recommendations relating to any aspect of the legislative programme, budget, policy or any other matter it may consider relevant to the Government department falling within the category of affairs assigned to it, and may for that purpose consult and liaise with such department."
In an interview, the chairman of the committee, Dexter Nduna (Zanu-PF, Chegutu West) said this was a gap where Government can raise money.
"As a committee we are proposing that VID must inspect all motor vehicles in Zimbabwe, be they black on yellow plates or red on white plates which are private and public service vehicles. There are approximately 1,5 million vehicles that are on our roads and they have not been inspected, in fact a good number of them have not been inspected with a view of reducing road carnage," he said.
Nduna said Statutory Instrument 34 of 1998 allows the Minister of Transport and Infrastructural Development to inspect public service vehicles while another statutory instrument can be put in place that there be a provision to inspect all vehicles to see their road worthiness. He said hence VID could charge as much as $50 for vehicle inspection on all cars.
"If the VID is commercialised, there is going to be $50 levied for all annual inspections for private vehicles, and with the vehicle population in Zimbabwe VID can easily raise revenue to the tune $126 million. It can use $40 million for recapitalisation and declare $60 million to the Government," he said.
Nduna said the money will add onto the $5 million the department was raising through Learners' Licence Tests, $6 million from Drivers' Licence Tests and $25 million from public service vehicle inspections. The move will raise the revenue by 600 percent to $126 million.
However, in an interview, Transport and Infrastructural Development Minister Dr Joram Gumbo said the idea was noble although his Ministry was still to deliberate on the issue.
"I have not received any communication yet but maybe the move is a noble one if done correctly and through the right channels. It should come to Government formerly and be discussed," he said.
The committee also suggested that there should be computerisation and integration of the transport management systems linking driving schools, VID, Zinara, Zimra, Central Vehicle Registry, Traffic Safety Council of Zimbabwe and Zimbabwe Republic Police.
"In Government we have moved to have an electronic system whereby VID, Zinara, CVR and Zimra will come as one and officials can be able to check the status of a vehicle at one go, one can check if a vehicle is registered, free of debts with Zinara and even the police can see if there are any offences," said Gumbo.
Merging of Zinara and VID will see the two organisations leveraging on synergies with quick wins in activities such as enforcement of laws regarding overloading, unlicensed vehicles and drivers, fuel levy, unroadworthy vehicles and garage inspections, to name a few.
Nonetheless, if the proposals see the light of the day, there will be an increase in the number of fees motorists have to pay. At present motorists pay Zinara Vehicle Licensing fees of between $20 and $300 per quarter depending on the weight of the vehicle. To pay for the licensing fees, motorists also need to pay insurance with the cheapest pegged at $36 per quarter. In adddition, they pay the same parastatal between $2 and $10 for tollgates when using the country's major highways depending on the weight of the vehicle. Motorists also pay a minimum of three cents per litre of fuel they buy levied as Carbon Tax.
Those with car radios are supposed to pay an additional minimum of $10 for radio licence to ZBC per quarter. Motorists are also mandated to buy triangles, reflectors and fire extinguishers.
There are also plans to introduce tollgates in urban areas to raise money for road repairs and construction.
7-ton truck swept away: 2 feared dead, 9 rescued in flooded river
February 4, 2017
Leonard Ncube and Pamela Shumba, Senior Reporters TWO people, one of them a teacher, are feared dead while nine others narrowly escaped death when a truck they were travelling in was swept away by a flooded river in Lupane District. The incident happened at the Bubi River Bridge at about 6PM on Thursday .
The bridge is on a gravel road linking Daluka Ward 19 to St Luke's area in Kusile Rural District. The driver of the truck, a seven-tonner, which was coming from delivering food aid, allegedly missed the bridge and hit side pillars before the truck fell into the river. The teacher, who could not be named immediately, was reportedly stationed at Zwangendaba Secondary – a few hundred metres from the scene of the accident. The other victim is believed to be a local villager.
By last night, the two people were still missing but the nine other passengers and crew were all accounted for. The truck was dumped by the water about 60 metres downstream. The truck's crew comprising of three people including the driver, were coming from delivering drought relief food in Daluka in the same district when they offered eight local people a lift.
The Chronicle visited the area yesterday and Bubi River was still flooded with villagers and school children failing to cross. Villagers from either side of the river embarked on a search in the river while waiting for divers from the police Sub-Aqua Unit who arrived late in the afternoon. Some villagers reportedly assisted a heavily pregnant woman cross the river to St Luke's Hospital where she was due for delivery. Acting District Administrator for Lupane, Mr Zachariah Jusa, who is also chairman of the local Civil Protection Unit, confirmed the incident.
"The accident occurred at around 6PM when the truck, which is part of those that carry drought relief food in the district, was returning to base. I was at the bridge in the morning when the truck crossed as I was doing routine checks to assess the situation. Unfortunately when they returned in the evening, I think the water level had risen as the bridge was submerged," he said. Mr Jusa said the driver missed the bridge after hitting a hump.
One of the survivors who was in the truck, Mr Bongani Moyo, said he was still in shock. "It was so sudden. All was well as the driver tried to drive through but lost control when he hit a hump and that's when we heard the truck hitting some pillars," he said.
Taxi crashes and overturns injuring nine in Dunoon in the Western Cape.
4th Feb 2017
ZA: Road Accident Fund's bank account attached, payouts frozen
 Wendy Knowler | 03 February, 2017
The Road Accident Fund has been forced to tell its claimants' service providers and the caregivers that payouts have ground to a halt.
"Sorry' you can't be paid – our bank account has been attached by the Sheriff of the Court."
Cape Town – While South Africa might be one of the most incredible places to spend the summer holidays, our peak season periods are always marred by a spike in road deaths as well as drownings.
The figures of fatal road accidents compared to fatal drownings are equally high and shocking. An average of 1 528 fatal drownings occur annually, of which 44% of fatal drowning are kids under 15.
On the roads, during this past festive season again, more than 1 700 deaths were recorded on South African roads and on average, 270 people die on South African roads every week. "That's the equivalent of a jumbo jet crashing every week," Niel Langner, marketing manager for Continental Tires South Africa told media at a conference where General Tire South Africa announced its partnership with Lifesaving SA.
Time to take action against Kombi drivers operating vehicles under the influence of Mbanje
The stress of kombi driving has been overlooked especially in Zimbabwe but many songs played in theses kombis talk about drowning one's sorrows in a bottle. It's an unnerving thought, but many kombi drivers get behind the wheel after tipping back a few drinks or using illegal drugs. Some even have the notion that they cannot drive without taking alcohol and we have even heard and witnessed these Kombi drivers say that "nhasi ndakabatwa, or Nhasi ndakarohwa nezvinhu," or any other slang they use to describe how intoxicated they are. What a society!
It's surprising however that after hearing all this we do nothing about it, we just sit there and hope we arrive home safe. Unfortunately when disaster strikes the blame games begin. This has not helped in any way since no effort is made to address the problem itself at the end of the day. It is high time the passengers help themselves because the police at most of our road blocks all they need imari ye cold drink and the intoxicated driver passes through.
This is the situation in the country; bad drivers are never fined for breaching road safety measures on regular basis. Of course this happens because they have the police in their pockets. The police are increasingly accepting bribes and deliberately allowing traffic offenders to have a field day. We have seen the conductor after the kombi has been stopped by the police going over to talk to the police and the under hand dealings they do.
In fact we are all familiar with the drugs and the substances most often used by kombi drivers ranging from alcohol, stimulants, marijuana and bronclear. So I asked myself: What are we actually doing to help ourselves because the Police and Zimbabwe Traffic Safety Council to them it is always business as usual.
One worrying factor is that many of the drivers actually learn driving while serving as drivers' mates (the ones who drive you around while the kombi is loading), without taking a single lesson from government approved driving schools. What a country! In Chitungwiza there is the local driver and the one who takes you to town. When there is a driver change no one asks if the driver is qualified to be driving passengers. Just because one can drive it does not mean he is qualified to driver a passenger vehicle.
During that driver change a lot can happen, the town driver gets time to drink or smoke in an attempt to relax and take his mind off the stresses of the day and rest as he has little rest all day long. On the other hand the local driver may hit several potholes that may cause damage to the vehicle which he will not report to his compatriot.
Sometimes I used to wonder whether many of these drivers who ply our roads have been taken through the rudiments of basic safety driving, but now I know how they operate. Many of these kombis do not even have motor insurance yet nobody cares. The relevant authorities such as Zimbabwe Traffic Safety Council (ZTSC) the best they can do is to send you that odd text message encouraging you not o drink and drive. Honestly that is pure laziness and this is further compounded by our very lazy leadership. They fail to put in place the necessary measures that will check the traffic offenders. This is why horrific accidents continue to occur on a regular basis and in such large numbers. In the night, many of our roads including the so-called highways have no street lights. Some of the pot-holes on these 'highways' are so big, they could pass for manholes.
The City – Chitungwiza highway barely has any meaningful road signs. Besides a few speed limits, I am yet to see any road sign which reads like: 'slow down' 'reduce speed now' or warning message on any of the dangerous bends all along the highway.
What does this tell us? Does it mean unscrupulous drivers are at liberty to drive at any dangerous speed they choose? What happens to those drivers who might not be familiar with the road? As for the zebra crossings, the drivers have no regards for their use at all.
Our drivers have grown with the perception that, where the road is good, they are at liberty to speed as dangerous as they deem necessary. Is it a wonder that over speeding is killing our people on the roads?
Honestly road traffic accidents can be reduced if we realise the power us passengers have in the Kombi business. Without us there is no business for the kombi operators. All we need is to speak up and be heard.
Would you board a kombi with a drunk driver, why would you not ask to be dropped if the driver is overspreading? Why would you bother taking a ride from a kombi that does not give you a safe journey to your destination? It's high time the kombi operators know that they cannot mess with the passenger. It's time to bring back the glory days when the customer was king.
The police are compromised but let's not stop reporting all bad drivers. The government should make sure that the police are adequately resourced and well-motivated to deal with traffic offenders. This will help bring the bribery and corruption cases which promote drivers' indiscipline on the roads. · The road authority must random sample a couple of drivers plying the roads and test them for any drug abuse.
Let's hope that as passengers we will act upon these measures and help bring the accidents on our roads to the barest minimum.
Fourteen die in grisly road crash in Uganda
Namibia: City Police to test pedestrians for alcohol
An app that reports overlapping matatu drivers
Zimbabwe roads made in hell
DRIVING in Zimbabwe roads now requires one to acquire new skills of negotiating potholes. Drivers also need the nerves of steel to endure the gruelling driving experience which, if not well executed, can result in serious damage to one's car or even an accident.
Torrential rains which have mercilessly battered the southern African region over the past weeks have left Zimbabwe's fragile roads riddled with crater-like potholes that resemble an aftermath of a massive sporadic missile attack.
These are now like roads made in hell! It is befitting that some of these roads have been declared a state of disaster. Statistics show that at least 80 percent of the country's 97 000-kilometre road network now requires a major overhaul. The poor state of the roads characterised by potholes and ragged sharp edges is significantly contributing to the carnage on Zimbabwe's roads which claims at least five lives per day.
This is according to 2015 statistics from the Traffic Safety Council of Zimbabwe. The country's major highways have for long raised the ire of travellers because of their poor state. But recently attention has also shifted to urban roads that have deteriorated and are now posing a serious threat to road users.
Observers attribute the poor state of urban roads to failure by the Zimbabwe National Road Administration (ZINARA) to disburse adequate funds for their rehabilitation. ZINARA was established in terms of the Road Act (Chapter 13:18) in 2002 with the aim of enhancing the road network system throughout the country. Its core mandate is that of fixing road user charges and collecting such charges or any other revenue for the road fund, in consultations with the Minister of Transport and Infrastructural Development.
After collecting revenue, the parastatal is supposed to remit funds to local authorities who then ensure that roads around their areas are maintained. Local authorities have the primary responsibility of repairing roads in terms of the Urban Councils' Act (Chapter 29.15), Second Schedule section 198, paragraph 19 (1). ZINARA collects in excess of US$5,5 million per month from the 26 tollgates dotted around the country and an additional US$130 million annually from road access fees, vehicle licensing, transit fees and the fuel levy among other revenue streams.
Government will soon release a Road Condition Survey assessing the state of the country's roads and what is required to bring them up to standard.
At over 85 percent complete, the survey being carried out by the Department of Roads, the District Development Fund, rural district councils and urban councils at a cost of US$1,7 million, might fail to capture the exact situation on the ground given that the roads are deteriorating daily. Carried out after every five to 10 years, the survey is meant to provide accurate statistics to guide policy makers in implementing developmental projects.
Acknowledging the bad state of the country's roads, Transport Minister, Joram Gumbo said a total of US$5 billion is required to rehabilitate the dilapidated road network. "It is not a secret that most of our road network has outlived its useful lifespan and we would need to expend approximately more than US$5 billion to rehabilitate the country's roads. But the revenue that ZINARA is mobilising, which is less than US$200 million per annum, is not sufficient to cover the maintenance backlog. In fact, we have not surpassed the US$150 million annual collection of toll fees," he said.
Harare City Council (HCC) spokesperson, Michael Chideme, indicated that the capital city alone requires about US$40 million from ZINARA to refurbish its roads.
"We are set to receive about US$1,2 million from ZINARA which is enough to only rehabilitate one kilometre. It's a pity considering that roads which fall under our jurisdiction stretch well over 6 000 kilometres of which most of them are in dire need of rehabilitation," said Chideme.
"We should not be blamed for the poor state of the roads when we have no money; give us the money and blame us later," he added. Gumbo has, however, challenged the HCC "to show us one road they have patched up using that (paltry) money" from ZINARA. Gumbo is also on record, accusing other local authorities of missappropriating ZINARA funds by using the money to pay off their debts and salaries.
Harare mayor, Bernard Manyenyeni said: "There is insincerity in that remark because they have not given us all the money in cash. Some of the help we got from ZINARA has been in kind and if they want us to show them the road patches we will definitely do that… ZINARA is the institution we must look up to for this crisis. We are out of it. In fact, in the coming two months the roads will get worse before they get better."
ZINARA board chairman, Albert Mugabe, said HCC was not doing the right thing, given that it has so many other opportunities to generate revenue.
"The city has over 7 000 parking bays; assuming there is five hours occupation per day in a five-day week, the city generates US$8, 4 million annually in parking fees. If they invest even half of that into the goose that is laying the golden egg, Harare's roads would improve. The city also receives revenue from billboards. "All these and more could be used by HCC to augment what they get from ZINARA," said Mugabe. He added that HCC will find it difficult to access funding because of their poor credit rating.
Five people killed in a road accident in Navakhoko
1st Feb 2017
Five people have perished in a gruesome accident in Navakhoko along Kakamega-Bungoma Road. The five were in a lorry whose driver lost control, plunging into a bridge which was under construction. So far only the body of the driver of the ill-fated lorry has been retrieved even as efforts to recover other bodies continue.
Ghana: Man burnt to death in frightening car accident
Cape Town – A construction worker and the passenger of a bakkie were killed in a crash on the N1 on Monday afternoon, the City of Cape Town's traffic services said.The bakkie, belonging to a plumbing company, overturned and landed on a construction site after the Jip de Jager turnoff in Cape Town's northern suburbs around 12:30, spokesperson Maxine Bezuidenhout said.It smashed into the worker. The passenger in the bakkie was killed. The driver was taken to hospital with serious injuries. The accident resulted in heavy congestion on the N1 inbound before Old Oak Road and on the N1 outbound at Giel Basson.
4 Gokwe family members die in freak accident
The husband of the driver, identified as Dillan Ngwenya Makanika, hanged himself after the accident. Ngwenya Makanika was an administrator at Kana Mission Hospital, a stone's throw away from his rural home.
Although Midlands provincial police spokesperson, Ispector Joel Goko, said he was not aware of the accident, a teacher at Kana Secondary School, John Mumvumi, said the accident happened soon after the family had come from church. "The husband was a passenger with his wife driving when she lost control and drove into the house, where her mother-in-law sat with her husband and a neighbour, Chamunorwa," Mumvumi said.
Both women died on the spot, while Ngwenya's father was seriously injured. Unconfirmed reports said Ngwenya later slipped from the crowd and hanged himself on a tree close by. "Funeral arrangements are underway," Mumvumi said, adding a sombre mood hung over the community.
Two killed after car, boda boda collide in Kirinyaga
MONDAY JANUARY 30 2017
A boda boda operator died on the spot while his passenger passed away at Mount Kenya Anglican Church Hospital, where he had been taken for treatment. The motorcyclist was heading to Kerugoya from Kagumo when he collided with the vehicle.
The vehicle was towed to the Kerugoya Police Station.
Witnesses said the motorcyclist was trying to overtake a car when he crashed into the oncoming Land Rover. County Police Commander Joseph Nthenge advised boda boda operators to be careful on the road. "Cyclists should adhere to traffic rules to avoid such fatal accidents," he said.
Kenya: Four die in Rongo road accident
By Scophine Otieno Monday, January 30th 2017 
Four people died in an accident on the Rongo­Kisii highway yesterday. The accident involving a 14­seater matatu and a Canter left scores of others with serious injuries.
The 4pm accident occurred after the Canter travelling towards Kisii lost control and collided head on with the matatu coming from the opposite direction. According to Charles Odhiambo, a witness, the Canter was speeding before the accident occurred.
The driver of the Canter disappeared soon after the accident that left the matatu driver dead. Three bodies were moved to the Kisii Referral Hospital mortuary and a fourth to the morgue at Migori Level Four Hospital. The casualties were admitted in Kisii Level Five, Rongo District and Migori Level Four hospitals, as the police launched investigations.
Migori County Commander David Kirui said police were looking for the driver of the Canter. Meanwhile, residents were shocked further when the driver of an ambulance belonging to a private hospital in Rongo and which was carrying one of the injured lost control of the vehicle in Uriri and veered off the road. The driver and two medics sustained minor injuries. It was not clear whether the already injured casualty sustained more injuries.
The four victims who died yesterday brings to 10 the number of those who have lost their lives on the Kisii­Migori highway since the beginning of the year. Residents have continued to petition the national government to expand the road that has been the scene of several accidents that have claimed many lives over the years.
Hijacking hotspots in Johannesburg
14 hurt in KZN taxi crash
2017-01-29 Lizeka Tandwa, News24 
Netcare 911 spokesperson Chris Botha said in a statement that paramedics and the fire department arrived at the scene and found that the twisted frame of the taxi had come to rest on its side in the bush.
One person was still trapped in the wreckage.
"After triaging the injured it was found that 14 people sustained injuries. Two were seriously injured while 12 miraculously escaped with minor injuries," he said. Firefighters used the Jaws of Life to free the injured.
Three held over 'school bus' trade in Dar
POLICE in Dar es Salaam Special Zone, through the Traffic Department, yester-day arrested three people for allegedly transporting 34 school children in a vehicle of a Toyota Noah make.
The Dar es Salaam Re-gional Traffic Officer, Mr Pe-ter Mashishanga, named the suspects as the car's driver, Mabrouk Issa Daudi, the coor-dinator for the transport, Ste-ven Masanja, and the supervi-sor of transporting children, identified by the single name of Latifa.
According to Mr Mashis-hanga, the car, with registra-tion number T 949 DDY, was seized in at around 01:00 hrs along the Gerezani junction at Kariakoo area, carrying 34 school children, including nursery and primary Standard One and Two pupils from various schools in the city's downtown.
"They are the pupils from various schools, includ-ing Mtendeni, Bunge, and Olympio primary schools. They were being ferried home from school as others were heading to Mbagala and Kigamboni," he told the Daily News.
The coordinator of the transport arrangement, Latifa, told the police that they de-cided to put all children in the same car because their other vehicles had been impounded for failure to show a permit to transport children as a school bus.
She said the vehicles were impounded arrested in the morning since they did not have any other alternative to transport children to their home and that is why they used the car in question much as they knew that it was wrong to do so.
Following the incident, Mr Mshishanga urged parents and guardians to be careful with children by following up on the means of transport that schools are using to transport their children.
16 people injured, several seriously, in taxi & bakkie collision
27th January 2017
Curious Agogo residents turn scene of explosion into tourist site
Uganda: 15 injured in Ibanda car accident
One of the victims; Ms Justine Tukashaba, a church catechist at Kanyanseko Catholic Church in Kanyanseko ward, Kagongo division said the driver was speeding when he lost control of the car
FRIDAY JANUARY 27 2017
IBANDA: At least 15 people were on Thursday rushed to Ibanda Comprehensive Medical Centre after they sustained injuries in an accident that involved a taxi and two motor cycles in Ibanda town. Ibanda District Officer in charge of Traffic, Mr Deo Ishungisha said the taxi Reg No. UAX 598 B which he said was recklessly being driven by a yet known driver was coming from GAPCO petro station before the driver lost control and rammed into two packed motor cycles before it over turned several times to a nearby pub.
The mini bus was from Sweswe in Kasambya, Mubende district heading to Mbarara. One of the victims; Ms Justine Tukashaba, a church catechist at Kanyanseko Catholic Church in Kanyanseko ward, Kagongo division said the driver was speeding when he lost control of the car.
Ibanda District police commander, Mr Denis Ochama said that the victims had already received first aid to reduce pain and were put on medication. Dr Rashid Aheebwa said, "All the victims who were admitted will get proper medication and will all be in good condition." He said that among the 15, only two were seriously injured while others had minor ones.
Namibia: Spate of traffic accidents concern city police
News – National | 2017-01-27 by Nomhle Kangootui
"The majority of these accidents are entirely preventable, and they are often a result of driver or pedestrian negligence. Through investigations we found that most common factors contributing to these accidents include inattentive or distracted driving, failure by drivers to observe speed limits, especially in school zones. Drivers' failure to yield right of way to pedestrians at crosswalks and pedestrians crossing the street without looking out for oncoming traffic," Khoaseb said.
It was especially the increase in accidents involving pedestrians that have had law enforcement authorities concerned.
Khoaseb said that on Friday, 20 January, two pedestrians were hit by the same vehicle on the Western Bypass but only sustained slight injuries. On that same day, at about 18h15 at the corner of Joseph Mukwayu Ithana and Zenobia streets, a bakkie belonging to a security company ran into a tree when the driver lost control. "As a result 13 people were injured with six serious injuries and seven slight injuries," Khoaseb said.
He also said a fatal accident involving a pedestrian took place on Saturday 21 January at about 21h18 near Mix settlement, on the city's northern outskirts, when a 26-year-old man was run over by a car. "The male victim was declared dead at the scene."
On Sunday, 22 January, a four-year-old girl sustained slight injuries when she was run over in a hit-and-run at the corner of Lucia and Eveline Streets, at about 17h42, Khoaseb said. On Tuesday, 24 January, on the Western Bypass near the Windhoek Country Club and Resort, a truck belonging to Meatco overturned, with the driver and passenger sustaining serious injuries.
Khoaseb noted that four accidents were reported on Wednesday, 25 January, two of which resulted in fatalities while in the other two victims sustained slight injuries. "At about 06h47 at Julius Nyerere Street in Okahandja Park, a seven-year-old pedestrian was fatally run over by a taxi. The boy was a pupil at Tobias Hainyeko Primary School.
"The same day at about 06h28 at the intersection of Robert Mugabe Avenue and Sierre Street, a female driver was seriously injured after her vehicle collided with a bakkie," said Khoeseb.
He said that she was taken to Lady Pohamba Private Hospital where she was pronounced dead upon arrival.
Accidents claim more than 360 in Jinja – say police
About 360 people were involved in road accidents in Jinja District, with half of them sustaining life-threating injuries and others succumbing to death over the last two years, the officer in-charge of traffic in the district, Mr Francis Onen, has disclosed.
THURSDAY JANUARY 26 2017
By ANDREW KATABULAWO & MARY NAISANGA
Jinja. About 360 people were involved in road accidents in Jinja District, with half of them sustaining life-threating injuries and others succumbing to death over the last two years, the officer in-charge of traffic in the district, Mr Francis Onen, has disclosed.
He said most of the accidents were as a result of reckless driving, drunk-driving and driving vehicles in dangerous mechanical condition.
Speaking during an interview earlier in the week at Jinja Central Police Station, Mr Onen said police records show that in the last 24-months, at least 355 cases of accidents were reported in the district. He said: "In 2015, our statistics show that fatal accidents were 35, serious ones were 126 and minor ones were about 36. And in 2016, we registered 41 cases of fatal accidents and about 92 cases of serious accidents while the minor ones were 25."
He attributed the decline in the number of accidents registered last year as compared to those registered in 2015 to increased police vigilance as evidenced in the ongoing operation code named Fika Salama—safe journey/travel. Mr Onen said this year, police targets to remove drivers without driving licence from the road, eliminating vehicles in dangerous mechanical condition and constantly monitoring motor vehicles plying the eastern routes.
He, however, said this will be achieved if the citizens play their part by saying no to recklessness and drunk-driving. When interviewed, Mr Samuel Munabi, a Jinja-bound taxi driver said although motorists have become more reckless on the road, the authorities haven't cracked the whip hard and consistently enough as to bring this to a halt.
Police records shows that Jinja District is notorious for accidents, with Jinja-Iganga road (right through from Mabira Forest) being marked as a dark spot for both robberies and accidents. The last crime and traffic report released in 2014 ranks Jinja District among the leading accidents districts in the country.
Dark spot (PC for 'accident blackspot' – Ed)
Police records shows that Jinja District is notorious for accidents, with Jinja-Iganga road (right through from Mabira Forest) being marked as a dark spot for both robberies and accidents.
Crazy Matatu driver could have caused a freak accident along Thika Road.
Jan 25th , 2017 ­The Kenyan DAILY POST Editor's Choice, Lifestyle, Videos 14
Reckless driving is the main cause of road accidents in Kenya and this video is just a tip of the iceberg of how careless some drivers can be. This idiot was caught on camera driving on the wrong side along Thika Superhighway headed to Nairobi. If the oncoming drivers weren't cautious and ducked in time, this could have ended badly. The National Transport Service Authority (NTSA) officers should track this miscreant and make sure he/ she faces the full force of the law because this is nothing short of attempted murder by dangerous driving
20 people killed in traffic accidents in Algeria  
Namibia: MVA Fund continues with road safety activities
07 Jan 2017
WINDHOEK, 06 JAN (NAMPA) – The Motor Vehicle Accident Fund (MVA) and partners in the 2016/2017 Festive Season Road Safety Campaign will embark on a number of activities to ensure the safe return of travellers to their homes, work and schools.
A joint statement by the Fund and partners including the Namibia Police Force, Ministry of Works and Transport and Roads Authority issued Thursday said the activities will be conducted along the B1 and B2 routes. The B1 runs from Noordoewer on the South African border to Oshikango on the Angolan border. B2 runs from Okahandja to Walvis Bay.
Other partners are the Road Fund Administration, Private Sector Road safety Forum, National Road Safety Council and City Police.
Activities will start this Friday and end on 17 January 2017, and include a focus on passenger safety and the 'Safe Journey to School' programme. "Seatbelt usage by passengers will be enforced by law-enforcement agencies throughout the country, while the number of passengers in vehicles will be monitored to discourage overloading," reads the statement.
Additionally, the conveying of persons in pick-ups will also be monitored as in terms of the Road Traffic and Transport Regulation 266.
"A person may not operate a goods vehicle carrying passengers on or in the goods compartment of the vehicle on a public road, or exceeding the limit of six people."
Since the safety campaign for the 2016/2017 festive season commenced on 22 November last year, 94 lives have been lost and 894 persons have been injured in 480 crashes.
The MVA and partners said public transport will be expected to produce a passenger list and ensure that children are accounted for properly in terms of the relevant regulations.
"Generally, children are not regarded when counting passengers, thus resulting in the over loading of passengers and involuntarily exposing innocent children to greater risk of injury and death in case of a road crash."
The MVA urged passengers to take responsibility for their own safety by not boarding an overloaded vehicle. The Safe Journey to School programme will as from Wednesday to Friday provide road safety marshals at and near primary schools in the Khomas Region to ensure that crossing roads does not claim any child's life and that vehicles transporting children to school are not overloaded.
Crash driver fined for double homicide
A MALAWIAN man has been fined $200 for causing the death of two minor girls after his vehicle veered off the road and overturned near Mvuma when he was on his way to attend his wife's funeral. Charles Bishop of Moses Gama Village, Mzimba District in Malawi was driving a pick-up truck on his way home from South Africa when the accident occurred on December 19, killing two passengers.
He pleaded guilty to two counts of capable homicide when he appeared before Gweru Magistrate Judith Taruvinga. Bishop was fined $200 or to spend two months in jail if he defaults on the fine.
"I admit to the charge and the court should be lenient with me. I lost control of the vehicle and the children who died were my relatives not to mention that I was on my way to attend my wife's funeral," said Bishop. Taruvinga said the court had considered that Bishop was going to his wife's funeral and was grieving at the time of the accident.
"Two children died as a result of the accident. The accused person should not have been driving in the first place since he was in grief of losing his wife. Also it is a long journey from South Africa and the accused person should have rested to avoid fatigue," she said.
Prosecuting, Ernest Muzembi told the court that on December 19 last year at around 3AM Bishop was driving the truck which had 15 Malawians on board from South Africa to Malawi.
"On approaching the 186km peg on the Harare -Masvingo road the accused failed to keep the vehicle under control resulting in the vehicle veering to the right side of the road and overturning. "Eight people were injured while a two -year -old girl died on the spot and a four –year- old girl who was seriously injured died upon admission to Gweru Provincial Hospital. On December 21 the two deceased children were examined and their cause of death was as a result of the injuries sustained in the accident," said Muzembi.
He said the driver was negligent. "He failed to stop or act reasonably when the accident seemed imminent and travelling at an excessive speed under the circumstances," said Mr Muzembi. (A life worth only $100. Shameful – Ed)
Nigeria: Mechanic kills 3 in ghastly accident
News – National | 2017-01-05 by Ndapewoshali Shapwanale
THE Motor Vehicle Accident Fund said 83 people died in 411 vehicle crashes which left 846 injured between 1 December 2016 and 2 January 2017.
According to statistics obtained from the MVA Fund by The Namibian yesterday, the deaths increased from 67 while injuries decreased from 881 during the same period last year. The statistics also show that the number of crashes increased this year from 410 to 411.
Police deputy inspector general for operations, major general James Tjivikua, told Nampa last week that 65 of the 83 people died between 22 November and 26 December last year.
He also said the Khomas region had the highest number of crashes in November at 132, while the lowest – three crashes – were recorded in the Zambezi region. Tjivikua said Khomas also recorded the highest number of deaths at 13; followed by Otjozondjupa with 10, and Zambezi with one. Kavango East and West both recorded zero deaths.
The increase in the deaths comes after the fund implemented the 2016/2017 festive season road safety campaign that received considerable support from the business community to the amount of N$1 million.
MVA acting chief executive officer Fanuel Uugwanga was recently quoted as saying that 617 people died and 6 180 others were injured between January and 20 November last year.  The police arrested 198 drivers for traffic violations such as driving under the influence of alcohol, speeding as well as driving without a valid driving licence.
– See more at: http://nehandaradio.com/2017/01/04/6-injured-kombi-burns/#sthash.v4Sec1yg.dpuf
Passengers thrown out one by one as commuter omnibus over turns
by Simbarashe Sithole 4th January 2017
Photo: Unity Sibanda: 'these bandages are as a result of a speeding and overloaded commuter omnibus'
A speeding Muzarabani bound 'Nemhaz' kombi, overloaded with passengers and groceries burst a rear tyre in Mvurwi Mashonaland Central province yesterday (Tuesday).
The driver identified as Godfrey Nhambure lost control and passengers were thrown out as it over turned. Seven male adults and four female were admitted at Mvurwi hospital but have since been discharged today (Wednesday). "It was a sad experience because l lost control when the rear tyre burst and the kombi overturned all l can remember is passengers were thrown out one by one," said the driver.
When Bulawayo24.com visited Mvurwi hospital where the injured had been ferried, one of the victims, Unity Sibanda, denounced the kombi owner for neglecting their medical bills.
"You see these bandages are as a result of a speeding and overloaded commuter omnibus. Surprisingly the kombi owner did not cater for our medical bills and l lost some of my valuables in this accident," lamented Sibanda.
All groceries belonged to one passengers
Meanwhile, the commuter omnibus loaded from Mbare, Harare and passed through six police roadblocks up to the scene of the accident but was let go reportedly because of corruption.
Passengers blasted corrupt police officers as perpetrators of major road accidents.
Locals protest calling for reduction of road accidents
JANUARY 4 2017
Calm has been restored in Muruguru after residents blocked the Nyeri-Karatina road to protest rising accidents. The residents barricaded the road using stones and bonfires and urged the Kenya National Highway Authority to erect speed bumps to reduce the number of accidents. Police cleared the debris and put out the bonfires.
Muruguru MCA Mwangi Kibuu said many people had been knocked down and killed in the area by speeding vehicles especially on the stretch between the KenGen junction and Gatitu shopping centre. He said the most recent person killed there was a 55-year-old man on December 26.
"We are tired of having regular funerals in the village. Our youth are also getting tired of digging graves. We want action and we are demanding it. Next week we will dig trenches to ensure vehicles do not speed," said John Muriu, a resident.
Nyeri Central Assistant County Commissioner John Marete told the protesters he would make sure the matter is sorted out.
11 killed on Western Cape roads over New Year's weekend
4th Jan 2017 James de Villiers, News24
Cape Town – At least 11 people, including three passengers who were killed in a head-on collision in Noordhoek, died on Western Cape roads over the long weekend, the provincial transport department said on Tuesday.In a statement, the Western Cape Department of Transport and Public Works said that five people had been killed on Saturday, one on Sunday, four on Monday, and another on Tuesday morning. Out of the 11 killed, four were pedestrians.The department said it was grateful for the work of traffic officers over the weekend."Their efforts saw two persons arrested in Worcester, one for possession of drugs, and the other for possession of abalone," a statement by the department said. Breath testing was performed on 3 361 drivers at 25 alcohol roadblocks across the province.A total of 3 905 vehicles were screened for speeding and 682 speeding offences were recorded. Fines to the amount of R410 650 were issued for a variety of reasons, ranging from driver offences to vehicle fitness violations.Last week, News24 reported that 19 people had been killed on Western Cape roads over the Christmas weekend.
21 injured in another Mpumalanga crash
4th January 2017 Jenni Evans, News24
Cape Town – Twenty-one people were injured, one critically, in a third serious crash in Mpumalanga on Monday. Netcare 911 spokesperson Athlenda Mathe said a taxi and two bakkies crashed at around 16:30 on Roossenekal Road in Lydenberg.
Private and provincial emergency services worked alongside each other to treat those injured. The critically injured patient was airlifted to a nearby hospital. The cause of the crash was not immediately known.
Earlier, eight people were killed in two separate accidents in the province. In one, five people were found dead in a car that had landed on its roof after two light motor vehicles and a truck crashed about 40km from Nelspruit.In the other accident, a vehicle overturned around 12:30 on a stretch of the Schoemanskloof Road, killing two occupants. A third person died later when resuscitation efforts by paramedics were not successful.
Tema motorway accident leaves scores injured
Source: Ghana | Myjoyonline.com 3rd Jan 2017
Auto crashes claim six lives in Lagos, Katsina
Ogun State FRSC's Sector Commander, Mr. Clement Oladele, gave the confirmation in an interview with the News Agency of Nigeria (NAN)  in Sagamu. He said the accident, which occurred around 2:00 pm could have been caused by over-speeding.
"The accident, which involved a black Honda CRV with registration number KRD 933DD and White Daf Trailer with registration number JJJ 107 XD, was caused by route violation and speed limit violation. "The accident involved five persons, two male and three female, in which one male and one female got injured while the male and two female died."
Oladele explained that the injured and the dead were taken to Olabisi Onabanjo University Teaching Hospital (OOUTH), Sagamu. The sector commander advised motorists to avoid speeding and also to obey traffic rules and regulations.
Katsina State Sector Commander, Abdu Bagadawa, said the Karfi accident involved a Volkswagen bus with registration number KTU 203 AA with 15 passengers on board. He explained that the vehicle skided-off the road to the bush when the driver attempted to dodge a pothole while on high speed. The three passengers died on the spot while the remaining passengers who sustained various degrees of injuries were rushed to Malumfashi General Hospital for medical treatment.
The sector commander urged motorists to desist from excessive speed and abide by traffic rules and regulations. He called on drivers who were yet to install the speed limit device to do so for the safety of their passengers.
Two dead in Westlake collision
CAPE TOWN– Two people died after a collision between a bakkie and light motor vehicle on Steenburg Road in Westlake, Cape Town on Sunday morning, paramedics said.In a statement, ER24 spokesman Russel Meiring said when their paramedics arrived on the scene they found a man lying in the back of the bakkie. "Unfortunately, the man had already succumbed to his injuries and was later declared dead on the scene," said Meiring. "Another man was found lying trapped inside the bakkie while a woman was found lying outside, a few feet away. Both these patients were found to be in a critical condition."Metro Emergency Rescue Services had to use the jaws-of-life to extricate the man from the bakkie. Both critically injured patients were treated on scene and provided with advanced life support treatment, before being rushed to the Victoria and Groote Schuur hospitals."Unfortunately, upon arrival at hospital, the critically injured woman succumbed to her injuries," said Meiring. Three other people, who were travelling on the back of the bakkie when the crash happened, sustained moderate injuries.
"Reports from the scene indicate that the taxi and a car collided head-on before bursting into flames," Netcare 911 spokesperson Chris Botha said.When paramedics and firefighters arrived at the crash scene on Nettleton Road in Elandsfontein at about 07:15, they "found that both vehicles were engulfed in flames with the occupants still trapped in the wreckages.""After the firefighters extinguished the flames it was found that seven people had died in the blaze," said Botha.

 Five others survived with injuries ranging from serious to minor. They were treated on the scene before being taken to hospital for further care.
Bloody Christmas: 187 people killed road accidents – FRSC
1st January 2017